Amazon Fire Phone vs Apple iPhone 5s: the weigh-in
Does Amazon's new 3D-toting phone have what it takes to beat Apple's finest?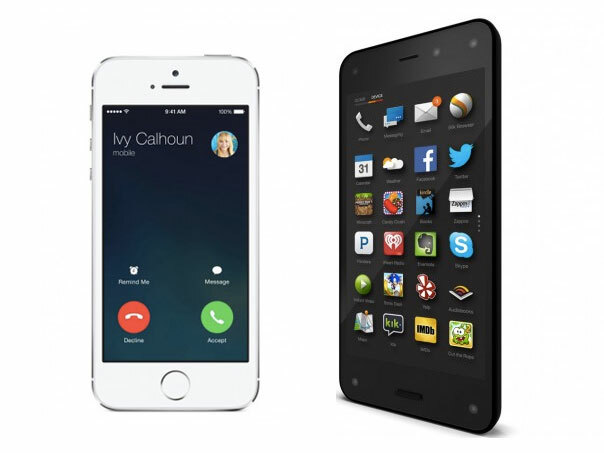 So Amazon's finally joined the smartphone crew, launching its Fire Phone into an arena already crowded with iPhones, Androids and even the odd Windows Phone.
But while the competition may be fierce, Amazon's debut handset still manages to stand out thanks to its 3D screen, built-in tech support, top-notch camera and world-scanning Firefly feature.
Of course the first thing we want to do as soon as we see a new phone is compare it to its rivals. So how does it shape up against Apple's finest the iPhone 5s?
READ MORE: Amazon Fire Phone preview
DESIGN AND BUILD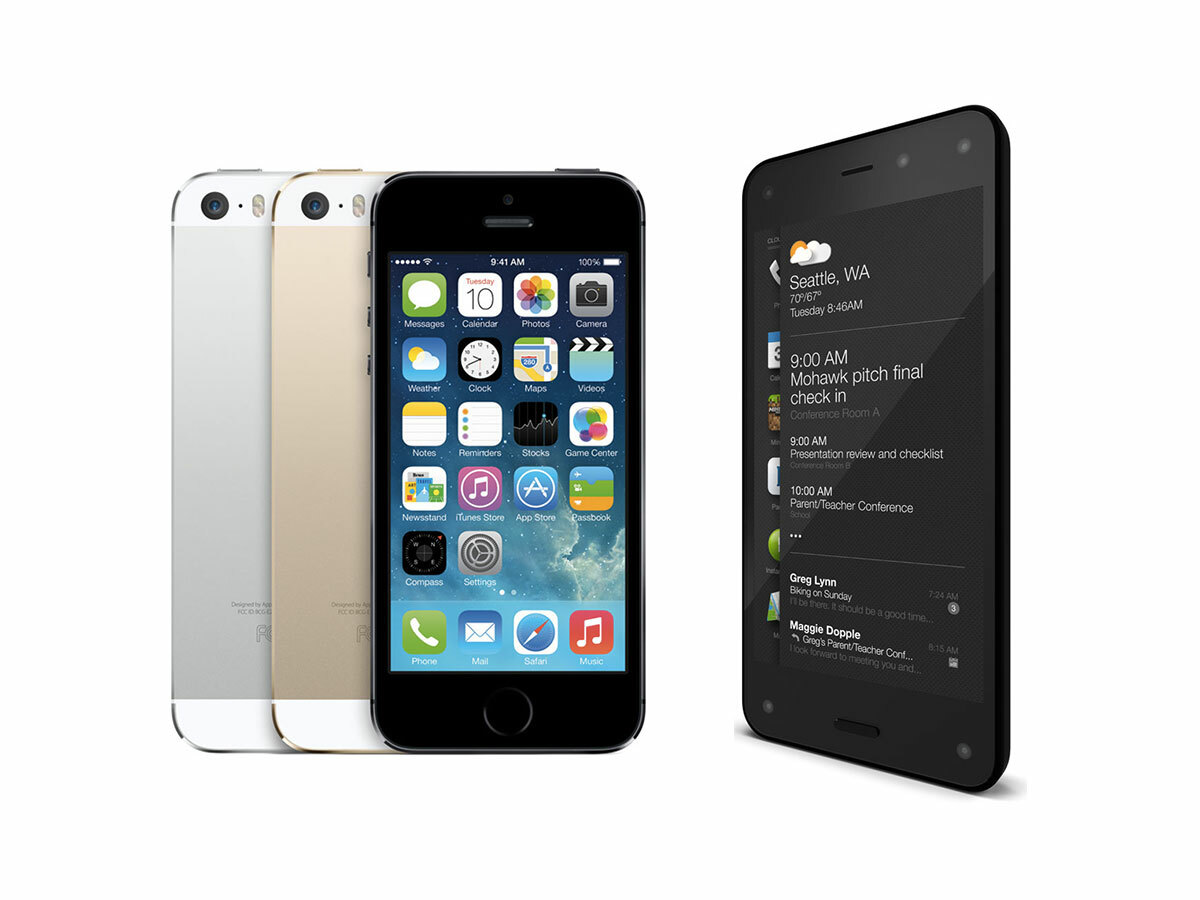 The Fire Phone doesn't stray too far from the tried-and-tested as far as design goes. It looks like a smartphone, it's shaped like a smartphone, it is a smartphone. It's a nicely built one though, with a rubberised body, Gorilla glass on both the front and back and expertly machined aluminium buttons.
It has a 4.7in screen and dimensions of 139×66.5×8.9mm, which makes it bigger than the iPhone but smaller than every flagship Android out there. All that glass makes it heavier than the likes of the Samsung Galaxy S5 – 160g to the S5's 145g, although you're unlikely to notice much difference in use.
The iPhone 5s is smaller. It has a 4in screen, measures 123.8×58.6×7.6mm and weighs a lot less than the Fire: a mere 112g. Like the Fire Phone it's beautifully built, with an aluminium shell and typically Apple attention to detail.
In short, both phones have premium builds and classy looks. We might change our opinion once we've actually seen the Fire Phone in the flesh, so to speak, but until then this round's a tie.
Winner: Draw
SCREEN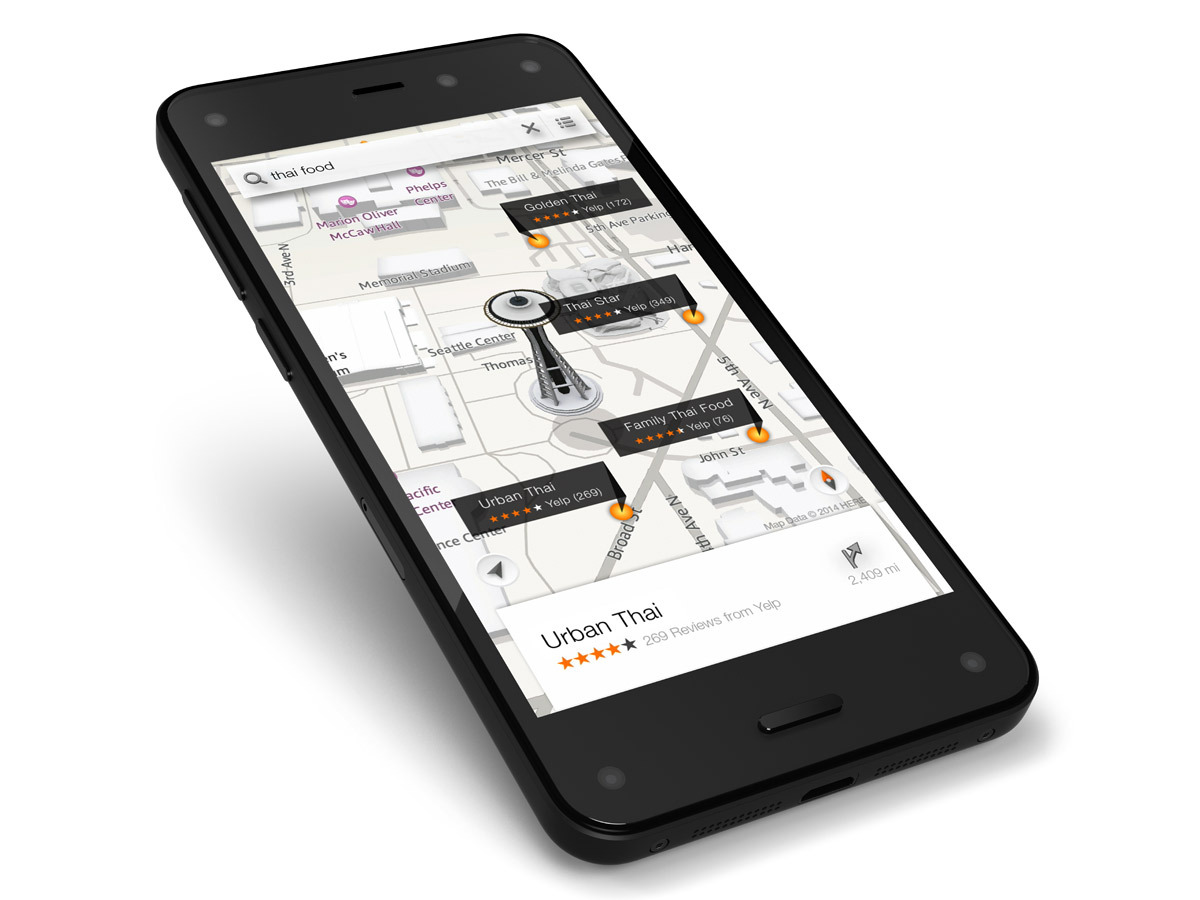 On specs alone the Fire Phone's display is a disappointment. With a resolution of 1280×720 – that's 315ppi – it looks decidedly antiquated next to the 1080p screens of the Samsung Galaxy S5 and HTC One (M8), let alone the 2K display of the LG G3.
Against the 5s, though, it's a close-run thing: the iPhone's 1136×640 resolution isn't too hot itself, and its 326ppi is near enough to the Fire Phone's that you'd barely spot the difference in pixel density.
But there is one significant advantage to the Fire Phone – it's 3D. Well, kind of. On the front of the handset sit four cameras – one in each corner – which track the position of your head and calculate how you're looking at the screen. Through some clever software tricks it then displays an image which appears to have depth.
This differs from the standard 3D method of making images appear to come out of the screen, and has several uses – you can, for instance, look to the side of labels on a map in order to read the text underneath. Or look behind objects in games. Or simply marvel at the various 3D-effect lock screens.
Is it genuinely useful? It's too early to say. Developers have the potential to create some truly innovative apps for the Fire's 3D screen, so we'll remain tentatively optimistic for the time being.
Until we wrap our hands around some mind-blowing 3D apps though, it's another draw for now.
Winner: Draw
CAMERA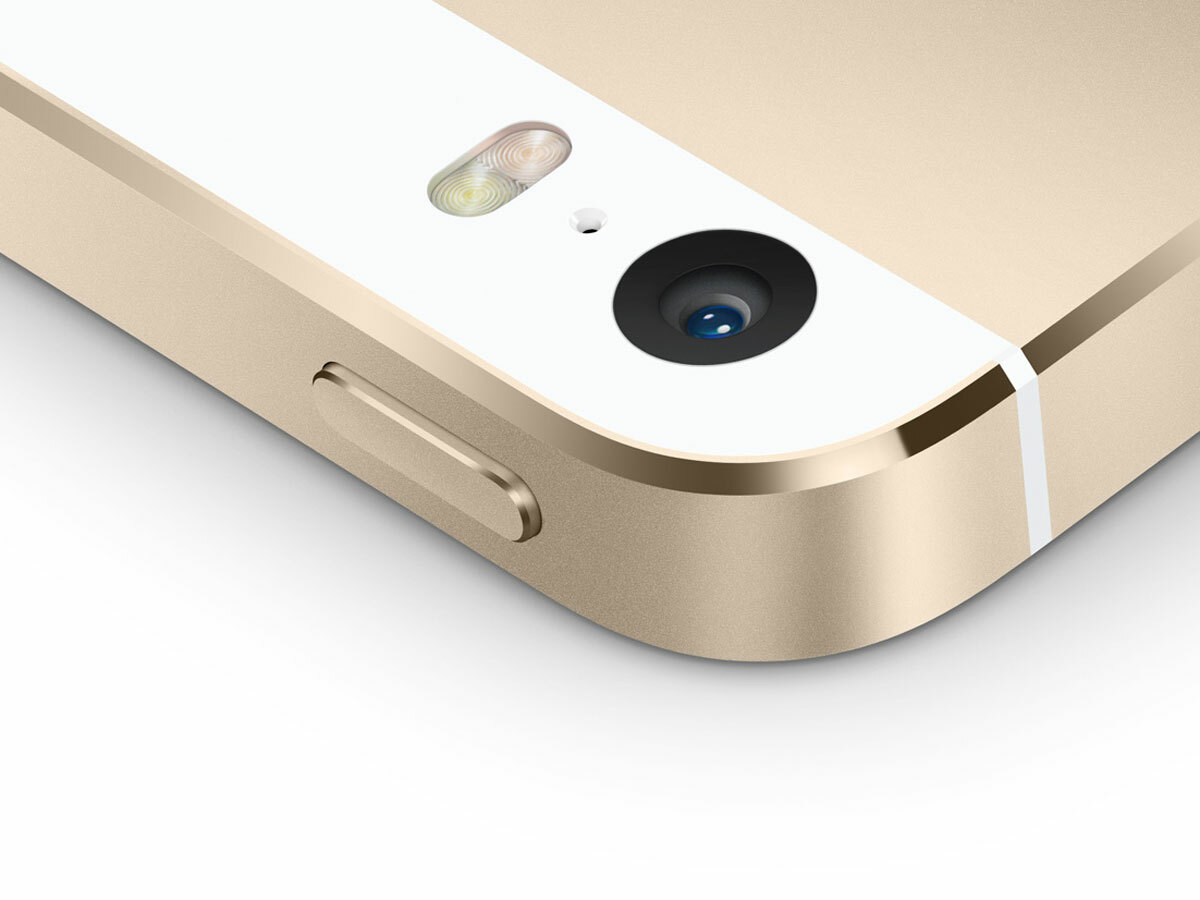 The iPhone 5s is generally regarded as having one of the best smartphone cameras around, and like the Nokia Lumia 1020 – it's constantly used as a benchmark to measure the imaging prowess of rival devices.
The iPhone 5s' 8MP camera produces more detailed, more accurate shots than many of its 13MP Android competitors, so the Fire Phone's 13MP camera isn't guaranteed to be the superior snapper, despite the extra megapixels it offers.
The iPhone's dual-LED amber/white flash could mean that its colours will still be more accurate, especially with skin tones.
The Fire Phone, like the LG G3, also offers optical image stabilisation, which, on paper, means it should cope well with movement and low-light shots.
Both cameras have their advantages. Until we're able to examine shots taken with both devices in supervised conditions, this is a draw too.
Winner: Draw