10 things you need to know about the Microsoft Xbox One X
All the details about Microsoft's super-powered console and this autumn's launch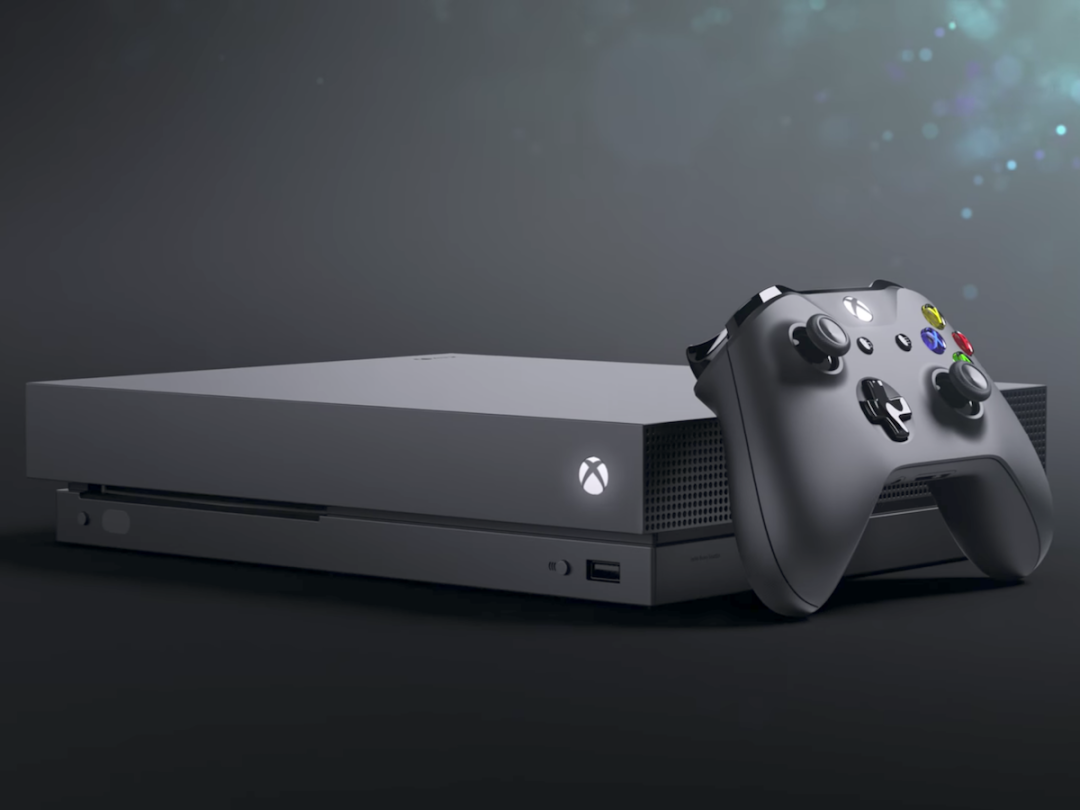 Well, it's finally here: Microsoft just properly unveiled the Xbox One X console.
First teased last year as Project Scorpio, the Xbox One X is the most powerful home console ever built, seemingly surpassing the PlayStation 4 Pro with its processing power and certainly leapfrogging over last year's Xbox One S.
What does that mean? Well, primairly it means the ability to run many games natively in 4K resolution, with some able to do so at 60 frames per second. And it's still an Xbox One, so it'll run all the existing games for the console, plus it has an Ultra HD Blu-ray player within.
But at £449, it'll be a big investment for a lot of folks who may have just bought a new console within the last several months or even couple of years. Thinking about it? Here's everything you need to know right now, based on the previously revealed details and everything Microsoft just shared at E3 2017.
Additional words by Chris Rowlands
1) It's as powerful as everyone hoped
As expected, the Xbox One X is a real beast of a gaming machine: a total of eight 2.3GHz processor cores pair with a six-teraflop graphics processor (as promised by Microsoft), together with 12GB of GDDR5 RAM. Besides its volume, that memory is faster, too, than the 5GB found on the Xbox One.
Don't know your teraflops from your flip-flops? All that power essentially means that the Xbox One X will be blisteringly quick. As an example, a souped-up Forza Motorsport 6 demo running at native 4K resolution and a frame-rate of 60fps earlier this year still had more than 30% of its processing power going spare.
2) It'll run full 4K games
Unsurprisingly, with all of that power going spare the new Xbox One X will be able to deliver full 4K content – including games. There's a 4K UHD Blu-ray player on-board, too, but it's the option to serve up 4K HDR games (rendered with a wide colour gamut) that's properly exciting.
The PS4 Pro runs a few games in native 4K, but most titles instead utilise an extremely clever type of upscaling to get 4K-like images from games running at slightly lower resolutions. That shoudn't be necessary for the vast majority of Xbox One X games – it's got more than enough power for native 4K.
Not only will new games run in native 4K, but earlier Xbox One titles like Gears of War 4, Halo Wars 2, Killer Instinct, and even Minecraft will get native 4K updates too. Third-party titles like Resident Evil 7, Final Fantasy XV, and Rocket League will also get Xbox One X updates, although they may not all run in native 4K – some could be upscaled from lower resolutions.
Curiously, there's been no official word on VR. It's certainly powerful enough (the PlayStation 4 is, after all), but maybe that's something Microsoft is saving for another date. Or maybe they really just don't want to get into that game while it's still fairly small.
3) It'll run Xbox One games better than ever
That's not to say, though, that the Xbox One X won't run legacy titles – but it'll do so in a different way to the PS4 Pro. Where Sony's top console switches half of its power off when running older games, Xbox One X uses all of its power even on Xbox One and Xbox 360 games.
That should mean frame rates that never falter from their maximum (though they won't go beyond that, due to in-game limitations), and dynamic drops in resolution shouldn't ever be necessary. That'll be a big bonus even for gamers without a 4K screen.
But this approach, unlike that of the PS4 Pro, means old games have to be checked and optimised for Xbox One X – they won't necessarily work by default. That could mean, as is the case with Xbox 360 games on Xbox One, that a small minority of games have compatibility issues. We're just speculating here, but it's a reasonable concern.
4) It'll load more, faster
The Xbox One X will pack a 1TB hard drive as standard, with a 50% boost in bandwidth, which – alongside that faster RAM (3GB of which will be going spare and used as cache for Xbox One games) and huge CPU power increase – will see load times slashed.
In fact, while 4K game textures will sap a lot more space and bandwidth generally, load times should be no slower than on the standard Xbox One, despite the vastly improved graphics.
And if bandwidth has been improved right through the chain, it should be possible to achieve vastly faster results still by installing an SSD – assuming Microsoft supports such upgrades with the Xbox One X.
5) It'll work with all your old stuff
Not only will the Xbox One X work with all Xbox One games – along with backwards-compatible Xbox 360 games, and also some original Xbox games starting this autumn – but it'll also work with your gear.
It's still part of the Xbox One ecosystem, so it'll take all of your various controllers, arcade sticks, headsets, and whatever other peripherals you've stocked up on for the Xbox One and/or Xbox One S. Don't worry: it won't ruin your current favourite gaming accessories.
6) It's smaller than you think
More power equals more physical heft, right? Not with the Xbox One X.
While the original Xbox One was a bit of a porker, the Xbox One S trimmed things down to a more reasonable and stylish size. And the Xbox One X will go even slimmer. It's Microsoft's smallest console to date, despite packing in the most processing ability.
Overall, it doesn't look terribly different from the Xbox One S in overall aesthetic, albeit just a bit trimmer.
7) It's got Dolby Atmos onboard
Worried how the Xbox One X will sound? Don't be: it's set to serve up spatial surround via Dolby Atmos and a proprietary Microsoft sound format called HRTF.
We don't know much about HRTF, but Dolby Atmos is all about adding height to surround sound and pin-point placement of sound effects in a 3D soundscape.
Generally, you need to add ceiling or upward-firing speakers to an exisiting surround system to get Atmos going, which generally means a total of at least 7 speakers, but a mention of support for Dolby Atmos for Headphones suggests those of us who aren't willing/able/allowed to fill our lounge with speakers should still be able to get in on the awesome Atmos action.
But it's also worth pointing out that you don't need to buy the Xbox One X to get gaming in Atmos, because that's a feature coming to the Xbox One and One S as well.
8) It'll be cooled by a vapour chamber
All of these hardcore internals will take a fair bit of cooling – which is why Scorpio uses the closest thing to water cooling that you'll see on a consumer console.
Usually the reserve of gaming PCs, Scorpio puts ionised water to work in a vacuum in order to disperse heat from its components via a heatsink. There's still a fan (albeit a bespoke number), necessary to dispel heat from the fins, but it's an incredibly efficient way to cool – and hopefully a lot quieter.
9) It'll cost £449 on 7 November
Microsoft has positioned the Xbox One X as an ultra-premium console capable of more than the current crop of boxes, and as you might expect, they want a fair amount of money for such a thing.
The Xbox One X is priced at £449 (or US$499), which is a major premium over the Xbox One S, not to mention the PlayStation 4 Pro. You're paying for the extra power, of course, but will console players see enough benefits to make the upgrade?
We'll find out on 7 November, when the console launches worldwide. Stay tuned for our hands-on impressions of the console, as well as plenty more coverage from E3 2017.
10) It's launching with a bunch of games
While there are no "exclusive" Xbox One X games, since everything runs on the other Xbox One variants as well, Microsoft has a decent stack of big games releasing around the same time as the console this November.
Forza Motorsport 7 is the big one, as obvious and expected as it is, and we'll finally see Crackdown 3 launching right with the console on 7 November. And then big third-party picks like Assassin's Creed Origins and Middle-earth: Shadow of War will also be enhanced for Xbox One X, and we have to imagine that other big upcoming games like Call of Duty: WWII and Destiny 2 will also see Xbox One X benefits.
And then there's more ahead, of course: BioWare's new Anthem, a Destiny-esque co-op multiplayer game, runs better on the Xbox One X, and Microsoft teased other 2018 releases like Sea of Thieves, State of Decay 2, and Metro Exodus that we're looking forward to.
Given the console's compatibility with everything that came before it, too, there will be no shortage of things to play on the Xbox One X right away – even if they're not all native 4K, big-budget stunners.