The 10 things you need to know about Android N 7.0
Here's why you should be excited about Android... Nutella? Nougat?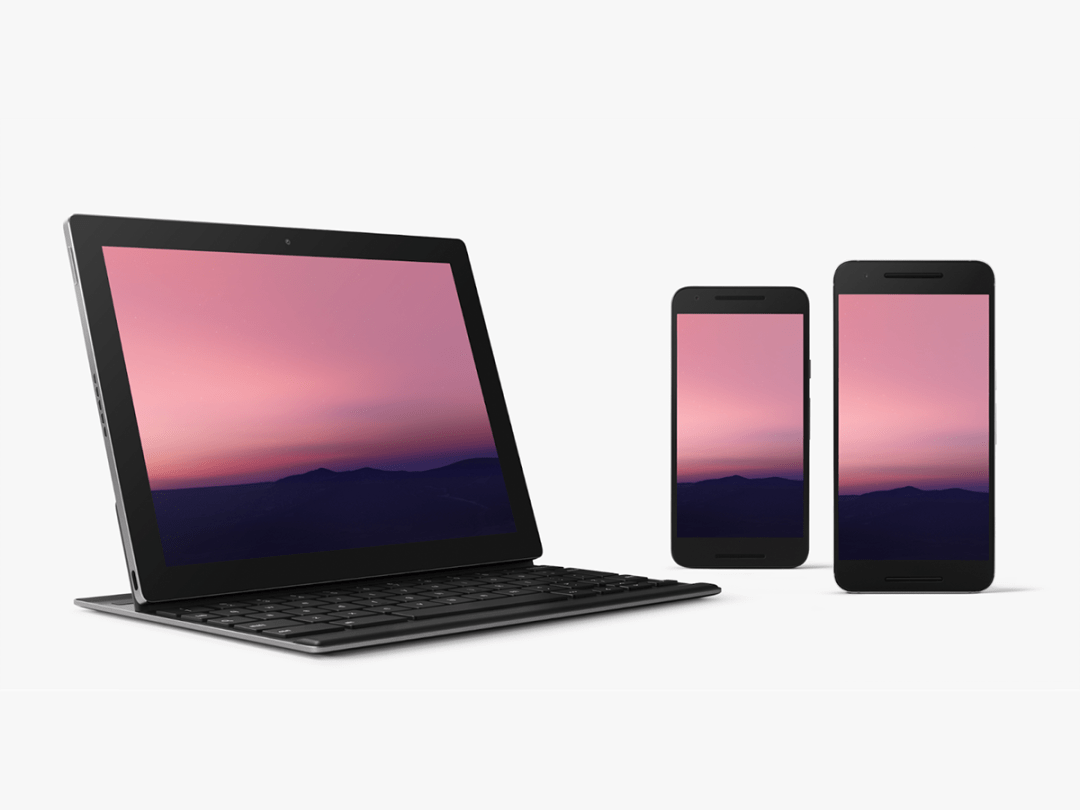 Android N is finally real, after Google revealed a ton of new info about the forthcoming mobile OS in its I/O 2016 keynote.
Despite Android having been around for more than seven years now, Google's still finding ways to enhance and improve the OS, some of which could significantly impact the way you use your phone or tablet. And that's true even if you're not thrilled about VR (although maybe you should be)!
Ready to get caught up? Here are the 10 things you need to know about Android N before the full release comes later this summer.
1. Big performance boost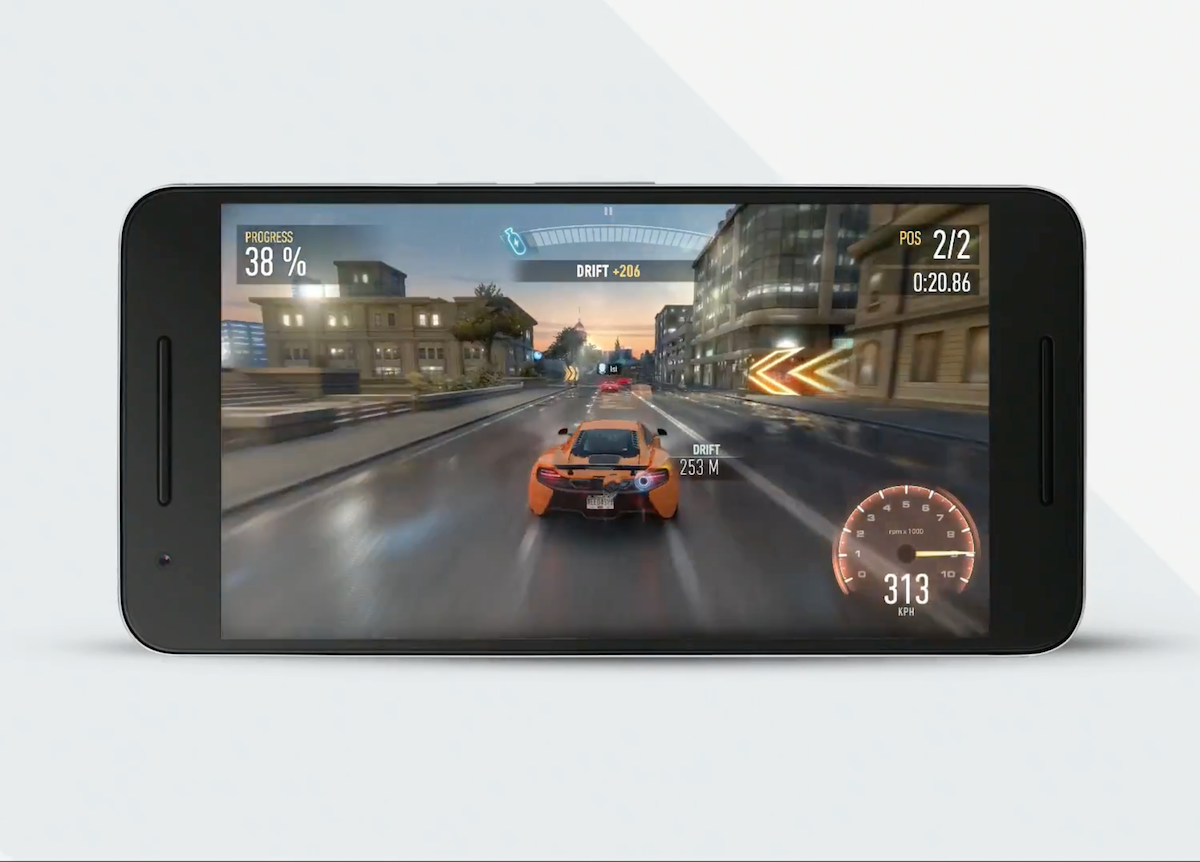 Android N promises to deliver a significant boost in both gaming graphics and everyday performance due to some notable changes. Thanks to the new Vulkan 3D graphics API, developers can take direct control of the GPU to deliver dazzling mobile game graphics.
An updated version of Need for Speed: No Limits was shown running on a Nexus 6P, and between the super-smooth frame rate, motion blur, added detail, and water reflections, it was almost a convincing facsimile of last year's Need for Speed console game. (Almost!)
But it's not just about games: Google says there will be big improvements in runtime speed, especially with app installation times, compared to Android 6.0 Marshmallow. All told, Android N ought to be a zippier OS assuming your hardware is up to par.
2. More secure, less hassle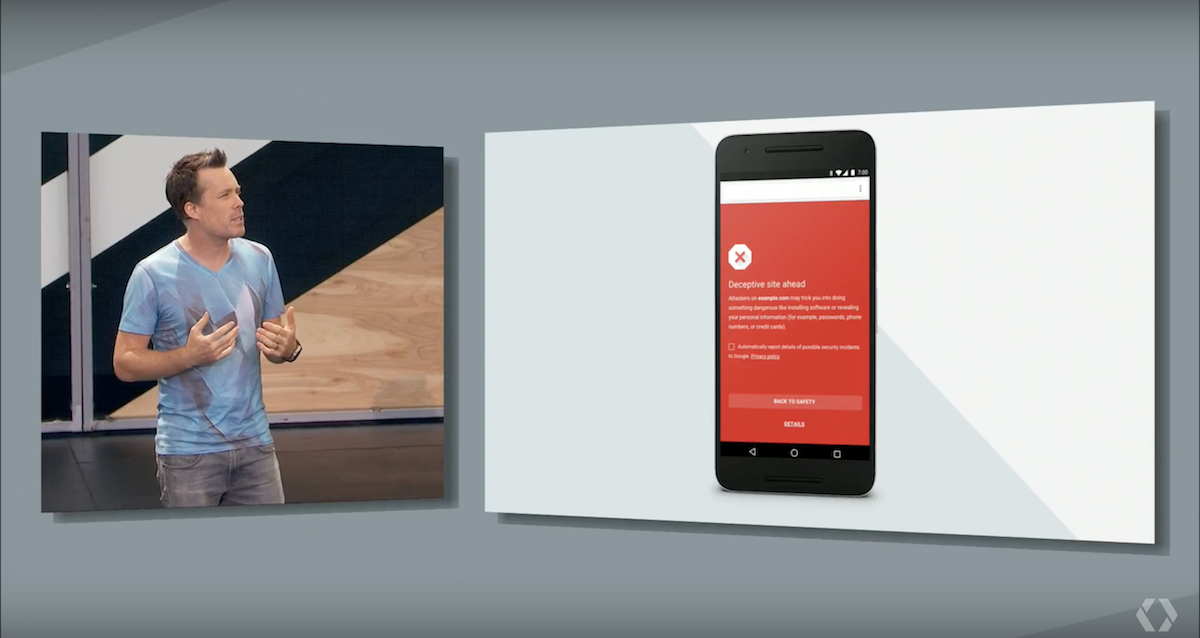 Thanks to the improvements seen in Android N, your device will be more secure than ever thanks to aspects like file-based encryption and a hardened media framework. But in your day-to-day life, the biggest improvement should come with seamless security updates.
New devices built for Android N will have two system images and automatically download the latest updates onto the one running in the background; when it's ready, your phone or tablet will swap to the updated one and continue on, now newly secured against recent threats.
And lastly, all the code enhancements mean that pesky "Android is starting" post-update screen, in which all of your third-party apps have to be optimised before launching the OS, will be gone forever. Can we throw Google a parade for that one? We really should.
3. Google begins Daydreaming
We heard that Google was reportedly working on a standalone VR headset, but the truth is slightly different: Google is working on a native VR platform within Android called Daydream, and it'll work with an array of approved phones, headsets, and controllers.
Makers like Samsung, HTC, LG, Huawei, and more will release Daydream-optimised phones starting this autumn, along with their own headsets and one-handed motion controllers based on Google's own specifications.
And Android N will have a VR mode that is optimised for VR performance and latency, with notifications coming through properly into your VR view and the ability to browse and use the Play Store right from the headset. It sounds like a massive step up from Cardboard, to be sure – although Cardboard will remain as a low-end VR option.
4. More recent than ever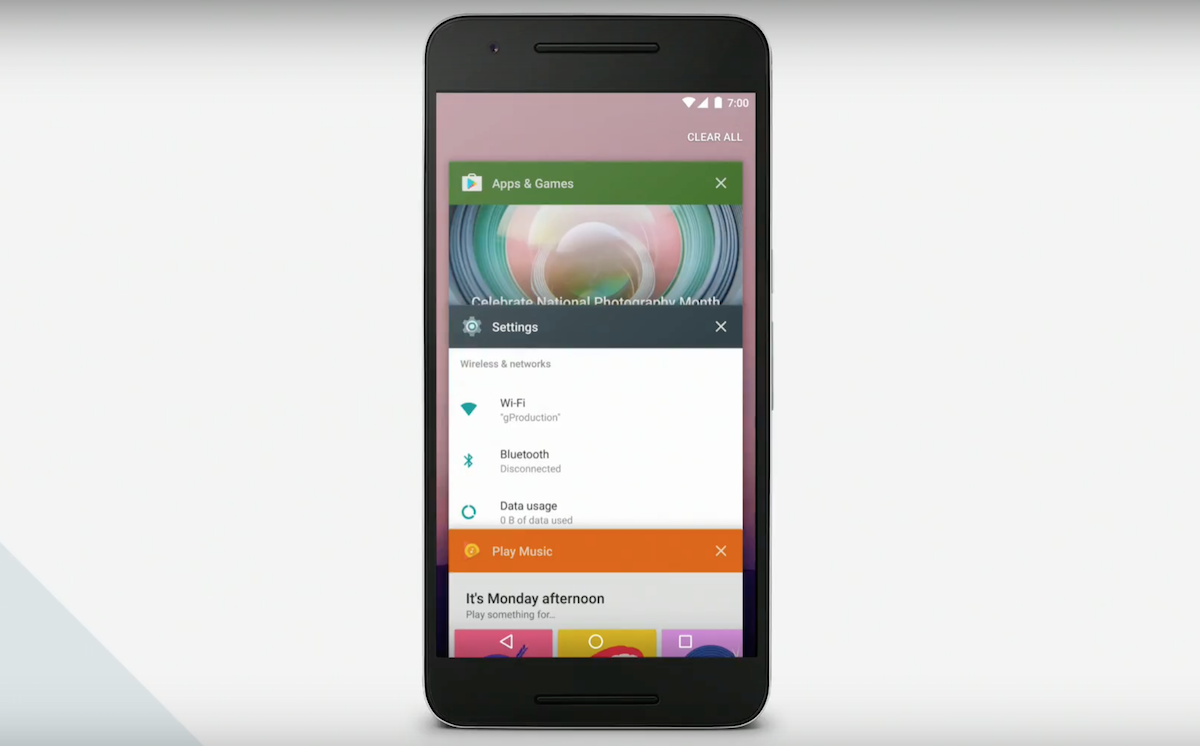 Google's data showed that people tend to mostly return to the last handful of recent apps, so there's a noticeable change with Android N: apps that you haven't used for a while will be automatically cleared from the recent apps screen, making it easier to find apps and games you tend to spend a lot of time in.
Other enhancements are coming, as well – for example, a long desired "clear all" button for recent apps in stock Android, which is found at the top right of the screen. Also, you'll be able to double-tap the Recents button from anywhere to switch over to your last-used app, making multitasking easier and faster than ever.
5. Do the splits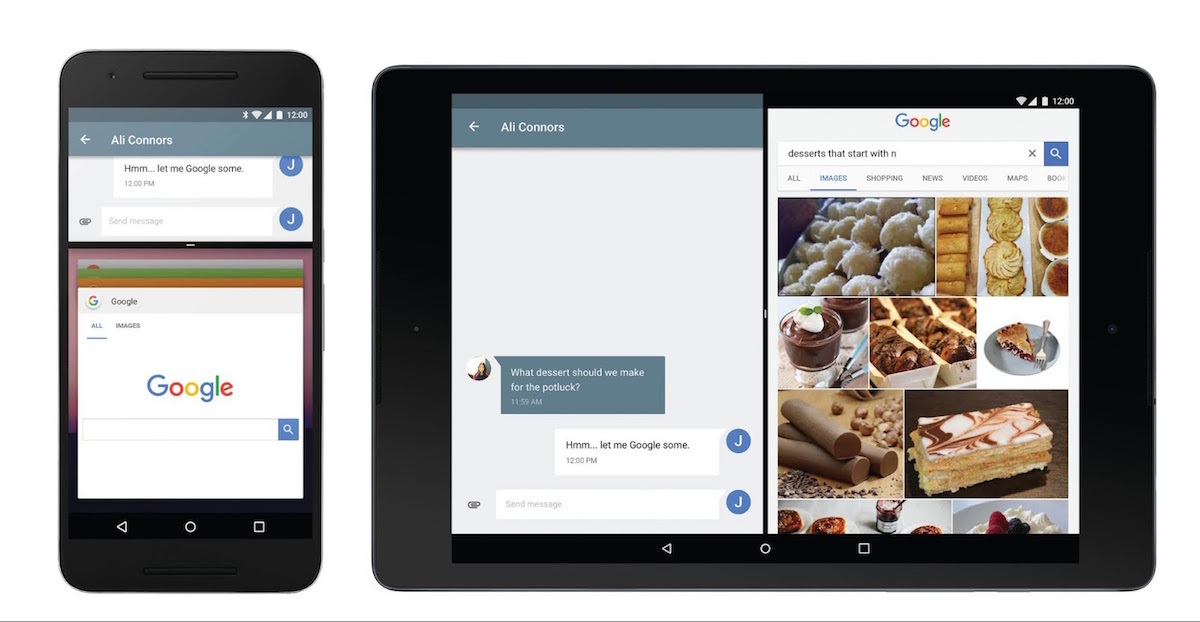 Samsung phones already had split-screen capabilities, but now it's coming to stock Android. The feature will work on both tablets and smartphones, as well as in both portrait and landscape orientation. Google showed an example of watching a YouTube recipe video up top and then adding to a shopping list on the bottom pane, but we're sure you can come up with your own useful purposes.
Additionally, Android TV will get a new picture-in-picture mode in Android N, letting you continue to watch video in a small pane while, say, browsing the Play Store or accessing other apps and info. Handy!
6. Be better notified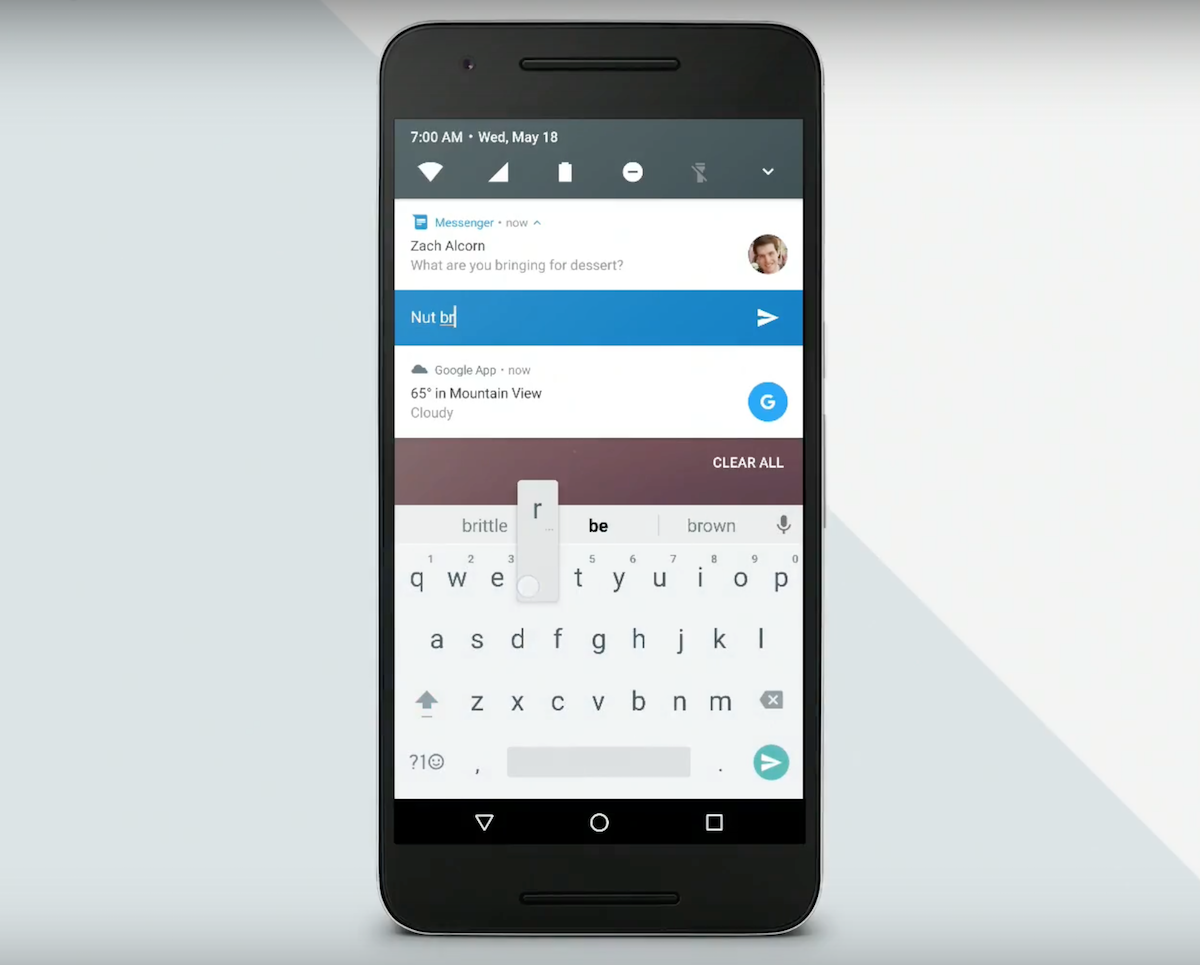 Android N will institute a nice array of notifications improvements that seek to keep you alerted only to the extent that you want to be – and able to act more quickly. For example, the new system-wide ability to reply directly to messaging notifications in-line means you don't have to pop into an app to send a quick response.
And now you can long-tap a notification to change its visibility directly from the notification, which means no more digging around the Settings menu to make a change. You'll also see the top five most-used icons up top thanks to some slick streamlining of the notifications bar, although you can pull down to find the rest.
7. It has updated emoji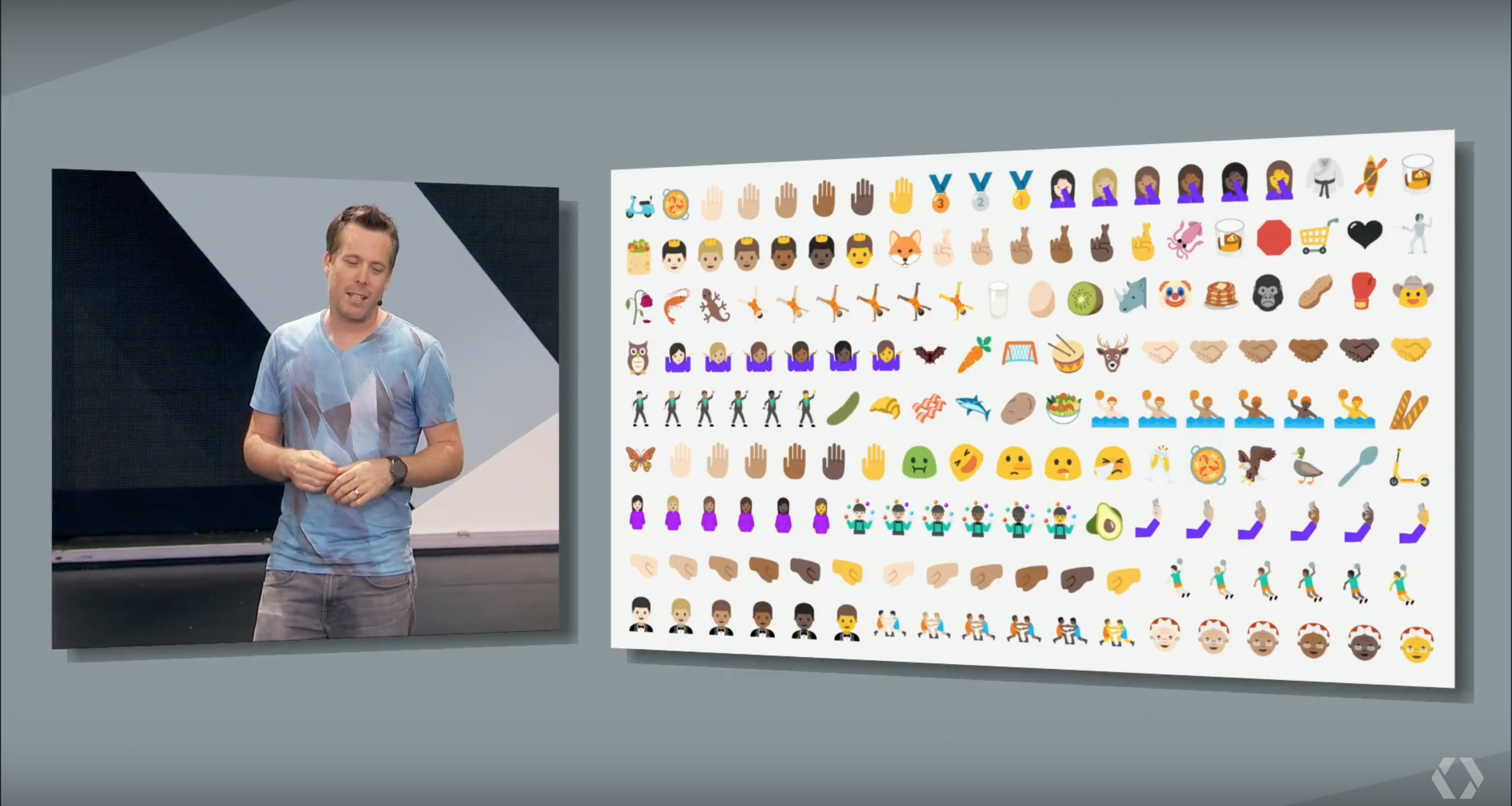 Maybe it's silly to make a big thing out of emoji changes, but many of us use them each and every day – so big tweaks are sure to be noticed. Thankfully, this is a change for the better, as Google plans to implement more human-like glyphs with Android N, finally breaking away from those weird blob faces that have haunted us in stock Android.
With the Unicode 9 standard embraced, we'll also get an array of goofy new emoji to populate our chats with, and more importantly, the addition of skin tones and further female emoji options. A sincere hooray for representation!
8. Sleepier smartphones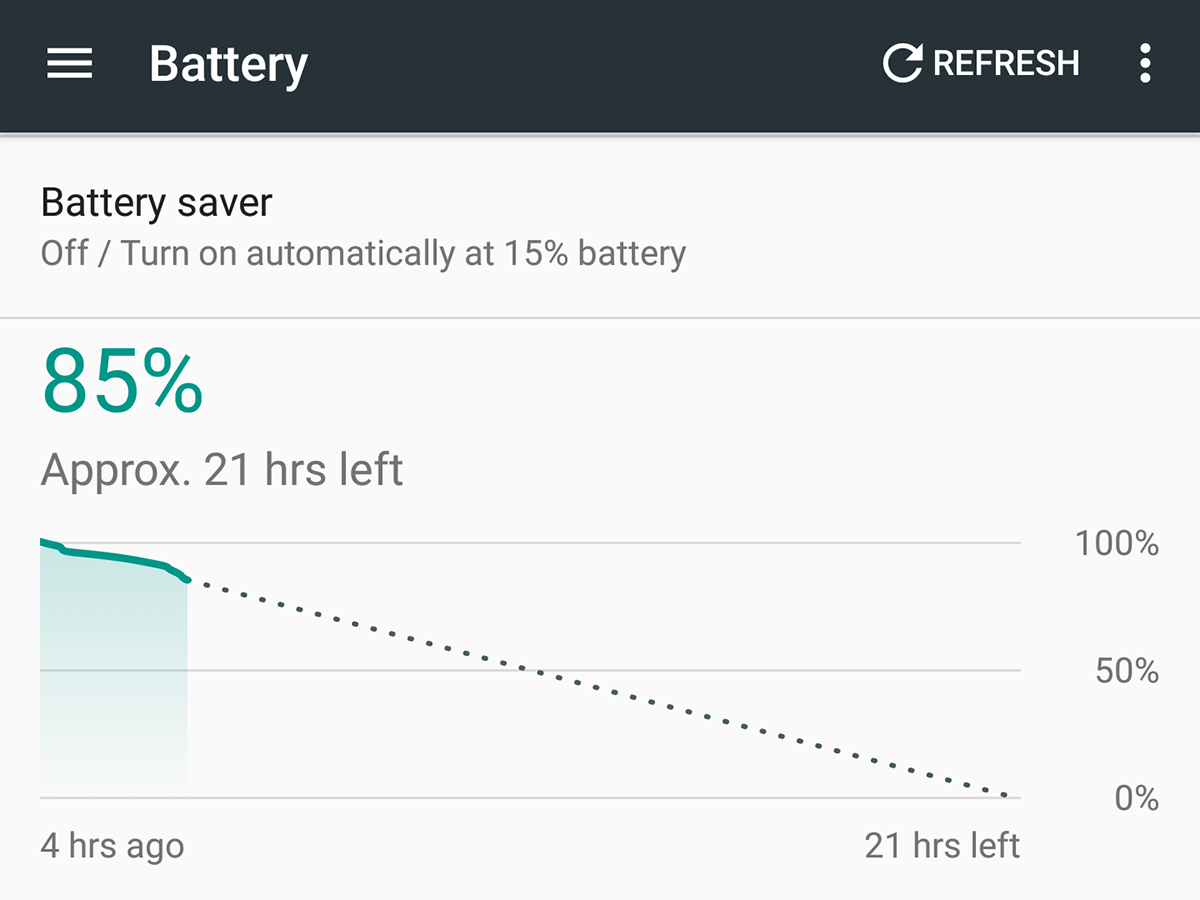 Doze is one of the more useful additions of Android 6.0 Marshmallow, deactivating apps and features when your phone isn't being used, and now it'll see a big boost in Android N: the functionality will activate every time your phone's screen is off, not just when it's sitting still.
Dozing while you're running around? Now that's helpful. Android N can also trim down your data usage, thanks to a data saver function that nudges your apps to cut down on wasteful cellular data use. Luckily, you can whitelist apps you don't mind spilling excess data for – gotta get those nonstop Facebook alerts, right?
9. You can help choose the name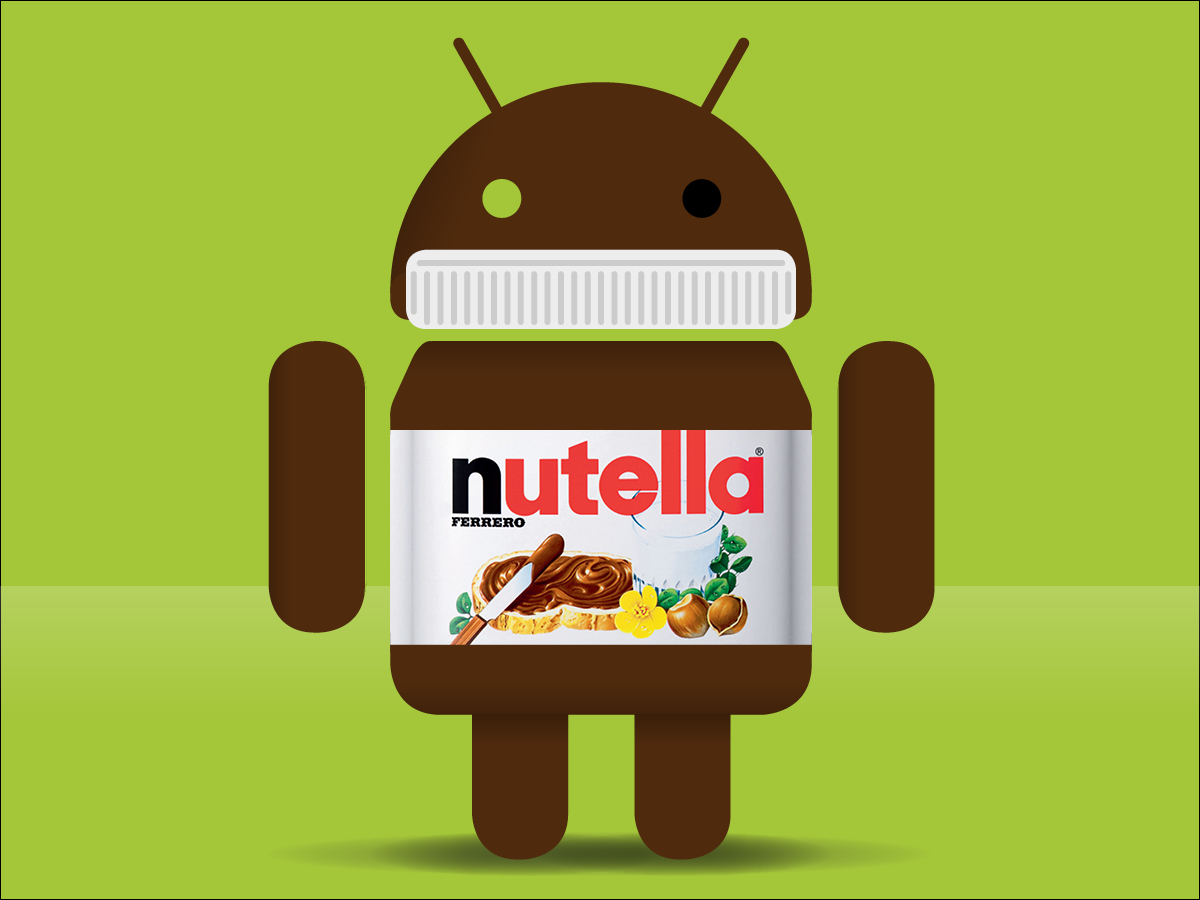 Marshmallow, Lollipop, KitKat – and all the names before, of course. Google has a long history of naming its operating systems after sweet treats, but I/O 2016 came and went without a proper name affixed to Android N 7.0. What will it be?
Well, you can help decide. Whether you like Nutella, New York cheesecake, or something else entirely (beginning with "N," of course), Google wants to hear your suggestions. Choose wisely: we'll be writing the chosen name regularly for at least a year, you realise.
10. The beta is out now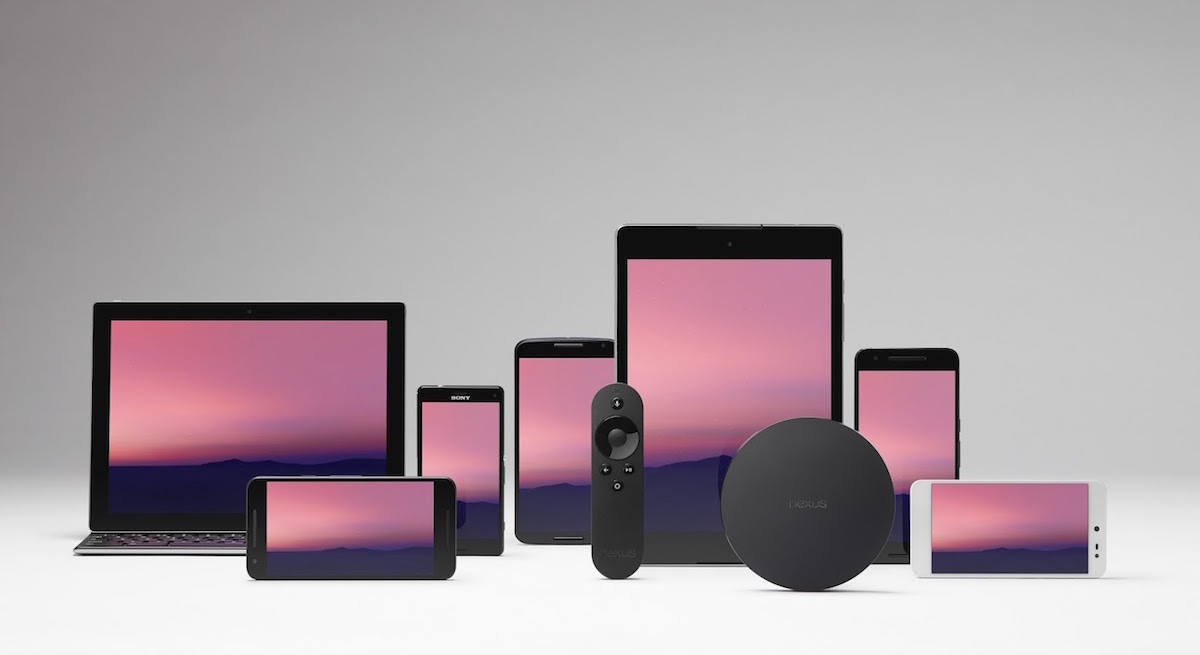 Android N will be officially released in late summer, but if you're eager to start tinkering with its myriad features now, you can grab the latest beta version today. Google surprise-released a developer preview back in March, but the version out today is the first one deemed a "beta" and designed to run on your primary phone or tablet.
You'll need a specific device, however, and they're all Google-branded: the Nexus 6P, Nexus 5X, Nexus 6, Nexus 9, Nexus Player, and Pixel C are supported, as well as the General Mobile 4G Android One handset. However, Sony's Xperia Z3 can also run a version of Android N through Sony's separate Developer Preview program. No word yet on whether any other non-Google devices will be compatible before the official release.