Technics EAH-AZ70W review
Tech my breath away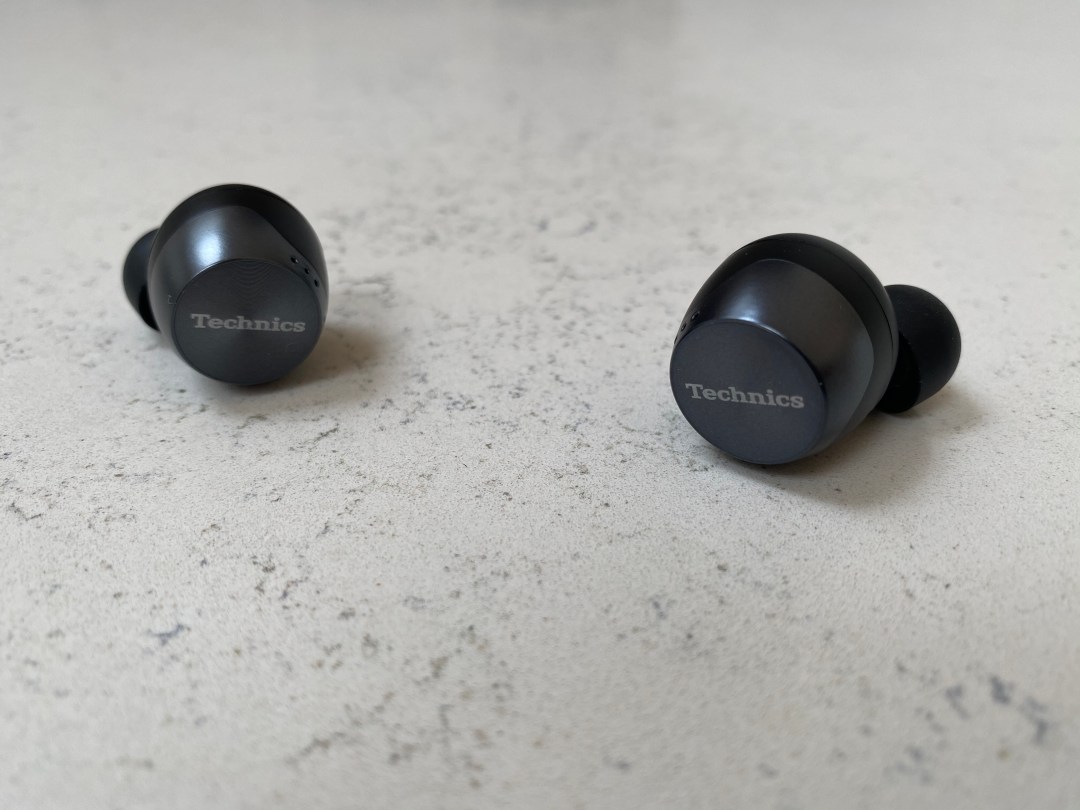 Technics has had a bit of a scattergun approach to audio since its comeback, but its EAH-AZ70W true wireless earbuds represent its most affordable offering this decade.
When the brand returned at the tail end of 2014 we got super high-end separates costing tens of thousands of pounds comprising a portfolio of speakers, streamers, stero amplifiers and a CD player. Then came a £14,000 reference-grade turntable to put the willies up any vinyl revivalist.
It turns out anyone wanting to buy back into Technics without bankrupting themselves would have to bide their time. All-in-one soundsystems from the Ottava series arrived with a sub-£400 starting price, before the warm and fuzzy return of its reinvigorated SL DJ decks confirmed it hadn't forgotten its core audience after all.
That leaves Technics breaking new ground with its first pair of wireless noise-cancelling earphones, but how much audio prowess can you pack into a pair of tiny £240 buds?
Design: Moment of Senn
Design-wise, the buds are most closely aligned to Sennheiser's Momentum True Wireless 2, only they're slightly heavier and £40 cheaper.
They're made from a pleasing mix of faux aluminium and plastic, with statement Technics branding and IPX4 water-resistance.
The Bluetooth antenna has been cleverly integrated into the touch sensors to keep the buds compact, resulting in an attractive, engraved charging case that's also on the svelte side.
Although we'd always recommend foam tips, there are a generous five silicone sizes bundled in the box, and despite Technics lacking detailed diagrams of my ear canals, the angle and length of the sound ports offers a truly snug fit.
Features: Hybrid theory
An Acoustic Control Chamber in each bud controls air flow and balances frequencies, while sound emanates from graphene-coated 10mm dynamic drivers – 4mm's bigger than Sony's WF-1000XM3.
Noise-cancelling comes courtesy of a Dual Hybrid system capturing both the noise outside and inside the headphones.
Save for a struggle in windy conditions, which we're told will be fixed with a firmware update, results are impressive if not quite Sony standard.
An Ambient Sound Mode is included too, as is voice assistant support for Siri, Google Assistant and Amazon Alexa, all of which were as responsive as you would expect. Solid job, Technics.
Interface: Touchy subject
Touch controls on each bud are simple to grasp and instantaneous in their implementation – they're a joy to use – nevertheless, we advise diving into the user-friendly Technics Audio Connect companion app to execute listening preferences first.
In the app you'll find battery levels for both buds, Ambient Sound Control settings, and a choice of sound modes including Bass Enhancer, Clear Voice, plus an EQ.
Further options include selecting your preferred voice assistant, auto power settings, and the choice to prioritise sound quality or connectivity.
Although, thanks to a Left-Right Independent Signalling System, we found the Bluetooth connection steadfastly separated between buds to be strong and offering exceptional sonic delivery.
That extends to conference call quality with MEMS microphones and Beamforming technology to pick up speech and suppress ambient noise.
Performance: Open and shut case
Strictly speaking Technics products should be judged on the glow they give audiophiles, and thanks to a combination of analogue and digital processing they sound terrific.
The generous-sized drivers deliver plenty of low-end – especially with the companion app Bass Enhancer preset – but not at the sacrifice of some acutely balanced remaining frequencies which, feel clean and energetic.
Kicking off with some (essential) Glenn Campbell via Apple Music, there's real prominence in the guitar solos and vocals, while a remastered version of 'Breaking Atoms' by Main Source played through a 2019 iPad Pro gives the buds a chance to showcase their bassy credentials.
Oddly, it's Full HD and 4K music videos on YouTube and Vimeo where everything comes alive. Live BBC archive clips from Later with Jools Holland also sound incredible – not an area where we'd naturally expect true wireless earphones to perform.
The only chink in the armour is battery life. Granted, six hours of continuous playback with noise cancellation on matches most of the competition, but it's the 12-hour capacity of the USB-C charging case that lets things down a little.
While Technics' is good for two full charges, Sony and Sennheiser will give you three from their respective USB-powered pouches.
Technics EAH-AZ70W verdict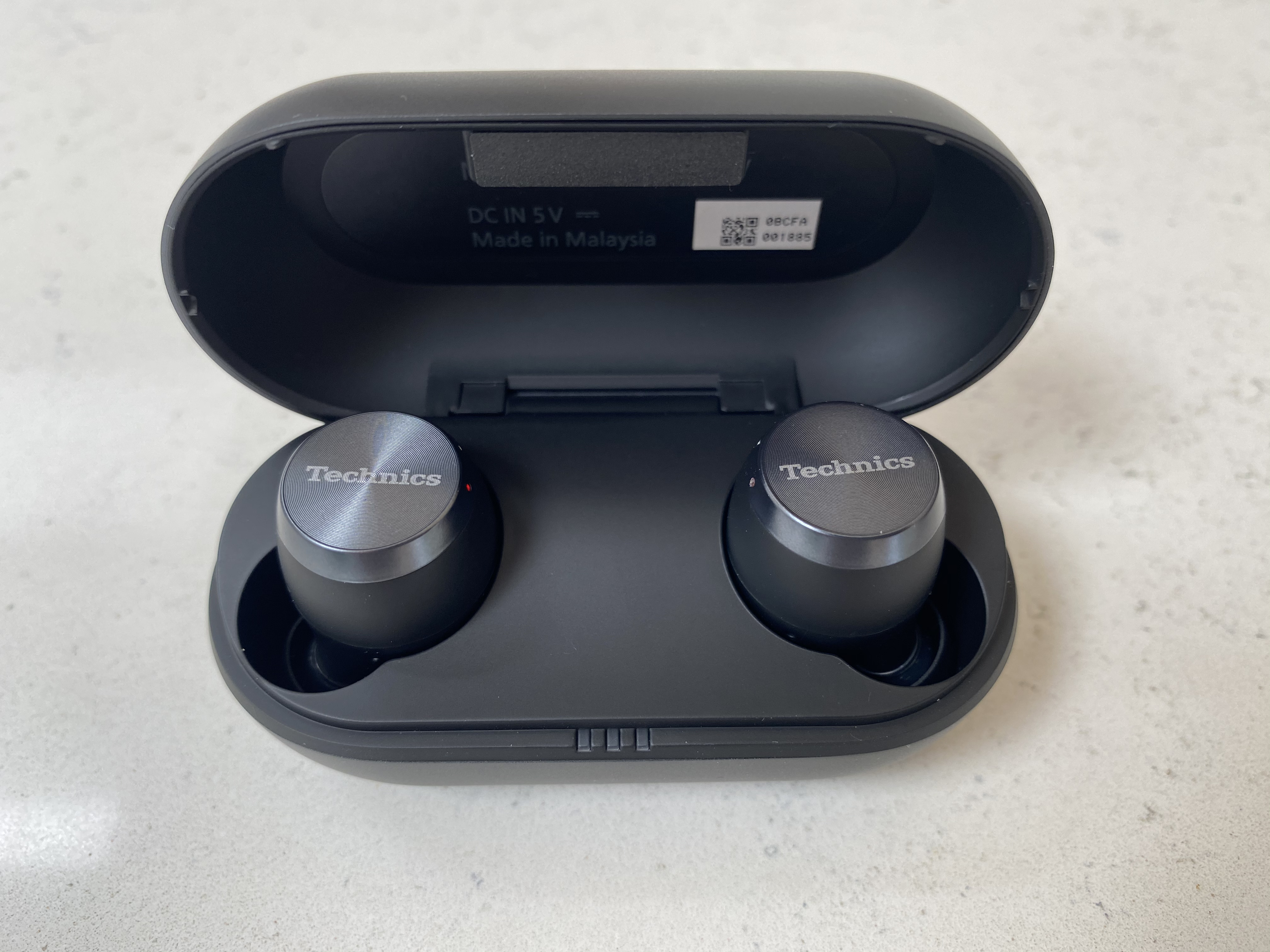 A bit like Bang & Olufsen, Technics does lavish sound systems very well, but has now shrunk the tech down to deliver affordable personal audio.
Aside from a charging case lacking a little bit of juice, the buds score highly in the noise-cancelling stakes, and even higher when it comes to sound quality. Yes, big drivers help, but it's a winning combination of proprietrary internals working in tandem that do the business.
There always seems to be a compromise with true wireless buds – whether it's bad design, bulkiness, imbalanced weight or iffy controls – but here the stars seem to align. Silencing everything but the music is a cinch… and the music sounds great.
Tech specs
| | |
| --- | --- |
| Connectivity | Bluetooth 5, USB-C |
| Battery | 6 hours + 12 hours (case) |
| Bud weight | 2 x 7g |
| Case weight | 65g |
Stuff Says…
Technics' true wireless debut is a triumph for sound quality tempered with peace and quiet
Good Stuff
Sound quality
Design
App simplicity
Bad Stuff
Charging case capacity