Sony HDR-SR8E review
Sony's crafted the highest capacity HD camcorder with a massive 100GB hard drive. But what else does this sharp shooter offer?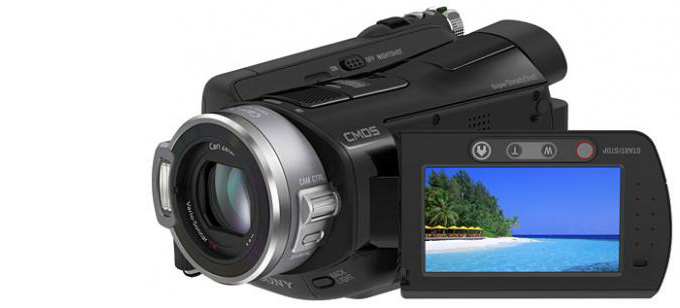 SD card camcorders may come in tiny packages but you'll be lucky to find one with more than a 4GB card in the box. DVD based cams offer a cheap storage alternative but top out at 2.66GB a disc. For serious HD capacity, then, it has to be a hard disk-based shooter and there's none more capacious than Sony's SR8E.
With 100GB strapped to its side it can swallow up to 38 hours of HD footage in long play mode. But why compromise? In top quality, the red light will stay on longer than a Soho brothel's in winter, still shining on more than 13 hours after you first hit record. Film any longer and you'll need another holiday just to edit it all down.
Colour supplement
So you can fit lots of footage on there but is it any good? In short: yes. In good light, the colour this thing puts out is simply superb. We put it down to the much touted x.v.Colour capabilities but comparing back on our x.v.Colour Sony telly we couldn't actually tell any difference with it on or off. So, let's just say the SR8E's a natural.
Detail from the 10x zoom Carl Zeiss lens is also superb. If we have one gripe it's the low-light performance, which tended to get a bit noisier than some of the best performers. At least there's an optional video light you can strap on.
Like the rest of the Sony range, the 5.1 audio is actually conjured up from just three channels – left, right and rear – so don't expect quite the Odeon surround sound experience of others.
If your drama epic demands it, you can affix Sony's ECM-HQP1 5.1 mic to the custom hot shoe. Serious movie makers will also be pleased to note the inclusion of headphone and mic jacks, now becoming rarer than French Rugby World Cup victories on most consumer cams.
Easy street
For technophobes there's a set-and-forget 'Easy mode', which takes care of everything and hides any scary manual controls. There's no manual focus ring but the control wheel to the left of the lens does almost as good a job.
Almost everything else is done via the slightly cramped touchscreen. We particularly like the ability to control the auto exposure by pointing at an area on the screen to expose for. The same can also be done with the autofocus.
The touchscreen comes into play again when viewing footage back. It's well organised and there are some nice touches like face index which takes thumbnails of each mug so you can quickly skip to sections featuring certain people – pretty handy when you've 38 hours of footage to wade through.
Review continues after the break…
[MPU]
Low on energy
With such a mammoth recording capacity it would need the batteries of a Kenyan runner to keep going. Sadly its energy levels are more akin to the Kenyan darts team's, wheezing for a packet of Embassy to recharge after just 45 minutes, so pack a spare cell or opt for the high capacity unit.
We were also surprised not to find an HDMI cable in the box – especially as Sony's used its own proprietary connector – so factor in an extra £30 (ouch) for the privilege of hooking up to your HD-Ready TV.
That's cheeky, but not enough to dent our admiration. If you do want to save yourself a few pennies and still get the same quality then opt for the 60GB SR7E. Otherwise do yourself a favour and invest in this year's best consumer 'corder. We're smitten.