Sky Now TV Combo preview
Contract-free TV, broadband, and calls? That's a tough deal to ignore
So far in 2016, Sky's task has been finding ways to make traditional TV both better and smarter.
On the better end of things is Sky Q, the provider's dazzling high-end vision of future TV, which has a sleek new UI, lets you view in any room with plug-and-play add-on boxes, and will bring eye-popping 4K content starting later this summer. Of course, you're paying for those perks – a lot, in fact.
Looking for a smarter TV and broadband option for your home? Then the newly revamped Now TV Combo might be for you. With the freshly enhanced box, you can tap into an array of Sky packages as well as over-the-air channels, plus pick your broadband speed and calling needs. And all of that comes without needing to sign on the dotted line for a year or more.
Grabbed your interest? We've spent a little time with it, so here's all you need to know about Now's bold bundle.
Mix and match
Sky's new Now TV setup is a fully modular approach, letting you pick and choose which elements you want in your plan and the quality or amount of each. As Sky says it, this is the UK's "first ever contract-free triple play bundle," letting you get all three at the price and quantity desired.
You can choose from four Now TV passes to dig into certain types of TV shows, movies, and sport offerings. There's the Entertainment pass that gets you 11 channels not on Freeview, plus on-demand access to 250+ digital box sets of hot shows.
You'll also find the Cinema pass with 1000+ movies on demand (and 16 premieres each month), the Kids pass with five extra channels for the tykes, and finally the ever-enviable Sky Sports pass, which gives you seven channels of sport bliss for a pretty penny – more on that shortly.
As for broadband speeds, you can choose from 17Mbps Brilliant Broadband as the baseline or opt for speedier fibre, with 38Mbps and 76Mbps options available. And with calls, you can pay for as much as you use your line or opt for perks like unlimited evenings and weekends or anytime calls, and opt into pricier packages if you're always on the landline.
A brainier box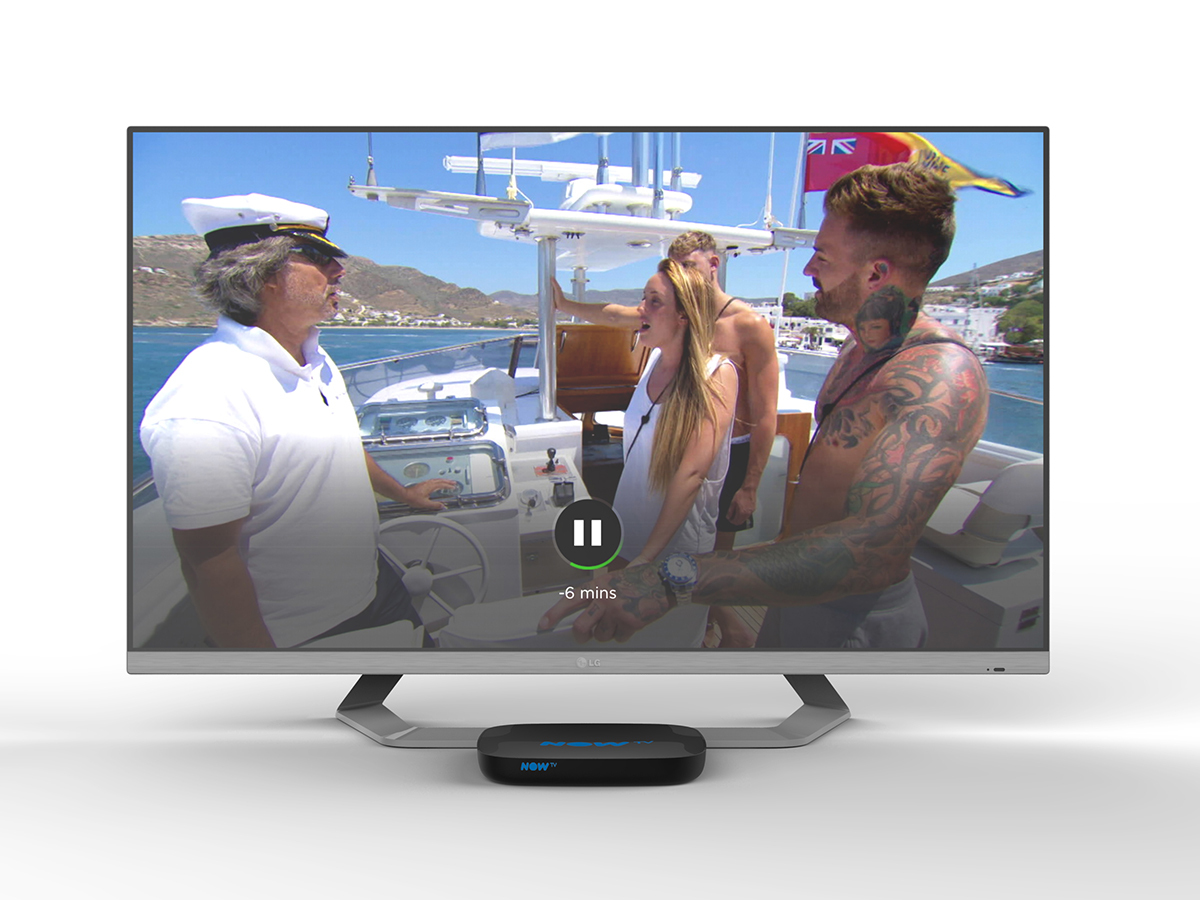 As for the hardware, Sky's new Now TV Smart Box is based on the Roku 4 and maintains the look – it's a little larger than an Apple TV, but pop the black saucer atop your AV stack and it'll blend right in. The Now TV logo lights up, but not bright enough to distract or draw your gaze on movie night.
Likewise, the remote is pretty similar to what Roku's offering with its standalone boxes, although it's a bit chunky – you're not getting an ultra-slim slab of refined tech like with the Apple TV. Still, it works well with the new UI and isn't overly complex, so even gran will be able to take Now TV for a spin without breaking anything.
Capping the streaming video quality at 720p might be the biggest downside of Now TV. That's not nearly HD enough to satisfy the average viewer in 2016, and it's the budget handicap included to keep Now TV from cutting into Sky's higher-end offerings. Still, if you crave value above all, it could be a tolerable trade-off.
Another potential downside could be the inability to sideload apps – like a Roku can do – which means no Netflix or other streaming apps. Why must Sky's box be a silo? We don't know, but if you don't have a dedicated streaming box, it could be a major frustration.
At least you can tap into loads of Freeview channels: more than 60 free-to-air channels are available, with up to 15 in 720p. And you can pause live TV for 30 minutes to grab a snack or run to the corner store, so that's a handy bonus.
You'll need a Digital TV aerial to access the free-to-air content, however, so keep that in your budget plans. Otherwise, the Now TV box just needs access to your broadband/fibre connection (no dish!) to start streaming Sky channels and content to your TV, and you can add on extra boxes for other rooms by tapping into your new Wi-Fi connection.
That comes from the Now TV Hub router, which admittedly appears to be a rebadged Sky Hub router – no surprise there. The Sky Hub wasn't all that great, but given the price here, the Now TV Hub will hopefully do the trick for pumping your home full of broadband or fibre.
Smooth going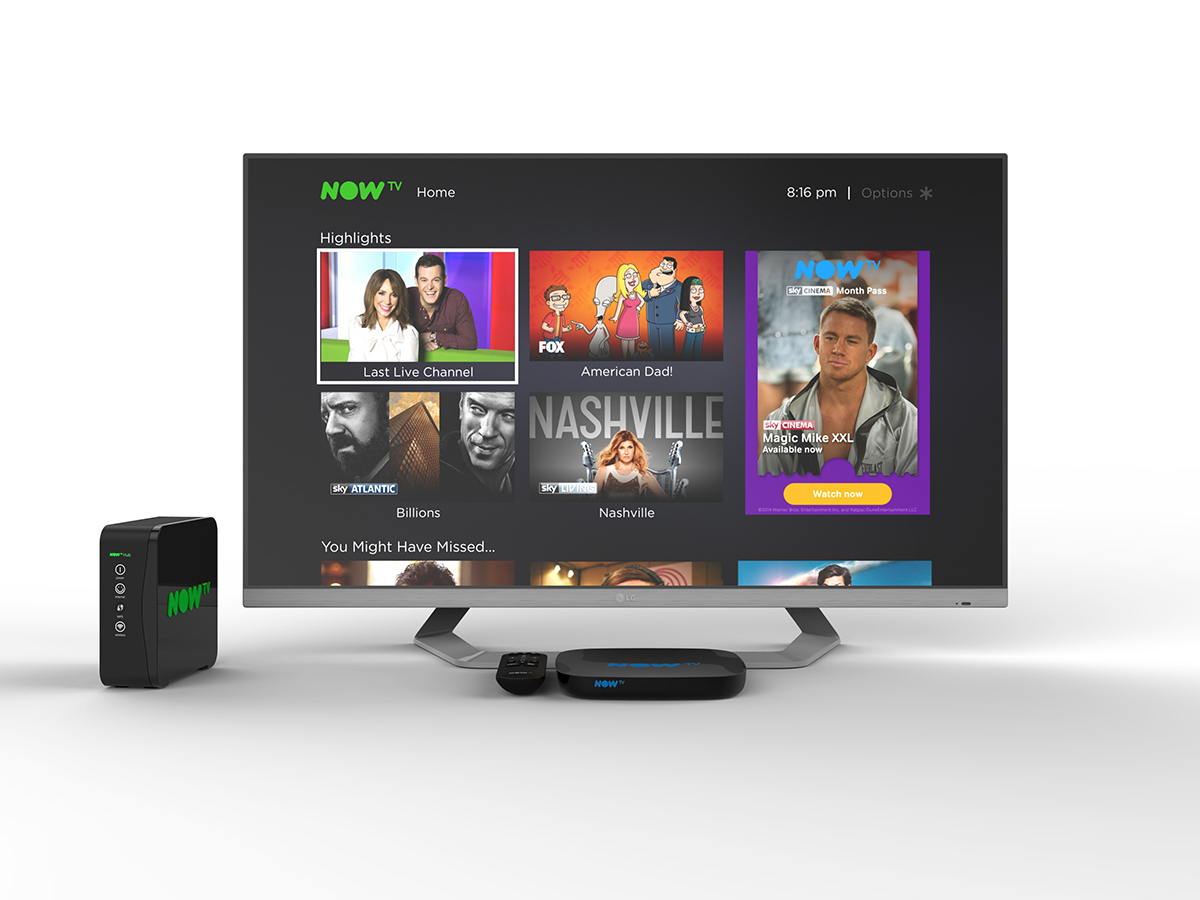 Now TV might be saddled with a dated maximum resolution, but at least the interface is totally refreshed and up to date. It's as fast and responsive as Sky's other boxes, and therefore miles ahead of what Virgin's still offering with TiVo.
It's a pretty simple layout, making it easy to find the shows, movies, and other programming you're looking for using the remote's d-pad. Large preview or key art images fill the screen, rather than relying on a heap of text to tell you what's airing. And there's a kid-safe area, too, which keeps out the naughtier content as needed.
Catch-up content is nicely integrated within the interface, as well, letting you tap into BBC iPlayer, ITV Hub, All 4, and Demand 5, as well as other services like Spotify. You don't need to switch apps to access that content, and likewise, live over-the-air TV is only a couple menus away. All told, it's a pretty comfortable interface and easy to use even for technophobes.
What's my total?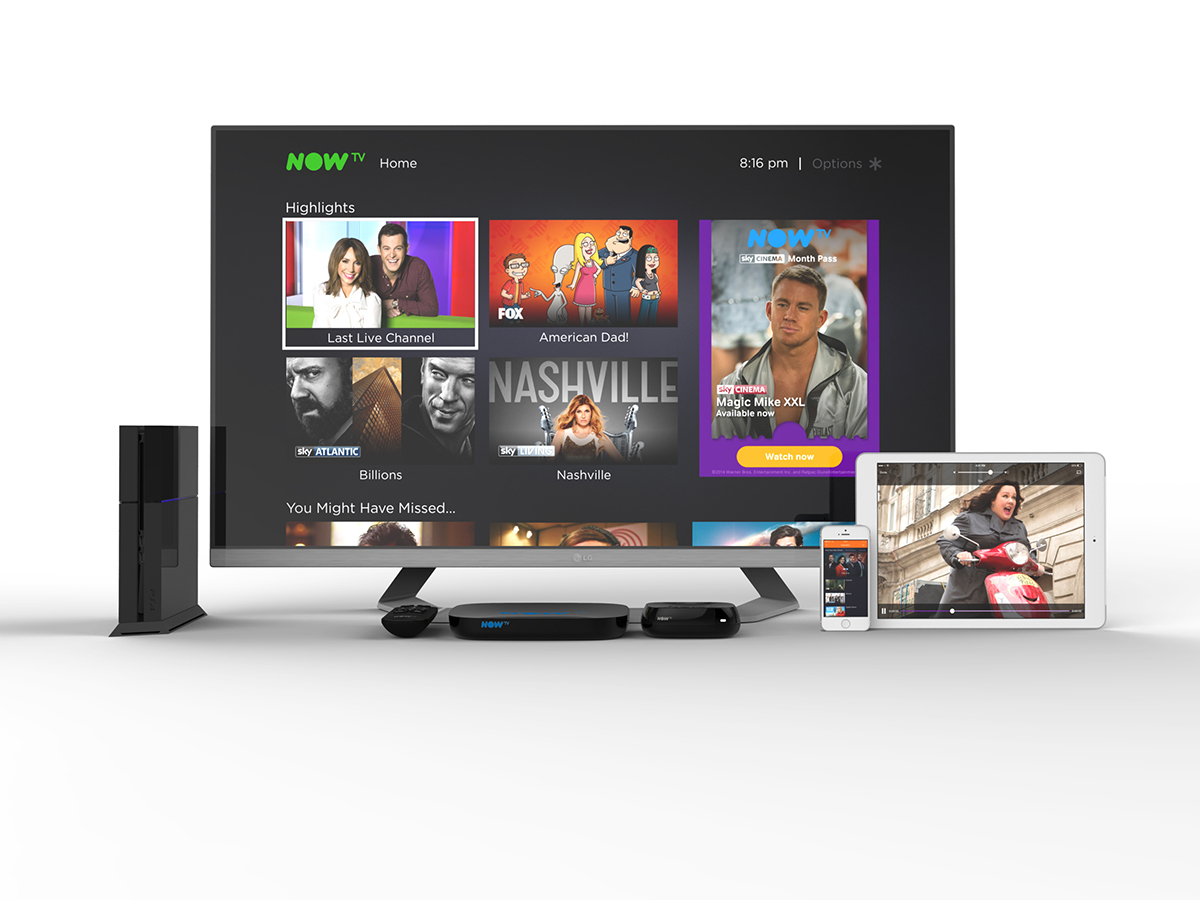 At the very least, you can pay £10 for service – that's for the Entertainment pass and 17Mbps broadband, plus whatever phone usage you have on top of that – and get the Now TV Smart Box and the Now TV Router included during use. Granted, there's the nagging £18/month line rental fee on top of that, so you're looking at £28 minimum.
From there, you've got all sorts of options. Double the Internet speed and grab 38Mbps fibre for a grand total of £38/month, or bump up further to 76Mbps at a total price of £43/month (line rental included).
Alternately, you could just get the Sky Sports bundle with Internet and pay between £55 and £70 per month all told depending on speed selection. You can mix and match from the TV passes and broadband speeds if you like, but if you plan on maxing out the menu, you might be better served with Sky+ or Sky Q. Now TV is really for the scrimpers and savers who don't want loads of channels or don't need super Internet speeds.
If you do opt for Now TV, also keep in mind the one-time £40 installation fee for basic broadband or £50 for either fibre speed without a contract. Note that if you don't mind signing a 12-month contract, you can do so and dodge the install fee. Your call there.
Still, as we've stressed before, this is all done without being required to sign a contract, which means you can ditch Now TV altogether in a month or downgrade your options without incurring a penalty. It's fully flexible, which might be its greatest perk – although the potentially low price doesn't hurt.
The Now TV Combo and hardware will be available sometime this month, but you can give Sky a heads-up about interest now and they'll let you know when it's ready. If you're stuck with a bulky, overpriced plan elsewhere or want to un-cut the cord, the new Now TV could be a telly saviour.