Sanyo CE32LDY1-B review
A 32in LCD and a 160GB hard-disk recorder in one set? Sanyo, with this curvy Y:TV you are really spoiling us…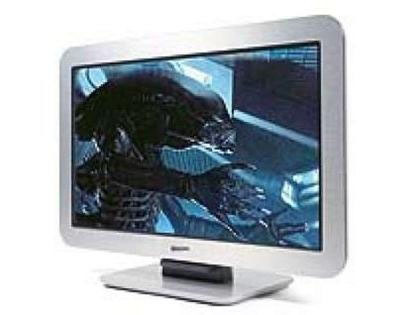 Back in the early days of the flatscreen telly we used to scratch our heads and wonder how all the TV gubbins that used to fill up our big box in the corner could suddenly fit into a chassis just a few inches thick.
Now Sanyo is attempting to twist our melons all over again by presenting us with an LCD screen that not only houses a Freeview tuner but also finds space for a whopping 160GB hard-disk recorder.
Pretty boy
Not only is Sanyo seeking to replace all the ugly boxes in your front room, it's looking to do so with an attractive, slimline unit.
The CE32LDY1-B – or Y:TV –  breaks the mould by turning its back on the accepted silver and black design language in favour of a friendlier, softer look.
And if it doesn't match the décor it's not a problem because you can just rip off the screen surround and snap on a different colour.
All in all, Sanyo's design team deserve an award for trying to produce something different. Unfortunately, they could also use said gong to beat senseless their colleagues responsible for the software.
Disappointment on the menu
The menu system is a bit of a lost cause: crude design, slow response times and a laborious timer-recorder setting process.
When you do get round to recording something the results are pretty good. Sure, there's a touch of picture noise as a result of the average tuner but it's unlikely to upset most viewers.
Off-air picture is bettered by the Sanyo's way with a DVD. Brightly lit scenes look great and only darker scenes really suffer, with the Sanyo struggling to uncover enough detail.
It's a similar story with hi-def material but, like the showboating striker in your football team who wears white boots, this TV is all about style and convenience rather than performance.