Samsung The Premiere LSP9T 4K Smart Triple Laser Projector review
Short throw, big impact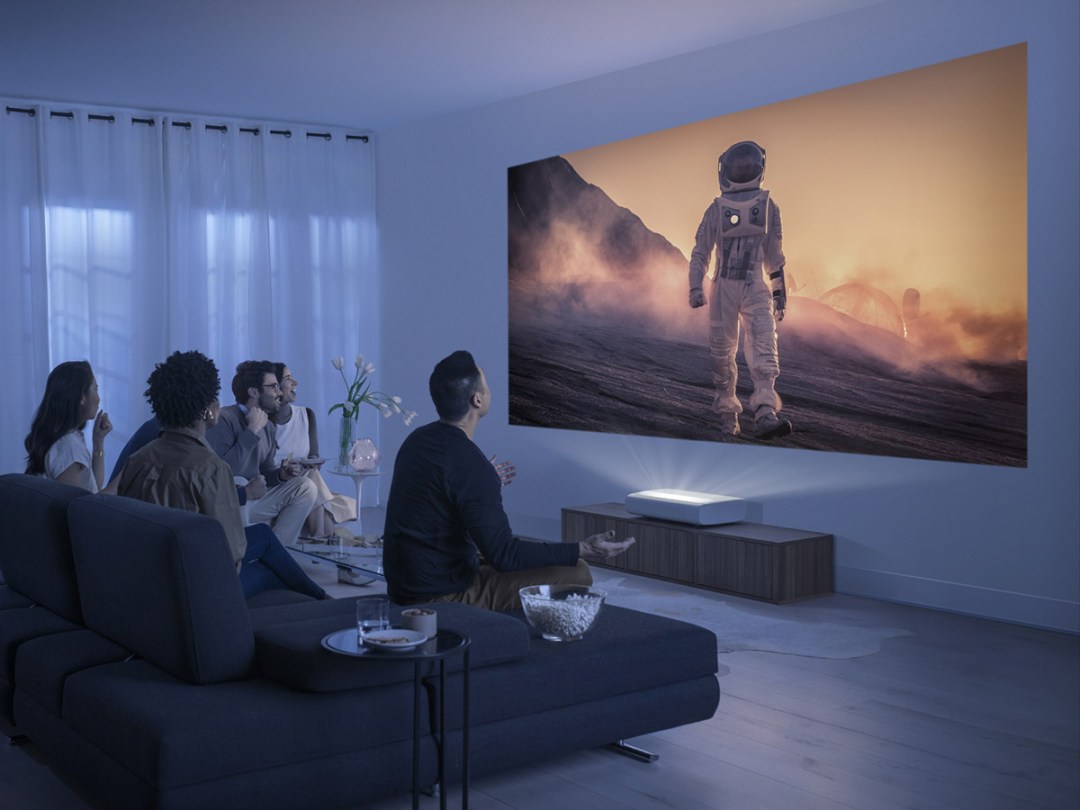 Want a big-screen home entertainment experience without having to lash an enormous telly to your living room wall? A projector is the way to go.
But projectors often come with issues of their own, particularly the need to position them in the middle of your room. Samsung, though, has different ideas. Its latest high-end model, the LSP9T, is the company's first home cinema shiner in years – and it's something pretty special.
Designed to deliver a wall-spanning viewing experience in a more accessible, lifestyle-friendly way than a traditional projector, it comes dangerously close to having mass appeal. Until you see the £7,000 price tag, that is. Let's see how far it goes towards justifying it.
Design and setup: close encounters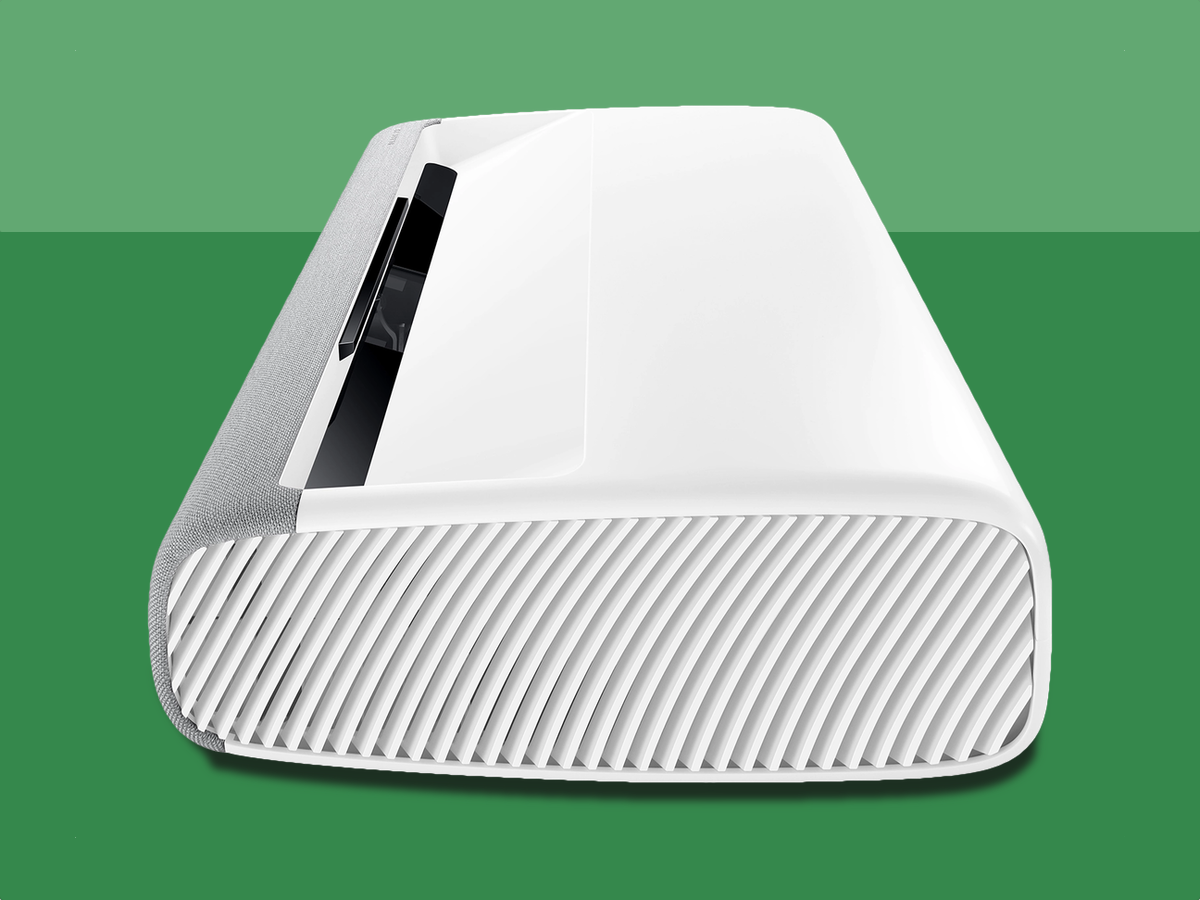 The LSP9T is an ultra-short throw projector, which means it can produce a huge image on your wall from just a few centimetres away. Where traditional projectors would require a few metres of separation to create a 130in picture, The Premiere can do it over a distance of just 238mm. And it can create a 100in image on a surface – its minimum picture size – from a mere 113mm away.
This design eliminates a lot of the setup issues often associated with projectors: there's no need to worry about viewers' heads blocking the image, or risk tripping over snaking cables running from one side of your room to the other. But it also means you need to place the projector in quite a specific way.
We experienced some frustrations getting the picture to precisely fit our wall-mounted screen. The Premiere has feet which can be raised or lowered to tweak its angle. After a bit of tinkering, we managed to achieve a decent fit. It's also possible to alter the keystoning (the proportions and perspective of the projected image) through the settings menu to further perfect the picture.
The Premiere itself has an attractive minimalist design, even if it's quite large and heavy. In plain white, it looks more like a large games console or squat soundbar than a projector – and that's a positive thing. While most projectors are better hidden out of sight – or mounted on the ceiling – The Premiere's design fits inoffensively with most home decor.
Connectivity reinforces The Premiere's lifestyle aspirations. In addition to Ethernet, Wi-Fi and Bluetooth, you get an aerial input (there's a TV tuner built into the projector), an optical audio output and USB, plus three HDMIs – one of which supports eARC, so its capable of carrying a Dolby Atmos or DTS:X audio passthrough.
That's an impressive haul, even if it's a little disappointing that the HDMI inputs don't support the variable refresh rates offered by the latest generation of games consoles. The connections are all located on the wall-facing side of the projector, which helps to hide messy cables, even if it makes access a bit tricky when you want to plug in something new.
Features: smart and sound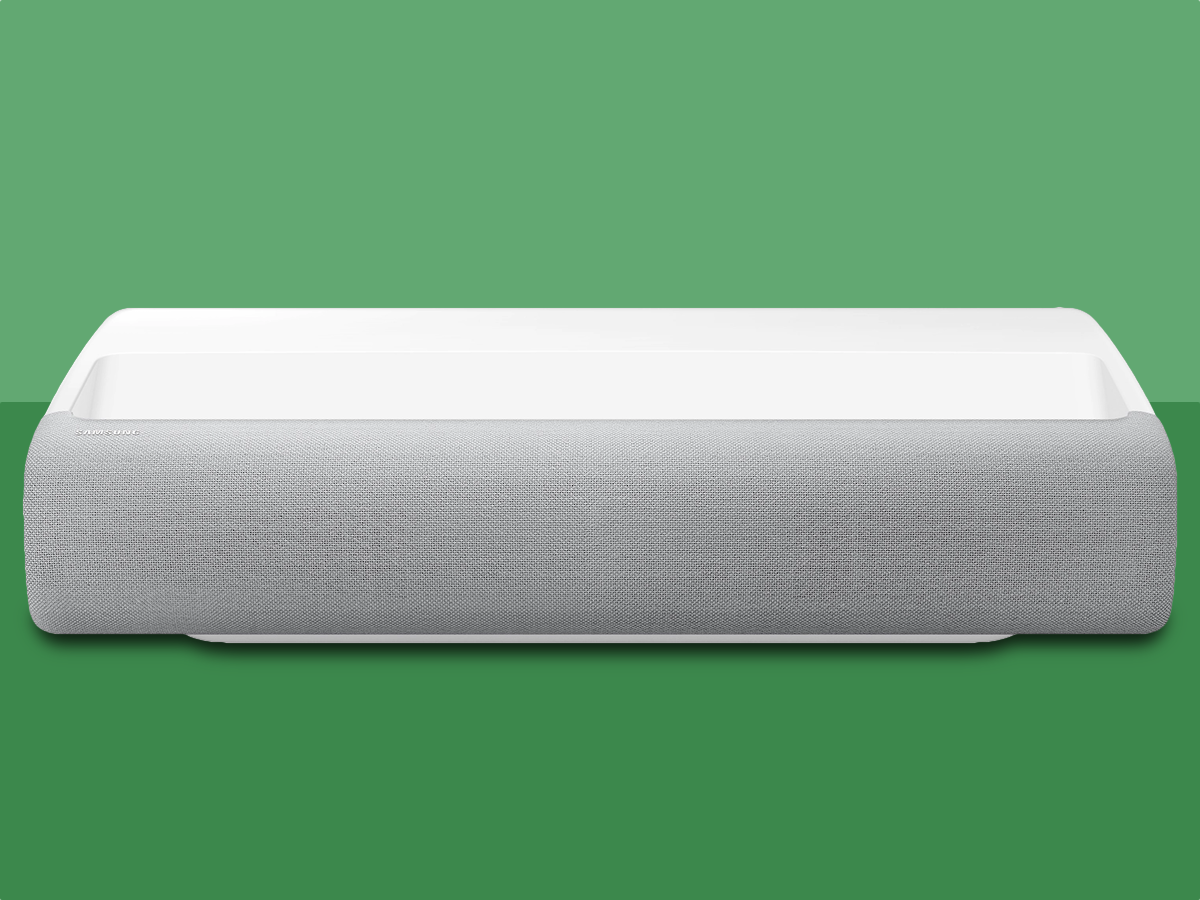 Samsung has designed the LSP9T to work much like a television. It has the same same Tizen-based smart interface that you'd find on Samsung's flat-screen TVs and a similar remote control, too. In fact, it has two: a comprehensive clicker that's bristling with buttons, plus a minimalist remote for those who'd rather keep things streamlined. If you can control a TV, you can control this projector.
The Premiere also features a built-in 40W 4.2-channel speaker hidden under its fabric mesh front.
And its connectivity means you can also use apps like Netflix, Amazon Prime Video, YouTube and Apple TV+, while mobile mirroring and AirPlay 2 allow you to easily play content from your smartphone or Apple device. Samsung's Bixby voice assistant is also on-board, while Alexa and Google Assistant are supported as well – although they're only able to listen via external devices.
Performance: who needs the cinema?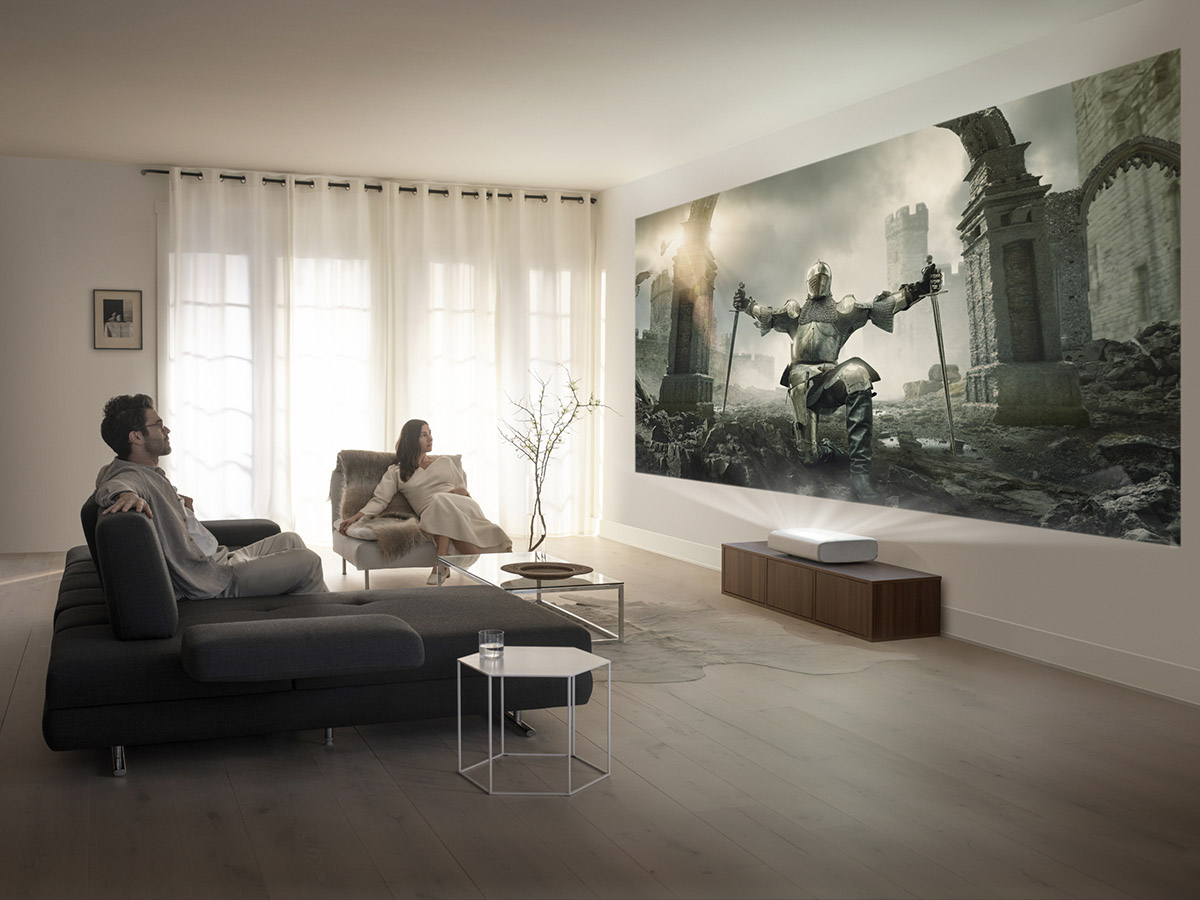 The LSP9T produces a stunningly large, sharp and bright image. We used it with a projector screen in a dark room – a setup which will always produce the best results – but The Premiere is bright enough to work acceptably well on a white wall or in a room with some ambient light. The only time the picture appeared washed out was when we threw open the curtains and turned the big light on. Which should never happen in any cinema.
The 4K resolution results in razor sharp detail, while colours are full, lush and vibrant. HDR10+ is supported (something which no other projector currently offers) and there's a wide dynamic range which we're simply not accustomed to seeing on projectors. Black levels aren't as inky and strong as you'd see on a good OLED TV, but there's still real punch and impact in the LSP9T's images.
The 56ms input lag might seem fairly high, but we had no real issues playing a selection of games on the PlayStation 5. The Premiere does feature a Game Mode which disables any setting that might add additional lag. Similarly, it also offers a Filmmaker Mode – a first for a projector – to ensure that movies are presented as close to the director's original vision as possible. Backed by the likes of Martin Scorsese, this setting rids the image of anything that might cause artefacts or artificially smoothed motion.
As for the built-in speaker, it's surprisingly effective. It's hard to believe the room-filling sound it produces can come from such a compact speaker on the front of a projector. It's significantly louder and more refined than the majority of built-in TV speakers, and more than a match for some soundbars. If you're shelling out seven grand on a projector, you can probably find a few more quid to drop on a proper multi-channel surround sound setup – but the LSP9T's integrated speaker will handle audio duties admirably in the meantime.
Samsung The Premiere LSP9T verdict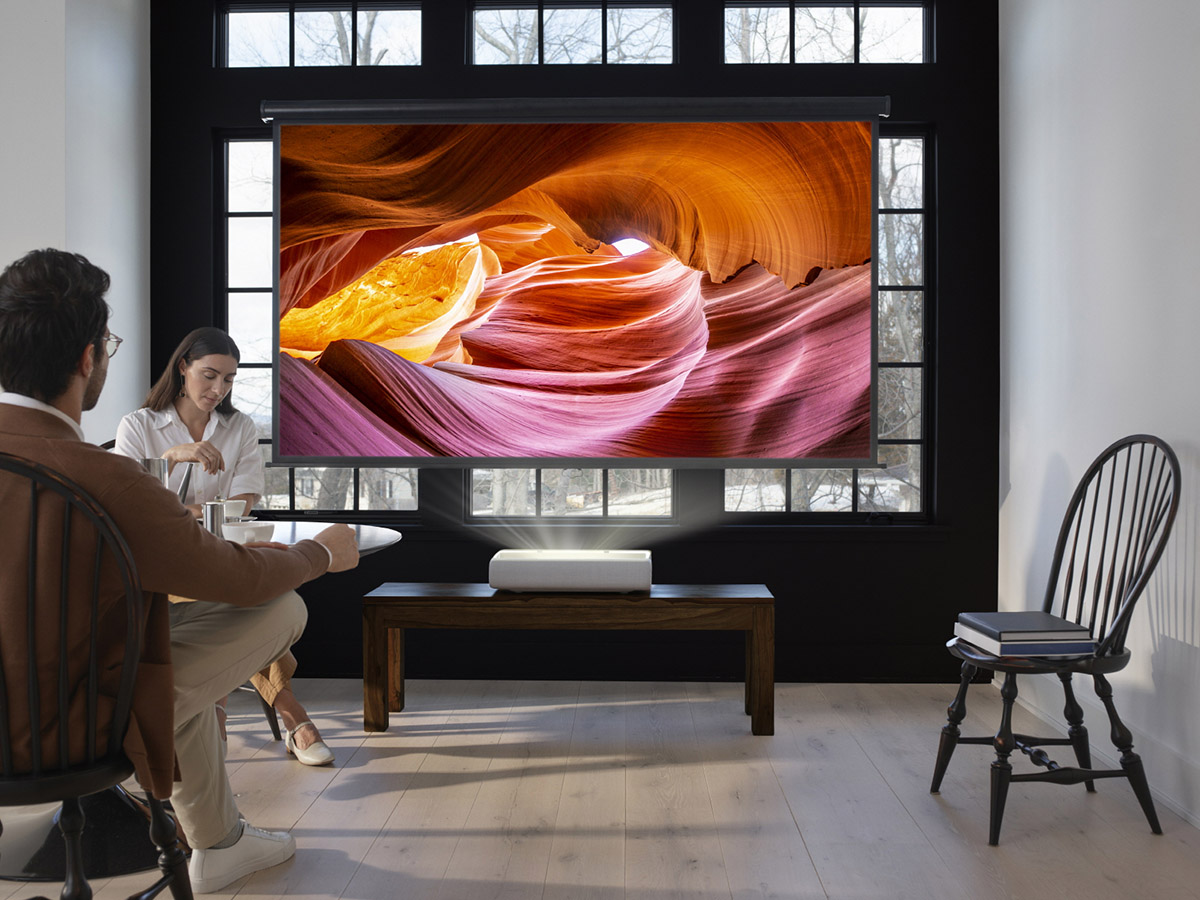 This is one of the most thoughtfully designed projectors we've ever tested, with superb performance. Yet it's difficult to see who it's actually for.
The fetching industrial design, integrated speaker, TV-like interface and general user-friendly approach suggest it's aimed at people who don't want to jump through the hoops of traditional projector ownership.
But The Premiere's price tag is so high that we suspect anyone who can afford it will be flush enough to pay other people to do all the annoying installation and setup stuff for them, plus install a serious surround sound system to boot.
It's true that Samsung offers another, cheaper ultra-short throw 4K projector in the form of the LSP7T (we say cheaper; it's still £3,999). And similarly specced alternatives to the LSP9T from Sony and JVC are also expensive.
So oerhaps we're missing the point and should just appreciate The Premiere LSP9T for what it is: an easy-to-use projector that throws up a gloriously engaging image, accompanied by pretty great audio.
Tech specs
| | |
| --- | --- |
| Max image size | 130in |
| Resolution | 3840 x 2160 (4K UHD) |
| HDR | HDR10+ |
| Brightness | 2800 ANSI lumen |
| Lamp life | 20,000 hours |
| Speaker | 40W 4.2-channel |
| Connections | 3 x HDMI 2.0 (1 w/eARC), optical audio out, Ethernet, USB, aerial in, Wi-Fi |
| Dimensions | 130 x 550 x 370mm |
| Weight | 11.5kg |
Stuff Says…
An astonishing projector at an astronomical price
Good Stuff
Glorious 130in 4K HDR10+ image
Surprisingly potent built-in speaker
Clever ultra-short throw design
Good connectivity
Bad Stuff
Eye-wateringly expensive
Some setup fussiness