Samsung Galaxy S23+ review: stuck in the middle
A modest upgrade for the middle child Galaxy phone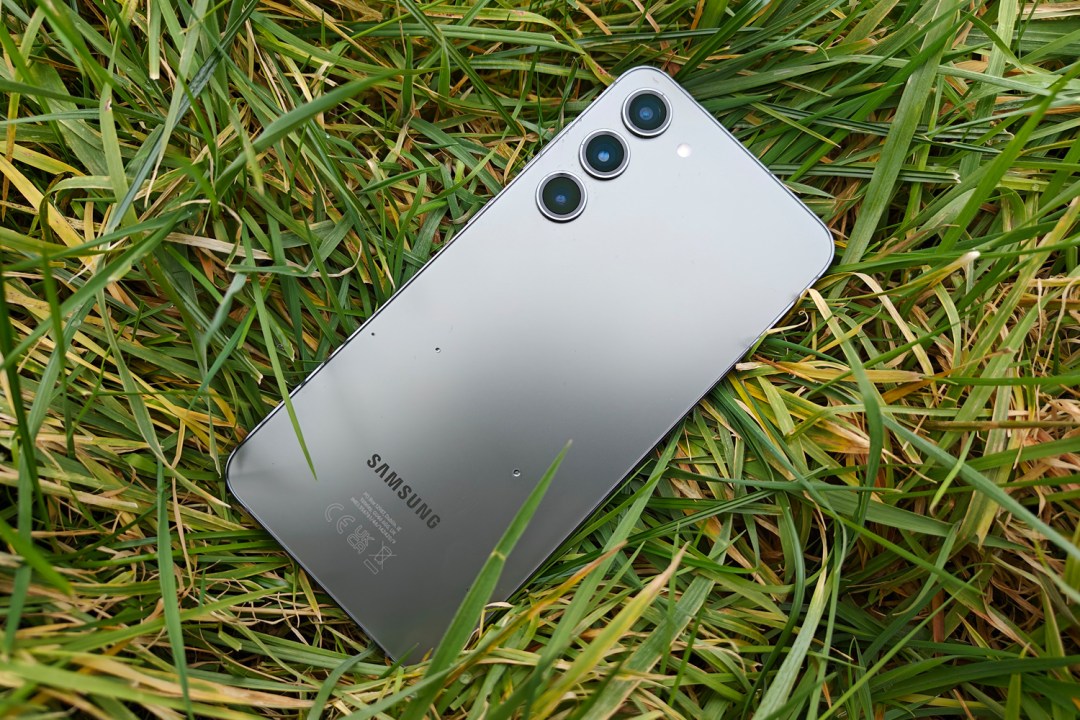 Samsung's flagship phone trio seemingly has something for everyone. Prefer a smaller phone that doesn't compromise on power? Pick up a Galaxy S23. Demand the very best camera hardware, or like sketching with an S Pen? The S23 Ultra should fit the bill. The Samsung Galaxy S23+ falls somewhere between the two.
But that was also true of the outgoing Galaxy 22+, and on the surface this doesn't look like a year for big changes. The rear lens trio is identical, and the style shake-up (inspired by the S23 Ultra) is very much on the minimal side. Performance takes a leap, courtesy of the latest Snapdragon silicon, and battery size has increased – but is that enough to justify a considerable price hike, when rivals can be had for a whole lot less?
Design & build: familiar yet fresh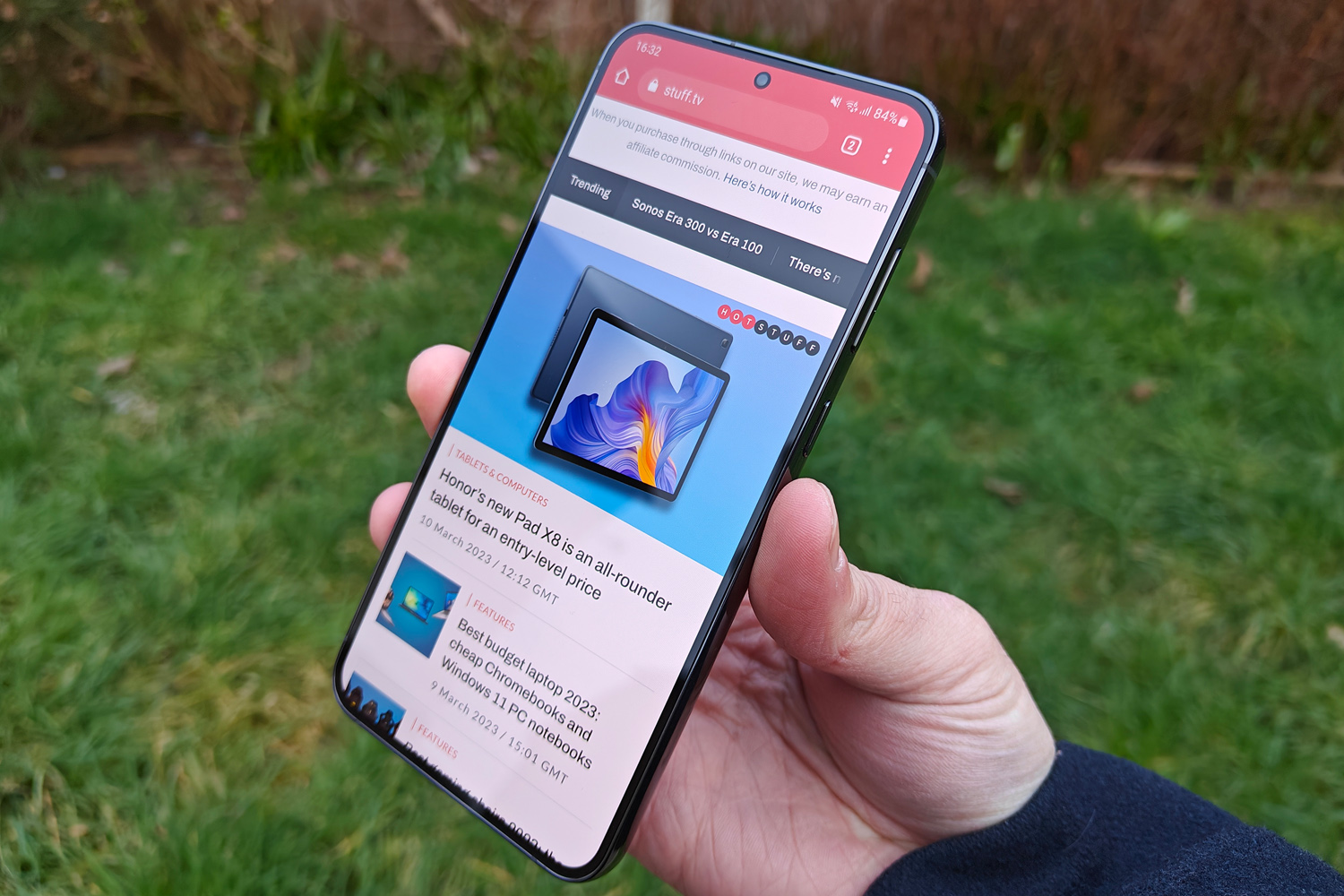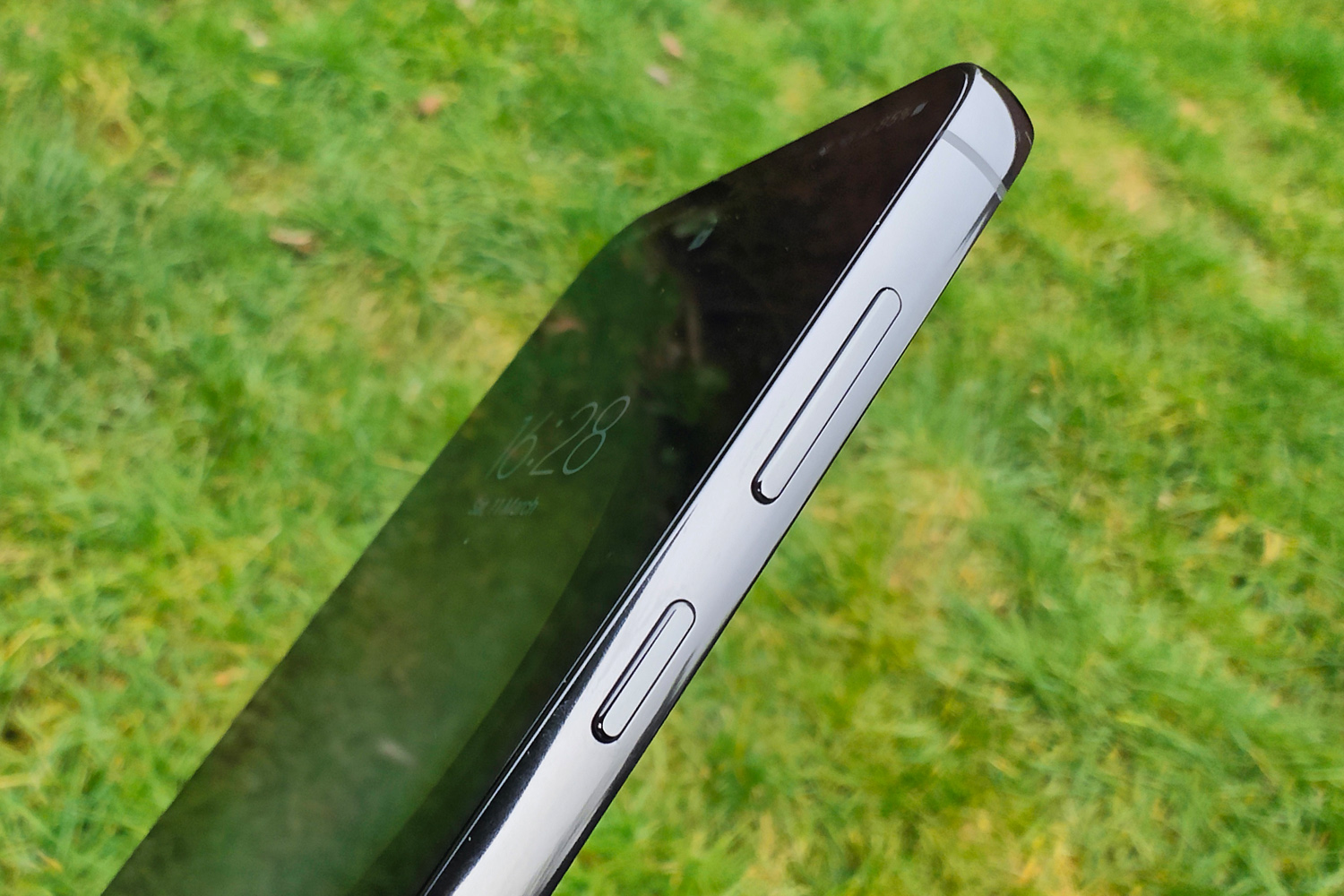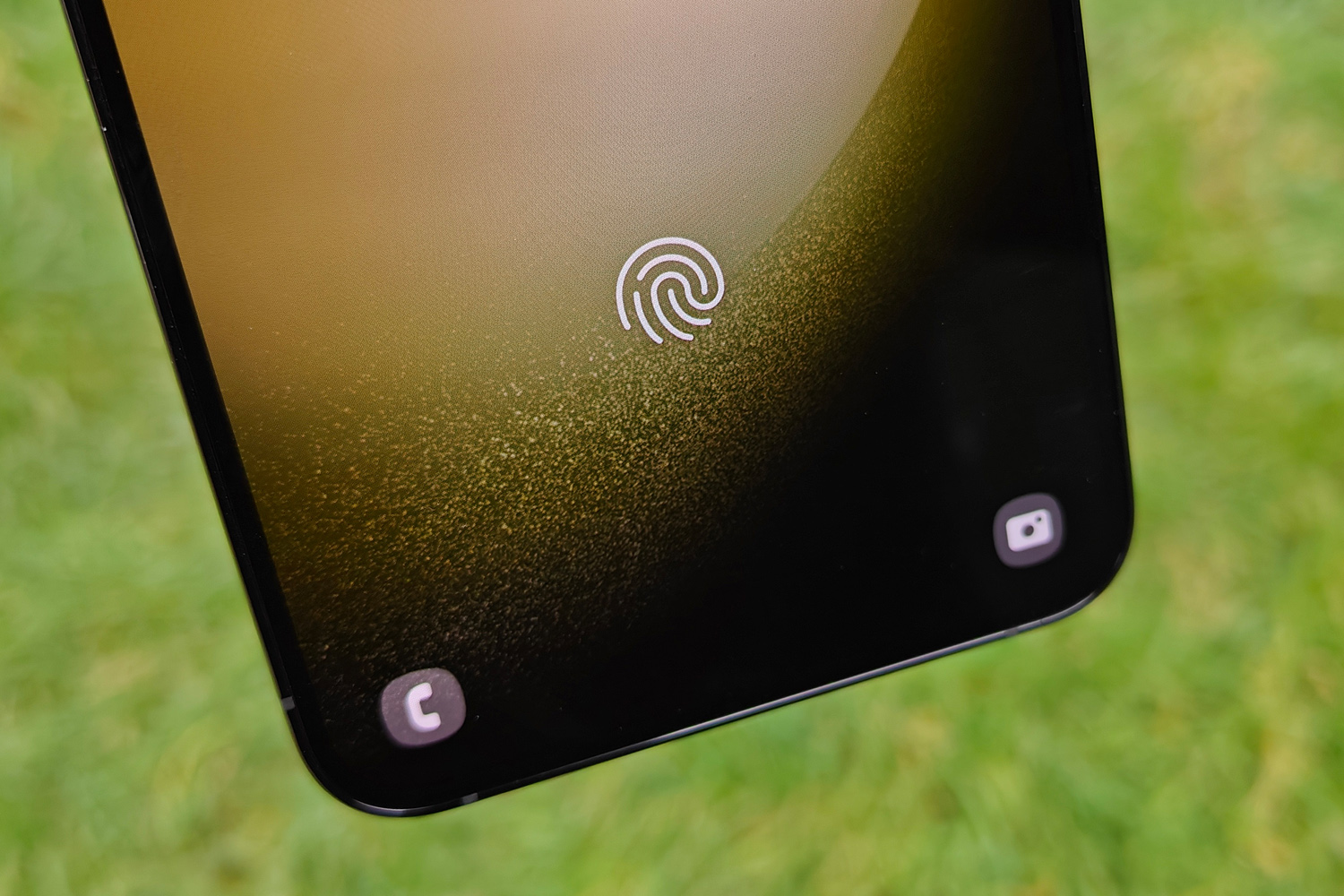 From the front there's no clue you're looking at the latest Galaxy phone, and not last year's model. The S23+ is ultimately another glass and metal sandwich, with pretty much identical dimensions to the S22+. Even the pastel-hued colours aren't all that different, with black, cream, green and pink on offer.
Flip it over, though, and you'll spot three bare camera lenses in place of the old 'contour cut' camera bump, for a stronger family connection to the Ultra variant. It won't need to live in your pocket for very long before becoming a magnet for dust, but IP68 protection means you can just wipe it down with a damp cloth.
Both sides of the phone use Gorilla Glass Victus 2 glass, which promises extra drop resistance over previous efforts. That reportedly includes a 1m drop directly onto concrete, although we decided not to tempt fate with our review sample. It certainly stayed free from scrapes and microscratches throughout testing.
With its 6.6in display, the S23+ feels substantially larger in the hand than the regular S23. That phone is positively diddy compared to the rest of the Android world, which has largely embraced big screens across the board. We found it much easier to type here without tripping over our digits, so it should be the obvious choice for barrel-fisted Samsung fans. The slightly curvy metal frame is still perfectly palm-friendly, being thick enough to provide plenty of grip but not so portly it'll feel uncomfortable in a trouser pocket. We also found the rounded corners and a taller, thinner aspect ratio made it more comfortable to hold than the equivalent iPhone 14.
Top marks to Samsung for using more recycled materials in its phones this year, too. The power and volume buttons apparently are made from recycled fishing nets, but you wouldn't know it – they feel just a premium as the rest of the phone. They're a little further up the right side of the phone this year, however. Smaller hands might have stretch to reach them.
Screen & sound: bigger and brighter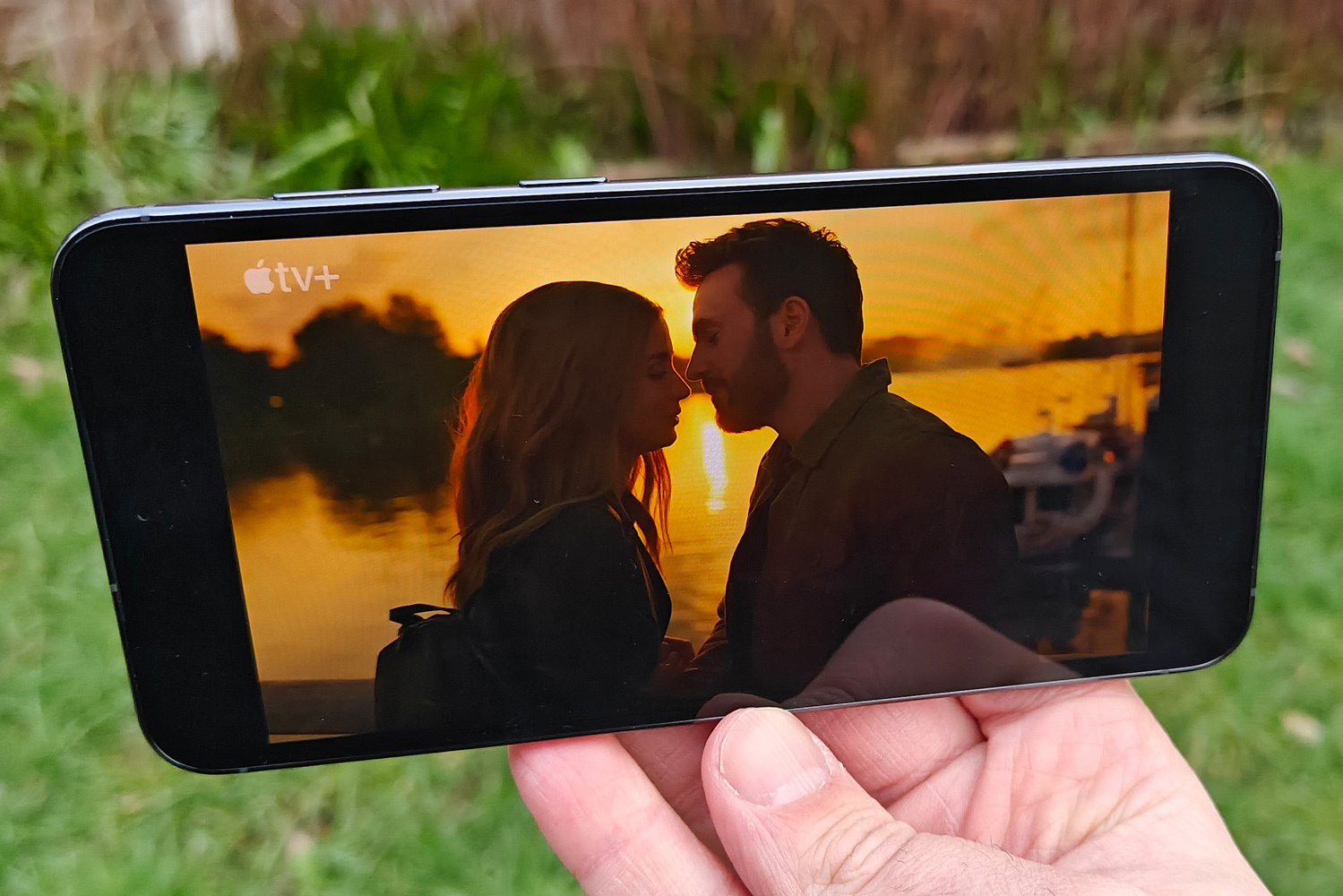 Samsung can usually be relied on to deliver some stunning quality smartphone screens, and the S23+ is no different, although on the surface little seems to have changed from last year. It has the same 2340×1080 resolution as the outgoing S22+, stretched across the same 6.6in. That means a slightly lower pixel density than the S23, but everything still looks pin-sharp at arm's length.
You still get a 120Hz variable refresh rate, which helps deliver gloriously smooth scrolling without also thrashing the battery when displaying a static image. Even apps that usually don't like adaptive refresh modes looked flawless here. The flat glass doesn't have any of the reflectivity issues found on phones with curved edge screens, either, so viewing angles are superb.
The biggest change is to brightness, with the panel now able to max out at a retina-blasting 1750nits peak. That's on par with the pricier S23 Ultra, and a big step up from last year's 1300 nit maximum. It makes all the difference outdoors, making it easy to see what's onscreen even in bright sunlight. It gives HDR video impressive depth, too.
Colours in general are delightfully vibrant, without oversaturating things too much, and contrast is suitably epic. There's a decent amount of customisation on offer if you prefer a more vivid appearance.
The stereo speakers are a decent pairing to the display, if not the best sound we've heard from a smartphone. They get satisfyingly loud and reasonably clear, if lacking a little presence. We expected the larger dimensions to help here, but felt it was just on par with the more compact Galaxy S23. Still, you won't need headphones just to catch up on your podcast queue.
Cameras: picture this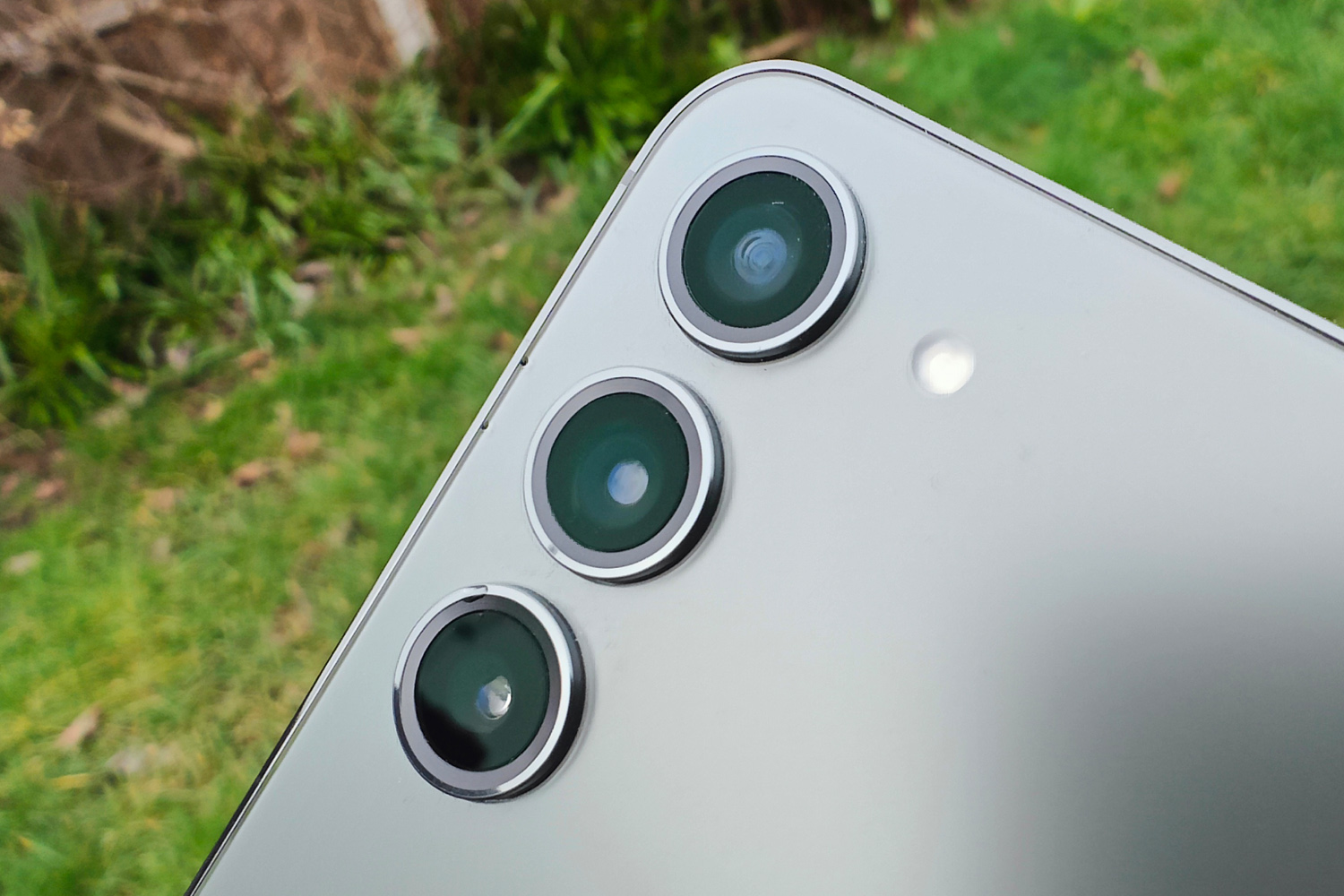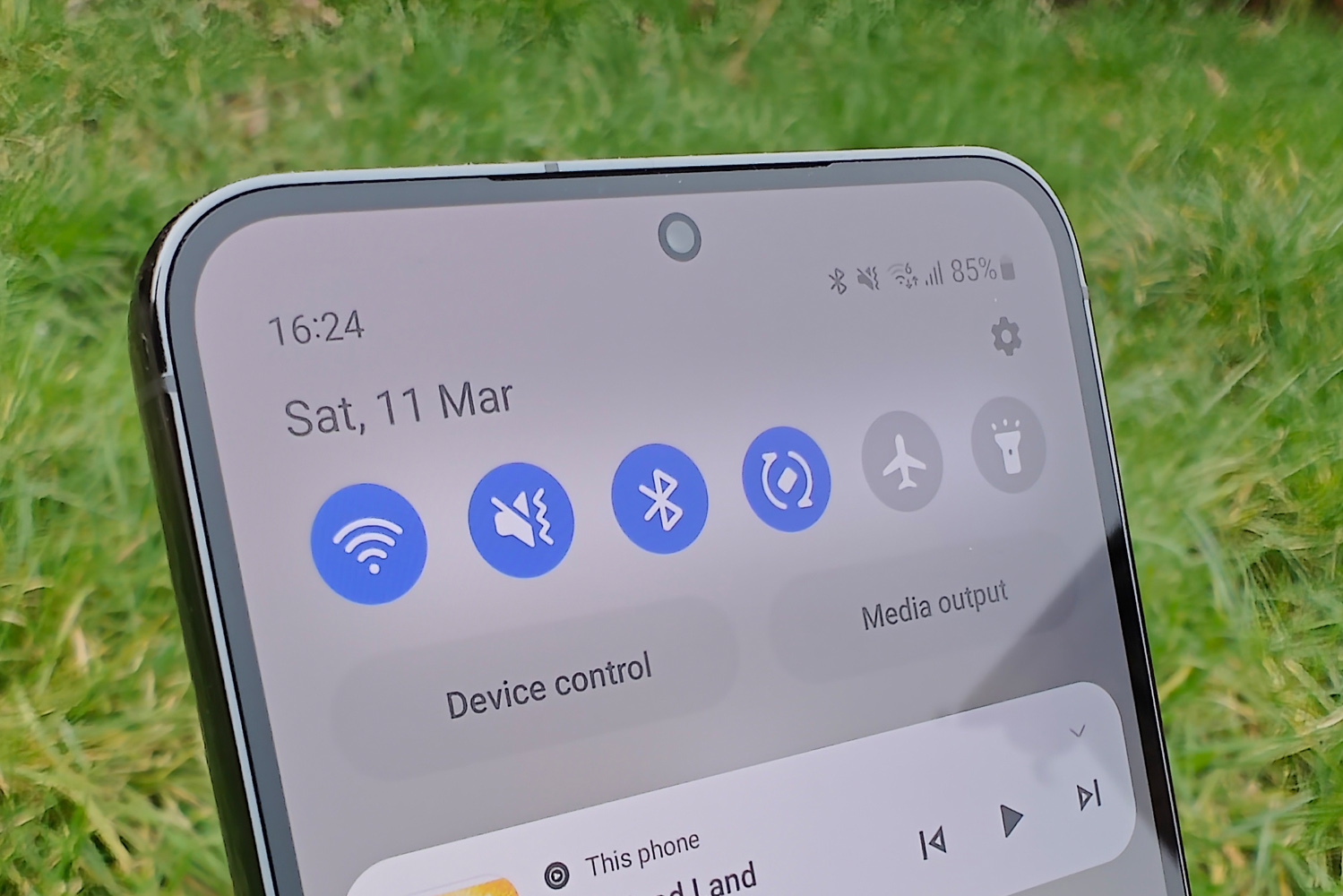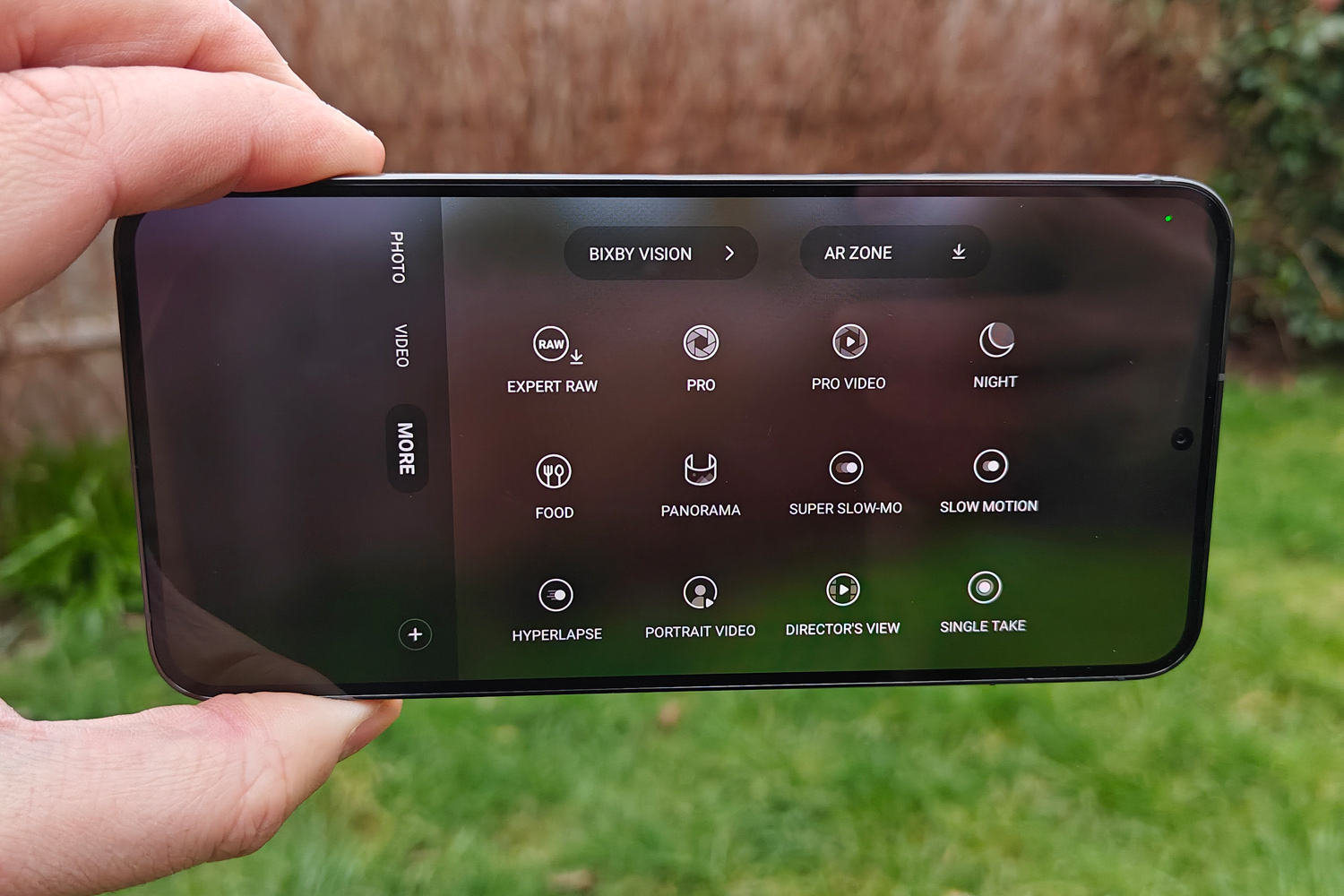 Samsung already had some of the best smartphone snappers around, so it's not a huge surprise to see the Galaxy S23+ largely stick with the same hardware seen in its predecessor. Only the front-facing selfie cam has been treated to a new sensor, with the rear trio sticking with the familiar 50MP wide-angle, 12MP ultrawide and 10MP telephoto that can pull off 3x optical zoom. All have been treated to improved image processing, though, especially in low light.
As long as you weren't expecting a giant leap forward in image quality, you'll be very happy with the shots the S23+ can capture. Colours are wonderfully vibrant, dynamic range is well-judged, and exposure is almost always spot on. Dual pixel PDAF provides very responsive autofocus abilities, too. While the main sensor has the edge on detail, all three are very evenly matched for image noise and white balance.
The "Samsung" style hasn't changed, opting for very saturated colours and exposing for highlights instead of shadows. Apple remains the more natural choice, and the Google Pixel 7 Pro's increased contrast delivers images some would say are more impactful. It's ultimately personal preference, and all three are very capable indeed.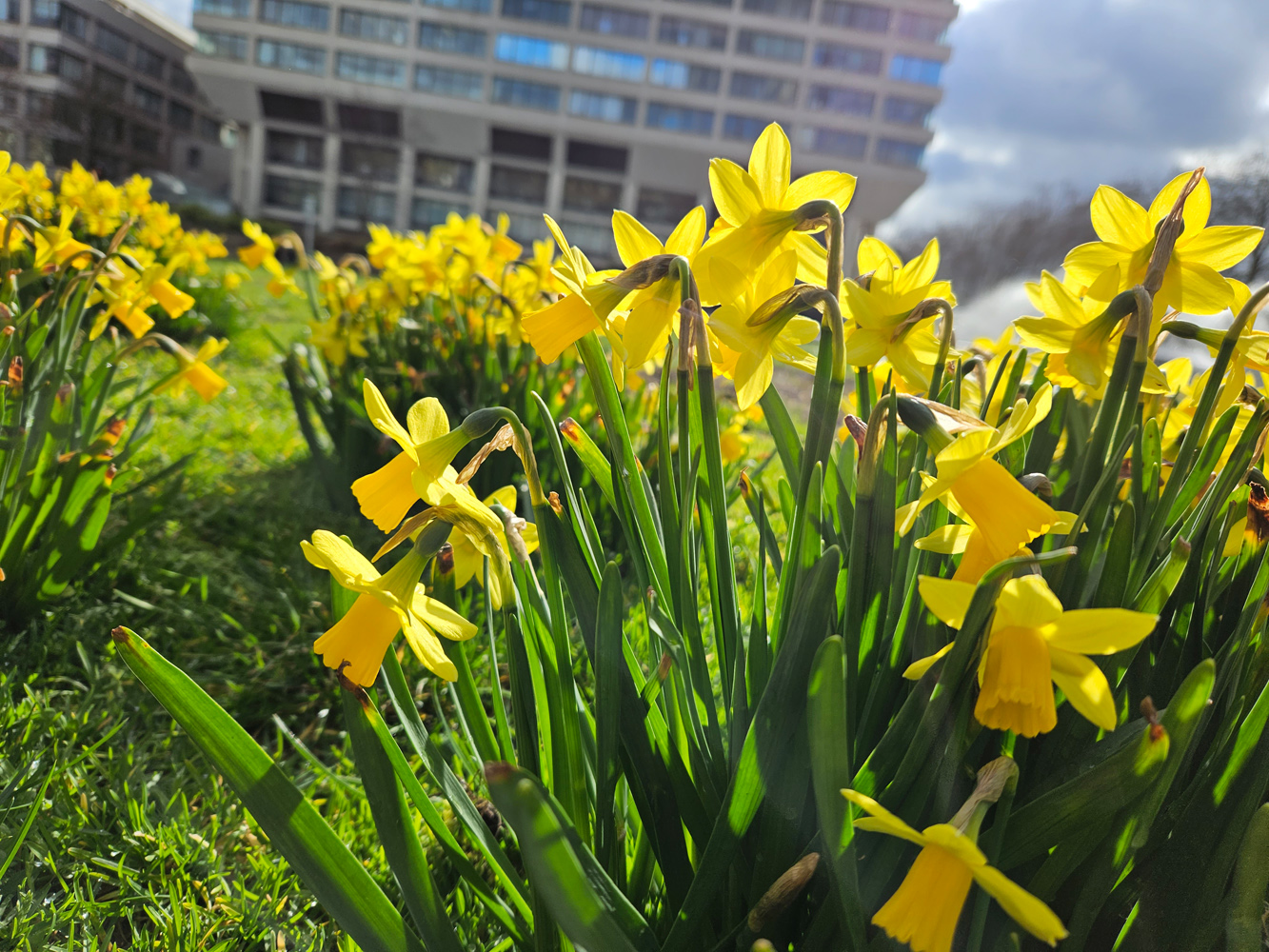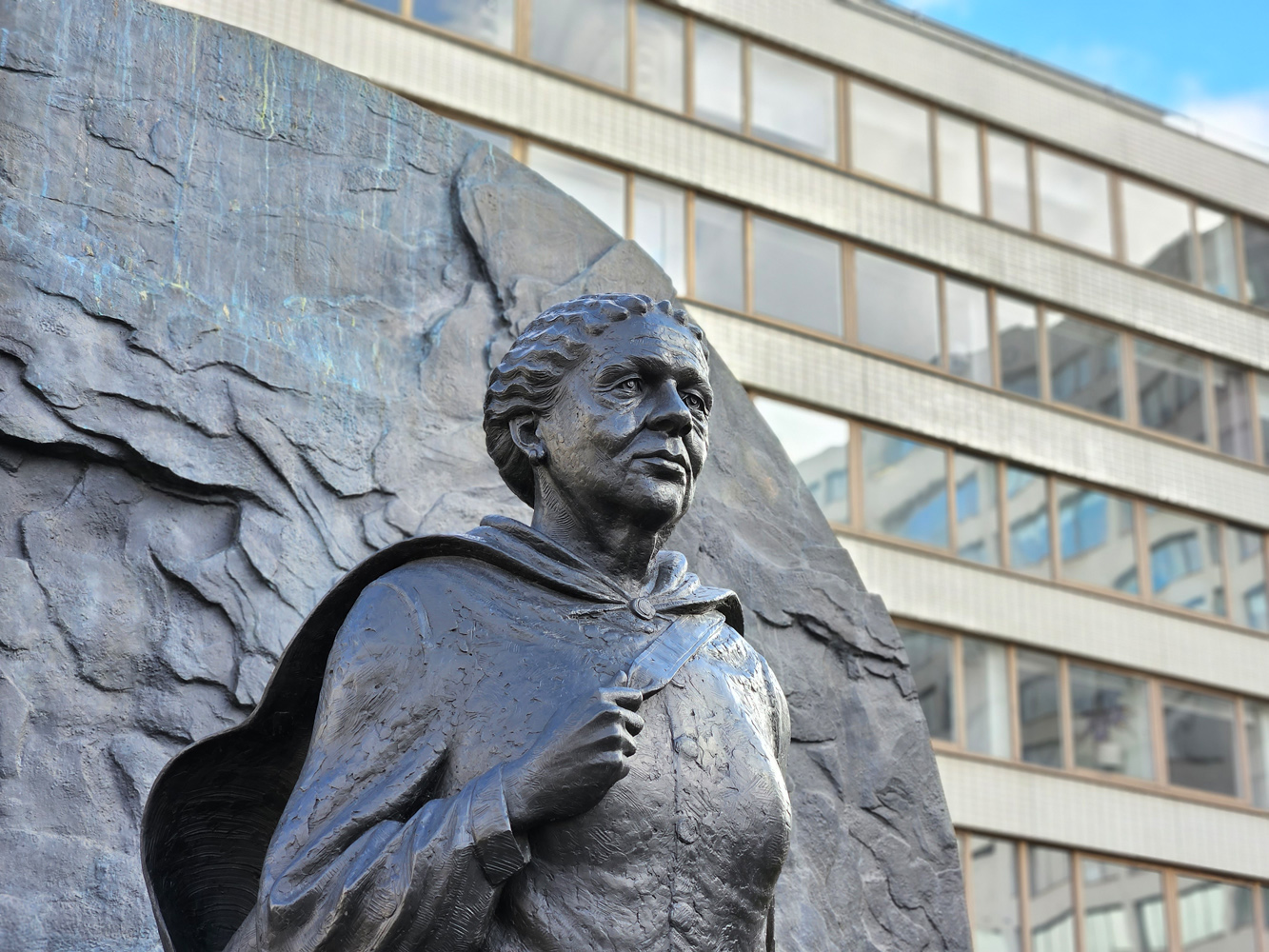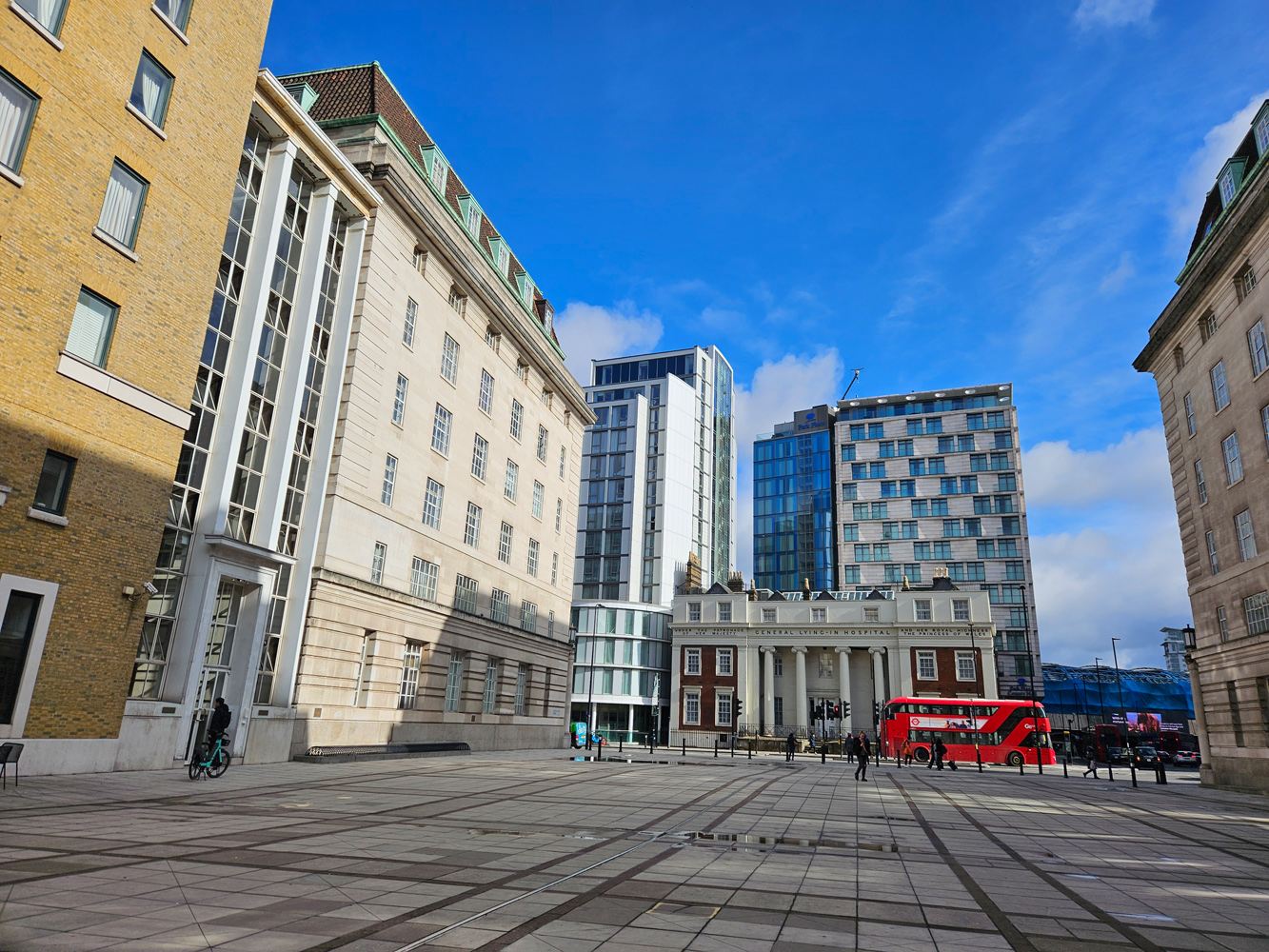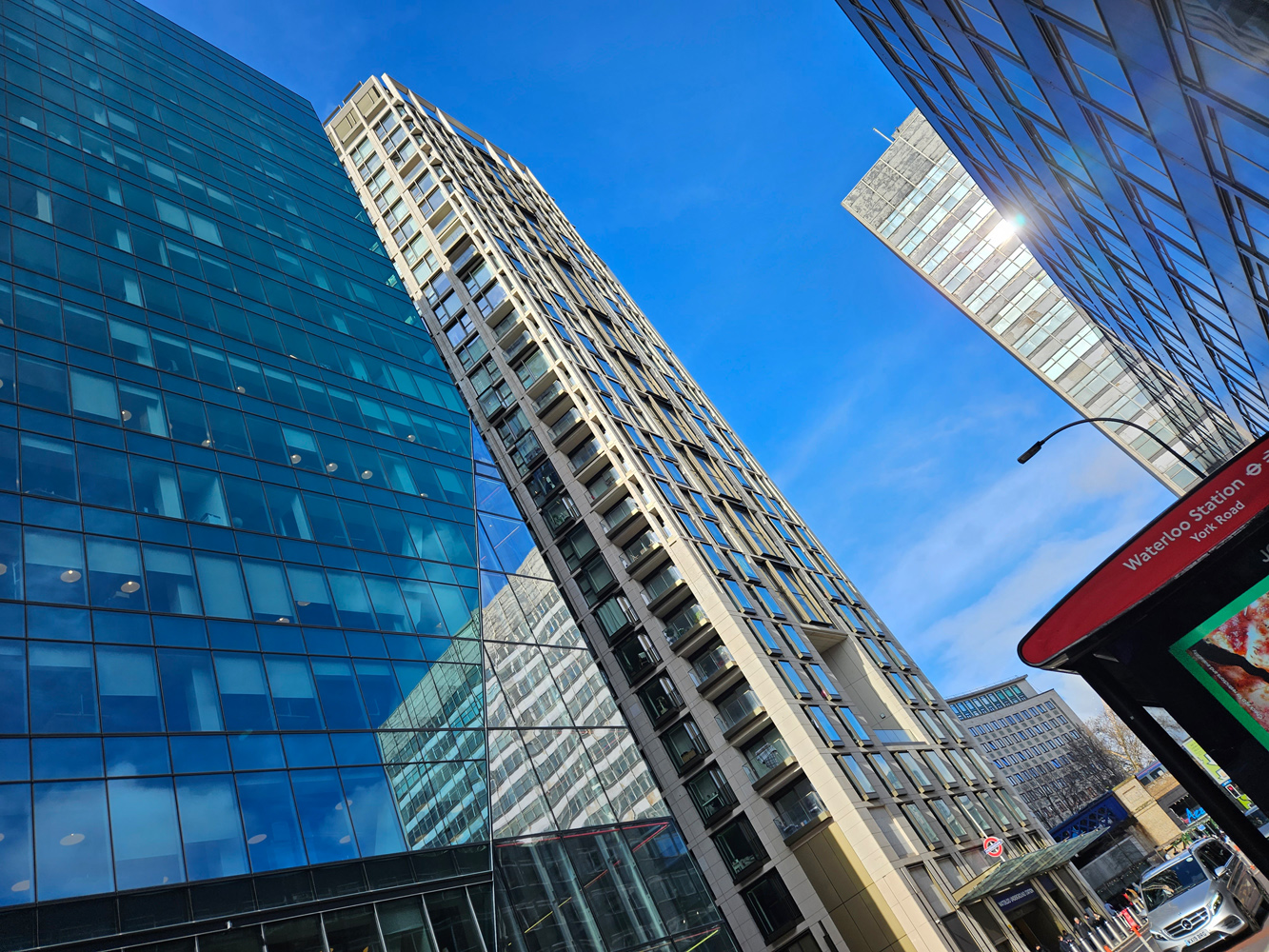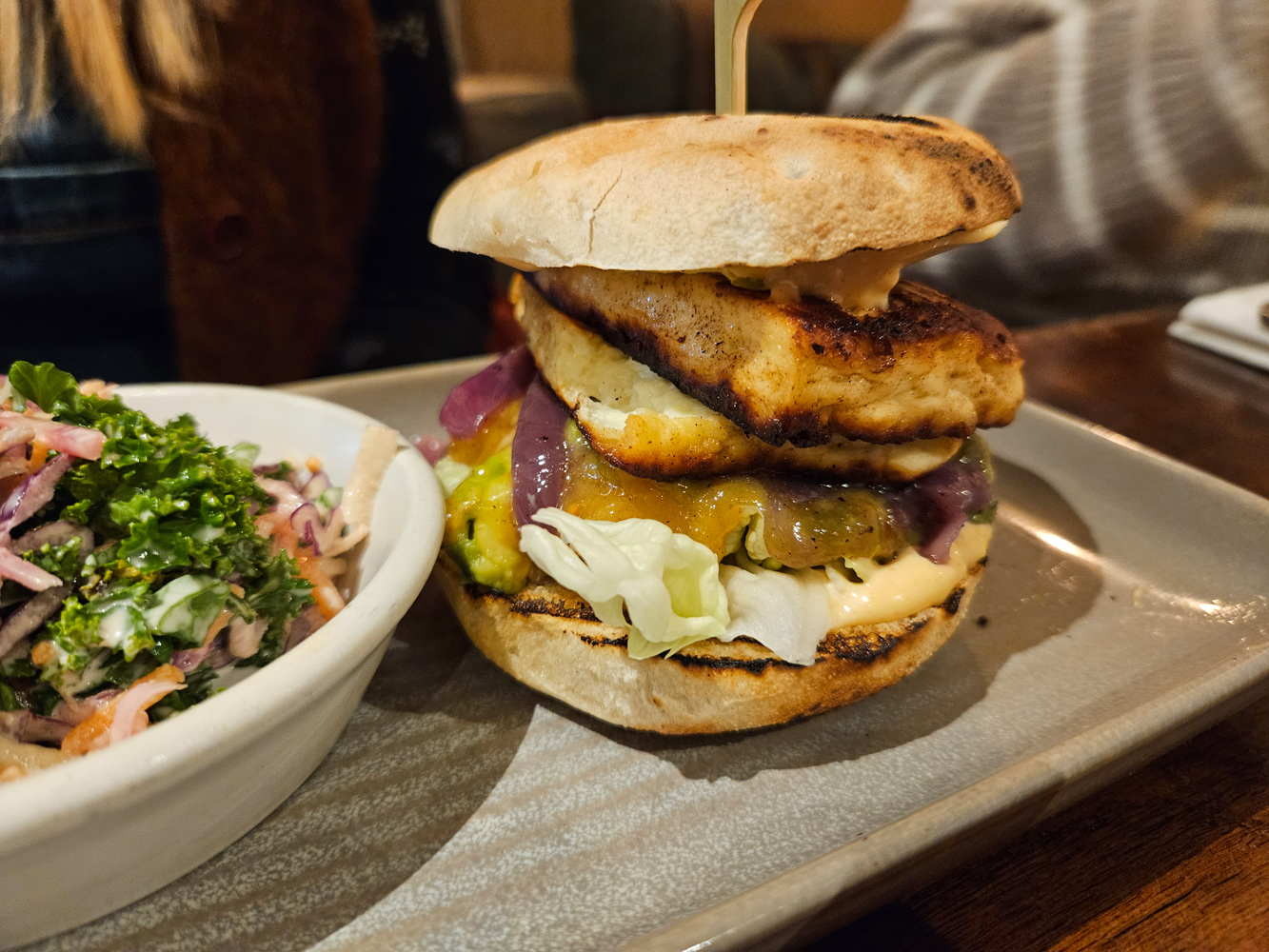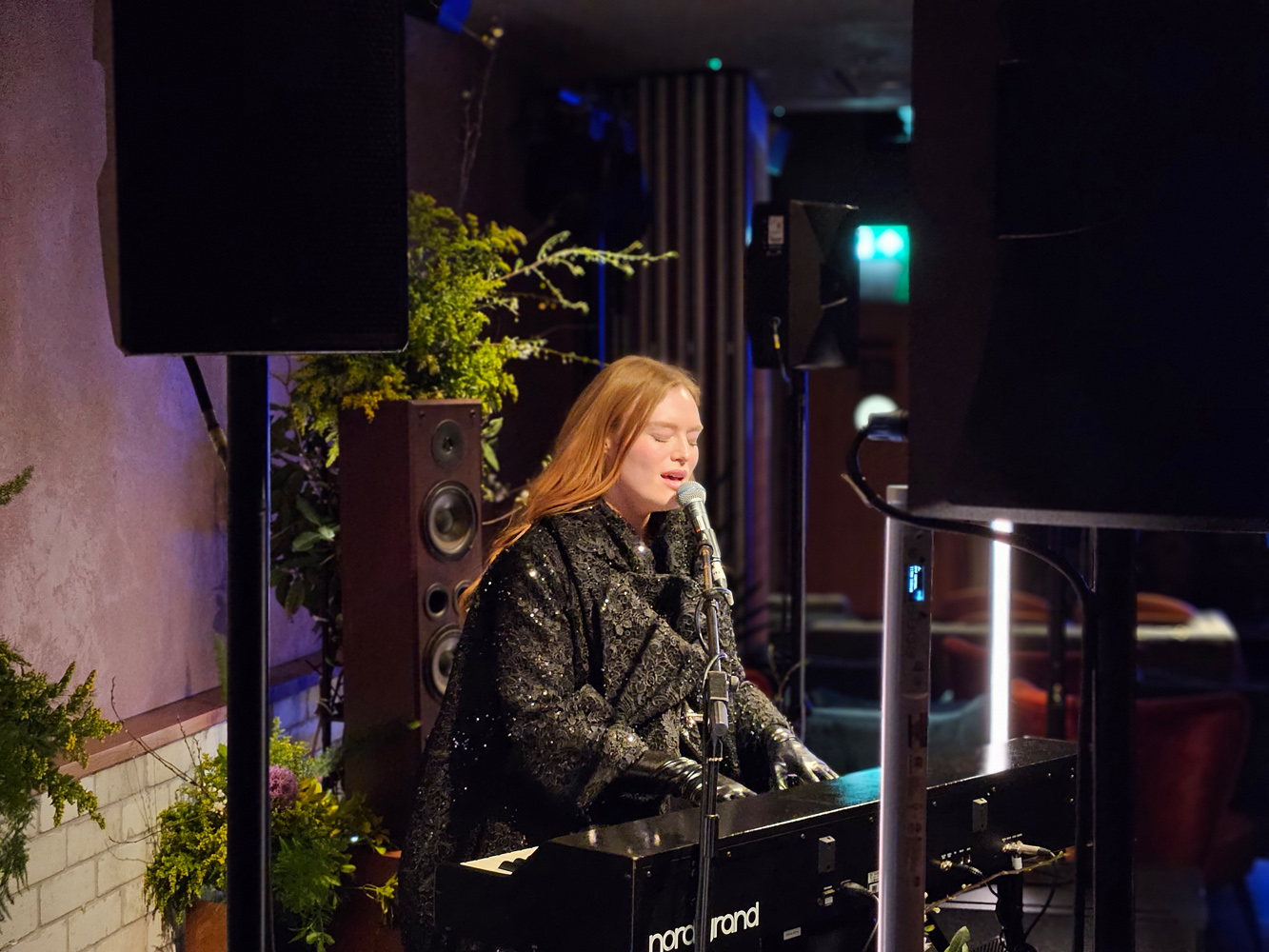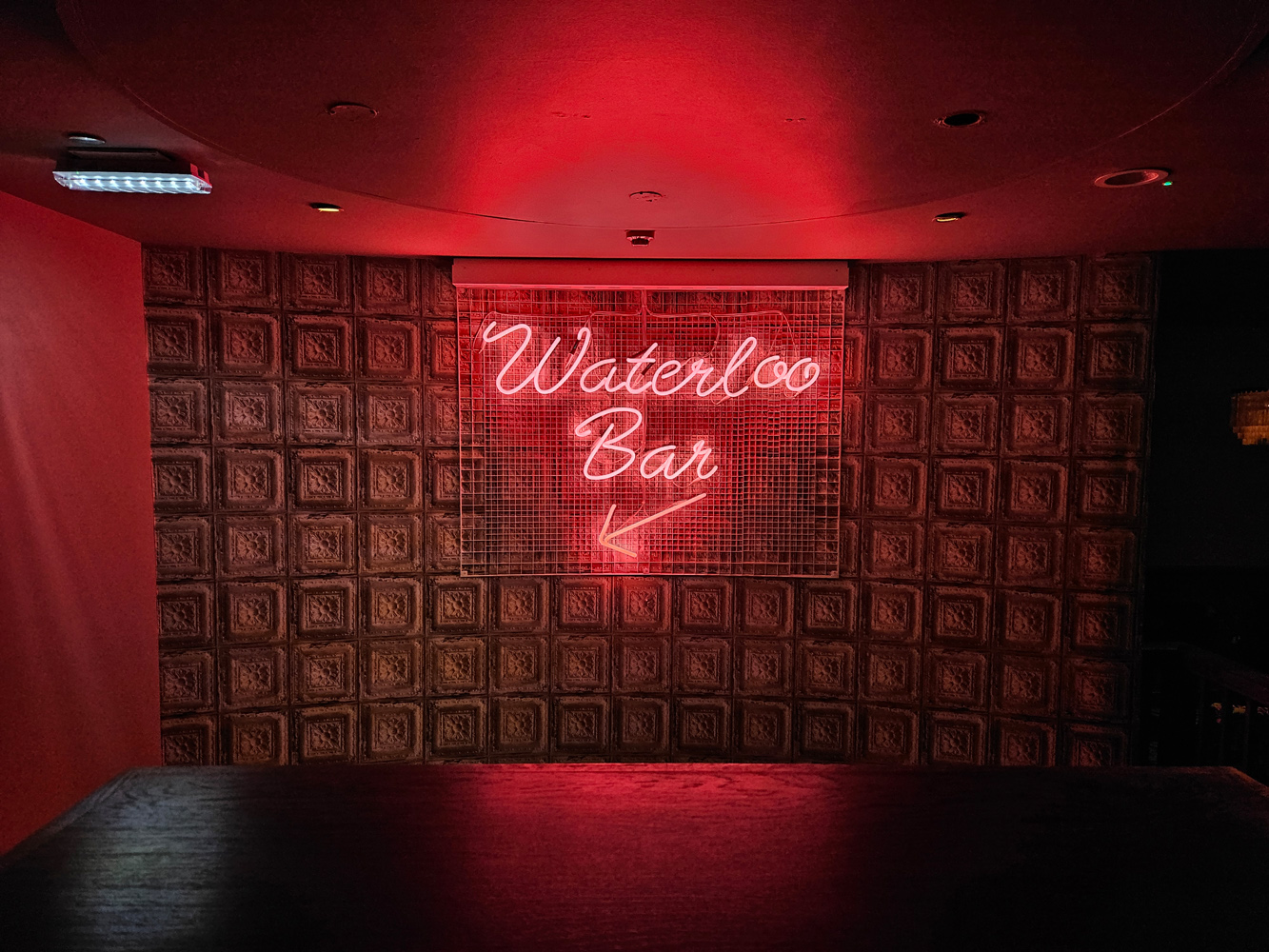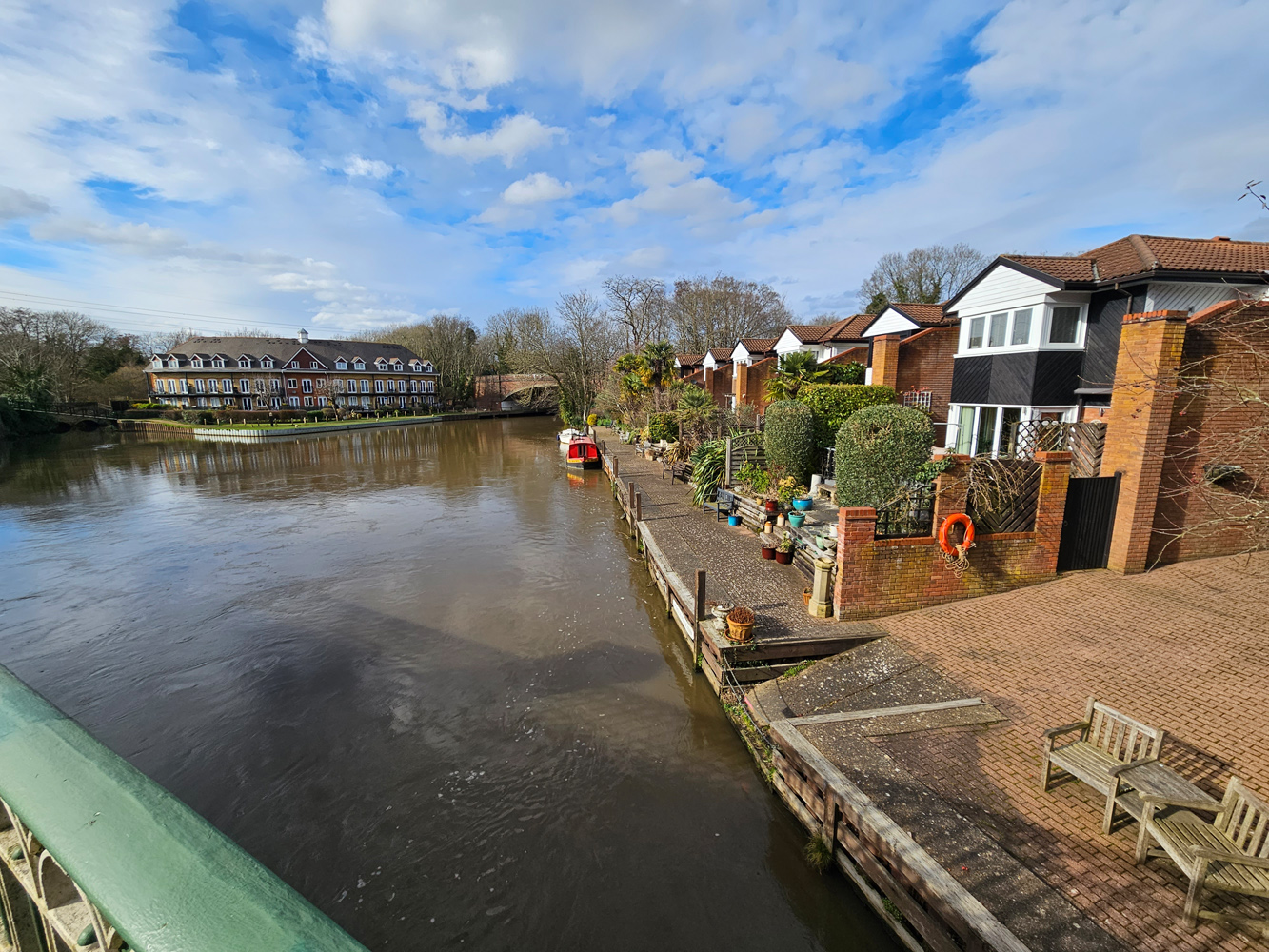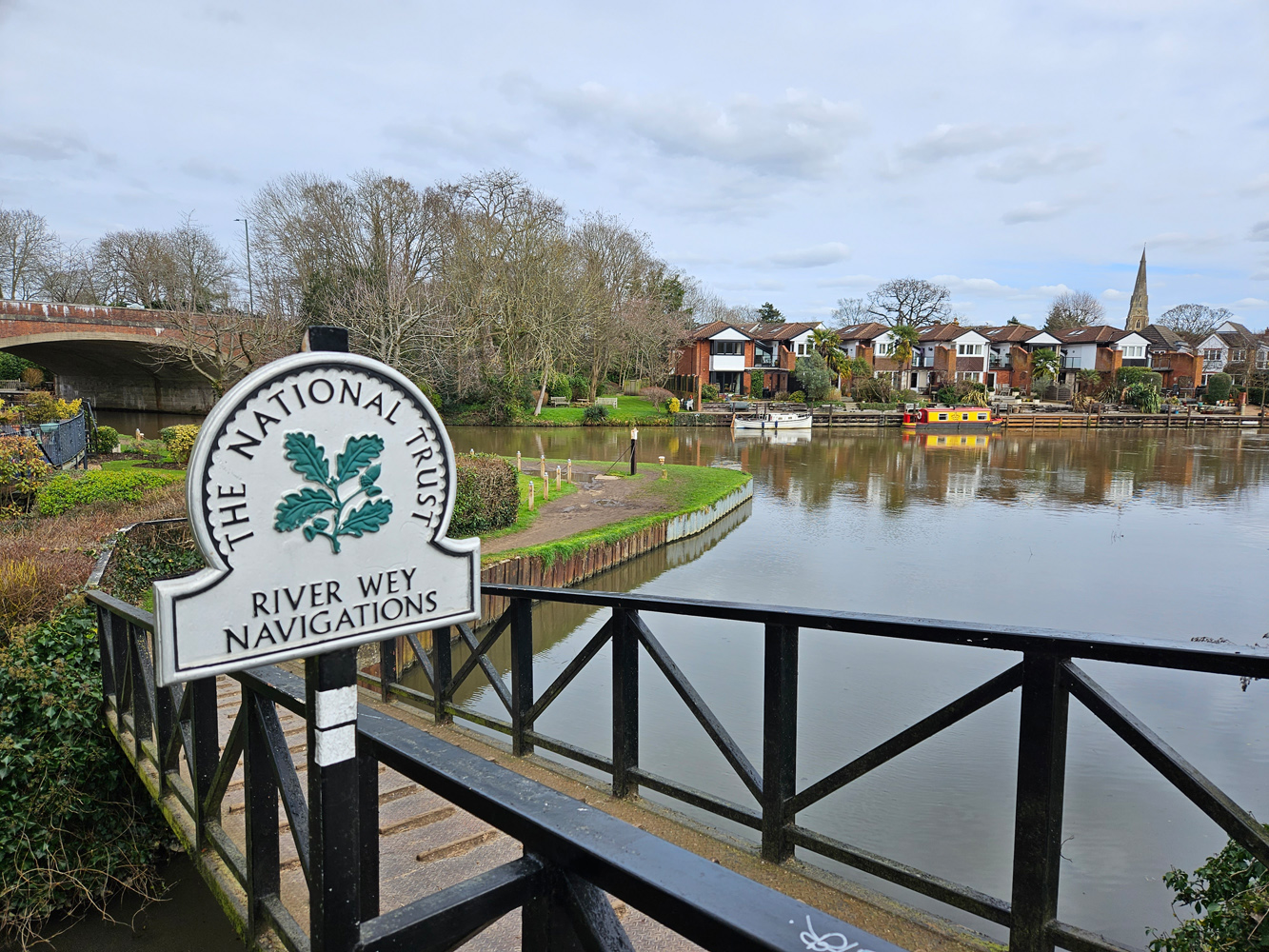 We still love how much closer the 3x zoom gets you to your subjects than rivals with 2x lenses, particularly in Portrait mode, and the ultrawide lens shows little lens distortion at the edges of the frame. Certain hairstyles and can still catch out the digital Bokeh blur's edge detection at times, but an extra year of algorithms have made a welcome improvement.
Low light shooting is now a step behind the very best smartphone cameras, which either have much higher pixel counts or considerably larger sensors, but it's still capable of decent shots. Exposure is largely on point and finer details are retained when illuminated by artificial light, without crushing all the shadow detail.
Other improvements include the Expert Raw mode finally being able to take full-resolution 50MP shots with the main sensor, instead of downsamples 12MP ones like last year.
Performance & software: oh so speedy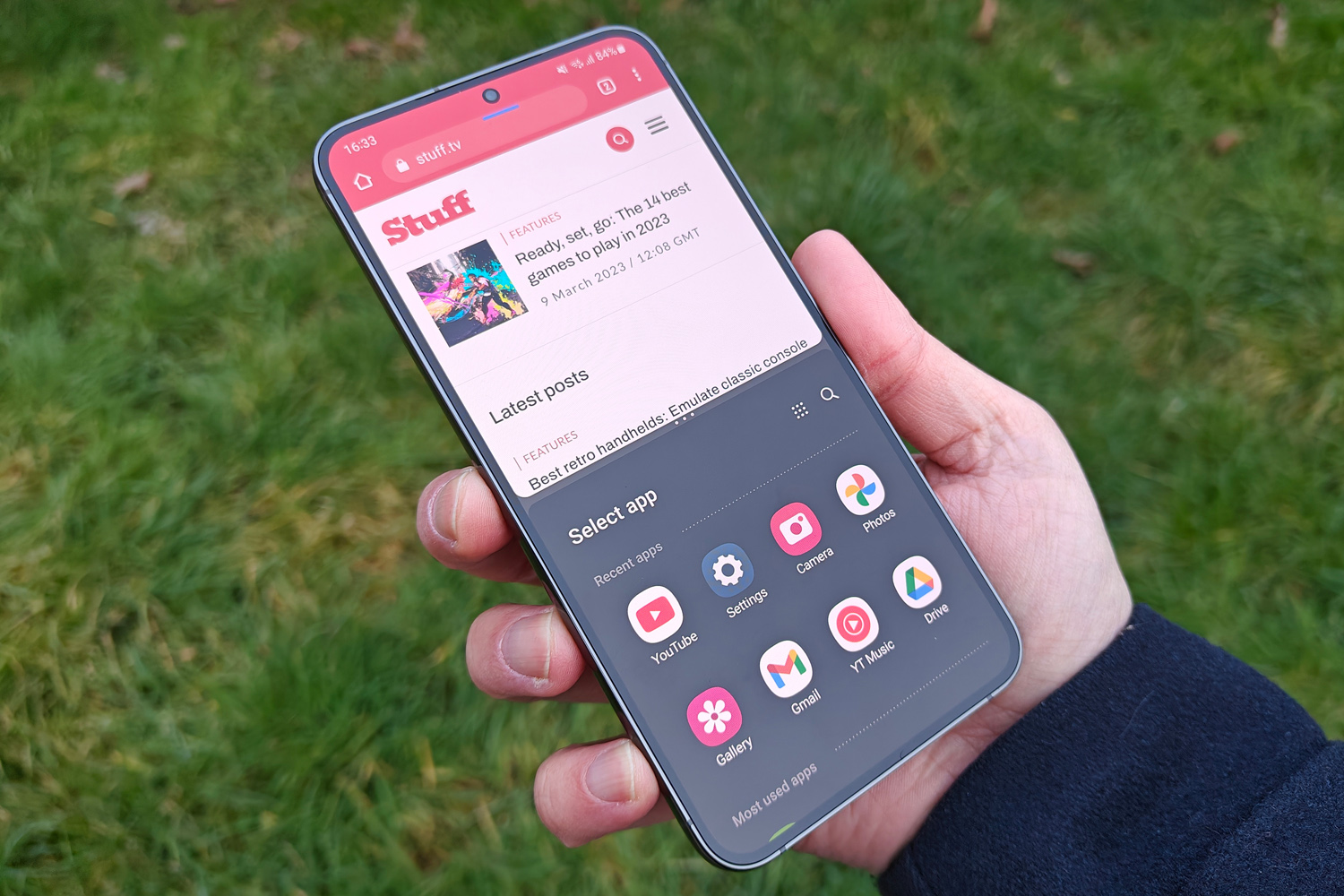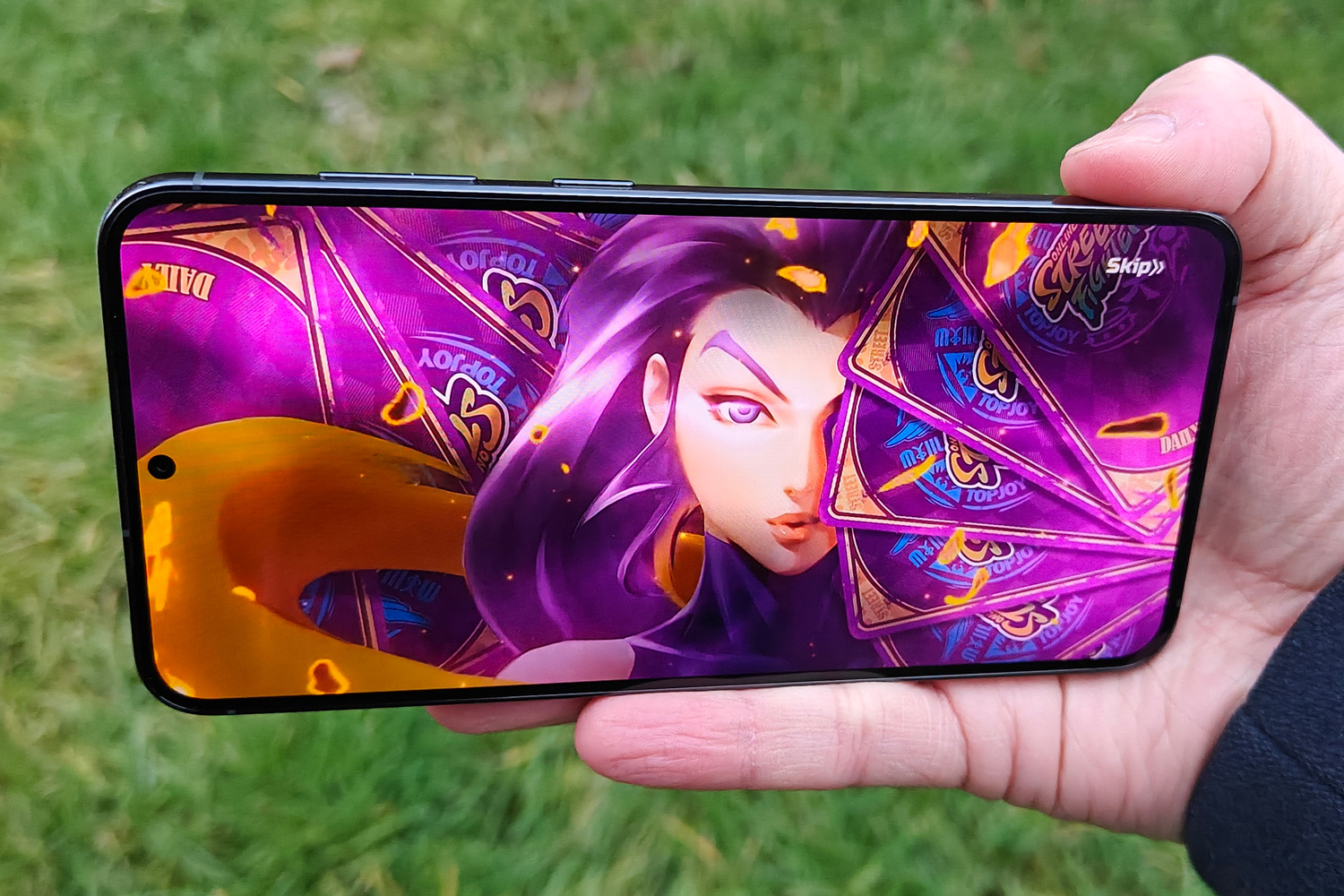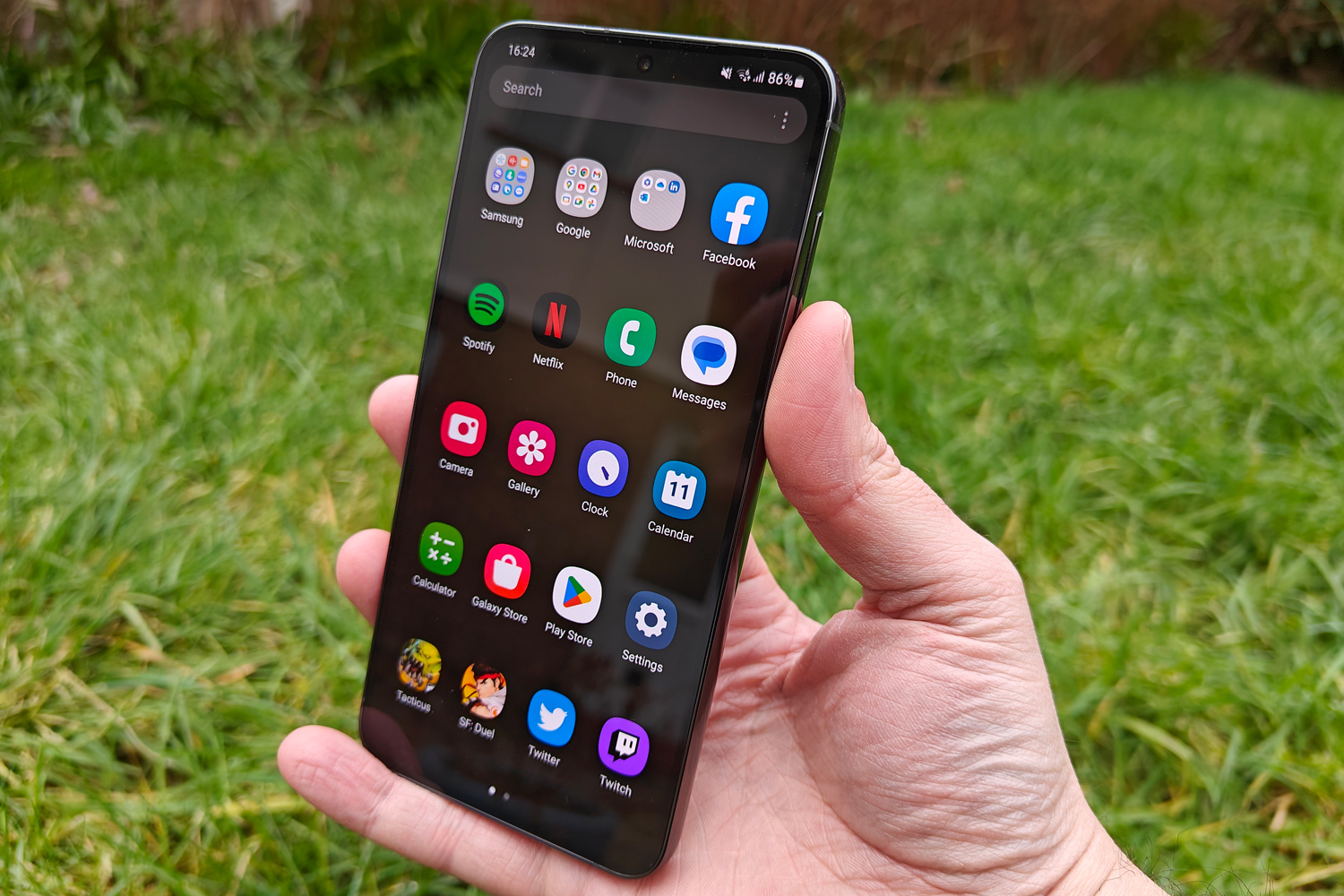 Samsung has taken a break from making its own-brand Exynos CPUs this year, meaning that wherever you are in the world, your Galaxy S23+ will be powered by Qualcomm silicon. The Snapdragon 8 Gen 2 is as top tier as phone processors get right now, at least in the Android world, and it runs quicker here than in rival phones thanks to some bespoke clock speed tweaks.
From synthetic tests to real-world tasks, this phone comfortably outpaces almost every major rival. That translates to flawless performance on the Android home screen, even when rapidly swapping between individual apps or using two at once in split-screen. The 8GB of RAM isn't colossal, but didn't have a negative impact on multitasking. Admittedly rivals with the same CPU aren't far behind, but Samsung's well-optimised UI helps it feel wonderfully responsive across the board. It stays cool to the touch even when slammed by software, too.
Gaming is equally impressive, with even demanding 3D titles defaulting to their maximum graphics settings and frame rates being consistently high. You might want to tweak a few details to make the most of the 120Hz display, but the sensible screen resolution isn't asking too much of the hardware. Basically if it's available in the Google Play Store right now, it'll run very well.
Storage is one of the few areas the S23+ stands out over the vanilla S23. With no SD card support, the larger phone's 512GB storage option might appeal to anyone with a huge photo library or music collection. Even the basic version comes with 256GB, which is the S23's step-up option.
OneUI version 5.1 isn't a huge shift from Samsung's previous software efforts, but it does sit on top of Android 13 out of the box, and should get a further four major version updates over its lifetime. That's great news for anyone concerned what impact their phone-buying habits are having on the planet. The interface will feel instantly familiar to anyone with an older Galaxy phone, and while Samsung does add a heck of a lot of shortcuts, floating menus and other customisation options, they aren't all turned on by default. It seems like there are fewer ads inside Samsung's own-brand apps this year too, which is a win in our book.
Battery life: bigger and better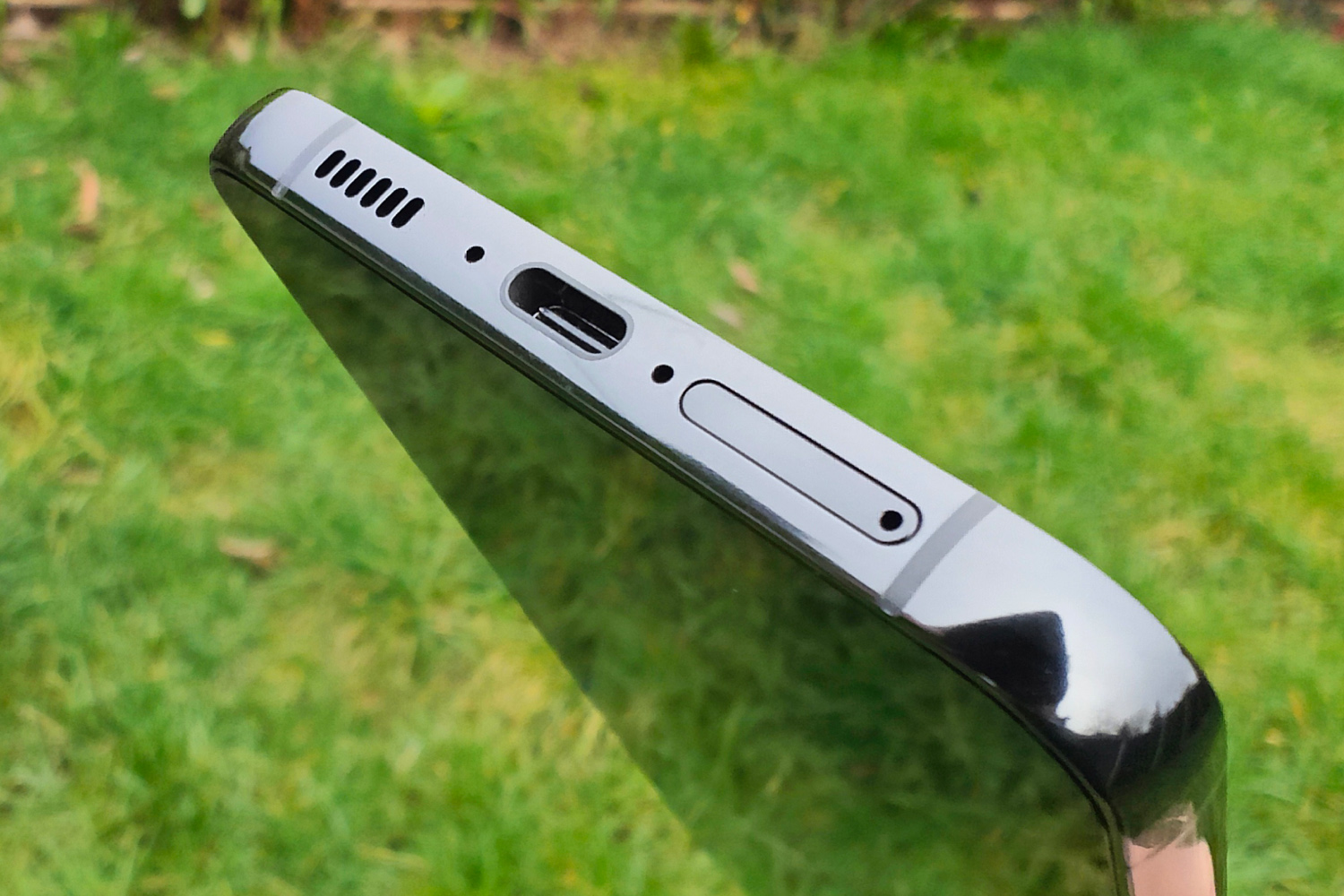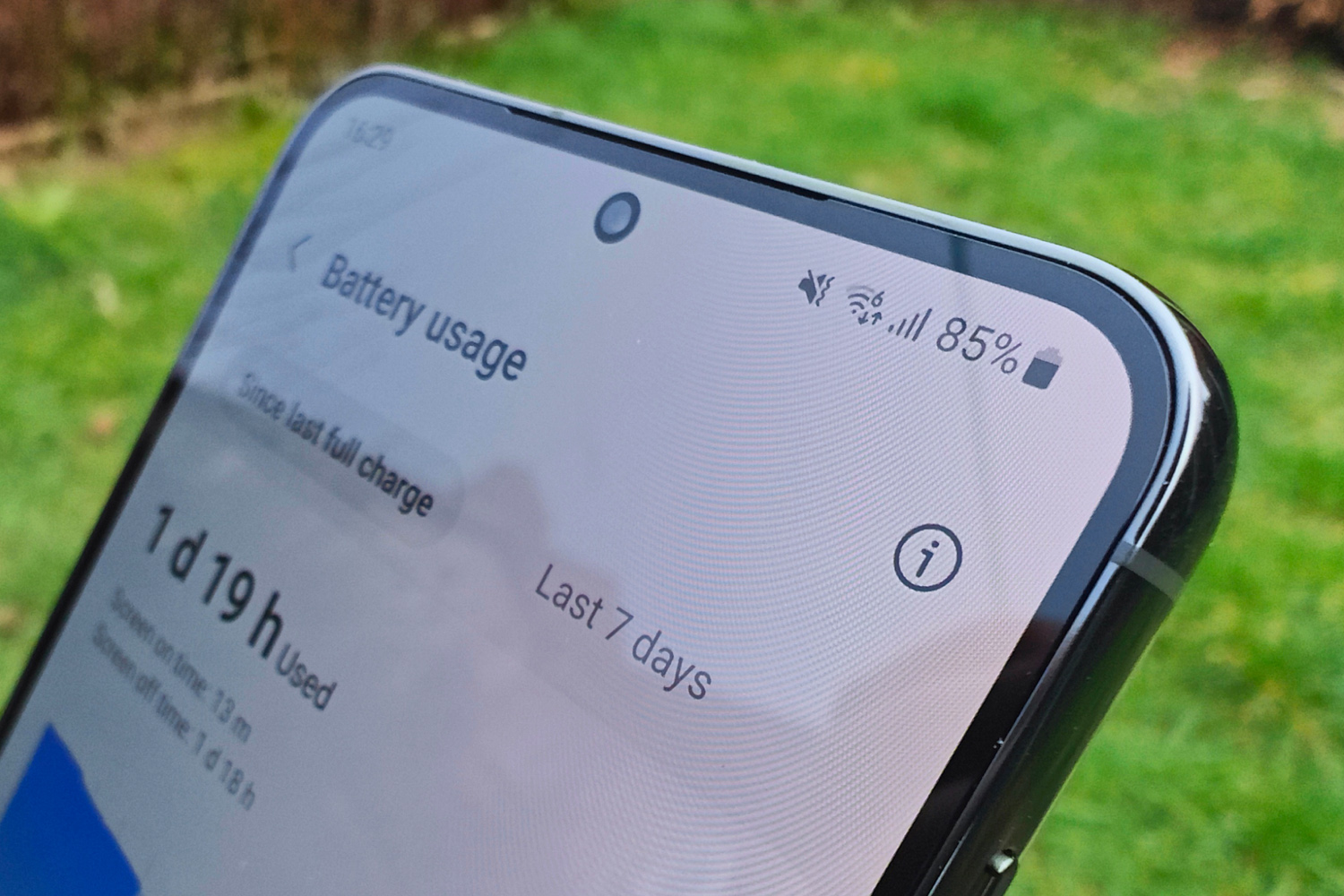 Last year's Galaxy S22+ was a backwards step on the battery front, using a smaller cell than the one found in its predecessor and relying on one of two power-hungry CPUs, depending on where you were in the world. Happily, Samsung has rectified things for 2023.
The S23+ uses a 4700mAh battery (still down on the S21+, but only just) to power Qualcomm's more efficient Snapdragon 8 Gen 2 silicon, and the OneUI Android interface has been given a few power management tricks too. The result is a phone that'll comfortably last an entire day away from the mains, even if you're regularly streaming videos, playing games or making liberal use of the cameras. Stay sensible and you're looking at two full days before a trip to a plug socket.
The 120Hz refresh rate and always-on display will naturally sap that figure a bit, as will the screen if you insist on high brightness HDR content, but for most users it'll be plenty. Not that this sort of longevity is unheard of among this year's flagship phones, mind – OnePlus, Xiaomi and Vivo all produced similar results.
Those phones are also much faster to charge, while the S23+ sticks with the same 45W over USB-C as last year's effort. That can mean an extra 30-45 minutes tethered to a power brick versus the competition – and you'll need to buy that brick separately, as Samsung doesn't include one in the box.
You do get wireless charging, and reverse wireless charging to boot, so you can top up your earbuds or smartwatch if you're ever caught short.
Samsung Galaxy S23+ verdict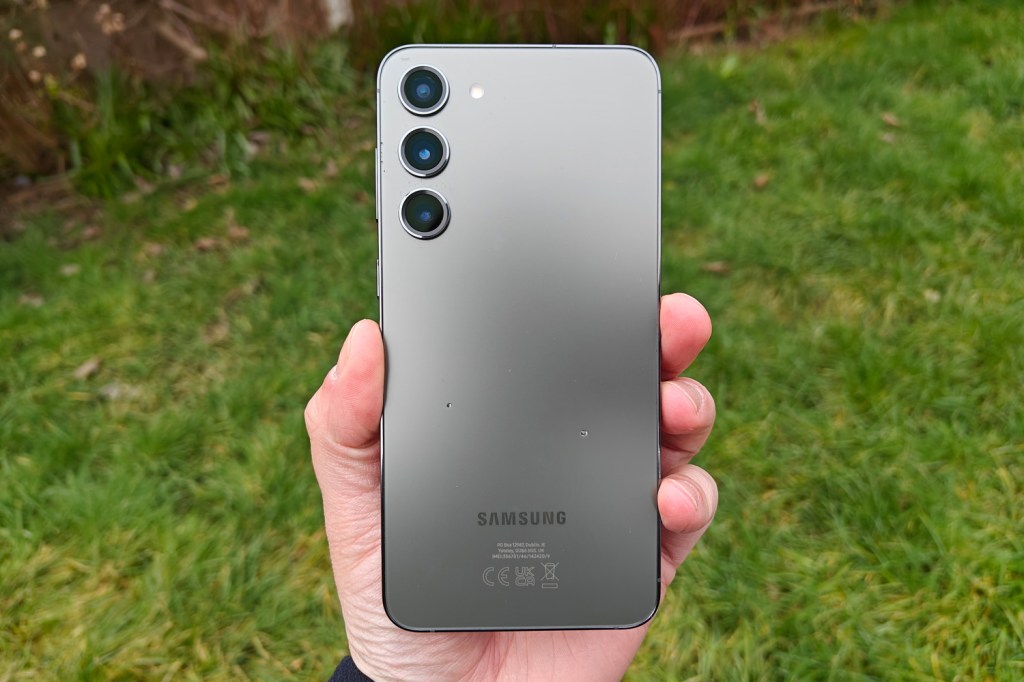 The Galaxy S23+ delivers pretty much everything you could want from a mainstream flagship phone: ample performance, capable cameras, and very good battery life. The only thing missing is value for money. Because it's not much of a leap up from the regular S23, yet lacks the S Pen and superior snappers of the S23 Ultra, it sits in an awkward middle ground between the two.
While a 256GB Galaxy S23 will set you back £899, the equivalent S23+ is £200 more. Once you're spending that kind of scratch, we wouldn't blame you for eyeing up the £1249 S23 Ultra instead. As a result, rumours that the Plus variant might not make an appearance next year are easy to believe.
You're still getting one of the best Android ecosystems around, which is a premium worth paying for if you've already invested in other Samsung gear. That flat display is a real rarity among big-screen rivals, too. Ultimately it's a sensible alternative if you find the S23 too small, or don't need the S23 Ultra's extras. Just keep in mind the competition is fierce – and considerably cheaper.
Stuff Says…
Just as capable as the regular S23, only with a bigger screen. You pay handsomely for the extra display space, though.
Good Stuff
Flagship-grade performance, with battery life to match
Very capable cameras in all conditions
Feels every bit like a premium phone
Bad Stuff
Poor value for money
No major improvement to cameras
Design feels very familiar
Samsung Galaxy S23+ technical specifications
Screen
6.6in, 2340×1080 AMOLED w/ 120Hz, HDR10+
CPU
Qualcomm Snapdragon 8 Gen 2 octa-core
Memory
8GB
Cameras
50MP, f/1.8 w/ Dual Pixel PDAF, OIS + 10MP, f/2.4 w/ PDAF, OIS, 3x optical zoom + 12MP, f/2.2 ultrawide rear
12MP, f/2.2 front w/ Dual Pixel PDAF
Storage
256/512GB
Operating system
Android 13 w/ OneUI
Battery
4700mAh w/ 45w wired, 15w wireless, 4.5w reverse wireless charging
Dimensions
158x76x7.6mm, 196g