Samsung Galaxy Note 5 review
Samsung's new flagship phablet is here, and we're big fans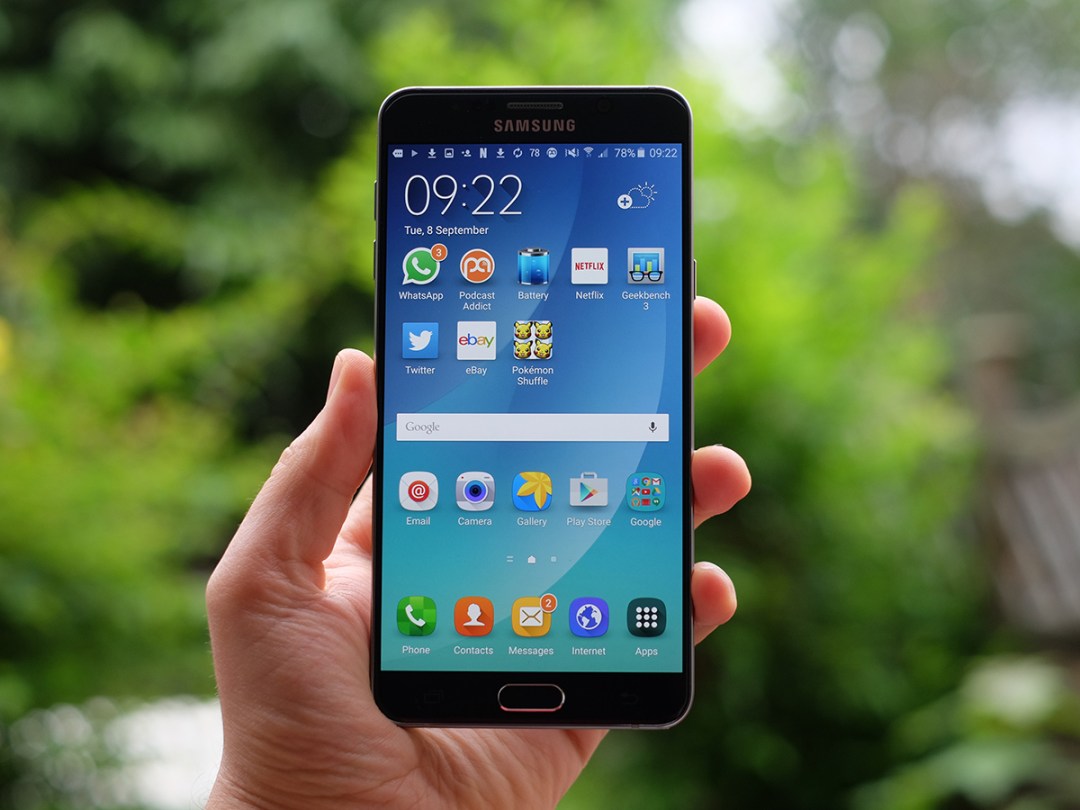 For almost half a decade the Galaxy Note series has given us some of the greatest phones of each year. What Samsung thought would be a weird little niche device turned into a grand smash, ending up in handbags and manbags rather than just nerd briefcases.
It makes us double-sad that the Samsung Galaxy Note 5 is not coming to the UK. Yet. We've got to settle for the still excellent Samsung Galaxy S6 Edge+.
You know what? It should. In this age of curvy Edge phones, this feels all the more like a super-size Samsung Galaxy S6. And we're definitely up for some of that action. As ever, there's a pen that slots into the bottom too, but you don't need to be a wannabe artist to appreciate this phone.
Honey I blew up the Galaxy S6
I've already said the Note 5 is like a giganto Galaxy S6, but it's not quite as simple as that. Samsung has taken some of the Edge series design chops and bunged them in. And it works.
Rather than having a mostly-flat back, the Note 5's rear feels — weirdly enough — a bit like the front of the S6 Edge. It curves around at the sides. It's lovely contouring stuff that makes more of the glass factor than the Galaxy S6.
That's right, just like the other latest Galaxy phones, the front and back of the Note 5 are Gorilla Glass 4. Elsewhere, the sides are covered by a band of metal. Not a chrome-y one like in the bad old days of Samsung's awkward faux metal phase but a matt finish one that keeps the look classy.
After years of getting its phones' designs a bit wrong, like an aunt buying you a jumper designed for someone a good decade older/younger, Samsung is finally nailing its aesthetics. The one little niggle is that the power button on the side seems to cycle between feeling very soft and nice 'n' clicky. It's meant to be the latter. Hopefully it's just our unit afflicted.
Finger care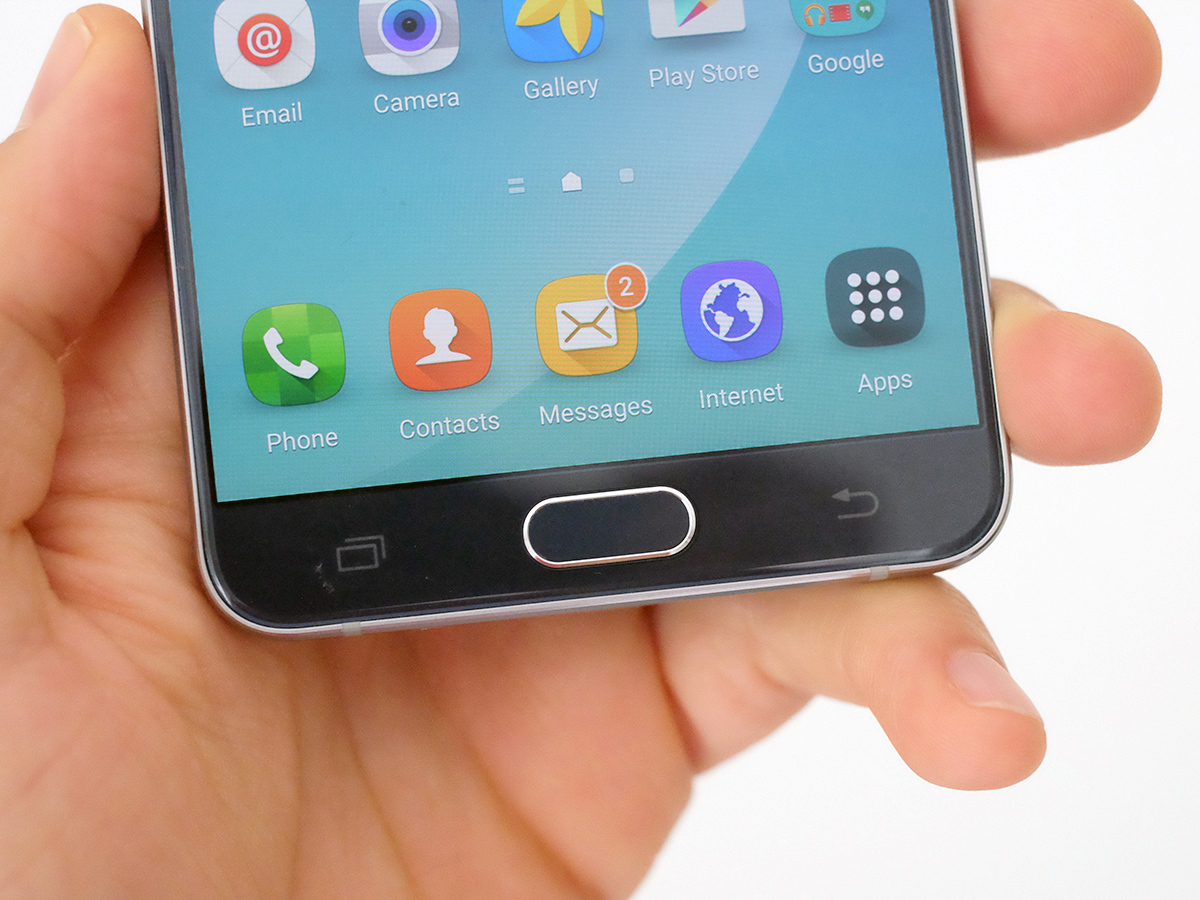 We've also reached a point where a phone like the Samsung Galaxy Note 5 doesn't need to feel totally massive. It's big, sure, but it doesn't get on my wick like the Nexus 6. Part of this is because Samsung has flicked around the back and 'recent apps' soft keys. I use 'back' about 700 times a day, but the other one generally only when an app is misbehaving, or when I'm browsing (generally a two-handed affair anyway).
So much for Android multitasking eh? The Note 5 is perhaps a notch classier than the Samsung Galaxy S6, but most of the key elements are the same. The fingerprint scanner is one of them.
Just rest whatever digit you 'teach' the Note 5 on the pad, the central soft key, and you can unlock the phone without any pins or weird gestures. It works a treat, and Samsung also lets you use it to authorise payments and other bits.
The one part I kinda wish the Note 5 hadn't nicked from the Galaxy S6 is its lack of microSD card slot. As a phone that feels perfect for enthusiasts, having fixed, non-expandable memory is a bummer. Even if most buyers complaining would probably end up loading it with pirated movies.
Is the pen ahead of the curve?
Most of the Note 5's geek cred is intact, though, because it still has the digitiser stylus that earns this series its name. An ultra-skinny pen slots into the bottom of the phone, so subtly you could easily think it's not there. The phone itself is still crazy-thin at 7.6mm, after all.
So what can it do? The Note 5's stylus software and hardware have been redesigned since the Note 4, but it's largely business as usual. There's a button on the side of the pen, and when pressed it brings up an Air Command menu, featuring up to six shortcuts, some of which can be customised to launch any app you like.
S-Pen favourites are things like S Note, Samsung's long-standing note-taker. A few third-party apps are optimised for pressure-sensitive stylus use too, though, like Autodesk's SketchBook. I've liked the Note series ever since it began, but aside from the odd spout of doodling I've not found a real use for it. Having a think about whether you will. Don't just fool yourself.
If you like the feel, though, you can pretty much use the Note 5 pen to operate the phone completely. It even works on the soft keys, something Samsung introduced in the Note 3. The new hardware bit is the clicker on the end of the pen. It seems a pure tactility thing: as far as we can tell it doesn't do anything and may cause no electronic signal at all. But it gives you a nice click as you move it in and out of the phone's body.
It's about making the stylus feel right, and that it does. If you're a bit of a doodler we think you'll like it. Years of tweaking have gone into this little pen, and in the Note 5 the experience is great, giving just the right level of resistance as you drag the rubberised nib across the display.
OLED bliss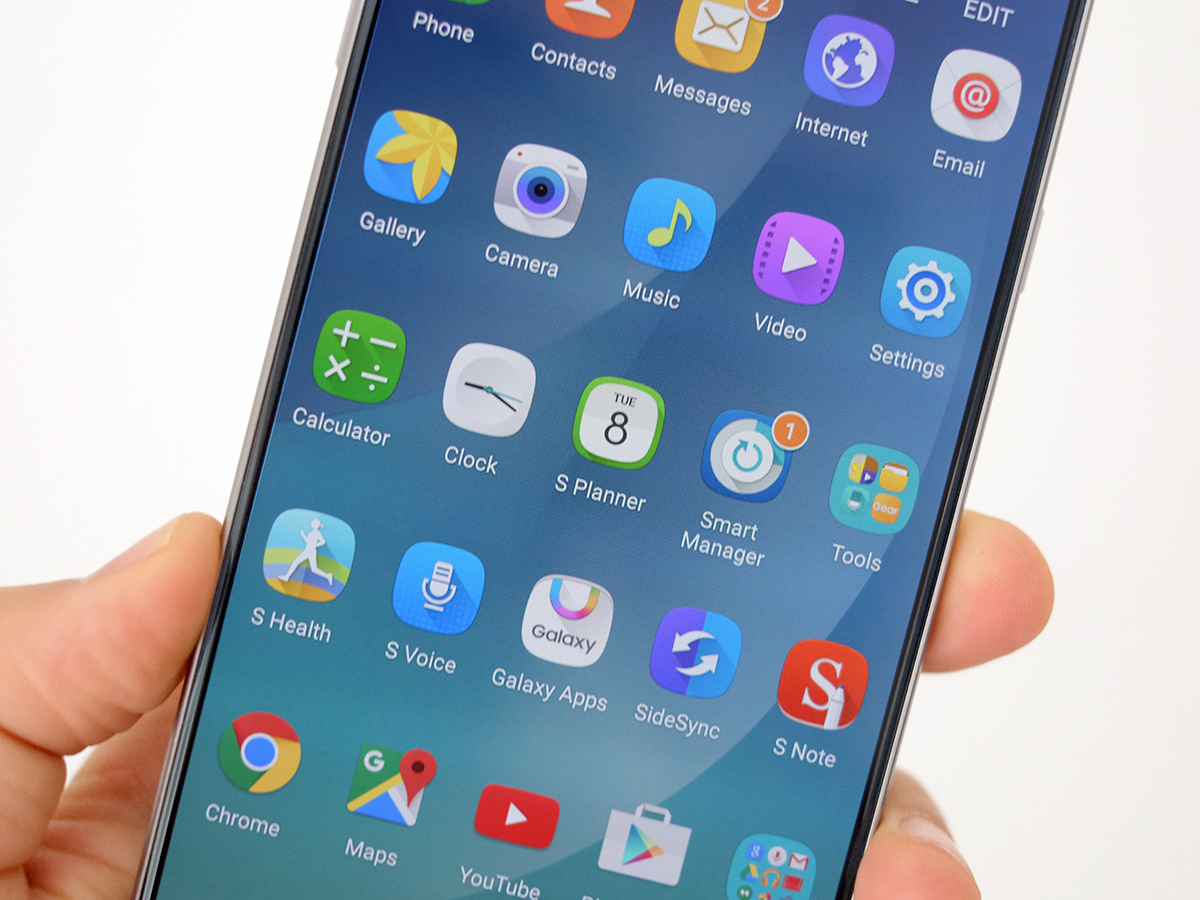 I think the screen itself is more of a benefit to the Note 5 really, though. As with the S6 and S6 Edge, it's pretty fantastic. In classic Note-series style, it's 5.7in across, and this year you get 2560 x 1440 pixels. While that's the same resolution as the much smaller S6, 518ppi is enough to keep everything looking perfectly sharp unless you really push your eyeball against the screen, when you can pick up some of the classic PenTile granularity.
For the non-turbo geeks out there, Samsung's OLED screens use a PenTile screen arrangement that reduces how sharp a screen looks a bit. However, it helps Samsung's OLEDs live longer.
Quality-wise the screen is terrific. Contrast is perfect, it's nice and bright, outdoors visibility is top-notch and with a bit of tweaking the colours are excellent. Fresh out of the box, the Note 5 is pretty oversaturated, too much for my eyes at any rate. However, the custom 'Basic' screen mode gets you ultra-natural looking colours if, like me, you prefer your your screen to look a little more relaxed.
Having been using the Note 5 for a good bit of gaming and video-watching too, the upgrade in screen size from the 5.1in S6 is no small deal. If you're after a Netflix and iPlayer machine, this blows its smaller brother out of the water.
The one thing I did notice is how the larger screen does show up one of the few little lingering problems with Samsung's phone OLEDs. When viewed from an angle, the Note 5's whites go a little bit blue. If you hold the phone leaning back it looks like there's a very slight pink-to-blue gradient when you're looking at a plain white screen. Straight-on it's just about perfect, though.
It's a lot like the other top Samsungs, basically
Snapdragon killer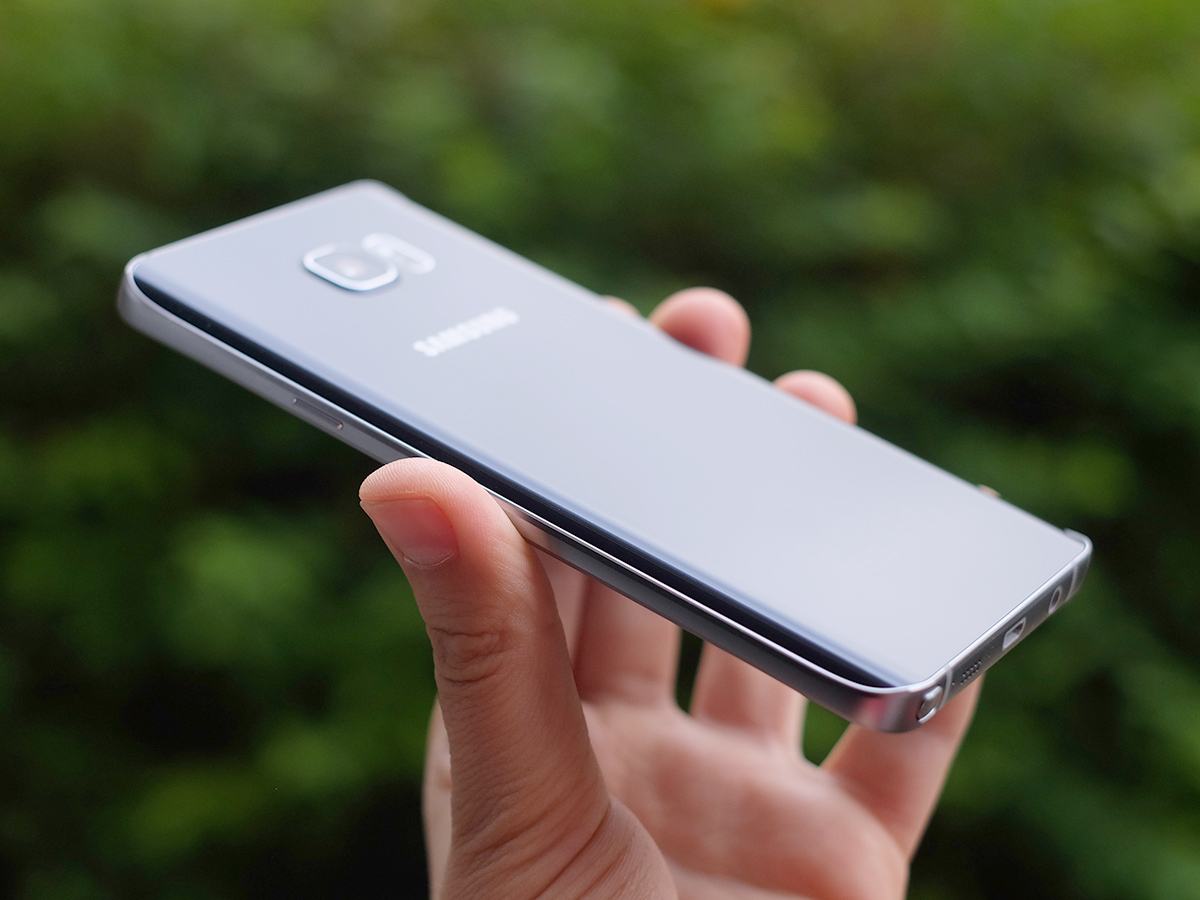 So is the CPU. Like the Galaxy S6, the Note 5 uses the Samsung Exynos 7420 CPU, an octa-core processor with four 2.1GHz Cortex-A57 power cores. You might think this CPU would be getting on a bit, but it's still just about the best processor you can get.
It's better than the Snapdragon 810 used in phones like the HTC One M9, and that has nothing to do with any pro-Samsung mood I'm in. It's technically better, using smaller, more efficient transistors. This is why the Note 5 can rev all the way up to 2.1GHz, without getting too hot.
This phone stays much cooler than most of the competition when covering light tasks like browsing the web. Lots of other phones still get pretty toasty after a while just doing this, but having spent part of my time stuck on a 3-hour Megabus journey from London to Norwich with little more than the Note 5 for comfort, I can confirm it stays nice and cool most of the time. Can't say we don't know how to live, eh?
Samsung's latest software also feels a bit snappier than default Android Lollipop 5.1. Lollipop takes on the style of a louche lounge singer, sort of slinking between parts of the interface rather than zapping between them like Android 4.4 KitKat. TouchWiz aims for a sort-of middle ground, for a mix of speed and smoothness.
It works well. And while I've used Samsung phones that have gradually gotten slower after weeks of use, that's yet to happen to the Note 5. Geekbench 3 shows you quite how powerful it is too. On the first run it scored 5120 points, where a Snapdragon 810 usually gets you around 4400. After subsequent runs it reached even 5302 points. Funnily enough, this is more than I got out of the Galaxy S6 Edge+ even though they have the same specs. Why? Who knows.
Just rest assured this is an amazing powerhouse, and one that really feels like it can handle what it's packing under the hood rather than struggling to keep it in check.
Shades of David Bailey
Coming back to the Samsung Exynos 7420 CPU is nice, but returning to Samsung's top-end mobile phone camera is pure joy. It seems pretty much exactly the same as what you get in the Galaxy S6 and S6 Edge, but I'm not complaining.
You get a 16-megapixel rear sensor with a fast f/1.9 lens and optical image stabilisation. But specs alone don't really tell you why the Note 5 camera is so fun to use. The best bit: it's very fast and responsive in all conditions, even at the dead of night. Autofocus reliability is great too, meaning you can just tap away at the shutter button and get good results 99 per cent of the time. The hit-rate is Apple-grade.
Image quality is excellent too. Using the Auto HDR mode you get pretty much dead-on exposure, good colour, great detail and top-notch dynamic range. In some phones you have to treat the HDR mode like a special effect, to be used on special occasions. But here it helps bridge the gap in quality between the Note 5 and a 'proper' one. I just leave Auto HDR on 24/7.
Low-light skills are great too. Thanks to optical stabilisation you don't need the hand stillness of a corpse to avoid making your low-light photos blurry, and they hang onto a remarkable amount of detail and colour fidelity too. Samsung is a mobile phone camera magician, pulling amazing things out of still fairly humble hardware.
The camera app is easy to use too, simple on the surface but offering loads of extra modes underneath if you scratch away. The newest of the lot is the Pro mode, which lets you control pretty much every important camera stat, from the exposure time to the focus and ISO. If you get hold of a phone tripod you'll be able to take the Note 5's low-light photo abilities even further: keep the ISO sensitivity low and whack up the exposure time and you'll be able to take some corkers.
Surprising stamina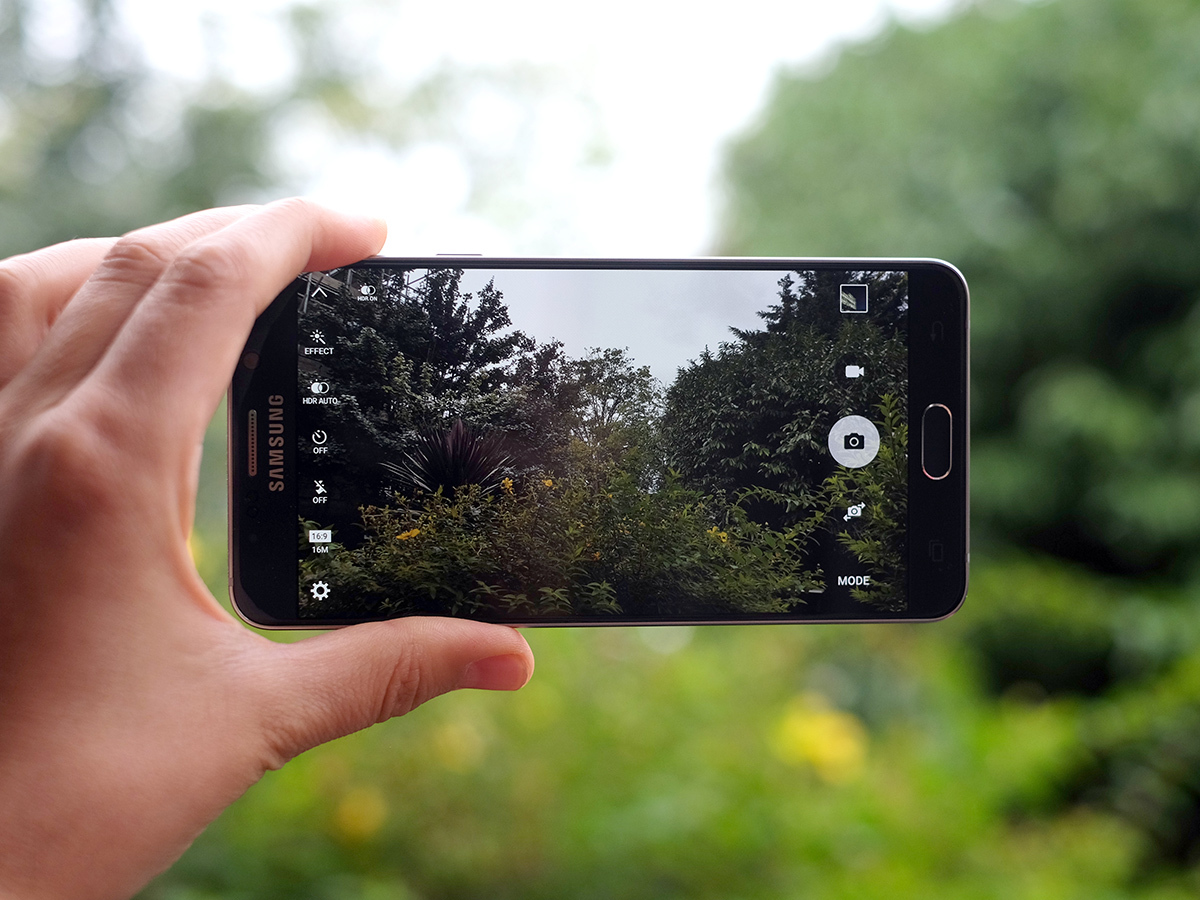 Samsung's best phones have a lot of good things to shout about, and — at least among its peers — battery life is one of them too. The Note 5 lasts a surprisingly long time given it has 'just' a 3000mAh battery. That doesn't sound like a lot for a phone with a 5.7in QHD screen.
It hangs on in there, though. It lasts for a solid 15 hours of looped 720p MP4 video, and in general use lasts a good bit longer than the LG G4. I've been hammering the phone quite a bit and am satisfied that the Note 5 lasts well for a giant, feature-packed phone. You won't get two days between charges unless you cut out background data, but you should absolutely get through a full one even if you use the phone a lot.
It's pretty similar to the S6 Edge on this front. No surprise there.
Speaker quality is just like the other top Samsungs of 2015. You get a single speaker outlet on the bottom of the Note 5. It's not given all that much priority in the phone's architecture but it's still a pretty good improvement compared to Samsung's older phones. It has that extra bit of mid-range/bass kick that makes voices (for podcasts) and vocals (for music) sound that bit more convincing. It's a decent, if not standard-setting setup.
Samsung Galaxy Note 5 verdict
The Samsung Galaxy Note 5 is a great sequel to the classic Note 4, and a phone we can imagine plenty of people favouring over the Galaxy S6 Edge+. After all, a pressure sensitive pen is a bit more useful than a screen that bends around a bit at the sides, right?
A great screen, amazing camera and Samsung's new upscaled build make it among the best phones around at the moment. Despite the big screen it's pretty easy to use too.
It makes us wonder: why has Samsung made the Note 5 so difficult to get hold of? More people to deserve to see this not-so-little wonder.
Handset supplied for review by Mobile Fun
Tech specs
| | |
| --- | --- |
| Screen | 5.7-inch Super AMOLED with 2560×1440 (518ppi) |
| Processor | Octa-core Exynos 7420 @ 2.1GHz |
| RAM | 4GB LPDDR4 |
| Cameras | 16MP with single-LED flash rear, 5MP front |
Stuff Says…
Stylus plus style is a great combo. Better than ever
Good Stuff
Great screen
Great camera
Great design
Bad Stuff
Non-expandable memory
Not available everywhere (yet)