Samsung Galaxy A8 hands-on review
Why do you need a flagship phone, again?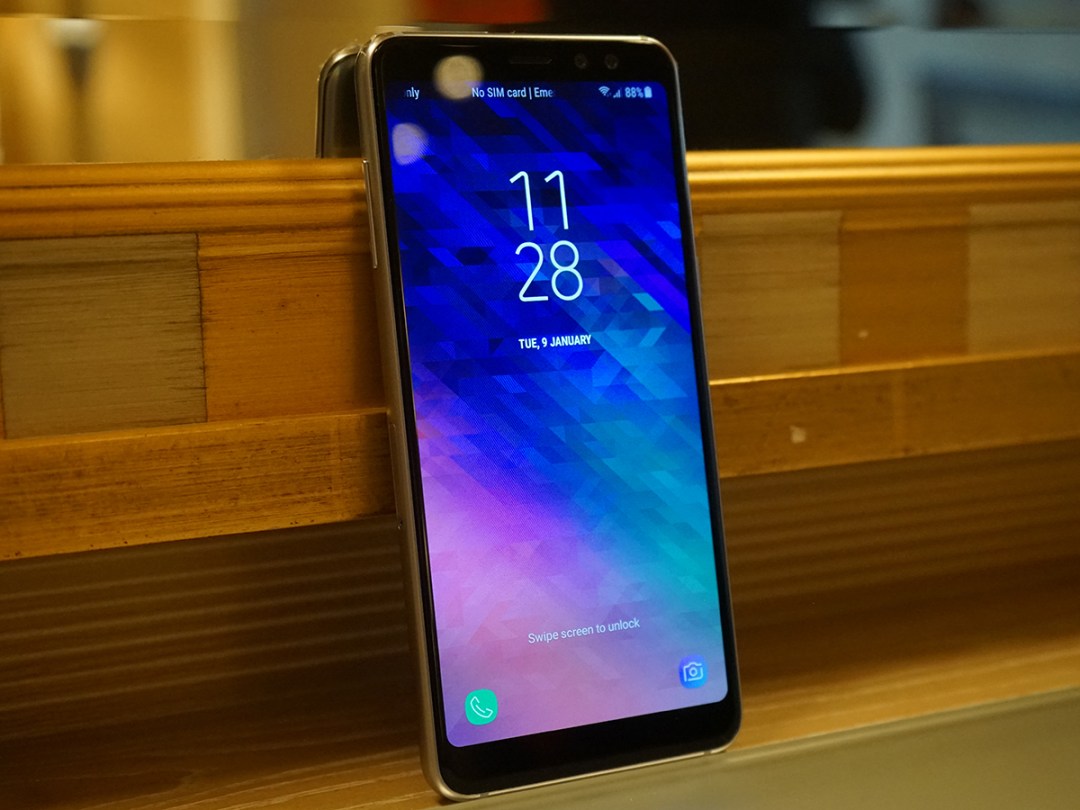 The Galaxy A8 feels like having your cake and eating it too.
Here's a phone with 90% of the features, performance and design as Samsung's top-spec Galaxy S8, only when it arrives in the UK later this year, the A8 will cost considerably less cash.
The AMOLED screen, the skinny bezels, the same 16MP rear camera – the A8 has all of the good stuff, plus one or two little extras that actually give it the edge over the S8.
After putting one through its paces at CES in Las Vegas, it's tough to see why you'd want to spend the extra, when this mid-ranger gets the job done so well.
DESIGN & BUILD
If this is what mid-range phones are going to look like from now on, you can consider us very happy: the Galaxy A8 looks great, borrowing plenty of design cues from the more expensive S8 and backing them up with premium materials.
It's a great fit for your hand, with rounded sides and a smooth rear with a slight curve for sitting comfortably in your grip.
You get metal, rather than glass, but with a polished finish that should withstand drops and bangs. Samsung's industrial design has really come into its own in the last year or two, and it's great to see that doesn't just apply to the flagship models. You still get IP68 waterproofing, too – something you won't find on mid-range "flagship killers" like the OnePlus 5T.
The biggest change is also perhaps a clue of what to expect from the Galaxy S9: a repositioned fingerprint sensor that sits underneath the rear camera lens now, instead of right beside it. It's much better here because you don't accidentally rub greasy fingerprints all over the lens every time you go to unlock the phone – even if the sensor itself is a bit on the small side.
SCREEN & SOUND
The display is the most obvious point of separation between the A8 and the S8, with the former ditching the curved screen sides of the latter for a simpler, flat panel.
It's not as striking, sure, but don't think Samsung has skimped out on specs anywhere else. You still get a 5.6in AMOLED panel, with a better-than-Full-HD 2220×1080 resolution. That slightly smaller size is tough to notice without breaking out the ruler, and the panel quality is exceptional – as you'd expect from the company known for having the best smartphone screens in the business.
Colours are rich and vibrant, with exceptional contrast and deep blacks that make darker images really pop. Things aren't quite as sharp or detailed as the Galaxy S8, but you'd need a microscope to really notice the difference – text looked crisp and even small fonts on web pages were easy to read.
Because it's an AMOLED panel, you also get Samsung's always-on display mode, which slaps the time, date and any notifications onscreen at all times, even when the phone is in standby. With most of the screen switched off and only a few pixels illuminated, it merely sips battery, instead of gulping it down.
Without taking one outside, it's impossible to know if the A8 will be able to crank its brightness as high as the S8 in bright sunshine, but it certainly seemed bright to us.
The accompanying single speaker sits in an odd location on the right side of the phone. You won't ever muffle it while holding the phone in portrait, which is great, but we weren't able to inflict our terrible music choices on the other journalists at Samsung's briefing, so can't make any judgment on sound quality.
CAMERA
Here's where things get interesting. The Galaxy A8 has something you won't find on the S8 – dual cameras. Only they're on the front, instead of the back of the phone.
Selfie fans will love the 16MP + 8MP setup, which lets you blur the background of your snaps on the fly. Live Focus shows you a preview of how blurry your photo will be, with a slider for increasing or decreasing the effect. It works well, but perhaps a front LED flash would have been the cherry on top – maybe next time.
Around back, the 16MP snapper uses a similar sensor to the Galaxy S8, only here you only get phase-detect autofocus. OIS and Dual Pixel AF are sadly missing. It's still quick to focus and fast to snap photos, though, so some deeper testing will be needed to see whether the omissions mean worse photos.
Samsung's image processing is usually very good, if not quite up to the same level as Google's algorithmic excellence, so we're excited to see how the Galaxy A8 performs as a pocket-friendly camera.
PERFORMANCE & SOFTWARE
Inside, one of Samsung's own Exynos octa-core CPUs does all the heavy lifting. It's a 7785, rather than the more potent chip you'd find in a Galaxy S8, but it's still perfectly capable of running Android smoothly. 4GB of RAM is ample for multi-tasking, too.
We didn't spot any slowdown or stutter in our time with the phone, so we'll have to wait until we've tried running a few demanding games from the Google Play Store to see what the A8's limits are. 32GB of on-board storage is a little on the low side, but a microSD card slot means it's easy enough to add more.
A 3000mAh battery should be plenty for full day of use away from the mains, and it'll handle fast charging over USB-C with the right adapter. There's no wireless charging, though: that's a premium feature you'll only find in the Galaxy S8.
One little complaint is the fact it's running Android 7 Nougat, rather than the newer Oreo. Hopefully an update won't be too far away, considering Samsung is finally in the process of rolling it out to the Galaxy S8. The TouchWiz UI is a million miles better than what it once was, with only slight tweaks to Google's interface, and although the Bixby virtual assistant makes a reappearance here, there's no dedicated button to accidentally wake it when you didn't mean to.
SAMSUNG GALAXY A8 INITIAL VERDICT
The A8 is nearly everything we loved about the Galaxy A8, just turned down a notch or two. It's shaping up to be a fantastic phone, with nine tenths of the performance and design of that phenomenal flagship.
It might have lost the curved display, but in keeping the 18:9 aspect ratio and skinny bezels, it's still every bit as desirable as the mid-range competition. Maybe even more so, if you can't get enough of snapping selfies.
Camera quality and battery life are still up for debate right now, but considering the hardware is so similar to its bigger brother, we're betting the Galaxy A8 puts in an impressive performance. We'll find out when we give it a full review.
Whether it can undercut the OnePlus 5T and Honor View 10 will determine whether the A8 is a true bargain or not. Hopefully Samsung gets the price right when it goes on sale in the UK in the next couple of months.