Razer Blade Stealth review
A super-slim laptop that can change, Transformer-like, into a gaming PC beast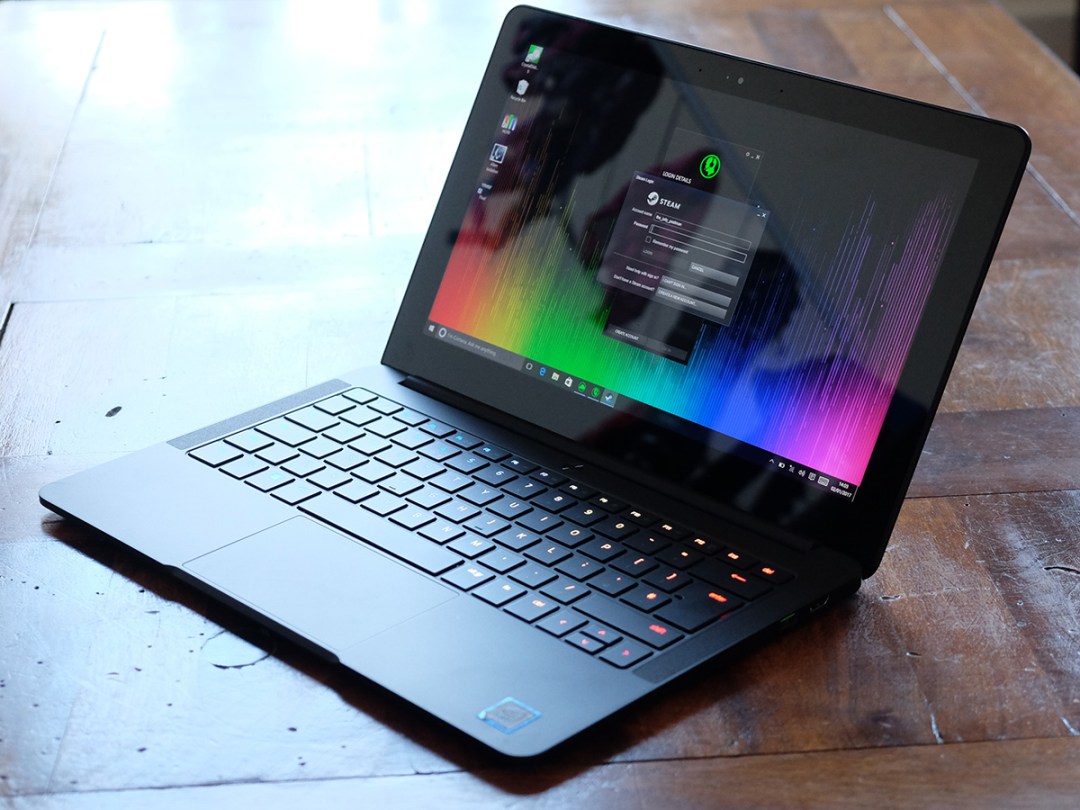 Laptops are changing. They're getting smaller, lighter and smarter.
This isn't just the inevitable march of tech in action either. Right now they're fighting to survive, as more of us use phones and iPads for the jobs we'd have whipped a laptop out for just a couple of years ago.
Judging by the contender we have here, we won't be hearing any death rattles just yet.
The Blade Stealth is a moody-looking laptop. On its own it's a svelte, pitch-black ultraportable. Hook it up to the Core graphics rig, though, and it transforms into a gaming monster.
BACK IN BLACK
Forget silver, forget Rose Gold. This is the stealth bomber of ultraportable laptops. It's black, it's slim, it's made of aluminium. Think Darth Vader and the dark side of the force to Luke Skywalker's Jedi, and you're halfway there.
At 13.1mm thick, you'll have no trouble sliding the Blade Stealth into the most compact of carry-on bags. It tips the scales at 1.29kg, which is light enough to forget you're carrying one.
It's built like a tank, with no weak links at all, and the all-metal finish is fantastic, too – you're guaranteed envious stares from those in the know when you get one out in public. That green oruboros logo on the lid is the gaming equivalent of wearing a Stonecutters ring. Just remember – no Homers.
You can can dim the trademark LEDs when you don't want to show off, though. Whip it out in Starbucks and you don't have to look like a one-person LAN party.
WRITE UP MY STREET
Where's the fun in staying subtle, though? Razer's awesome Chroma LED backlight tech makes this the most customisable keyboard backlight seen in an ultraportable, with fine-grain control over brightness and colour.
You can set it to any colour of the rainbow to take the brutish edge off all that black, or make it fire off a light show every time you type using one of the handful of inbuilt profiles. Want a Matrix-style green cascade every time you hit a key? You got it.
It feels fantastic to type on, too, with responsive keys and a satisfying amount of travel whenever you push one down.
You might think a tiny laptop like this would be a nightmare to work on, but don't worry: I had no trouble typing up this review, and its full-size keys still leave room for speakers on either side of the keyboard tray.
No laptop speakers sound amazing, and while you could happily watch a film using these, there was just no way they could do justice to the fantastic display.
4K all the way
Whether you're working or gaming, the Blade Stealth has a killer screen. Or rather, a choice of killer screens.
The "entry-level" model has a 2560×1440 touchscreen that beats Apple's MacBook for resolution, and covers 100% of the Adobe RGB colour space – so it'll get the job done for photo and video editing.
This version, though? It's rocking a full-fat 4K display – one of the highest-spec screens I've seen in a laptop. The 12.5in panel has fantastic contrast, and it's easily one of the most colourful around.
Pictures and videos look so rich, one glance is enough to actually raise your blood sugar level. The glossy finish helps here, even if it means you won't want to sit in direct sunlight – unless you really like reflections and glare.
It's slightly mad having so much detail in a tiny screen, but it could make all the difference for designers and graphics pros.
It's a touchscreen too, although I'm not convinced you need one on a traditional laptop. There's no funky hybrid hinge to turn the Blade into a tablet, so you'll have to reach over the keyboard to prod the screen.
On the other hand, the touchpad is a little small, so you might find the touchscreen a bit easier to use.
HOOK ME UP
It might be slim, but the Blade Stealth isn't lacking for connectivity. Razer hasn't thrown out the old in favour of the new like Apple did for the MacBook Pro, either.
You still get two trusty USB3 ports here, as well as a full-size HDMI – making it a doddle to hook up your TV or a monitor.
There's a good old fashioned headphone jack as well, for when you don't want the outside world listening in on your gaming sessions.
You only get one USB-C port, but it pulls double duty as a Thunderbolt 3 connection, and charges the laptop too.
It also comes in handy for the Blade Stealth's party trick – the optional Core module.
Right down to the core
On its own, the Blade Stealth is exactly as its name implies: slim, light, and with no great big graphics card inside to weigh it down. How can you get your game on without a graphics chip, though?
Easy – it's got one waiting for it at home.
The £399 Core module turns the Stealth into a gaming powerhouse, with room inside its tiny chassis for the most powerful graphics cards around. Warn your wallet, though, because the Core doesn't come with one. A top-end Nvidia GTX 1080 costs an extra £600 or so, on top of that initial £399. Ouch.
The dock is a little smaller than a complete mini PC, so won't take up a huge amount of space on a desk, and looks pretty mean in Razer's signature gloss black. It's packed with USB ports so you can leave a mouse and keyboard plugged in – just hook up the Blade Stealth and you're good to go.
Naturally it's rocking a set of colour-changing LEDs, too, so you can match the Blade Stealth's colourful keyboard.
Because you're connected over super-fast Thunderbolt 3, you're not losing any performance from the graphics card – as long as you're playing on an external monitor.
Trying to send data from laptop to graphics card, and then back again down the same cable is asking just a little too much from the tech, sending frame rates down below that magic 60fps mark.
Plug a monitor into the Core and play on that, though, and you'll be able to play just about any game out there on high quality settings. I played Quantum Break, Battlefield 1 and Counter Strike: Global Offensive at QHD resolutions and on Ultra settings with an Nvidia GTX 1080, and everything was silky smooth.
The Core really does turn a laptop no thicker than a newspaper into a gaming monster. It's still a smart way to get a high-end gaming rig without burdening your house with one of those giant PC towers.
Flying solo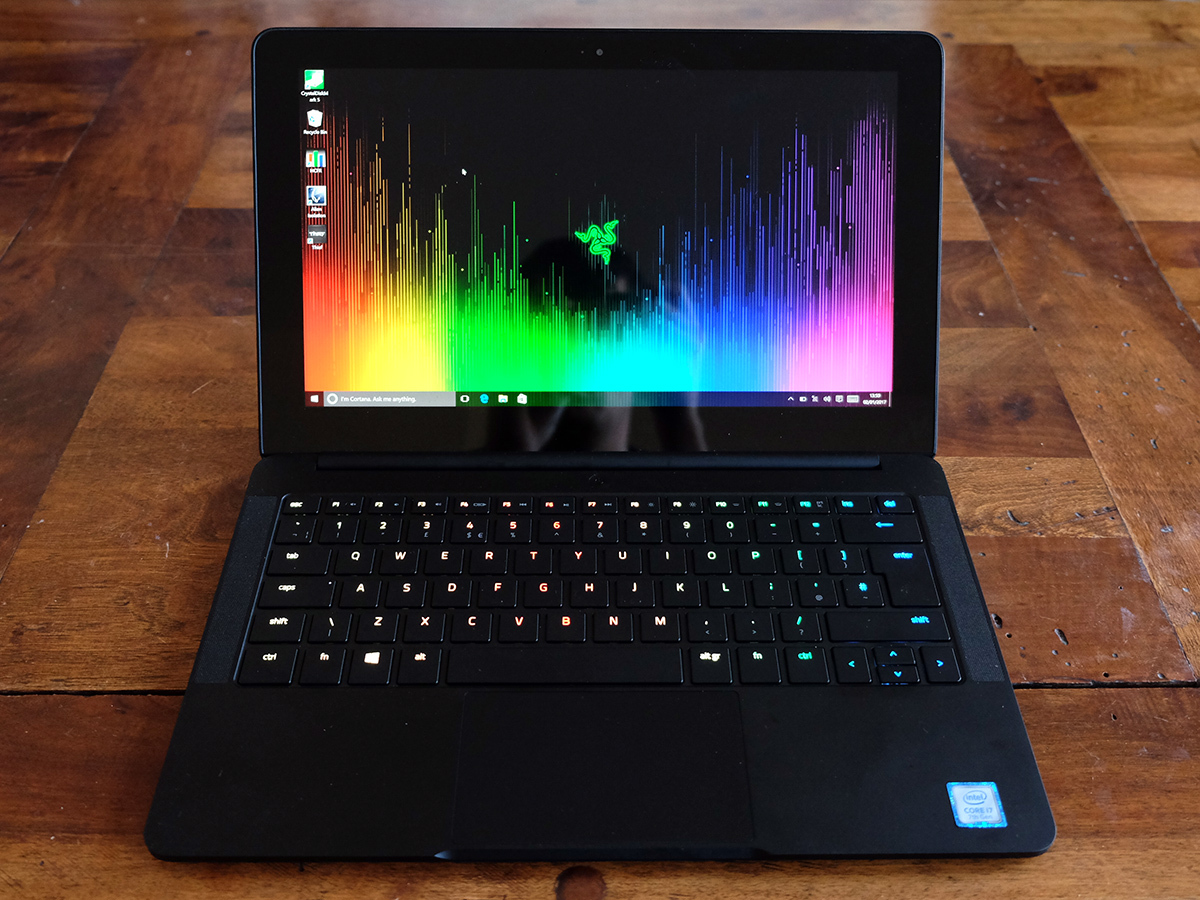 By itself, the Blade Stealth might not have Witcher 3-crushing gaming power, but Razer hasn't cut corners on performance.
It uses the latest Intel Kaby Lake CPUs, and every spec comes with a dual-core Intel i7 instead of the less powerful i5. You also get 16GB of RAM and up to 1TB of lightning-quick PCIe SSD storage, pretty much making this the fastest Ultrabook around.
There's nothing this machine can't handle when you're working on the move. Massive Photoshop files? No problem. Fifty open tabs in Google Chrome? You got it. I was never waiting for apps to load, and it handles multitasking brilliantly.
The processor's built-in GPU is surprisingly capable, too. OK, you're not going to be playing Battlefield 1 with all the settings turned on, but older and simpler games play pretty smoothly. Think Street Fighter IV, League of Legends and Counter Strike at 720p, and you're not far off.
Push it hard and the fans can get a little whiny, though. It's not noticeable unless you're absolutely slamming the CPU, but it is there.
Razer reckons it'll last nine hours on a single charge, which should be enough to get you through a regular work day, but my results didn't quite match up to those lofty claims. A 90-min movie eats 21 per cent charge, but at half brightness, writing and web surfing drain a lot less power.
If that's not enough for you, Razer's working on an optional Power Bank. It's packing a 12,800mAh battery that'll completely recharge the Blade Stealth, or top up your other tech with its twin fast-charging USB ports.
I haven't had the chance to try one out just yet, but it has the potential to be a lifesaver for any road warriors.
Razer Blade Stealth verdict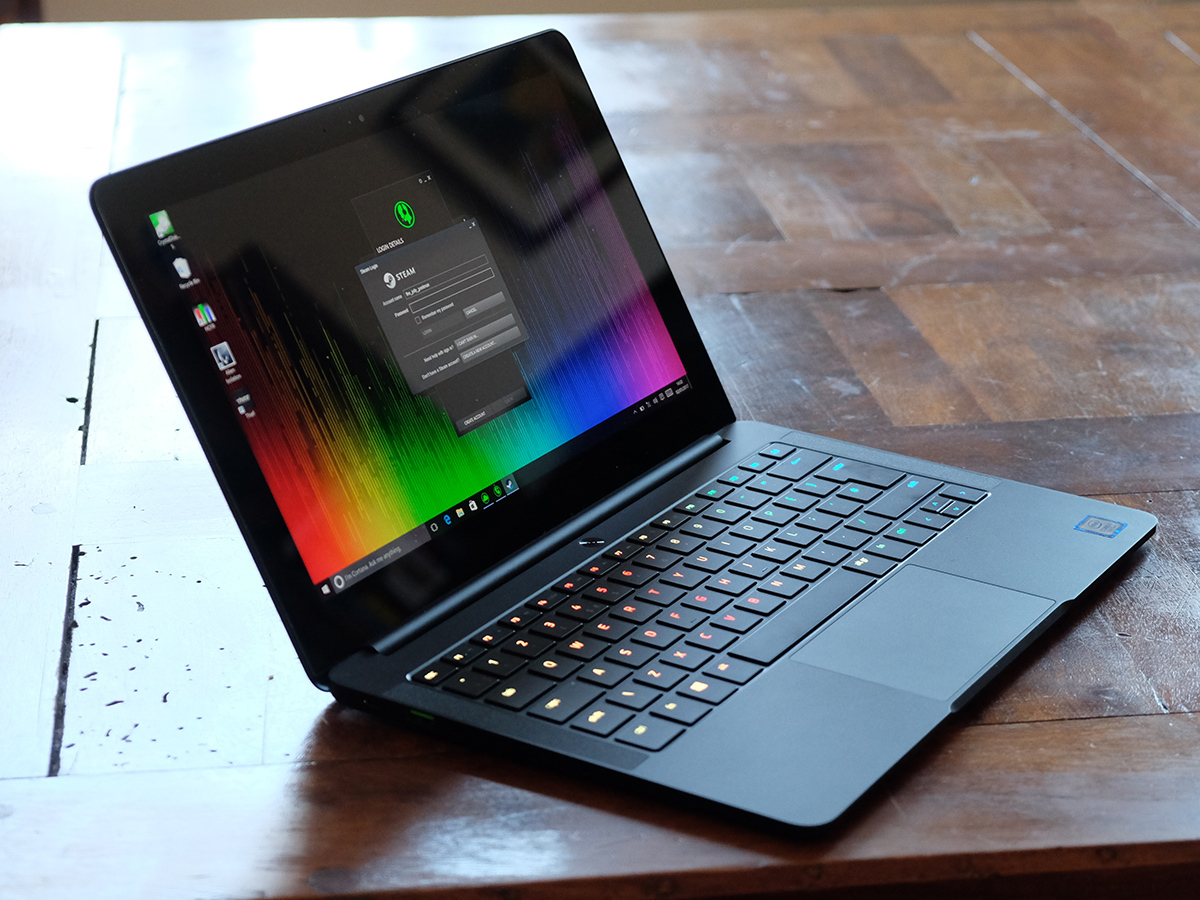 This jet black slab of laptop loveliness looks just like the MacBook's evil twin. It's sensibly priced, too, even if battery life is only decent, and the loud fans can be annoying.
Ultra-light laptops have always struggled when it comes to gaming, but the Blade Stealth might be the perfect compromise. It's enough of a featherweight to take on the move, but turns into a graphics god when you get home and hook up to the Core external GPU.
The combination will put a significant dent in your bank balance, sure, but when a dedicated gaming PC will easily set you back £800, and most ultrabooks start around the same amount, it's not bad value.
It'll be overkill for a lot of people, but for gamers at least, this is the ultimate ultra-portable.
Buy the Blade Stealth here from Razer
Tech specs
| | |
| --- | --- |
| SCREEN | 12.5in 3840x 2160 LCD |
| CPU | Intel Core i7 i7-7500U |
| MEMORY | 16GB RAM |
| STORAGE | 512GB PCI-E SSD |
| GRAPHICS | Intel HD 620, Optional Core external graphics module (£399) |
| OPERATING SYSTEM | Windows 10 |
| BATTERY | 53.6 Wh |
| DIMENSIONS | 321 x 206 x 13.1mm, 1.29kg |
Stuff Says…
Why choose between style and stamina, and playing Skyrim with all the fancy effects? The Blade does both – as long as you invest in the Core
Good Stuff
Gorgeous looks, with the funky keyboard LEDs on or off
Impressive gaming potential when hooked up to the Core
Fantastic screen if you shell out for the QHD model
Bad Stuff
Battery life isn't the best
Core is an expensive add-on
Touchpad is a little on the small side