Polk Assist review
Google Assistant smarts are let down by average sound quality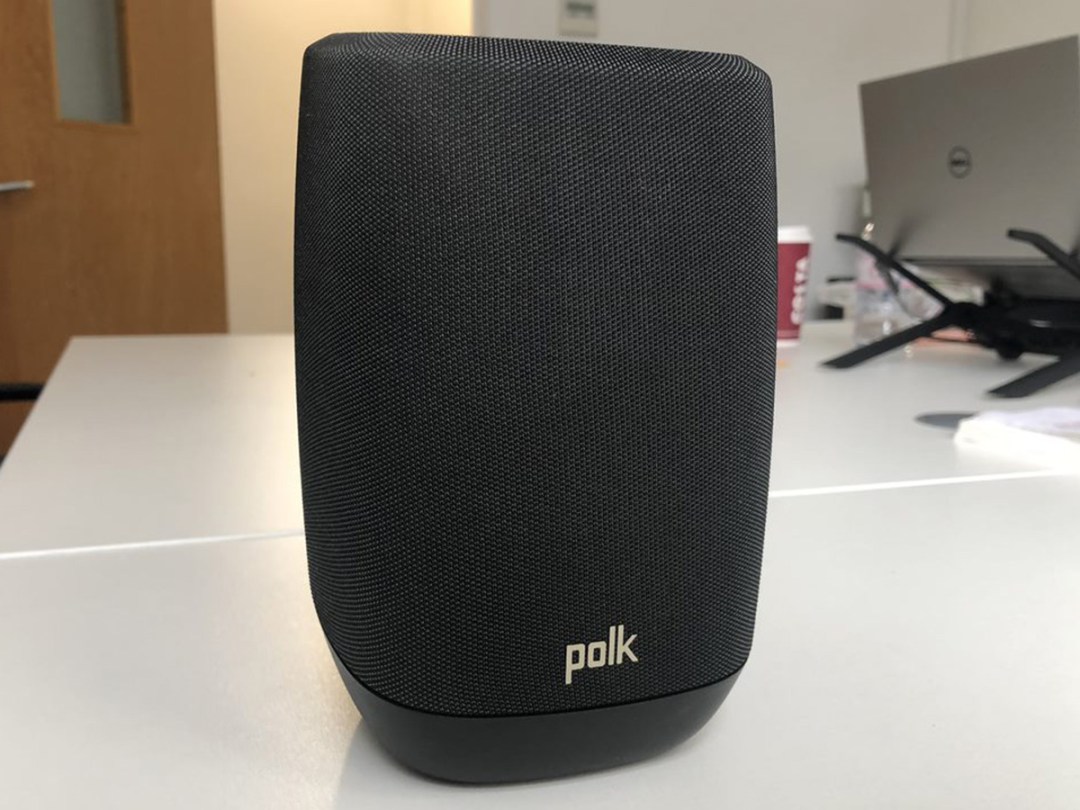 Amazon's Alexa virtual assistant has made its way into practically every kind of speaker at the moment, from portable Bluetooth speakers from Ultimate Ears to soundbars like the Sonos Beam. Google Assistant feels a little bit shunned by third party manufacturers in comparison, but Polk has come to the rescue with one of the first third-party Smart Speakers based on Google's voice-enabled tech.
The result, the Polk Assist, is a product that goes directly after the Sonos One in terms of size, features and pricing. It's a small bookshelf-sized speaker designed to play music wirelessly, and nothing else — there's no network port, no headphone socket, no USB charging port. You set it up using the Google Home app and then use your voice to do everything, from playing music to adding calendar appointments and asking for a flash briefing.
Sadly, Polk Assist falls way below the audio quality and features of its nearest competitor, the Sonos One. Matched side-by-side, it's most noticeably lacking in the bass levels we've come to expect from Sonos' smart speaker, but it also doesn't have an app that allows you to collectively add music from various different music sources. This means that unless you're a Google Assistant die-hard, the Sonos One is the better speaker to go for.
POLK ASSIST DESIGN: SLEEK BUT CHEAP
The Polk Assist is compact enough that it will go pretty much anywhere without taking over, such as a window ledge or a bedside table. We particularly like the sloped top, which makes it easy to see the buttons even when the device is on a high shelf.
It's a nice counterpoint to the angular Sonos One, which has a flat top that can make it difficult to see the touch-sensitive buttons. The top of the Polk Assist is where you encounter the first weakness of the product, however.
The four physical buttons on top feel cheap and plasticky and make a loud click when you touch them. The white LCDs on top also look a bit naff, and for some reason the microphone mute button is located around the rear of the product, which makes it fiddly to locate without physically moving the speaker.
While some smart speakers like the Sonos One allow you to wire the product in to your home network, the Polk Assist will only use wireless, so bear this in mind if you have a patchy signal wherever you're placing the device.
There's also no wired audio input, so you have to use Bluetooth if you want to connect another device. The Polk Assist is also a home speaker, rather than a portable one, so it has to be plugged into the mains at all times
POLK ASSIST FEATURES: PLAYS WELL WITH OTHERS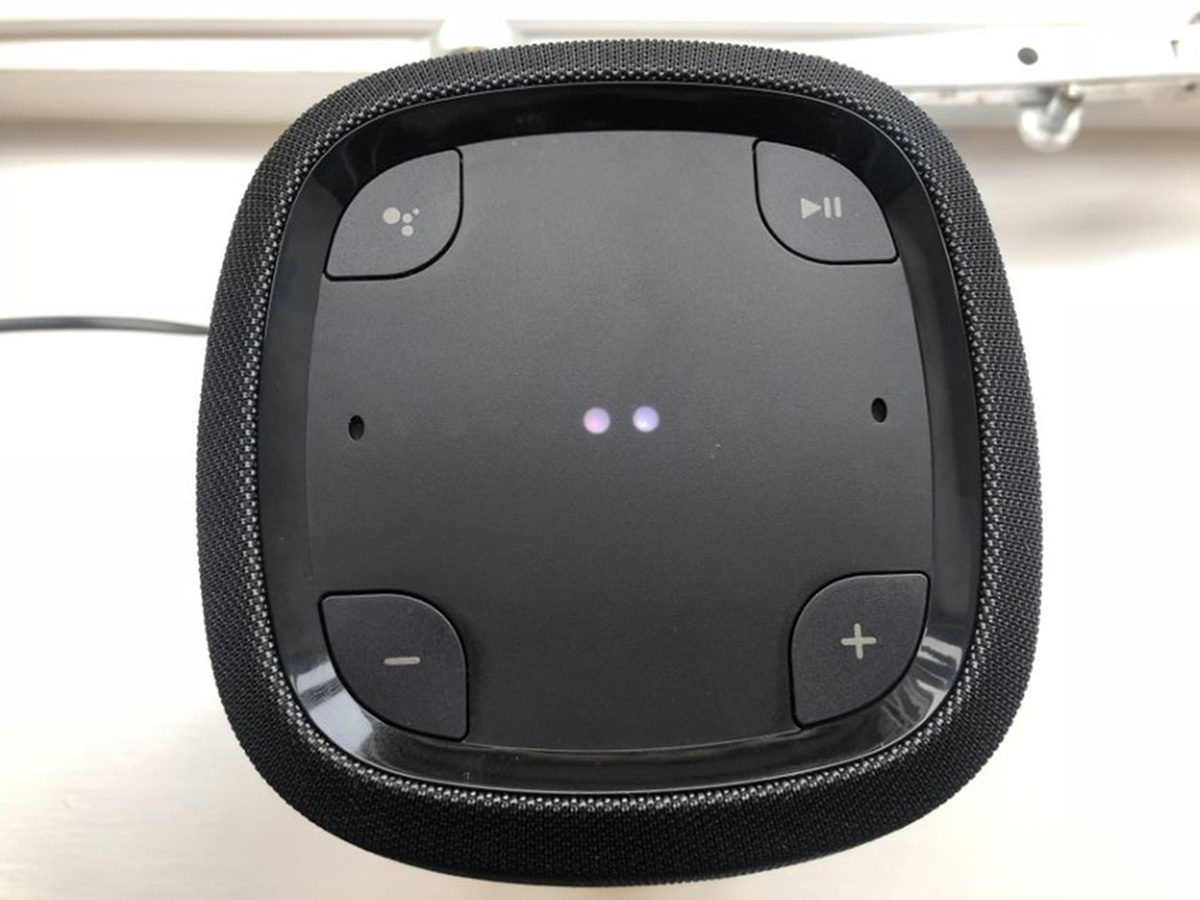 The highlight of the Polk Assist is that it's one of the few smart speakers on the market right now to feature Google Assistant rather than Amazon Alexa, but whether that's a good thing or not will probably depend on which assistant you're used to.
If you're a Google Android user and have gotten used to speaking to the Assistant, then you'll have no trouble at all with the Polk Assist. But if you're heavily into the Amazon ecosystem and regularly use Alexa to order from Amazon or play music from Amazon Music, then you're probably better off sticking with Alexa.
On a personal level, I'm a heavy user of Google's services ( Calendar, Mail and Maps), but not of their phones (I'm an Apple fanboy, sorry). Also, my house is littered with Alexa devices. But I do actually prefer Google Assistant when it comes to the smart stuff, because she seems to give me clearer answers to questions about my schedule or travel plans.
So, if you're as deeply into Google's services as I am and you're yet to get a Smart Speaker, there's nothing wrong with going for Google Assistant over Amazon Alexa. Linking Google Assistant up to all your other devices in the home is as simple as downloading the Google Home app on your phone or tablet, and logging into your various services.
On the music side, Polk Assist supports Spotify, Google Play Music and TuneIn radio — simply log in once and then you can ask Google to play music or a radio station. The good news is that the Polk Assist will work with the free tier of Spotify, so you can always play music using just your voice. However, if you're a subscriber to another service such as Tidal or Apple Music, you'll have to either use Bluetooth or Chromecast via your phone, which obviously isn't quite as seamless.
In terms of home automation, Google Assistant now works with most of the major smart home brands. In my home, I have Hive heating, an Nvidia Shield TV box and Philips Hue lights, and Google Assistant was able to find and control them all.
The list of support isn't quite as extensive as Amazon's Echo — Google wouldn't control my Sonos speakers (yet), but over time we imagine more and more devices will come to support Google. Where Polk lets the Assist down is in its lack of a dedicated app.
Sonos' app isn't going to win any awards for its design, but it does at least allow multiple people on the same network to queue up music from a variety of different music sources – perfect for when you're having a party.
There's no such app available for the Polk Assist, so you're left with only one person being able to control the music either from a device or using their voice. As a result, it depends on your personal choices when it comes to devices and music services as to whether you're going to get the best out of the Polk Assist.
Spotify's app does a great job of connecting to multiple different speakers based on many different connection types. And if you're using a Google Android device then you can Chromecast to the Polk from other apps including YouTube.
However, as an Apple iPhone user and an Apple Music subscriber, I could only play music to the Polk Assist over Bluetooth, which wasn't very seamless and the sound quality wasn't great.
POLK ASSIST SOUND: BASS ISN'T IN THE PLACE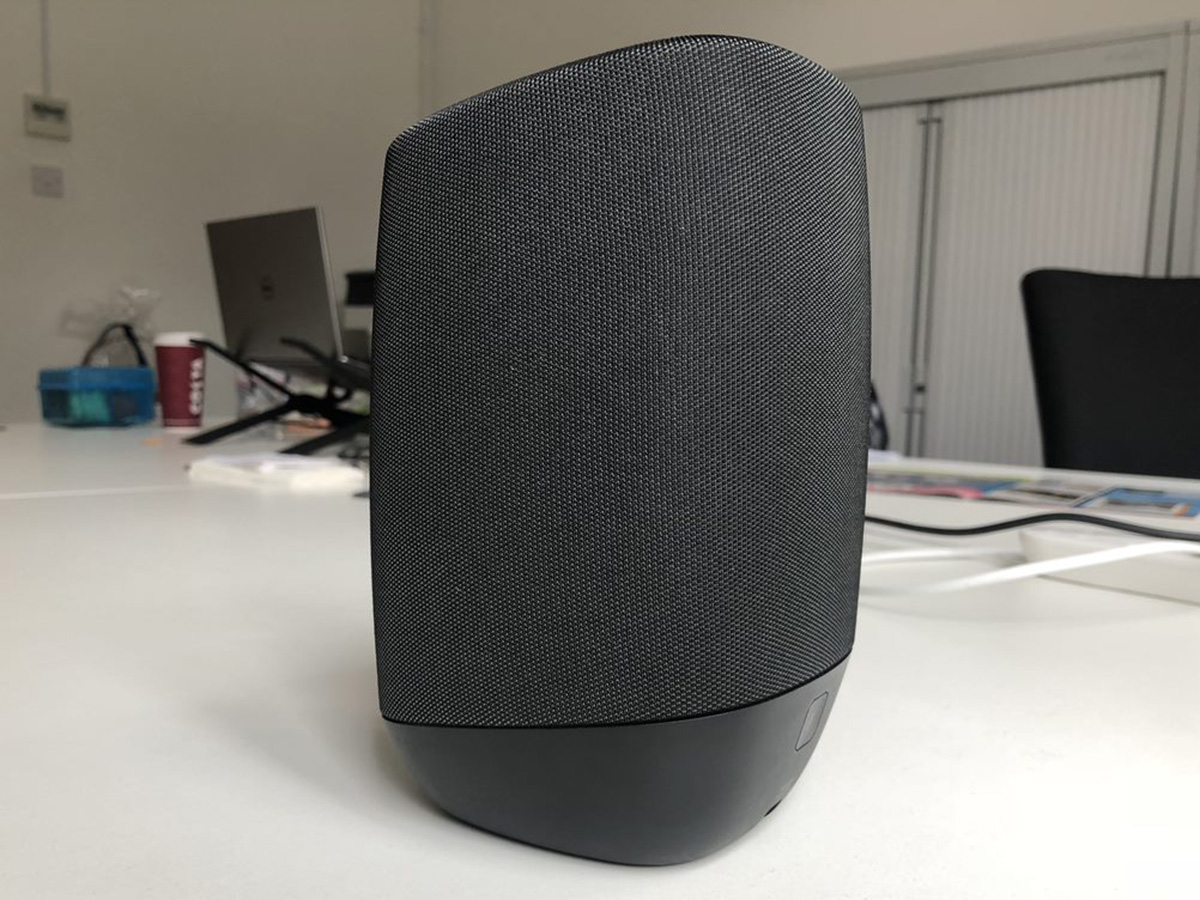 The biggest issue with the Polk Assist is audio quality.
The Polk Assist retails for £179 while the Sonos One retails for £199 – practically the same price when you're shopping online or in-store.
The Sonos One sounds great. Not as good as the Apple Homepod, but very good for a compact speaker. Sadly, the Polk Assist just doesn't have the same presence, particularly in the bass, where it really fails to impress.
Unlike the Sonos One, you can't pair two Polk Assists to create a stereo sound stage. In the real world, few people probably actually do this with their smart speakers, but it would have been a good option for the Polk, as it struggles to fill a room on its own.
As a result, we were unable to get the same sort of room-filling sound in our office that we're used to from the Sonos One. Things get worse at high volume levels – crank up the volume and the audio output actually becomes quite painful on the ears, whereas it always remains clear and crisp on the Sonos One.
Thankfully, the Polk Assist performs much better on the listening side, with its two microphones picking up on the "OK, Google" command from way across the room.
POLK ASSIST VERDICT
Polk's Assist has a lot going for it — mainly the fact that it's a third-party Google Assistant-powered smart speaker in a market swamped with Alexa-based devices.
But ultimately, the sound quality lets it down when compared to other similarly-priced smart speakers, namely the Sonos One.
Sonos' product may not yet feature Google Assistant, but we've been promised it's on the way, and teased that it may even be rolled out before the end of 2018.
If you're deep into the Google ecosystem, then there's no doubt the Polk Assist is better than Google's own Home speaker. But judged against the Sonos One, the Polk Assist just doesn't offer the audio quality you'd expect from a device at this price, and that's ultimately the most important feature for any speaker, smart or not.
Stuff Says…
Polk's Assist is a step up from Google's own Home products, but it's some way off the sound quality of the Sonos One
Good Stuff
Great integration with Google Home
Easy to setup
TuneIn support is handy
Bad Stuff
Sound quality isn't up to par
Lacking in bass
App doesn't pull together multiple music sources