Panasonic TX-55JZ1000 review
If only the depths were hidden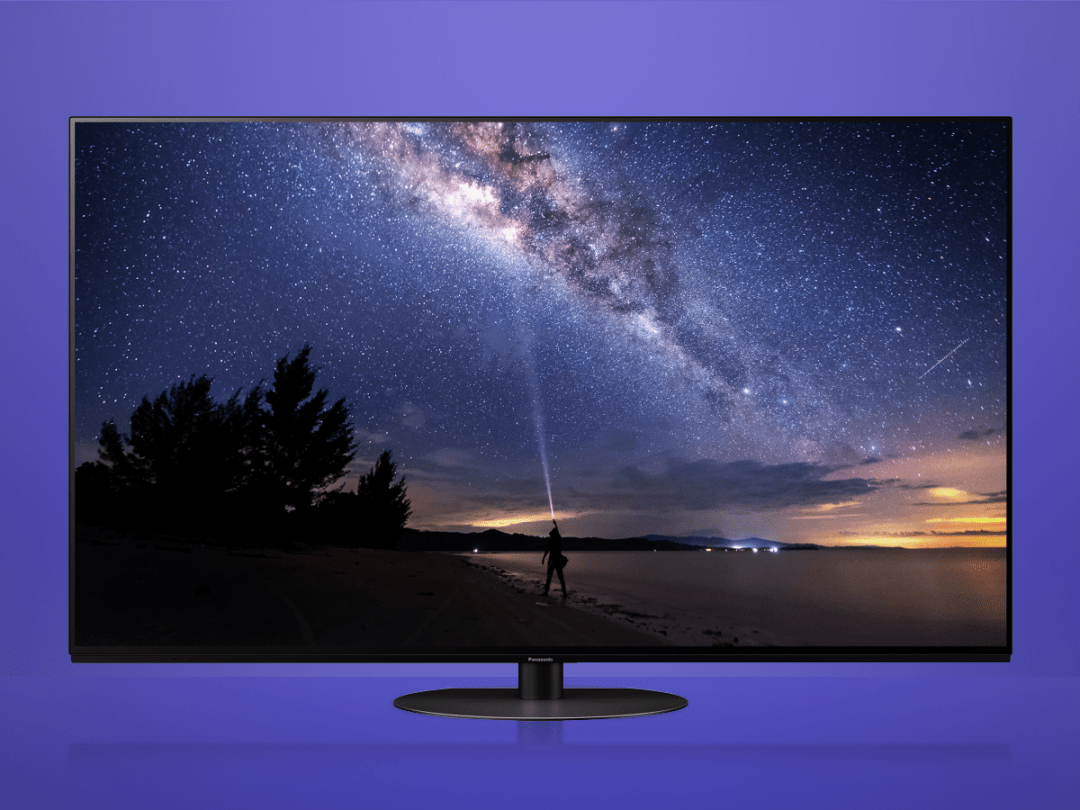 Despite being an established force in the movie industry – and despite receiving kudos from numerous Hollywood movers and shakers – Panasonic has never quite been able to make its pro-grade fairy dust stick to its consumer televisions. They're just too sensible, somehow. And its smart TV offerings have never been all that smart.
Not for the first time, Panasonic has resolved that this year is going to be different. The JZ1000 OLED TV range certainly looks equipped to turn a few heads. For once, Panasonic seems to have delivered a TV package that can compete not just on specification and performance, but is also ready to meet its rivals head-on in the price war.
Mind you, we've heard all this before from Panasonic. Is the JZ1000 the TV range to actually get on and do it?
Design and build: big and clever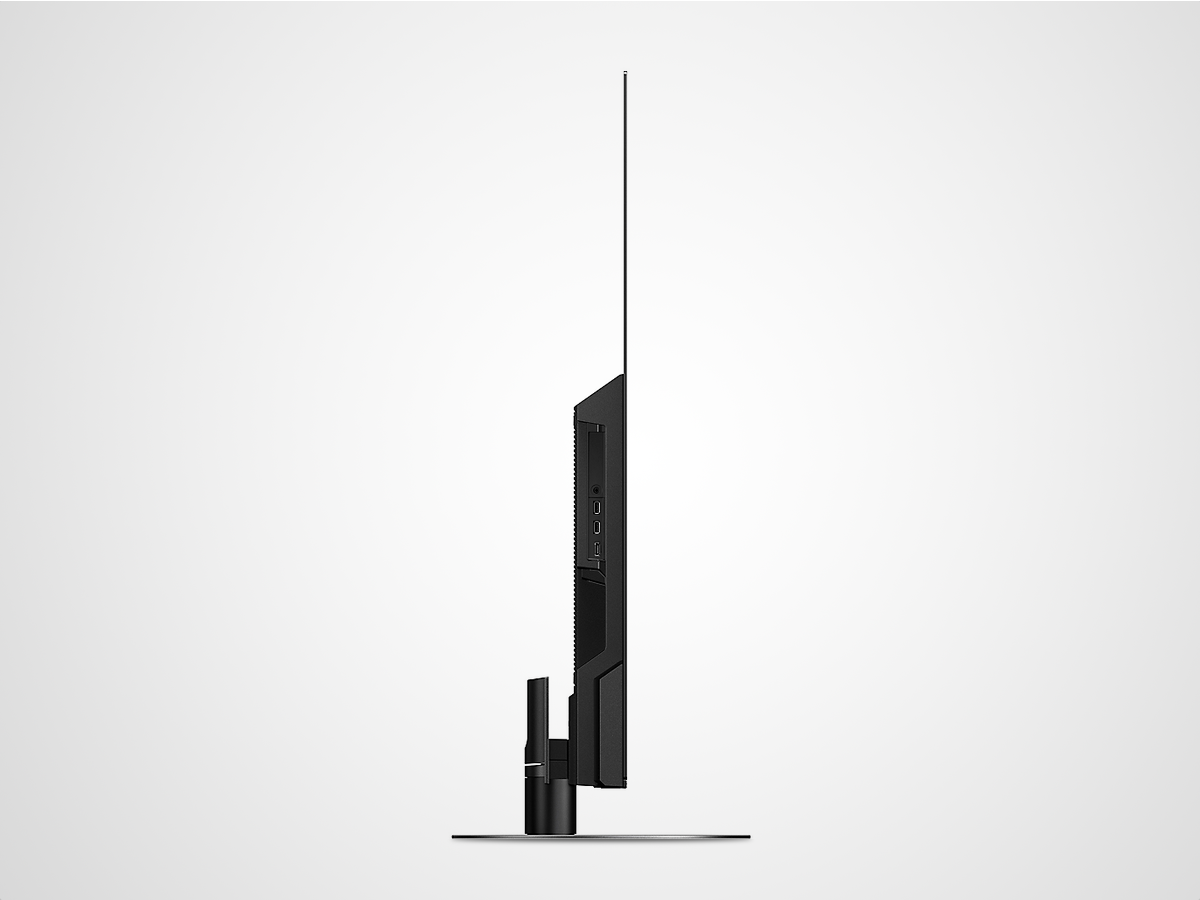 We're looking at the 55in version of the JZ1000 here, but it's also available in 48in or 65in dimensions if you prefer. No matter how big a screen size you choose, one thing is certain: you'll be lumbered with a chassis that's deeper than that of any price-comparable rival.
Panasonic's OLED TVs aren't the first to feature a build that's really slim, up until a point where it abruptly becomes the opposite. But at 7cm thick in places, the JZ1000's profile looks like a bit of a throwback. Just resolve not to hang it on the wall and look straight at it instead: its minimal bezels make for far more pleasant viewing.
And when it's not wall-mounted, the JZ1000 can stand on its sturdy central pedestal, which allows it to swivel usefully – and there's enough space between it and the bottom of the screen for a soundbar.
What's never in dispute where Panasonic televisions are concerned is the quality of construction. The plastics – and, of course, this product is mostly made of plastic – feel robust and hard-wearing, and everything is screwed together with proper solidity. Want a TV set that will survive all sorts of domestic trauma? Here it is.
Features: HDR heaven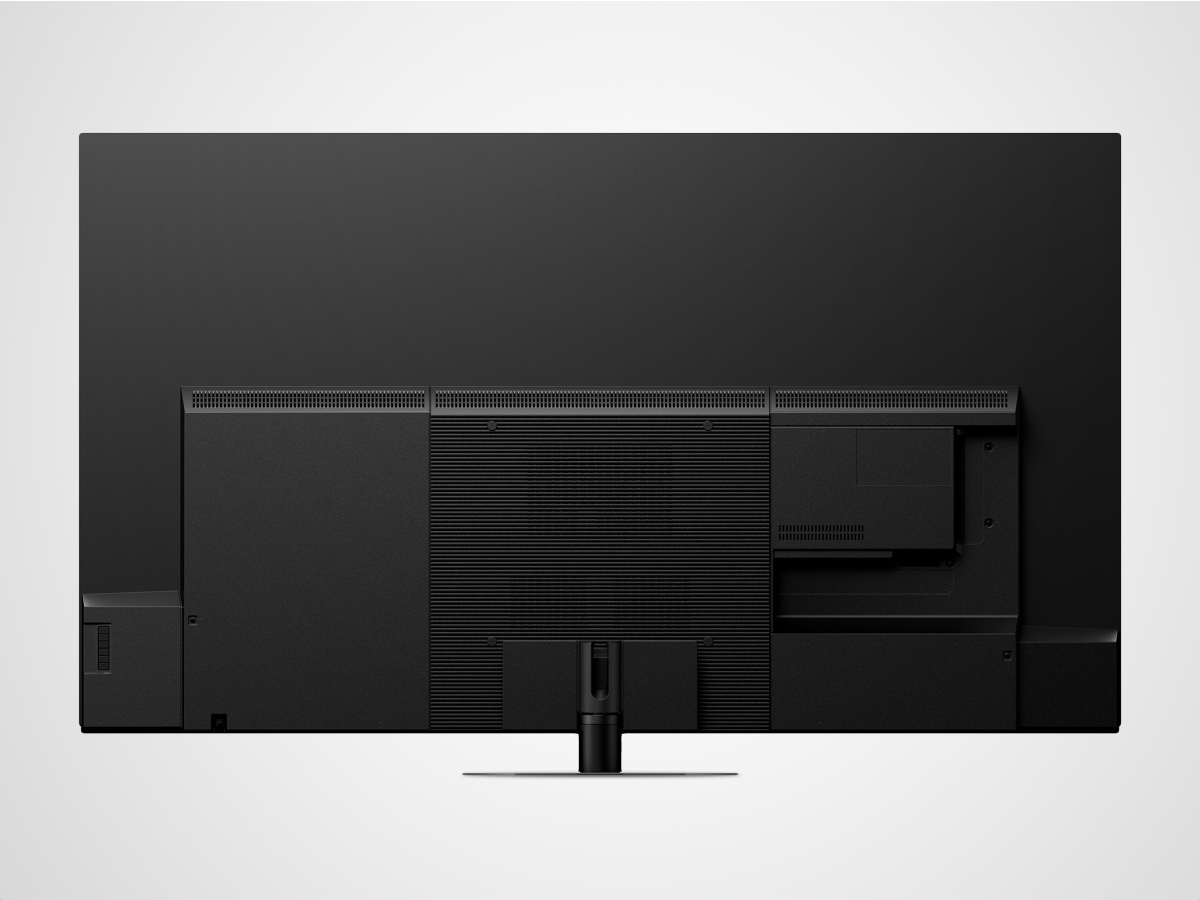 This is a 4K OLED set from the second of Panasonic's four OLED ranges for 2021/2022. So it's fitted with the manufacturer's 'Master HDR OLED' panel, which is governed by the 'HCX Pro AI' processing engine.
And because it's a Panasonic, it covers every HDR base: HLG, HDR10, HDR10+ Adaptive and Dolby Vision are all supported. The only other TV maker grown-up enough to manage this is Philips. And with the Dolby Vision Vivid, Dolby Vision Dark and Dolby Vision IQ sub-categories all catered for too, the JZ1000 is a true HDR master.
Keep this in mind if you'd like your 4K content to look its best no matter where you're getting it from – because LG, Samsung and Sony (among others) can't match it, no matter how much you spend on one of their screens.
As you'd expect at this price, connectivity is extensive. Dual-band Wi-Fi and Bluetooth take care of wireless duties, while physical connections include four HDMI inputs, three USBs (one of which is the 3.0 standard), three aerial binding posts, a CI card slot and an Ethernet socket. Outputs extend to a digital optical socket and a 3.5mm analogue output, which can switch between line-level for headphones and pre-amp level for a powered subwoofer.
One of the HDMI sockets is eARC-enabled and all four support Auto Low Latency Mode. Two have the 4K High Frame Rate and Variable Refresh Rate ability that's part of the HDMI 2.1 specification – but having dissed LG just a moment ago, we are duty bound to say that enthusiastic next-gen gamers are better off with an LG OLED when it comes to all those clever console features.
Interface: smartened up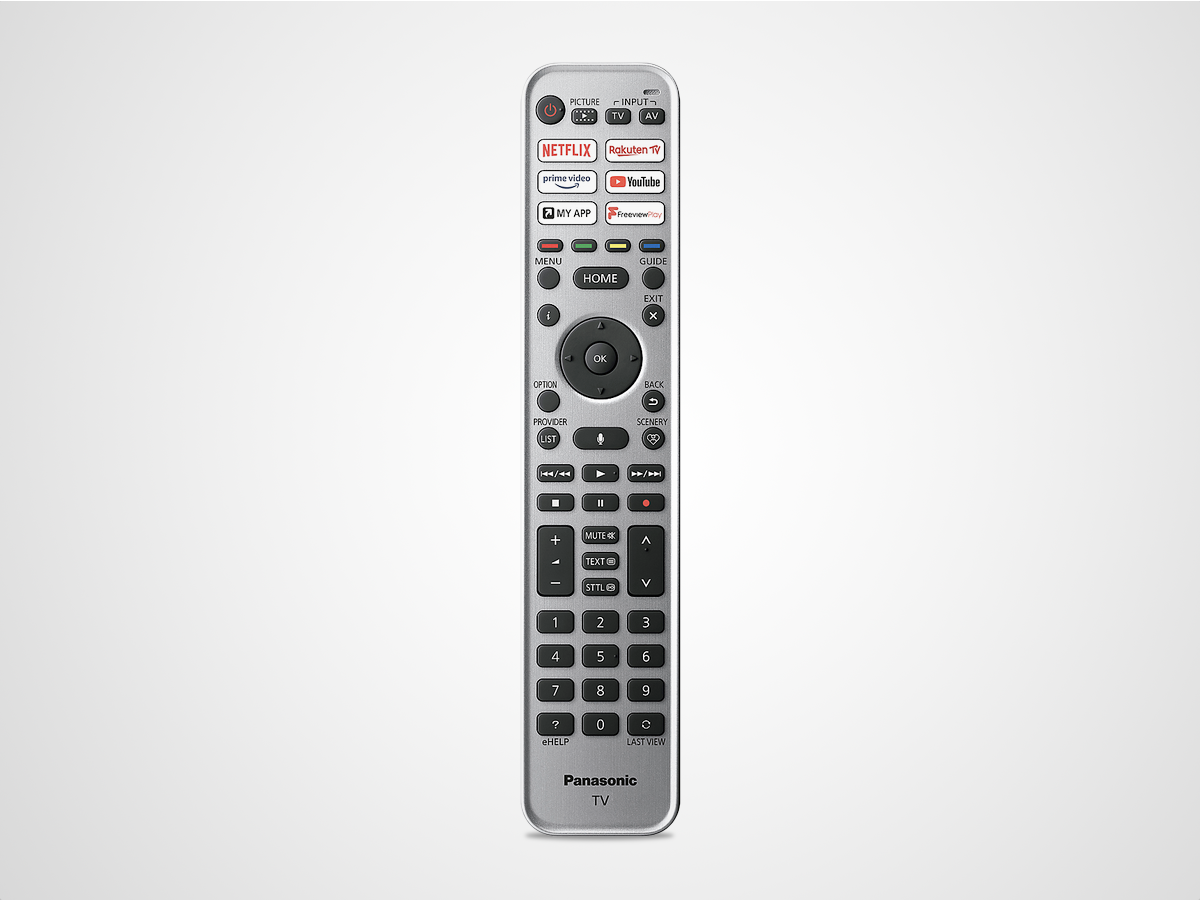 Perhaps the biggest – and certainly one of the most welcome – upgrades Panasonic has made during this model cycle is to its My Home Screen interface. For years, the company has been shown the cleanest of heels by LG (with its webOS interface) and Samsung (using Tizen). Heck, even Sony has stepped up from Android TV to Google's fresher UI.
So it's just as well that My Home Screen 6.0, as installed on the JZ1000, is Panasonic's most comprehensive, most competitive interface by a distance. Unless you want to watch Disney+, that is.
Navigating My Home Screen 6.0, its setup screens and menagerie of other menus can be done with Amazon Alexa or Google Assistant. Or you can use the remote control, which – even by Panasonic's sizeable standards – is humungous. On the plus side, though, this means most of the buttons are pretty big – and you're unlikely to lose it down the side of the sofa.
Picture quality: Bright camera action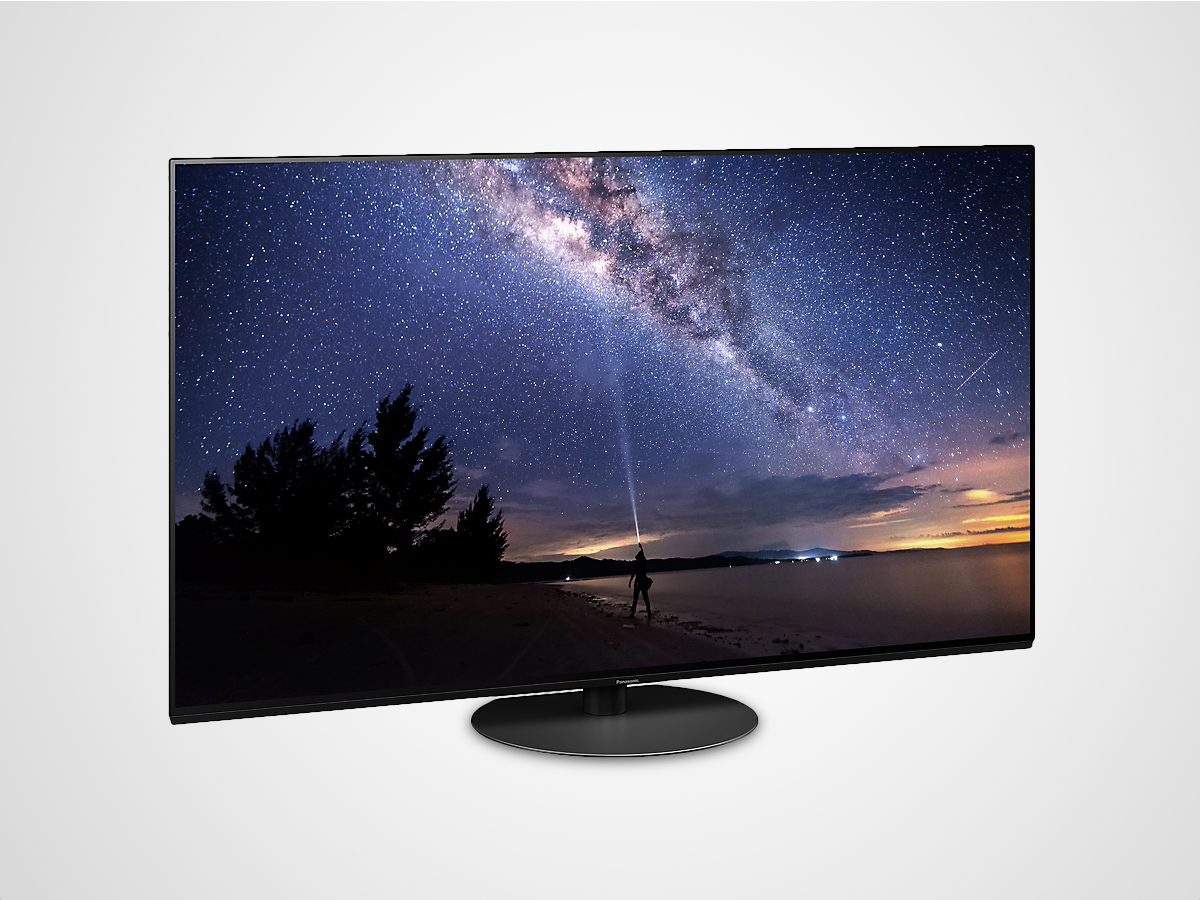 Because the JZ1000 has the full HDR house, it doesn't really matter where you source your 4K content from. So for the sake of variety, we fired up a wireless stream of /Da 5 Bloods/on Netflix and settled back to enjoy the Dolby Vision – and, to a lesser extent, the Dolby Atmos – entertainment.
In virtually every significant visual respect, the JZ1000 is admirable. It's brighter than we're used to for an OLED panel, while white tones are detailed and varied, offering a nuanced description of what's occurring in the brightest parts of the screen. Combine this with the depth of black for which OLED is acclaimed and you get contrasts that are wide and convincing. Plus the Panasonic does equally good work loading black tones with just as much fine detail as white ones.
The colour palette is impressively wide, and the JZ1000 walks the line between 'natural' and 'vibrant' well. It keeps edges smooth and steady, generates appreciable depth of field and keeps on-screen motion believable too. And though you'll need to fiddle with motion-handling settings to achieve the desired effect, the setup menus are mercifully accessible.
Upscaling less information-rich content (such as a 1080p Blu-ray of /The Master/) gives very watchable results as well. Even the big, uniform desert scenes of this flick have little picture noise, while colours and contrasts remain impressive. Only with edge definition (which gets a little hesitant) and detail levels (which drop away somewhat) does the Panasonic let you know how much work it's doing.
Drop down in content quality again, though, and the JZ1000 gets a bit impatient. Upscaled daytime TV broadcasts, for example, are soft and edgy at the same time – and picture noise basically sets up camp. If you like vintage viewing, this may not be the screen for you.
Sound quality: downsized decibels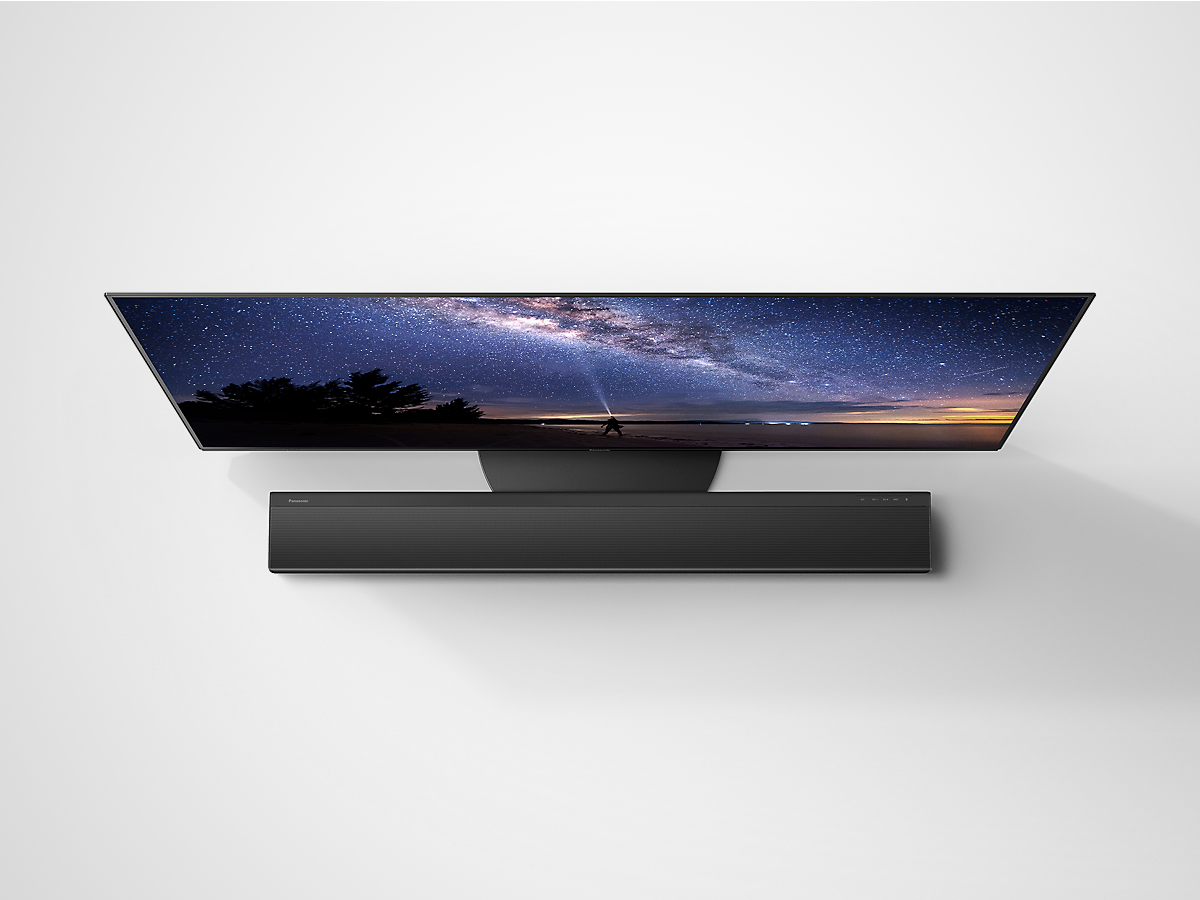 The most obvious difference (on the page, at least) between the JZ1000 range and Panasonic's more expensive alternatives is in its audio specification. This TV features a couple of full-range drivers and 30W power, but that's your lot. And while it can handle a Dolby Atmos soundtrack, it only delivers it in stereo.
So if you want a screen with a whistles-and-bells audio system integrated, Panasonic will sell you one – but this ain't it. The JZ1000 does reasonably distinct, easy-to-follow work with its two drivers, but it's hardly worthy of mention in the same breath as the picture quality it accompanies.
Voices are projected forward nicely, and even if you listen to it at full pelt the Panasonic doesn't get hard or shouty. But it's a small-scale, uninvolving listen that will have you looking through our list of the best soundbars before the end of the first film you watch on your shiny new set.
Panasonic TX-55JZ1000 verdict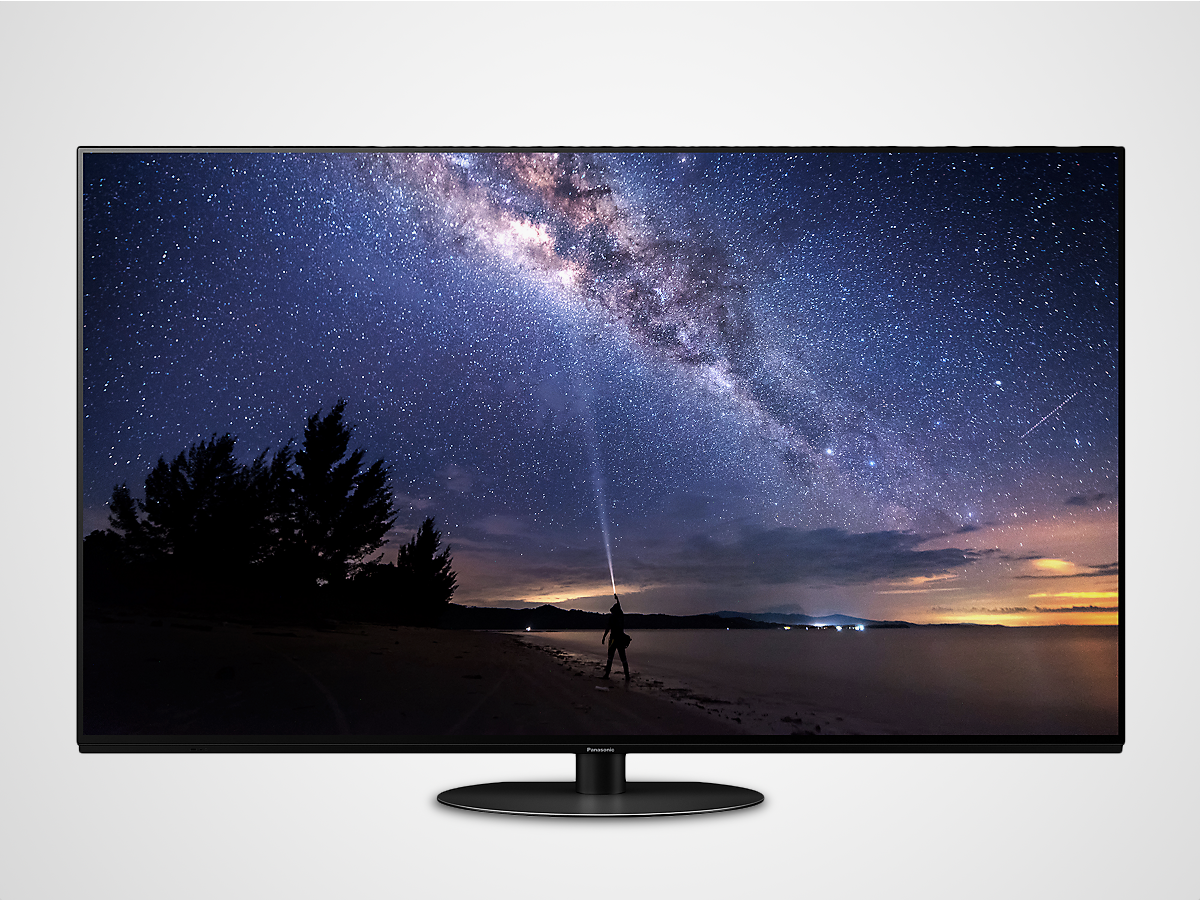 With the JZ1000, Panasonic has made solid improvements in the areas where it's traditionally been strong: picture quality, ease of use and so on.
But it's also made giant strides where it's previously been weaker. The updated interface in particular represents a substantial step forward.
With support for every HDR standard going, the JZ1000 is one of the most competitive OLED options that Panasonic has served up in quite a while. As long as you don't look at it side-on.
Tech specs
| | |
| --- | --- |
| Screen size | 55in |
| Resolution | 3840×2160 (4K UHD) |
| HDR | HLG, HDR10+, Dolby Vision |
| Inputs | 4x HDMI, 3x USB, 3x RF, CI, Ethernet |
| Audio power | 30W |
| Dimensions | 711x1227x69mm |
| Weight | 14.5kg |
Stuff Says…
This Panasonic set has the specs, the interface and the picture quality to compete – just don't mention the depth
Good Stuff
Bright, detailed and convincing pictures
Every HDR base covered
Shiny new My Home Screen 6.0 interface
Bad Stuff
Very deep chassis
Uninvolving sound
Better upscalers are available