NuraTrue review
The witchcrafty ear-testing headphones go fully wireless
You might think true wireless in-ear headphones with active noise-cancelling are the most liberating invention since crotchless chainmail. Or you might think the absence of a bud-to-bud cable makes them so droppable you'd never dare to wear them outside. Either way, in 2021 they're everywhere – and the latest brand to join the true wireless revolution is Nura.
We've already marvelled at the ingenious tech behind the Nuraphone and NuraLoop, which subject your ears to a beepy-boopy hearing test then adjust their frequency response to compensate. With the NuraTrue buds it's exactly the same deal – your personalised profile allows you to, in theory, hear music 'properly' for the first time – but now with the added thrill of wondering if you're going to lose one down a storm-drain before you get to the end of the Free Bird solo.
DESIGN: STREET SURVIVORS
Remember when all smartphones didn't look the same? We're still in that adventurous stage with earbud design, and Nura's take is certainly striking. Or, to put it another way, big.
But the first thing to say here is that they sit in the ear very snugly and securely, aided by wing attachments in a choice of two sizes to really lock into the middle part of the outer ear. And while the round external bits are hardly discreet, they look less odd nestling in a pair of ears than they do posing for photos on a purple plank.
An IPX4 rating means they should put up with some gym sweat, and they will do voice calls. But while those outer discs are touch-sensitive and can be set up for a variety of commands with single or double taps, the NuraLoop's clever but awkward trick of rubbing your finger around the edge to change the volume has been dropped. We're not exactly heartbroken about that.
The USB-C charging case is pill-shaped and about as compact as it could be given the size of the buds; it's too chunky to slip into the breast pocket of a silk smoking jacket without spoiling the line, but small enough to hide under a deerstalker. #downwiththekids
SETUP: NUTHIN' FANCY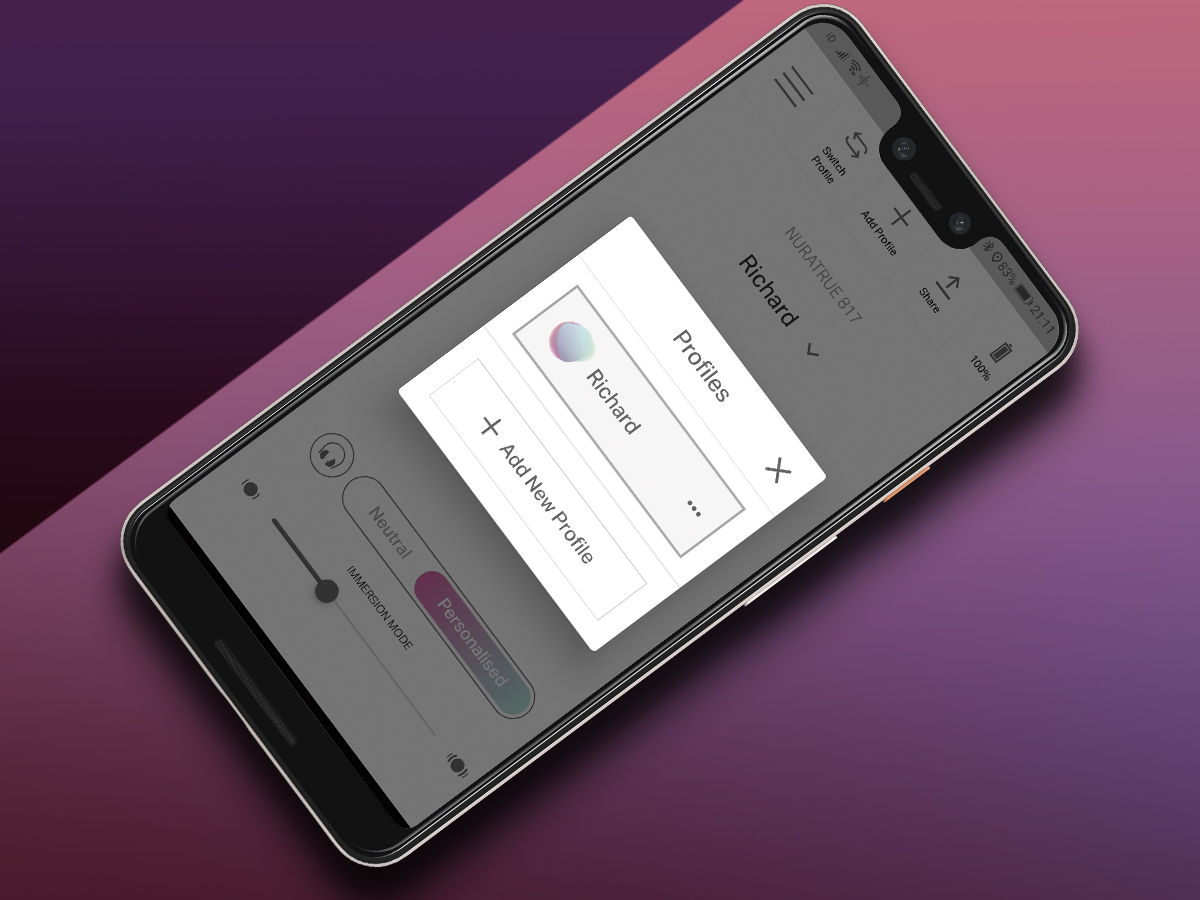 Setup is, of course, the key stage of the Nura experience. It's also the least interesting part to write about, because it's exactly the same as it was with the company's first two products: download the app for Android or iOS, pair up the buds with your phone, then sit somewhere quiet for a few minutes while your hearing profile is created.
We had some issues with error messages regarding the fit of the NuraLoop, but this time the sci-fi-spooky procedure is quick and slick. You can set up multiple profiles if you fancy sharing your earwax with friends, but there's still no scope for adjusting the EQ beyond bypassing the profile entirely (don't do this, the 'neutral' sound is badger-arse) or tweaking the bass depth through the seven-position 'immersion' slider.
While you're in the app, it's worth taking a minute to set up the touch controls how you want them. The obvious ones you'll need are play/pause and enabling/disabling social mode for the noise-cancelling. Again, there's no room for adjusting to taste with the ANC – in fact you can't even turn it off to save battery life when there isn't any noise to cancel. This is a bit galling if, like us, you enjoy listening to grindcore at 3am in an abandoned library.
PERFORMANCE: GIMME BACK MY FULL HITS
Have you noticed that well-written reviews avoid the first-person singular? It's because people want to read about the product, not the reviewer. In this case, however, there's no way around it – because in a sense, the product is about the reviewer.
As with the previous Nuras, my hearing test creates a profile that boosts the treble and bass while taking a scoop out of the midrange. It's as musically pleasant as it is technically impressive, even if at times it feels a little forced, with a strangely uncentred stereo image. Setting the immersion one or two steps below halfway helps to keep things tight with bass-heavy tunes, but it's a pity you have no such flexibility higher up the frequency range.
Here's the obligatory caveat, though: all of this is based on my personalised hearing profile. In theory, your profile should sound the same to you as mine does to me, but in practice there's really no telling until you've done the test yourself.
The ANC, by the way, is pretty good but not spectacular. It can't match the over-ear Nuraphone for completely shutting out the world, but will certainly make commutes on clattery public transport less fatiguing. Social mode works well too, ensuring you can hear all the tuts when you take up a seat with your bag.
NURATRUE VERDICT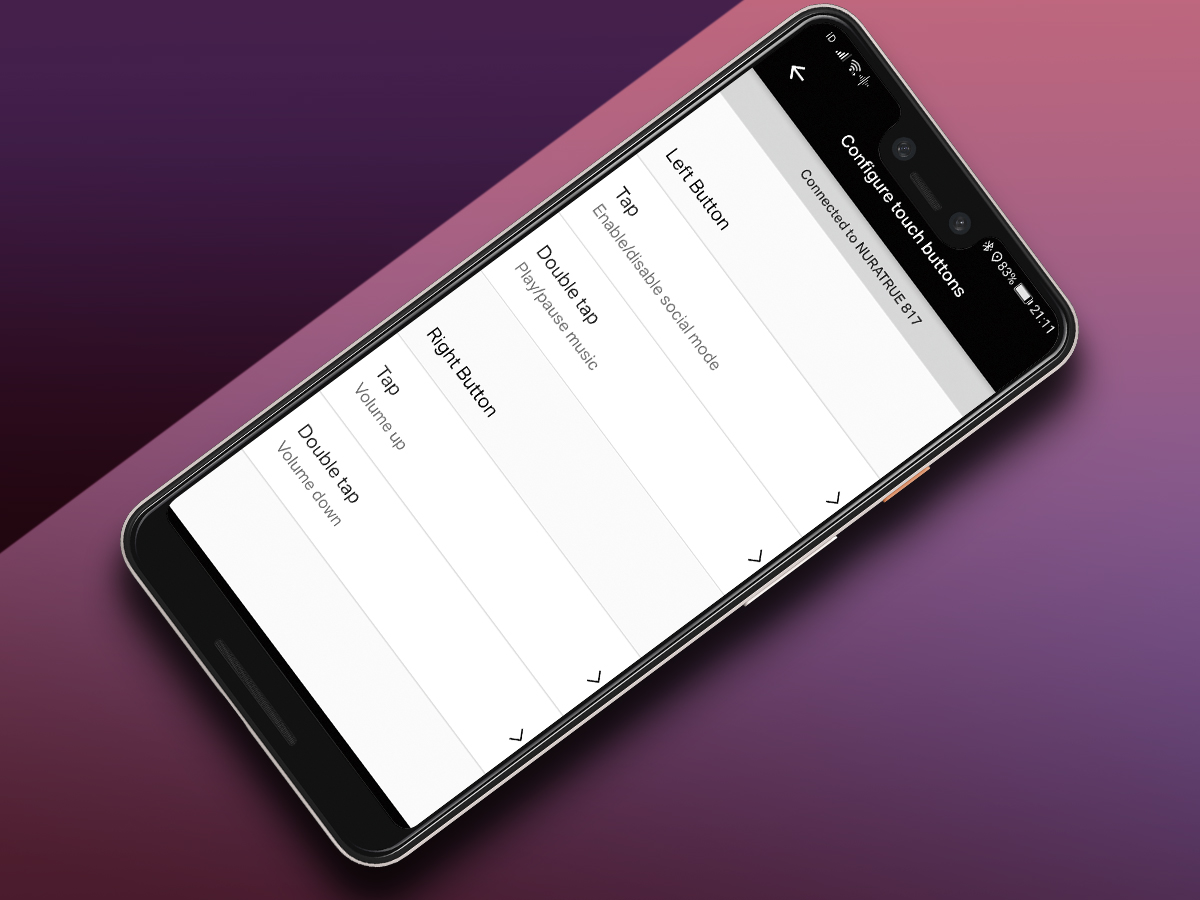 It surely wouldn't take much effort for Nura to turn its binary neutral/personalised switch into a percentage blender, allowing the listener to choose just how much 'correction' they want to apply to their battered old lugs. But as the whole philosophy of the company is that the tech knows best, we're not expecting this to happen any time soon.
There is something a wee bit restrictive about the NuraTrue experience, then – like having your weekly menu set by a slightly fanatical nutritionist rather than a chef. But we can't deny the effectiveness of the science and, while the resulting sound is impossible to judge objectively, there's a good chance you'll like it… maybe a lot. Plus they're comfortable to wear, have decent battery life and ANC, and come at a price that easily undercuts our favourite buds from Sony, Devialet and Bose.
Tech specs
| | |
| --- | --- |
| Connectivity | Bluetooth 5.0, USB-C charging (case) |
| Battery life | 24 hours (6 + 18) |
| Water resistance | IPX4 |
| Weight (g) | 2x 7g, 37g case |
Stuff Says…
Nura's unique tech continues to impress, despite some limitations
Good Stuff
Profiling process is quick and effective
Personalised sound is clear and punchy (YMMV…)
Snug buds with a distinctive look
Good noise-cancelling
Bad Stuff
Not necessarily better than normal in-ears
Limited flexibility with EQ
Even less flexibility with ANC
App is slow to connect