Nokia 1 hands-on review
Nokia gives us a first bite of Android Oreo's Go edition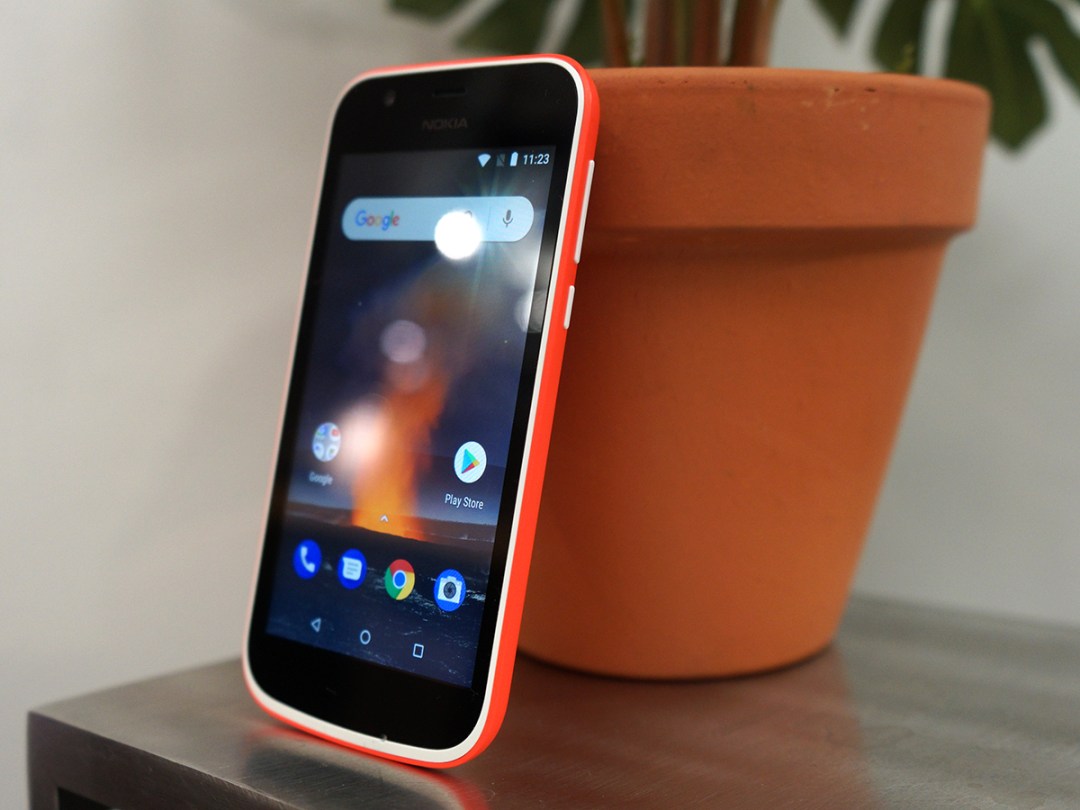 A bargain basement Android phone can usually save you a wedge of cash over a whizz-bang flagship – but you have to put up with compromised performance. Or at least, you did.
Google has finally gotten its act together and adapted Android for low-power hardware, with Nokia being first in line to try it out. The Nokia 1 is the result: a cut-price phone with the kind of hardware you'd expect. But the performance you wouldn't.
After trying one out at Nokia's pre-MWC reveal event, it's clear Android Oreo Go Edition is the way forward for entry-level phones. Here's why.
DESIGN & BUILD
Now this is more like it. After years of faux metal finishes and plastic pretending to be premium, Nokia is showing the rest of the phone world how to do budget better than anyone.
The 1 has all the hallmarks of a Nokia classic: tough polycarbonate plastic, detachable Xpress-on covers, and some of the brightest colours this side of the Early Learning Centre. It can take a battering and still look as fresh as it was when you got it out of the box, and if you don't like neon orange, you can swap the cover for something a little less lurid.
You can spot a few design cues from more expensive Nokia handsets, like the pill-shaped camera surround, so it actually looks pretty sharp for a sub-$100 phone.
You don't get modern creature comforts like skinny screen bezels, curved sides or even a USB-C port, but that's hardly a surprise: Nokia is doing what it can to keep costs down, and the places this phone will sell the most are still very happy with their existing microUSB cables. You do at least get a headphone port, which is very welcome indeed.
SCREEN & SOUND
Unsurprisingly, the 1 doesn't impress in terms of pure hardware specs – how could it, and keep that price so low? That means you get a 4.5in LCD screen, with a less-than-720p resolution.
It's… fine, with enough pixels to make text easy to read, even when the font size shrinks, and the ability to give images and video a decent amount of clarity. Contrast isn't amazing, but viewing angles from the IPS panel are very good – and there's no giant air gap between the panel and the top glass, like you used to get on cheapo smartphones just a few years ago.
Touch response is excellent, too, which goes a long way to helping you forget this is a budget blower. Brightness seemed reasonable, but seeing how Nokia's reveal event was indoors, we won't know how well it copes in direct sunshine until a full review.
The single rear speaker is of a similar standard. It gets the job done, but you'll still want some headphones to enjoy music or videos with any real detail and quality.
PERFORMANCE & SOFTWARE
Fixate on the spec sheet and it would be all to easy to write this phone off as another underpowered performer. That's why it's a huge compliment to say the Nokia 1 feels so much more powerful than its low-end CPU and 1GB of RAM would seem capable of.
It's all down to Android Go (or Android Oreo Go Edition, as Google is calling it now). This tweaked version of Android is specifically optimised for low-end hardware, and the results are impressive. Apps feel responsive, there's no lag on the home screen, and you even get Google Assistant when you hold down the onscreen Home key.
Sure, a few of Oreo's bells and whistles have been stripped out, so the multitasking screen is a scrolling list of app screenshots rather than floating tiles, but all the icons, shortcuts, settings and features you're familiar with are here – running just as well as they might on faster hardware. Google has compacted the whole thing, too, so you get more internal storage to play with. Handy, seeing as the 1 only has 8GB of built-in memory.
The Google Play store is here, too, and can highlight apps that are optimised for Go Edition so you know what will run well – and what might feel a little sluggish. It's going to take a lot of back-to-back testing before we can say how much of a difference Android Go makes, but that will have to wait for a full review.
The same goes for battery life: Nokia reckons a full day of use on a single charge should be easy, so we'll be sure to test that claim too.
CAMERA
We thought the 5MP rear camera would be a case of managing expectations, but maybe that was because we picked up the 1 right after trying the reimagined 8110, complete with mediocre 2MP snapper.
There's a noticeable step up in quality here, or at least there appeared to be when reviewing our shots on the phone screen. As long as you feed it enough light, there's perceptible detail and decent colour reproduction. There's even an LED flash to help out when the sun sets.
Built-in panorama and beautify modes are a nice touch, but the manual mode is a real surprise. It's not quite as comprehensive as the version found in Nokia's more expensive phones, but it does give you back some control if you want to get creative.
Of course, with such a low pixel count, you don't have to zoom in very far to spot the sensor's limitations, but we'll hold off on delivering a final verdict until a full review.
NOKIA ONE INITIAL VERDICT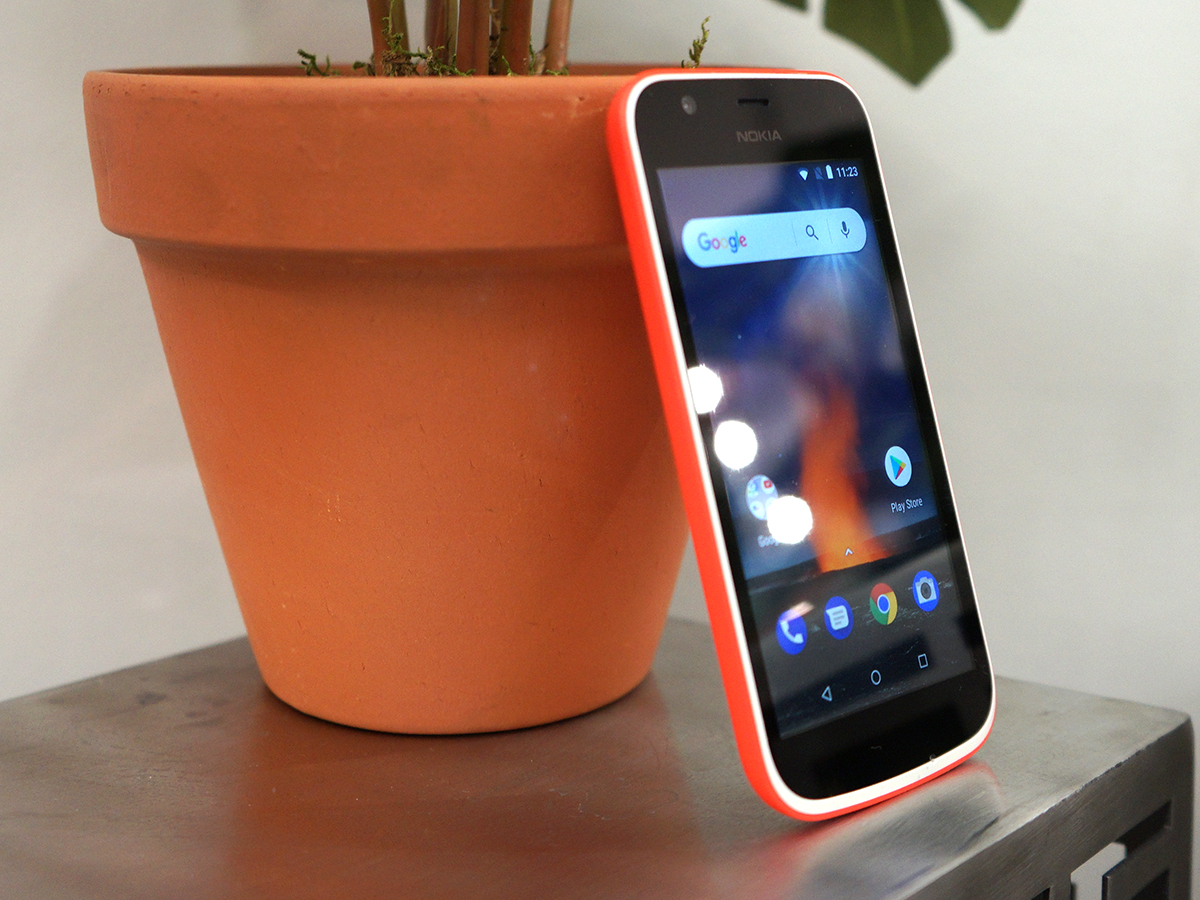 The Nokia 1 is a seriously exciting phone – even if it doesn't look like it on paper. The low-end hardware and rock-bottom price disguise how important this phone really is, but the software tells the full story.
Android Go could transform the entry-level phone market, which still keeps millions of people around the world connected. The speed improvements and general usability tweaks make cheap phones a whole lot less painful to use.
It helps that the 1 is an eye-catching candybar of a handset, with a great build and decent camera for the cash, too. Whether it will get South America, Russia and the rest to part with their feature phones remains to be seen, but we think it just might have what it takes to make that happen.
Tech specs
| | |
| --- | --- |
| SCREEN | 4.5in, 854×480 IPS LCD |
| CPU | MediaTek MT6737M Quad Core 1.1GHz |
| MEMORY | 1GB RAM |
| CAMERA | 5MP rear w/ LED flash. 2MP front |
| STORAGE | 8GB on-board, microSD expansion |
| OPERATING SYSTEM | Android Oreo Go Edition |
| BATTERY | 2150mAh non-removable |
| DIMENSIONS | 134x68x9.5mm |