Nissan GT-R (2017) – first drive review
Hundreds of virtual hours with the gaming darling can't prepare you for the real thing - Godzilla is back, and better than ever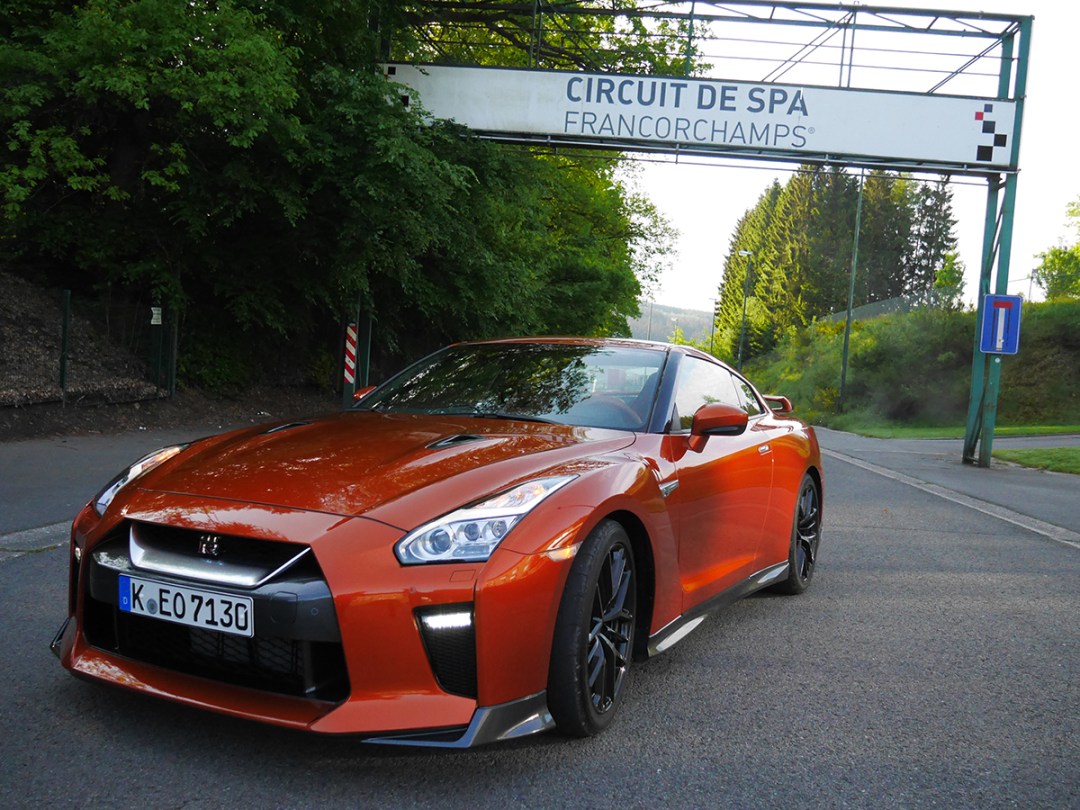 If you've picked up a driving game in the last decade, there's a good chance you've been behind the (virtual) wheel of one of Nissan's fabled GT-Rs.
I know I've been wanting to drive one for real for what seems like forever, and I finally got the chance when Nissan invited me to put the 2017 GT-R through its paces, both on the German Autobahn and the infamous Spa Francourchamps racetrack.
Thing is, all that digital training can't exactly prepare you for the real thing: The GT-R is intoxicating, menacing, and thrilling in equal measure. There's a reason people call it Godzilla.
Taming Godzilla
That wide open front grille, whacking great spoiler and those iconic brake lights; there's no mistaking this for anything but a GT-R. The new "blaze metallic" orange paint might not be to everyone's tastes, but it's easy to overlook it once the engine roars to life.
Nissan has a 'gentleman's agreement' with other Japanese manufacturers when it comes to 0-60 times, but off the record this latest incarnation takes around three seconds to hit the magic number. With the spine-destroying launch control throwing you back into your seat, that dips down to as low as 2.7. It's a beast.
It doesn't pop and burble when you're changing gears, though: that would be too immature, too difficult to live with day to day. Leave those childish butane belches to hot hatch yobs like the Ford Focus RS.
If you're careful with the accelerator, the exhaust valves stay shut and keep noise to a minimum for city driving. It's all part of Nissan's attempt to make the GT-R a car you can use every day, not just on a high-speed motorway blitz.
Flip a switch under the steering column, though, and those valves are forced open, in case you want to wake the neighbours with some V6 growls.
Devil in the detail
At first glance you might not be able to spot what's changed with the GT-R's latest incarnation. Or the second or third glance, to be honest.
That's hardly a bad thing, though. It might be ten years old now, but the GT-R still has one hell of a presence, both in motion and when stood still. You wouldn't call it timeless, but the styling certainly still holds up today.
Nissan's changes go a bit beyond nips and tucks, then. The "V-Motion" grille matches other cars in the range, but also makes room for more air to cool down the engine. Tweaks to the the bonnet and front bumper push the car onto the road with more downforce.
It's the same story at the back and sides, with a slightly redesigned rear making room for the chunkier quad exhausts (made from titanium, naturally) and wider side sills for better aerodynamics.
Are you going to notice any of these improvements doing 30 through town? No, definitely not, but then that was never Nissan's goal. According to Nissan's GT-R Product Specialist Hiroshi Tamura, his team wasn't focused on 0-60; they were more concerned with smoothing out the ride between 240 and 300kmph.
all that power
There might only be a few places on earth where you can pull those kinds of speeds and not lose your license, but that doesn't mean the new GT-R hasn't managed it. I got lucky with traffic on the Autobahn and managed to hit 186mph – but not that you'd know it from inside the cabin.
The 3.8-litre, twin-turbo V6 under the bonnet might pump out 565 horsepower, 20 more than the outgoing model thanks to individual timing controls for each cyninder (borrowed from the race-spec NISMO version), but the retuned suspension means you aren't being thrown around your seat when you're pedal to the metal.
An acoustic glass windshield, active noise cancellation from the BOSE speaker system and sound insulation in the cabin lining means it's all eerily quiet, too. You only really notice the wind noise once you reach north of 120mph, and it never becomes deafening. Terrifying, yes, but you can still hear the angry snarl of the engine and the screaming whir of the turbos.
That's partly down to the dreaded Active Sound Enhancement, which digitally pumps the engine note into the cabin. This might sound like sacrilege, but it works for long journeys – behind the wheel, you don't notice the engine roar unless you're foot to the floor in lower gears.
the Gran Turismo connection
It helps that the cabin has been given an overhaul from last year's car, ditching unnecessary buttons and dials to make it less confusing when you just want to drive down to the shops.
Cheap-feeling plastics of old have been swapped for stitched leather, giving the dashboard that premium feel you'd expect from an £80K car. The steering wheel isn't overloaded with duplicate controls anymore either, and the paddle shifters have been moved off the column and onto the wheel – so they're easier to find when you're tearing through hairpin bends.
The centre console touchscreen is where the action is, though. At 8in it's bigger than before, and comes surrounded with carbon fibre, but the sat-nav, media player and phone controls are hardly worth writing home about. In fact, they're quite cluttered and rather slow to react to taps.
Instead, it's the brilliant multi-function digital dials, that replace the navigation map with a button press. Forget knowing where you're going; seeing oil pressure, how much boost your turbos are rocking and how many lateral G forces you can pull through each corner is a lot more exciting.
They were of course designed by Polyphony Digital, the dev team behind the Gran Turismo series. GT-R and Gran Turismo have been linked for years, with the now legendary Skyline being so tuneable it practically broke Gran Turismo 2 back on the original PlayStation.
You get a real sense of that here, and while other cars might have faster, better looking or more useful infotainment systems, this one won't let you forget what kind of race-ready machine you're driving.
Track attack
As soon as Nissan told me where I'd be driving the GT-R, I jumped onto an Xbox and started putting in laps on Forza. Spa is notorious for blind crests, flat-out corners and mixed elevation that makes things tricky for the best drivers, so it made sense to prepare.
Out on the track though, all that went out the window. The hills look higher, the corners tighter, and the track narrower – especially in the GT-R, which feels wide on the road anyway.
At least the twin-clutch gearbox made jumping up and down through the gears at each corner an easy task. The R35 first launched with a clunky 'box that was seriously slow to react, but in the 2017 model each gear felt ready and waiting for me before I'd pulled the paddle.
Considering it weighs a substantial 1752kg, it felt planted to the track, too. The all-wheel drive system helps you get off the line without too much drama, and steering felt precise – as long as you don't step out onto the apron. It's still easy enough to put the back out when pulling out of tighter corners.
Hurtling down the pit straight into Eau Rouge, inches from the pit wall, it was obvious the car has more to give than my puny skills could take. My real life lap time was some 15 seconds off the pace of my digital doppleganger, but I can't really blame the GT-R.
Nissan GT-R 2017 initial verdict
The GT-R has always been about squeezing as much performance onto four wheels as possible, while staying remotely affordable. It's supercar performance without the price.
That's still true for 2017, but it doesn't feel like you're strapped into a stripped-out road rocket any more. Everything has been refined, tweaked and streamlined so the interior is a much nicer place to be, even when you're flying down the Autobahn at top speed.
It's still got the power to put Ferarris and Porsches to shame, but can be subtle when it wants to be as well. Those exhausts won't deafen pedestrians while you're crawling through city traffic, and you don't have to work the wheel when you're motorway cruising like you did in older models.
Put your foot down, though, and it's still guaranteed to put a big grin on your face. Godzilla has returned, and you'd better get out of his way.
Tech specs
| | |
| --- | --- |
| Engine | 3.8l twin turbocharged V6 |
| Transmission | 6-speed dual clutch semi-automatic |
| Power | 570ps @ 6800rpm |
| Torque | 637Nm @ 5800rpm |
| 0-62mph | 2.7sec (estimated) |
| Top speed | 196mph |
| Economy | 23.9mpg (combined) |
| CO2 | 275g/km |