Motorola Moto G review
Simply put, the Moto G is the most bang-for-your-buck smartphone on Earth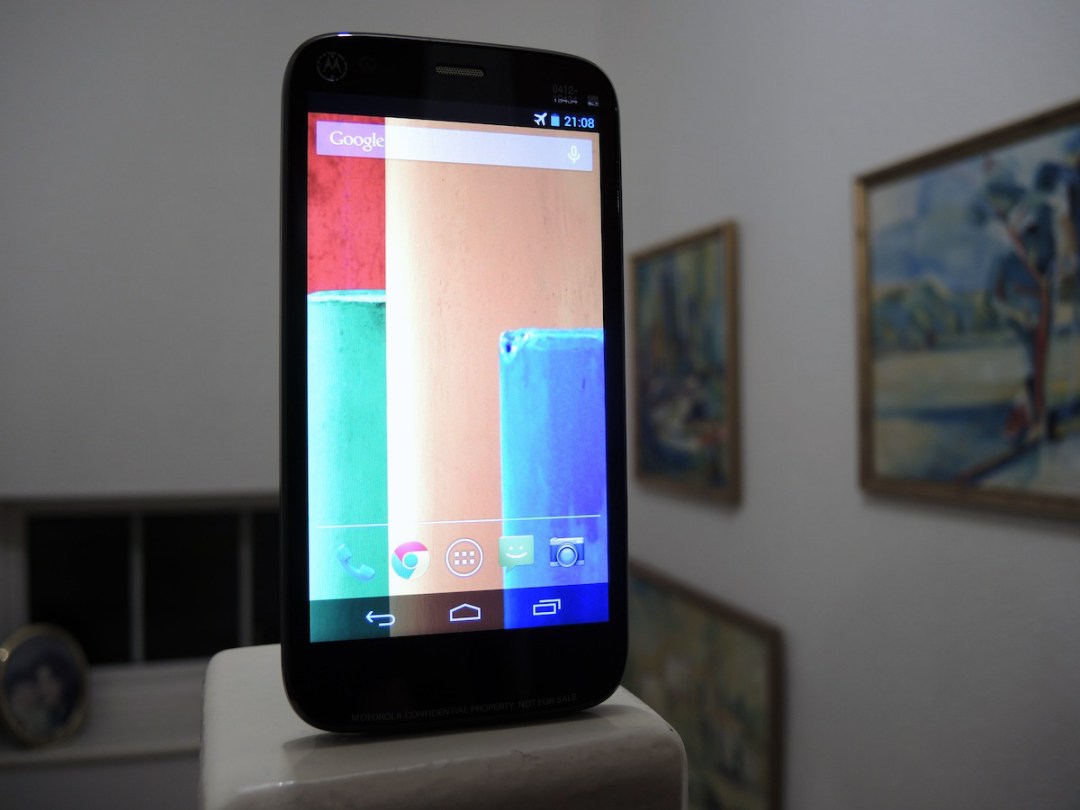 Every way you turn nowadays, it's impossible not to bump into a bleeding-edge smartphone. You know the type – packed to the hilt with quad-core processors, GBs of RAM, megapixels and sky-high ppi counts, there's never been a better time to be a tech-head.
Outside the A-list roster of high-end smartphone celebrities such as the iPhone 5s, Galaxy S4, Note 3, LG G2 and HTC One, manufacturers have attempted to roll out cheaper mid-range handsets to tempt gadgeteers on a budget, as well as consumers who are simply happy enough with a phone that'll snap photos that don't look like they're etchings in a potato.
While it sounds simple enough, these mid-range offerings (think Galaxy S4 Mini and HTC One Mini) have always felt a bit, well, half-baked next to their better-looking, more successful older brothers.
While that's to be expected given their lower price point, we've yet to come across a non-flagship smartphone that can hold its head up proudly without feeling like it's wilting in its sibling's shadow. Until now.
With a price tag that belies it spec sheet, the Moto G sounds almost too good to be true. Is Motorola peddling snake oil to the masses? Amazingly, no.
Build: tough and colourful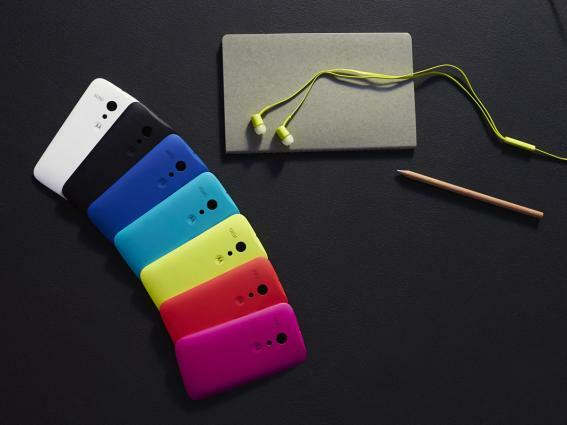 The Moto G looks and feels like a less athletic iteration of the Moto X.
It's a fair bit chunkier and its weightier than size zero flagships such as the iPhone 5s, but we don't actually mind as it feels solid and, most importantly, not cheap.
It shares the same mysterious rear Motorola logo dimple, which appears to be there purely for looks – we rather like it. The Moto G also has a removable, swappable back cover, allowing you to go through as many smartphone costume changes as you desire, from seductive red all the way up to 'run away, this stuff is seriously radioactive' green.
Those may or may not be the official colour names. We didn't check.
Overall, the build quality of the Moto G goes above and beyond its pricetag. A theme that you'll soon discover runs right through the rest of this review.
Screen: untouchable at this price
The Moto G's 4.5in 720p 326ppi display is, quite frankly, untouchable at this price point. It stands head and shoulders above anything else at this end of the market, but it gets even better.
The Galaxy S4 Mini and HTC One Mini cost £223 and £300 respectively, and neither of their screens are 720p.
It's not all about resolution, but we're happy to report that the Moto G's display is also bright, sharp and has natural colours.
As with most LCD displays, blacks could be deeper, but there's little else to complain about.
Its 4.5in size (yes, that is bigger than the iPhone 5s screen) also hits the sweet spot for the majority of users as it's easy to use with one hand. No thumb sprains here folks.
Oh, and did we mention it's also slathered in Gorilla Glass 3, something that's absent in most Android flagships? Because it totally is.
Power: Feel the G-force
This is it, right? This is where it all falls apart?
Wrong.
You'd assume that Motorola could only afford to put in a hamster wheel processor at this price, but the Moto G actually packs in Qualcomm's 1.2GHz quad-core Snapdragon 400 processor.
While it's not as powerful as the absolutely blazing-fast Snapdragon 800, it's far from a slouch, and the Moto G handles demanding games such as Real Racing 3 without any hiccups. Again, this goes above and beyond the sort of expectation that the sticker price suggests.
We streamed music via Bluetooth while writing part of this very review, and in the background we had Chrome open with ten tabs, a reddit app and a messaging app open.
This left around 340mb of RAM available once all the other background processes were taken into account, and the G did occasionally slow down a touch with a little keyboard lag and the occasional pause when switching between apps.
We're chalking this down to the 1GB of RAM on offer and it's a shame Motorola couldn't stretch to an extra gig. But something obviously had to give, and in the grand scheme of things we'll take the power of the quad-core processor and just be a little more mindful of our open processes – that's a small price to pay when you're paying such a small price for your phone.
Motorola Moto G tech specs
Operating System – Android 4.3 (Jelly Bean)


Processor – 1.2GHz Qualcomm Snapdragon 400 w/ quad-core Cortex-A7




RAM – 1GB




Screen – 4.5in with 1280 x 720 resolution (326ppi)




Camera – 5MP rear, 1.3MP front




Storage – 8/16GB (not expandable)




Data – 3G




Battery – 2070mAh




Dimensions/weight – 129.9 x 65.9 x 11.6 mm/143g
Camera: the sensor sacrifice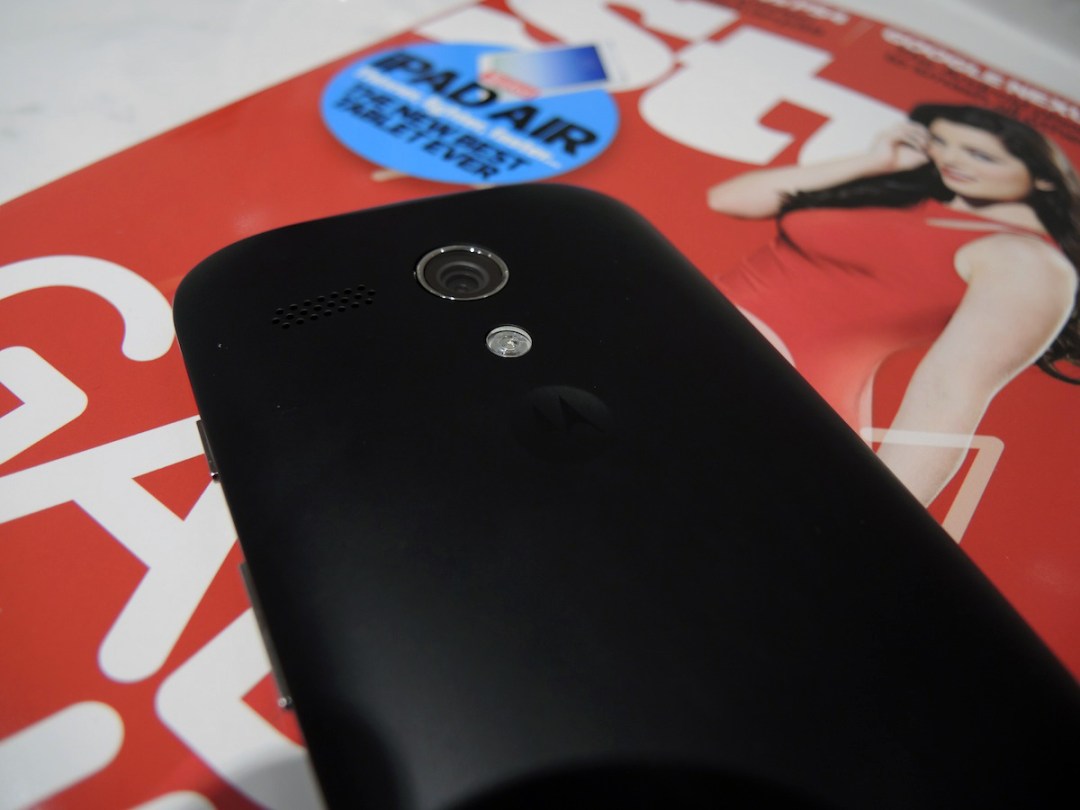 And finally we arrive at the Moto G's Achilles' heel: a 5MP snapper.
It struggles to pick up fine details in even decent lighting conditions and doesn't come anywhere close to the formidable snappers of imaging champions such as the iPhone 5s, Lumia 1020 and G2.
Low light performance is also, predictably, lacking.
You'll get passable shots – good enough for social media updates and the like – but you'll be left wanting if you're even a little serious about smartphone photography.
OS: almost-stock Android but not a finger of Kit Kat yet
The Moto G essentially runs stock Android, which will appeal to Google purists. It's clean, it's simple, and it's not bogged down by garish, overly bright logos, complicated menus and interfaces. Just the way we like it.
There are a few tweaks present in the form of some built-in apps, though. Assist is a very simple but useful app that lets you set the times that you're sleeping, in a meeting, or otherwise not to be disturbed and ensures that notifications are turned off.
Motorola Migrate is a similarly handy app that automates the process of transferring contacts, messages and more from a previous Android device, saving you the hassle of doing it manually.
Apart from that, there's little to say. It's Android, it's clean, and it runs well. Deliver on the Android KitKat 4.4 update you promised in January, Motorola, and we'll be even happier.
READ MORE: The 25 best free apps for Android
Battery: good for a day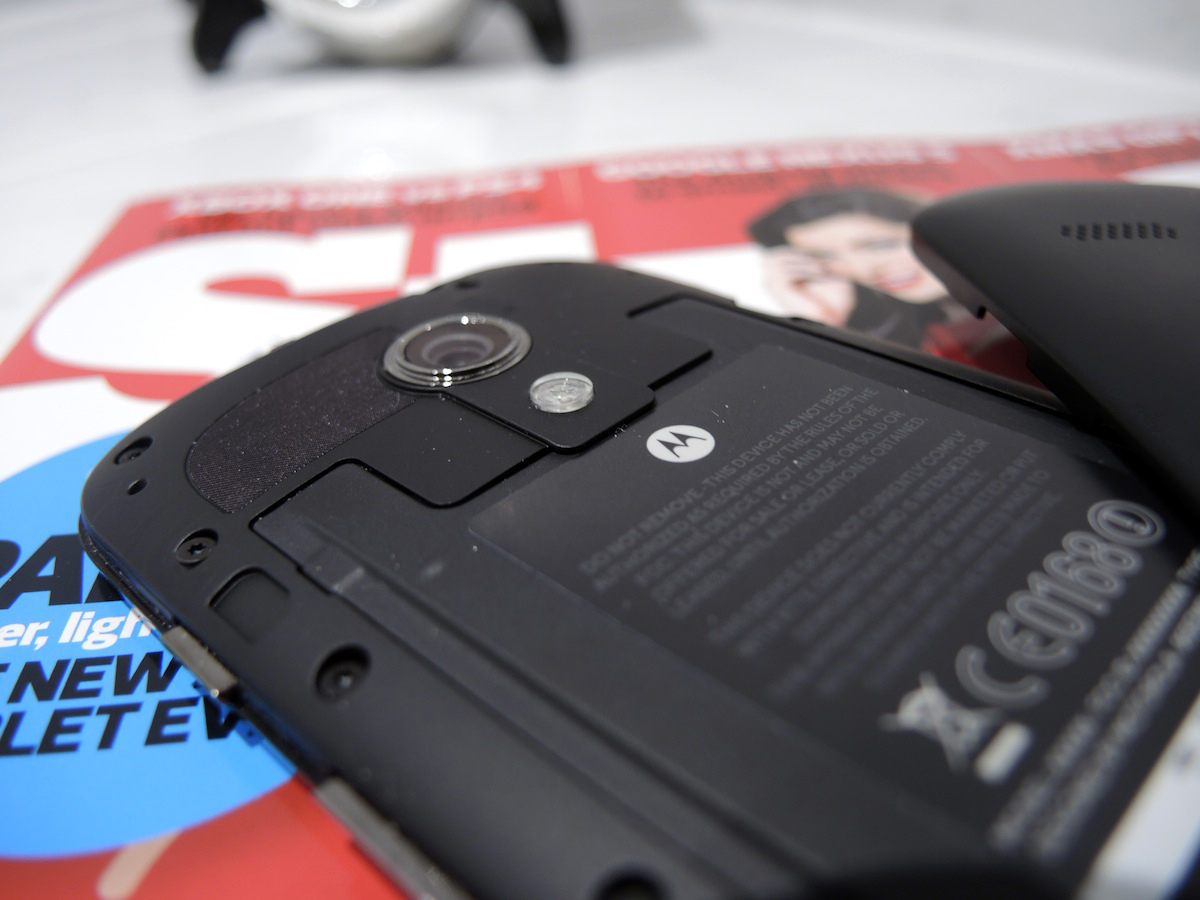 The Moto G lost 22% battery in 1hr15mins. During that commute, the screen was on the entire time at automatic brightness and we were streaming music to Bluetooth headphones while making notes for this very review, sending messages and, naturally, browsing reddit. In other words, we were hammering it pretty hard.
In our more formal test the Moto G lasted 8 hrs 17mins looping a 720p video with the screen set at 50% brightness and email sync switched on. It was connected to Wi-Fi for the first two and a half hours before being connected to a mobile data for the remainder of the test.
All of which is pretty respectable, and the Moto G should see you through until bedtime, although you'll still want a charger if you're planning on any sleepovers.
Verdict
The Moto G is nothing short of a game-changer.
It has completely destroyed every other mid-range phone in the market with its specs:value ratio and it deserves every single one of its five stars.
There simply should be no other Android phone to consider, unless you're looking for a top-end flagship or if a camera is top of your list of priorities.
For anyone not looking for the latest and greatest and for anyone not looking to fork out £500-£600 or be tied down to an expensive two year contract, this is absolutely the only option we would recommend. At the time of writing you could even get the 8GB version for just £99 at Tesco.
Nice one, Motorola – you've hit it out of the park.
Stuff Says…
The Moto G annihilates the mid-range smartphone competition and serves up the best bang-for-buck performance we've ever seen
Good Stuff
Very, very affordable
More than fast enough
Fairly vanilla Android and Kit Kat's on the way
Nicely made and fun colour options