Microsoft Surface Laptop Go review
The Surface experience gets distilled to the bare essentials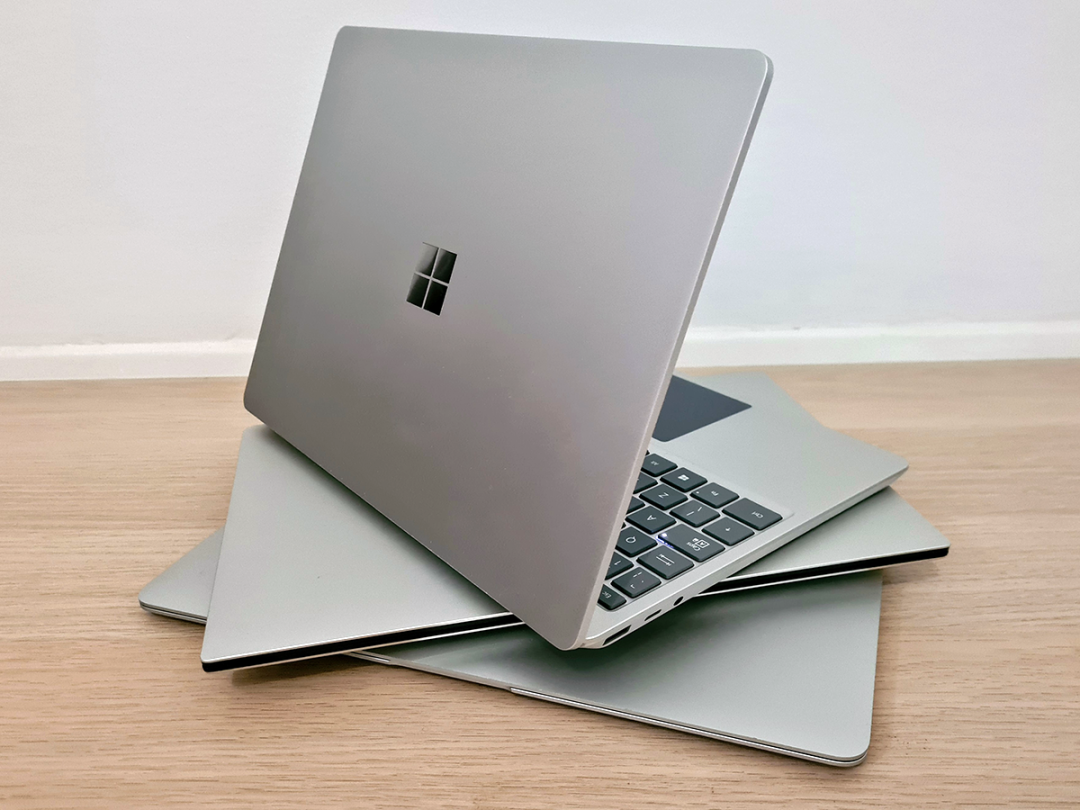 Meet the lightweight laptop hoping to bring Microsoft's slick hardware line-up to a wider audience. An audience that happens to have a smidge less cash to spend.
The Surface Laptop Go is purpose-built for students, professionals and home workers that care about good design, and want something a little more functional than a Chromebook can provide.
High-end hardware is out in favour of more modest specs and an equally modest £549 starting price. Best take that figure with a pinch of salt, though: as we'll discover, there's a good case for spending the extra on the step-up version tested here.
DESIGN & FEATURES: SHOW YOUR METAL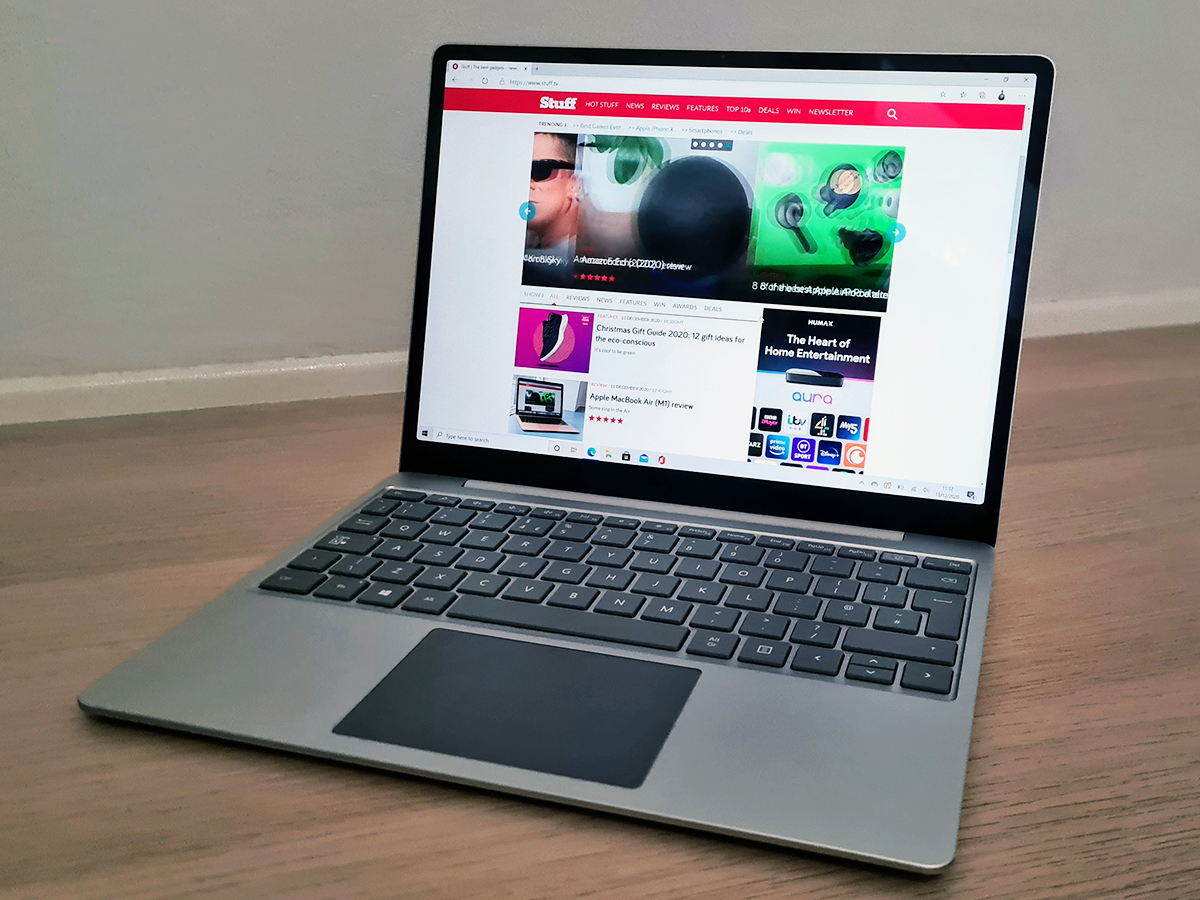 Haven't I seen you somewhere before? The Go is like a shrunken version of the Surface Laptop 3, with the same sharp lines, aluminium lid and minimal Windows branding. Only the exclusive Ice Blue colour sets it apart, though you can also pick one up in familiar Sandstone and Platinum hues borrowed from the rest of the Surface line-up.
Everything beneath the keyboard tray is made from what Microsoft calls "polycarbonate resin". Sounds a lot nicer than "rubberised plastic", doesn't it? Well, it feels it, too – there aren't many budget alternatives that do premium materials better than this. It'll take up about as much space in your bag as your favourite gadget magazine, and at a hair over 1.1kg, it's exceptionally light. As the new featherweight of the Surface line-up, you really can take it just about anywhere without a second thought.
As a thin-and-light, connectivity isn't the best, but the single USB-A port means you won't have to rush out and buy a dongle to use all your old gear. There's also one USB-C port and a 3.5mm headphone port, along with 802.11ax Wi-Fi and Bluetooth 5.0. Shame there's no card reader on the other side, though – just Microsoft's proprietary Surface charging port.
GO DISPLAY & SOUND: HIP TO BE SQUARE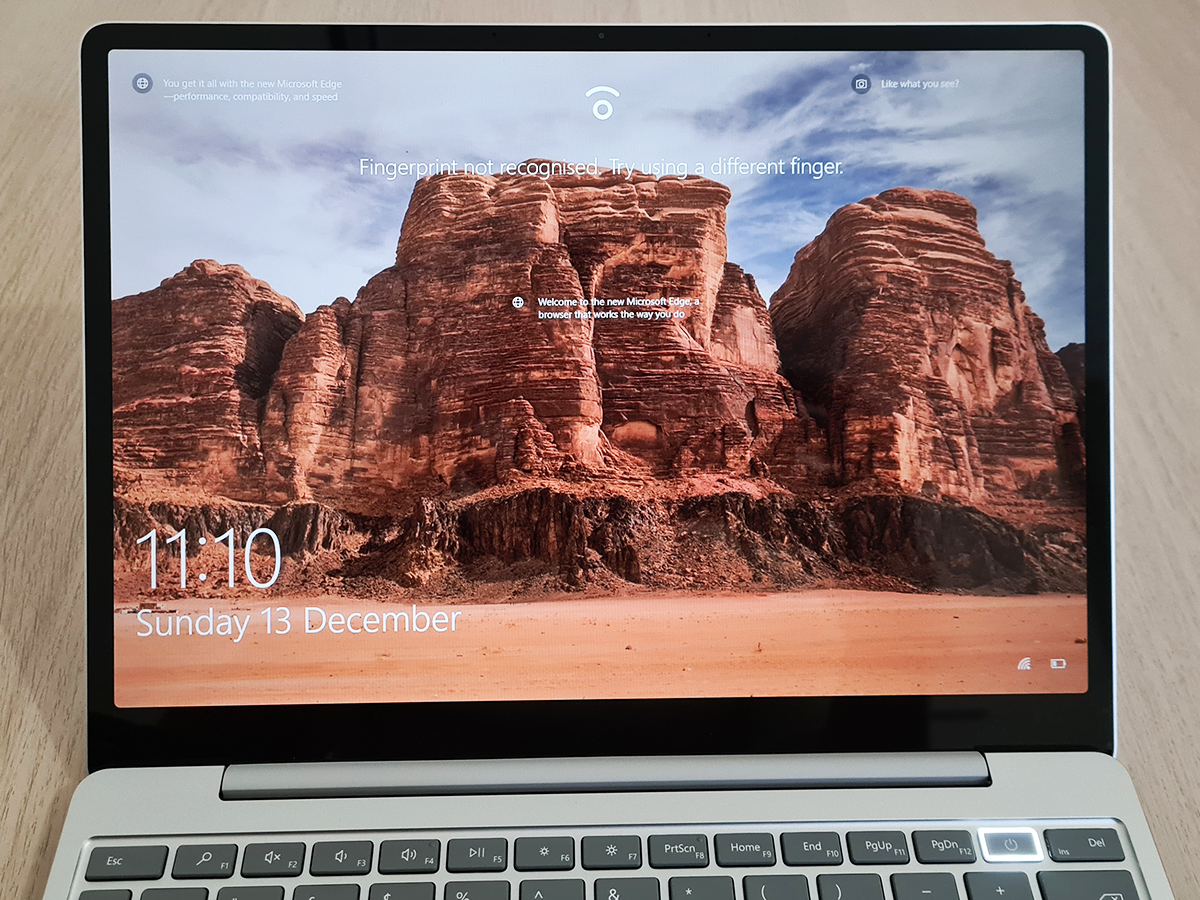 A 3:2 aspect ratio has kind of been the Surface's thing for a while now, so it's no surprise to see the same here, albeit with a dialled-back resolution to keep costs (and battery consumption) in check.
You get a 1536×1024 resolution, stretched over 12.4in, which isn't quite Full HD. This isn't a dealbreaker for web browsing, and documents just about look crisp enough even when working on two things side-by-side, but when cheaper Chromebooks manage to find room in the budget for 1080p panels, it's still a bit disappointing.
At least colours are punchy, and the panel isn't lacking when it comes to brightness. Viewing angles are very good, and it has 10-point multitouch support like the rest of the Surface range. That's less important in a laptop than a 2-in-1 or a tablet, maybe, but still nice to have.
Minimal display bezels certainly look the part, and the sturdy screen hinge stays firmly in place at whatever angle you choose – yet is light enough to open with one finger.
The Go punches slightly above its weight in the audio department, with Microsoft's stealthy "omnisonic" speakers sitting out of sight beneath the keyboard tray. They're not going to put your Bluetooth speaker out of business, but are surprisingly clear and not overly harsh when you crank the volume.
KEYBOARD: NO LIGHT TOUCH
Tapping out this review on the Go's full-size keyboard was largely a pleasure – during daylight hours, anyway. The soft-touch keys are springy with a decent amount of travel, with the only real size compromise being the half-height up and down arrow keys. Hardly a dealbreaker.
Rubberised feet run the whole width of the laptop, too, keeping it stable and wobble-free when working. The bigger issue is that Microsoft has decided not to bother with a backlit keyboard. This feels like a cost cutting too far, considering almost every rival in the same price bracket comes with illuminated keys. It's a shame, as the expansive touchpad is superb, with pinpoint tracking and reassuringly clicky response. Only Apple really does it better.
The one luxury is the power button, which doubles as a fingerprint sensor – if you buy the step-up model or this top-spec machine, anyway. The entry-level Go does without, and none of the three can use the built-in 720p webcam for Windows Hello facial recognition.
PERFORMANCE: AIN'T NO SLOUCH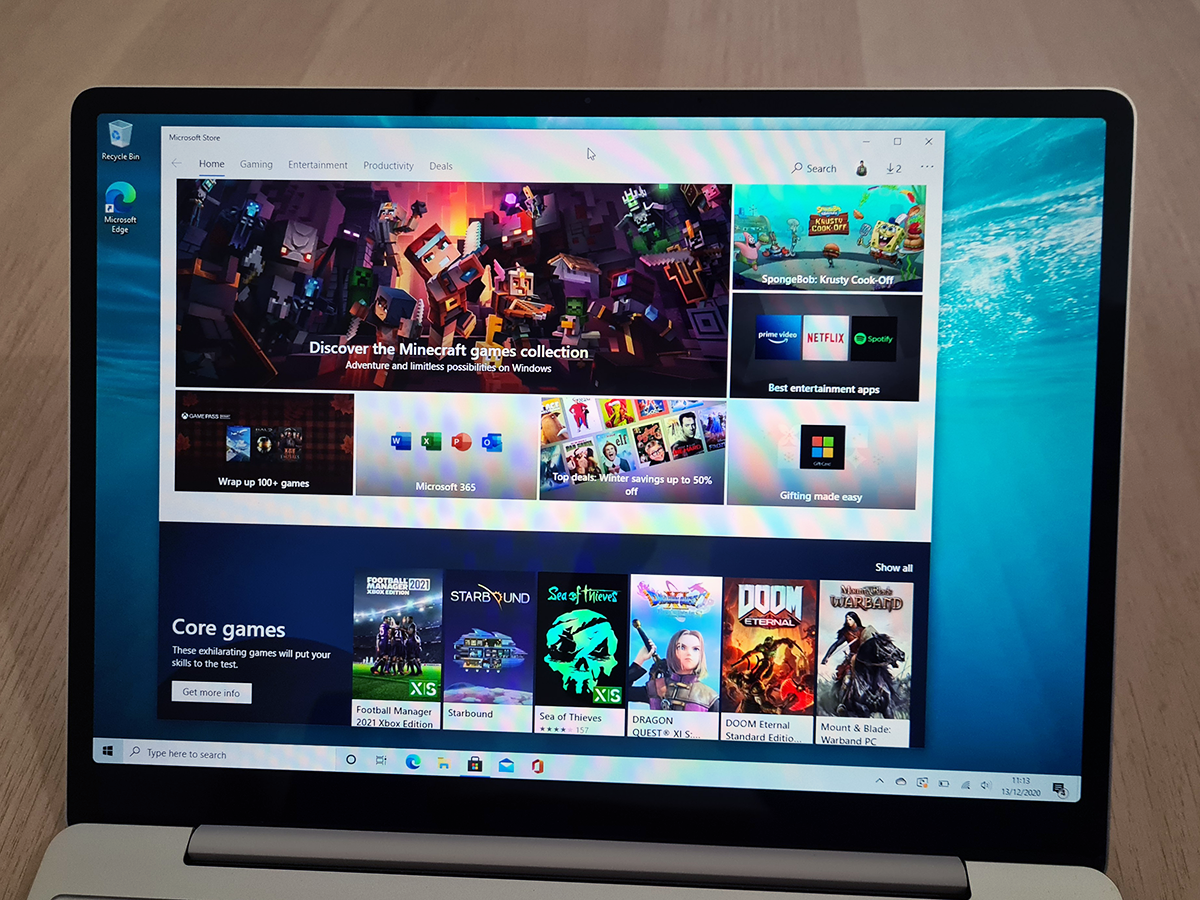 At its most basic, the Go ships with a lowly 4GB of RAM and 64GB of eMMC flash storage. Windows 10 alone can gobble up to a third of that capacity, so it's the pricier models that make more sense: both have a healthier 8GB of RAM, and either 128GB or 256GB of faster SSD storage. Whichever model you choose, every Surface Laptop Go has the same Intel Core i5-1035G1 CPU. It's a proven quad-core chip that peaks at 3.6GHz, which is more than enough grunt for desktop duties.
Don't expect to be rendering videos or running other intensive apps at any great pace, but stick to the basics and the system is nigh-on silent, only cranking up when you really push it. Integrated UHD graphics means you won't be playing games at full resolution, but it should still just about handle basic esports titles if you're realistic with the detail settings.
The Surface Laptop Go arrives with Windows 10 S, a streamlined version of Microsoft's OS that only lets you install apps from the Windows app store. This better protects against malware, but let's be honest, what isn't on the app store would make a big long list. Swapping into full-fledged Windows 10 is free, but it's a one-way ticket, with no way to change your mind later.
BATTERY LIFE: CORD CUTTER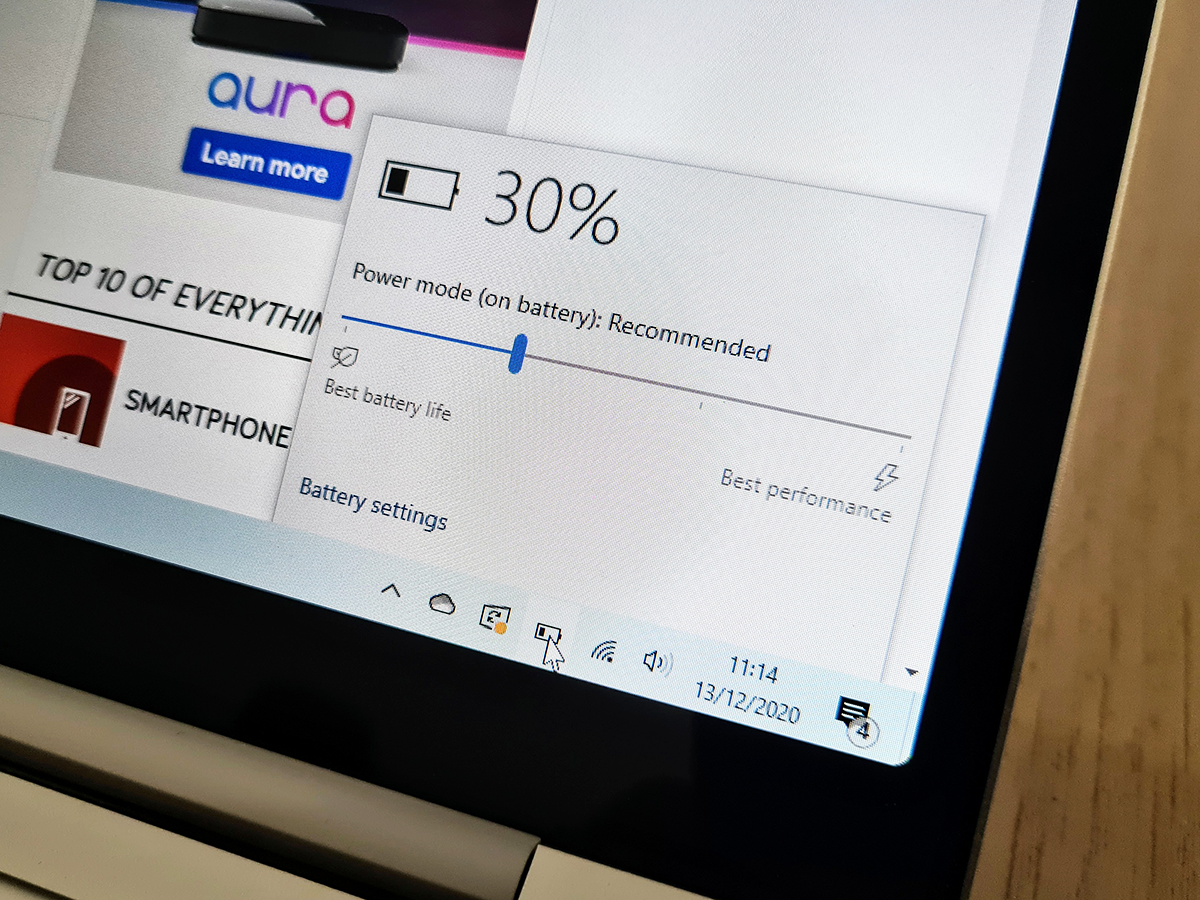 Can the Go get you through an entire working day without a trip to the plug socket?
Absolutely, as long as you stick to web browsing and word processing. With only a handful of tabs open we saw around ten hours between top-ups – a few hours short of Microsoft's claimed 13 hour lifespan.
Netflix addicts won't be too disappointed either, with enough juice to mainline three movies before you'll need to plug in. These figures aren't top of the class, however. Rival machines have even greater staying power, and they have higher resolution displays to boot.
Microsoft insists on sticking with its proprietary Surface charging port, too, which might deliver an 80% top-up in less than an hour, but just isn't as convenient as having one charger that works with all your devices. The USB-C port does support charging if you've got the right power brick, at least.
MICROSOFT SURFACE LAPTOP GO VERDICT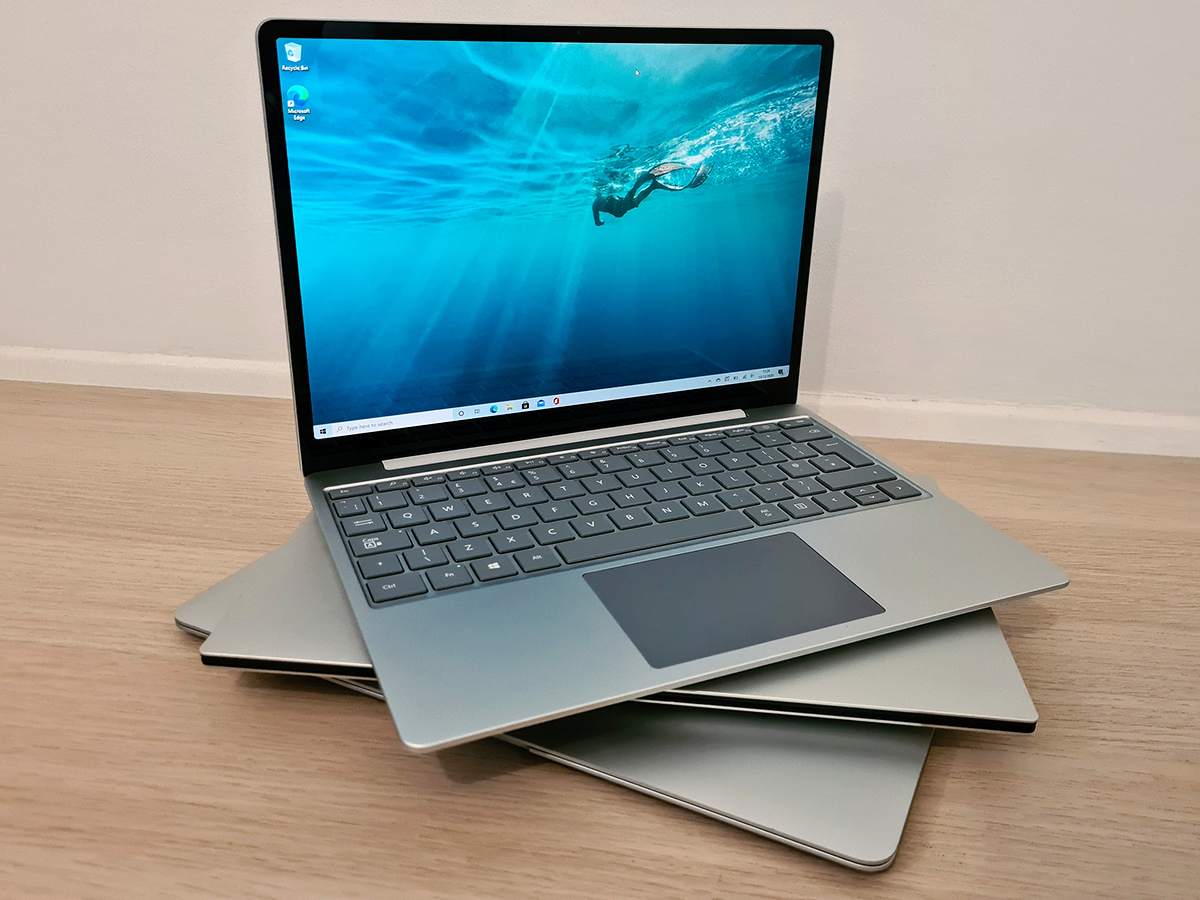 Diluting down the Surface formula was always going to require a few compromises. The Laptop Go is a well-built and lightweight machine that truly looks the part, but is let down by a few key omissions and cut-backs.
Budget alternatives offer more storage and higher resolution screens than the £549 base model, while a Dell XPS 13 would give us serious pause for thought before pulling the trigger on the £899 version tested here.
The middle-ground model seems like the best value, but even then there's no shortage of keenly-priced alternatives. Still, if you don't mind paying a premium for good design, even when on a mid-range budget, the Go's styling is tough to beat.
Tech specs
| | |
| --- | --- |
| Screen | 12.4in, 1536×1024 touchscreen LCD w/ 3:2 aspect ratio |
| CPU | Intel Core i5 1035G1 quad-core, 3.6GHz |
| MEMORY | 8GB RAM |
| STORAGE | 128GB |
| OPERATING SYSTEM | Microsoft WIndows 10 |
| BATTERY LIFE | Up to 13 hours (claimed) |
| CONNECTIVITY | 1x USB-C, 1x USB, 3.5mm headphone jack, 1x Surface Connect port |
| DIMENSIONS | 278x206x15.8mm, 1.1kg |
Stuff Says…
A well-built ultraportable that does the basics very well, but sublime design can't make up for hardware shortcomings when rivals offer more power for less cash
Good Stuff
Light and well-built
Vibrant 3:2 aspect touchscreen
Full-size keyboard and expansive touchpad
Bad Stuff
Internals merely average for the money
No backlit keyboard
Battery life only average