Microsoft Surface Book 3 review
It's a laptop, a tablet and a portable games console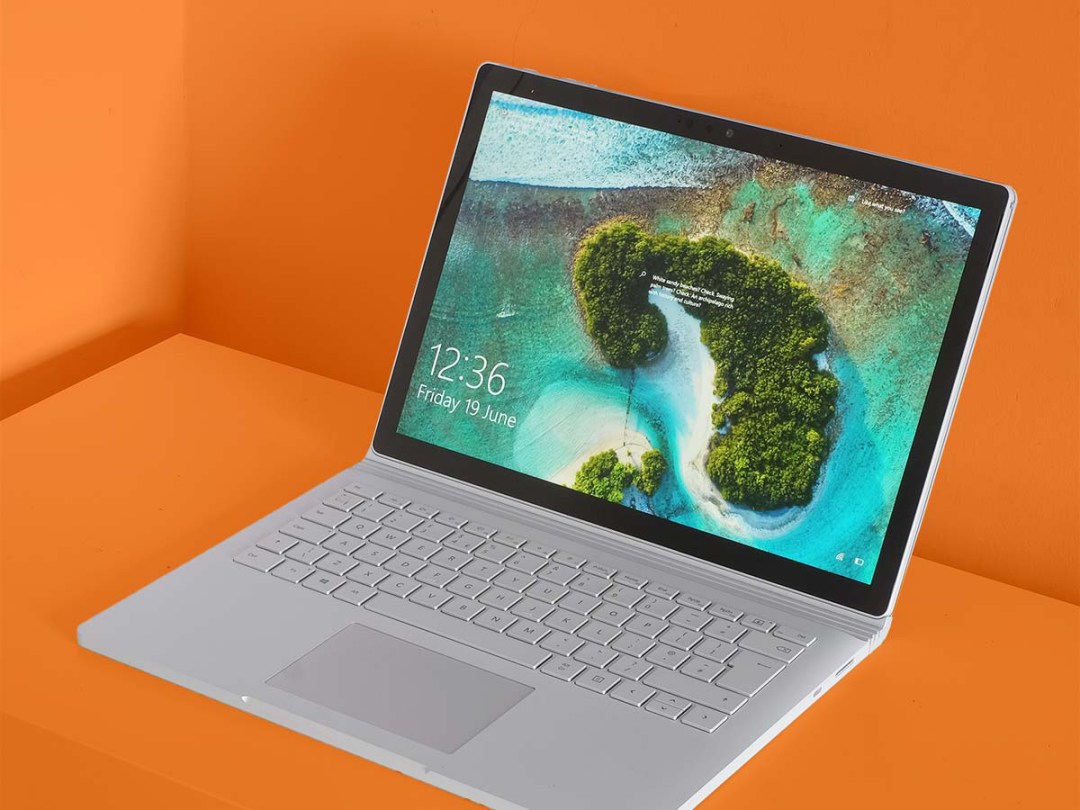 The Microsoft Surface Book 3 has the most dynamic design of any hybrid laptop, whether you want the 15-inch version or the smaller 13-inch reviewed today.
Most hybrids have a 360-degree hinge that lets you flip the screen over. It's handy if you want to pitch the thing up like a tent and watch a movie in bed or while cooking. But is it a real tablet experience? Not even close.
Microsoft's aim here is to get you a legit iPad Pro-style tablet, but one that runs Windows. And a laptop with a keyboard that makes Apple's Magic Keyboard for iPad Pro look like expensive tat.
The Microsoft Surface Book 3 mostly pulls this off too. It is ready for wasting time on the sofa, doing the kind of serious work an iPad Pro still isn't really perfect for, and it can play games well too.
However, it's about time for Microsoft to refresh this design. It's dynamic, sure, but can seem dated next to more conventional hybrid laptops. And that matters when the most ready-for-fun Surface Book 3 versions are over £2000.
Design: A relic from the future?
There is a strange collision going on in the Surface Book 3. It's futuristic and just a touch stale at the same time.
The futuristic part is the screen and hinge mechanism. Screen plugged in, the Surface Book 3 feels just as solid as a normal laptop. Yank at the display and it won't detach.
To use the Surface Book 3 as a tablet, you press a button on the keyboard. You'll hear a light clunk and can then remove the screen as if it's held there with just a couple of fridge magnets.
This is more-or-less the hybrid dream. The Surface Book 3 doesn't seem wobbly or shaky when dressed up as a laptop, or bulky when the screen is used on its own.
The hinge doesn't let you tilt the screen back too far, but it is designed to let you use the Surface Book 3 on your knees without it toppling over. This works, as long as your legs are so sloped you're barely sitting.
Microsoft's engineers deserve and extra value bumper pack of credit for how well the Surface Book 3 fundamentals work. However, there are a few little issues to consider.
The Surface Book 3 has, by 2020 standards, fat screen surrounds. This may sting when you'll pay £2500 for the spec reviewed. And this, obviously, affects the footprint.
Our 13-inch Surface Book 3 is big and kinda heavy next to other 13-inch portable laptops. It is over 250g heavier and almost a centimetre thicker than a MacBook Pro 13, and the HP Spectre 13 is even smaller and lighter.
If we were after a laptop to carry around every day, we probably wouldn't buy a Surface Book 3.
Still, Microsoft has a couple of solid excuses for this extra bulk. The first is obvious. The techy logistics of a normal laptop are a cakewalk compared to the Surface Book 3's. And as long as you don't buy the "entry level" £1599 version you get an Nvidia GTX 1650 Max-Q graphics card.
Gaming: It's a portable PS4
This is where you start to imagine the smart nerds who designed the Surface Book 3 start 3 popping their collars and putting on mirrored aviators. It's not just a tablet, not just a laptop, but a pretty good gaming machine too.
How good? You can play The Witcher 3 at 1200p resolution with the graphics set to "high" and will see comfortable 30fps-plus frame rates. Skyrim spends most of the time clipping along above 50fps even at (close to) the native screen resolution, with Ultra graphics applied.
You can do all this when not plugged into the mains, and the Microsoft Surface Book 3 runs quieter than the average gaming laptop under strain. This is where the unusual design can become a benefit.
In a normal laptop, all the core components are built into the base. The screen part holds the display, the webcam, and little more.
Here, most of the brains live in the screen. The storage, motherboard, RAM and CPU are all in that thin slab. And the entire rear surface, and all sides, are used as a heatsink.
Far fewer components have to live in the base. There's a battery, the logic boards for the connectors, keyboard and touchpad, and the graphics card. This lets Microsoft create pretty good airflow and avoid any noises that will make you nostalgic for Easyjet holidays.
Performance: Fast, but no workstation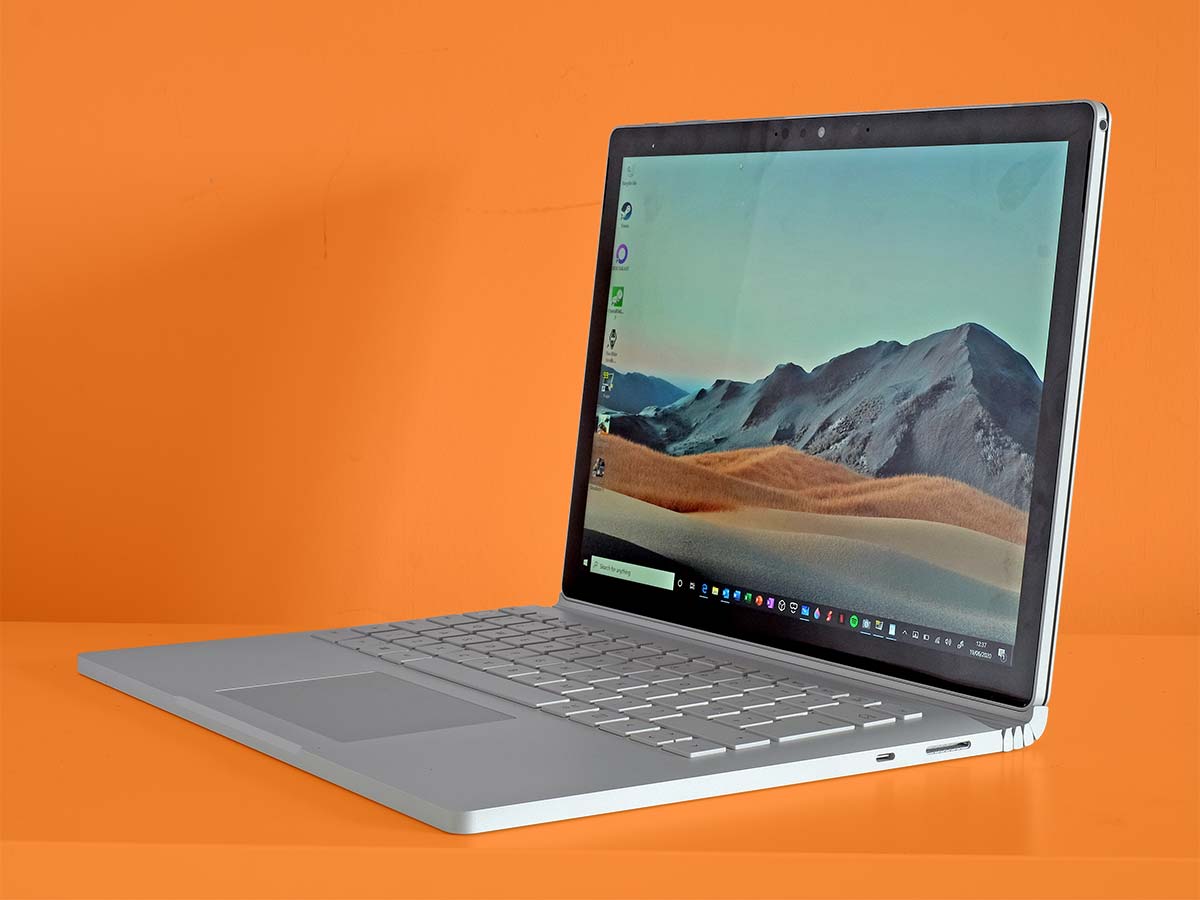 So is it the perfect performance laptop for every kind of professional who also wants to have fun? Not quite. The Surface Book 3 has a much less powerful processor than the Dell XPS 15 or Apple MacBook Pro 16.
That groundbreaking Apple laptop has the power of a workstation, in a case that just about slides into the "slim and light" category. This one has the same Core i7-1065G7 processor used in many laptops slimmer and lighter than this one.
Mostly don't have punchy graphics cards, of course, but the CPU means this laptop isn't the best fit for the real performance crowd.
Many of us won't notice the difference in power between the Surface Book 3 and a "pro" grade CPU. It just doesn't have that much of an impact when you pootle around Windows 10 or scroll through Facebook to see if your aunt has posted any more mildly racist comments.
But if you edit video for a living or work in a field where you do a lot of 3D modelling, you probably want that extra power.
Battery: All-day laptop or a 3-hour tablet
The battery is another area in which Microsoft has to handle things a little differently. There's a battery in the screen, another in the base. Plug the two together and the Surface Book 3 starts using both batteries, rather than draining the base first.
It lasts 10 hours 40 minutes when streaming video. Or around eight and a half hours when used outdoors for writing docs, which demands little processor power but a lot of display drain. These are pretty great results. The Surface Book 3 outlasts plenty of normal slim laptops, even if it doesn't meet Microsoft's own 15.5-hour claims.
No surprise there: just about every laptop maker apart from Apple gets creative with battery figures.
Remove the screen and things take a sharp turn. Without the keyboard the battery only lasts three hours three minutes of streamed video.
You know how we said earlier the Surface Book 3 gets you a much better tablet experience than other Windows hybrids? It does, but not for too long. 3-hour battery life looks a little embarrassing when compared to the 10-hour iPad Pro 12.9.
And, as is always the case, a tablet with Windows 10 is just not as fun or as easy to use as one that runs Android or iPad OS. Windows does have a tablet mode, but it is not that good when Windows apps are mostly made with a mouse or touchpad and keyboard in mind.
In plenty of tablet-style situations you'll actually want to have the screen attached to the base anyway, though, particularly when you can plug the display in the other way around. Gaming with a pad, or putting Netflix on while you cook are two obvious examples.
But let's get real: 3-hour tablet battery life sucks. And the Surface Book 3's speakers aren't as good as a top-end tablet's or the simply brilliant speakers of a MacBook Pro 16 either. There are drivers on each side of the screen's front. They offer a fair stereo image but there's only a hint of bass, maximum volume isn't impressive and treble sounds a little brittle at higher volumes.
Is there room here for better speakers? Perhaps, but don't forget the sheer amount of stuff Microsoft has to cram into the screen part.
Display: LCD, low compromise display
The screen itself is great; it's a 13.5-inch display of 3000 x 2000 pixel resolution and has a high-quality LCD panel. Colour, contrast and maximum brightness are all very good.
We tried using the Surface Book 3 outdoors to see how it copes in the sun. It doesn't hold up quite as well as the 360-hinged OLED HP Spectre 13, which has a great anti-reflective layer, but the stuff on-screen is at least clear enough to let you work outdoors.
It's a touchscreen, of course, and you can buy one of Microsoft's Surface Pens if you want to get your doodle on. They cost an extra £99. Sketching is another use for flipping the screen around on the base, as the angle feels more natural.
The stylus is a smart pen, with 4096 gradations of pressure sensitivity and tilt. However, the screen takes some of the credit too, as you can't use the Pen with any old touchscreen computer.
Keyboard and touchpad: Fit for work
The Surface Book 3 is a mix of unusual benefits and the odd head-scratching compromise. But there are no complaints about the keyboard and touchpad. Their quality is up there with some of the best "normal" laptops.
The keys have plenty of travel and while their feel is on the lighter, faster side, there's still enough resistance to provide a well-defined tap. A white 3-level lets you type away confidently even in totally dark rooms too.
This is a comfy keyboard.
Earlier in this review we moaned a bit about the Surface Book 3's size. It's hefty for a stylish portable hybrid. However, this also gives the touchpad plenty of space to stretch out.
It is not nearly as large as a MacBook's, of course, but is fairly large for a hybrid and has a silky smooth textured glass finish.
We'd be happy to work all day, every day, with the Surface Book 3's keyboard and touchpad. It's also a stunner for video meetings and Zoom chats as the webcam is excellent, with a 5-megapixel sensor and Full HD video.
Don't expect miracles, though. While it wipes the floor with the cameras of most £1000-plus laptops, it isn't great for YouTube stars in the making as it doesn't have autofocus. It's designed to be sharp at the distance you normally sit from a laptop.
The Surface Book 3 is so pricey you could get a perfectly good normal laptop with the same CPU and buy a Panasonic GH5 with the change. There's a camera on the back too, another 5-megapixel sensor destined to be the least-used part of this hybrid.
Microsoft Surface Book 3 verdict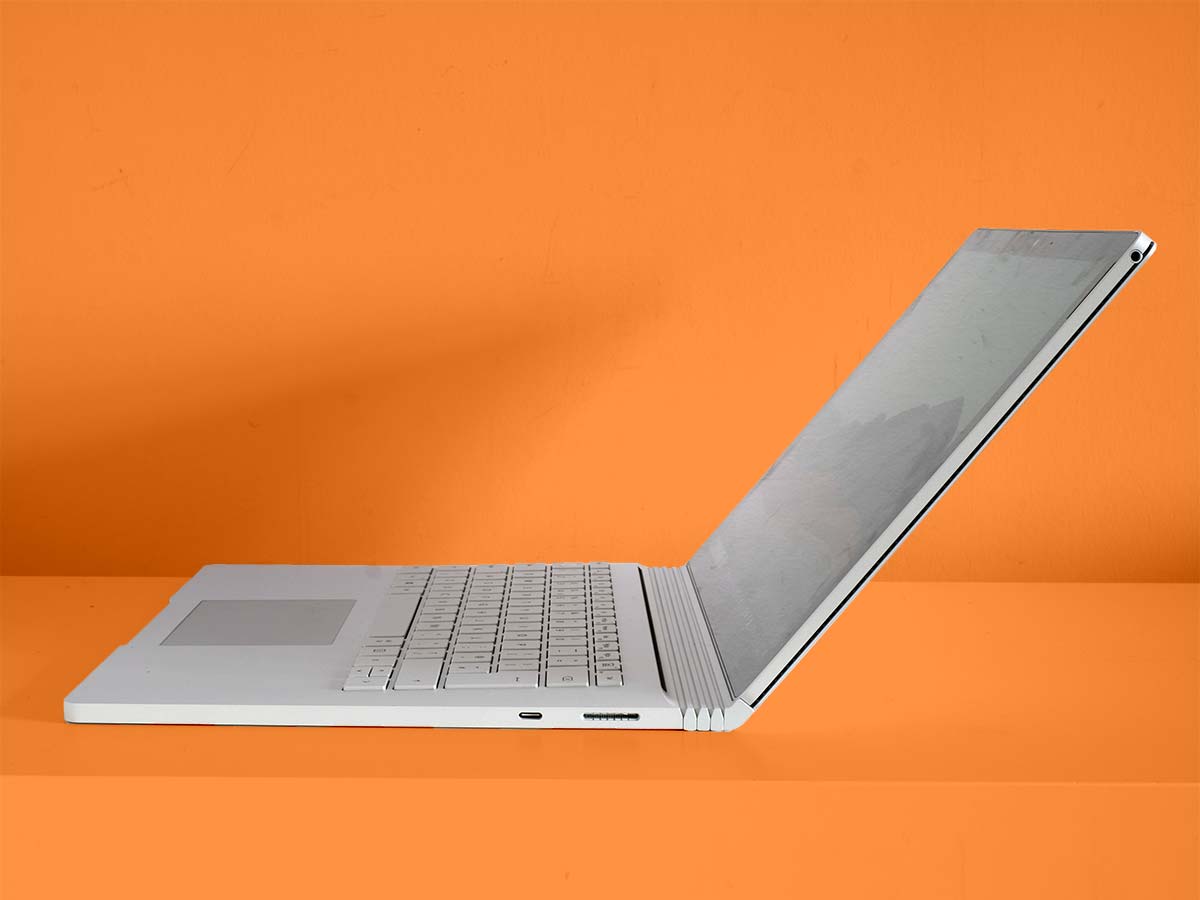 The Microsoft Surface Book 3 is an odd duck. It has the most inventive laptop-tablet hybrid design around. Microsoft must have spent a fortune to avoid it coming across a techy science experiment.
But in the real world there are some real compromises. The Microsoft Surface Book 3 isn't as slim or light as most, and also doesn't have the CPU power usually associated with a little extra rump chunk in an ultra-pricey style laptop.
Windows 10 and three-hour battery life ensure its tablet side isn't as attractive as an iPad Pro either. However, Microsoft has tried to cover an almost ridiculous breath here. The Surface Book 3 aims to be the king of convergence. It's more like a duke, but that is not a bad result.
Stuff Says…
The most ambitious hybrid laptop design around. A good buy if you don't mind a chunkier hybrid
Good Stuff
Solid gaming performance
Great keyboard and touchpad feel
High-quality
Bad Stuff
Short tablet battery life
Heavier and thicker than most conventional hybrids
Expensive