LG G Pro 2 preview
UPDATE 11/02/14: The G Pro 2 gets its own special event on 13 February, ahead of Mobile World Congress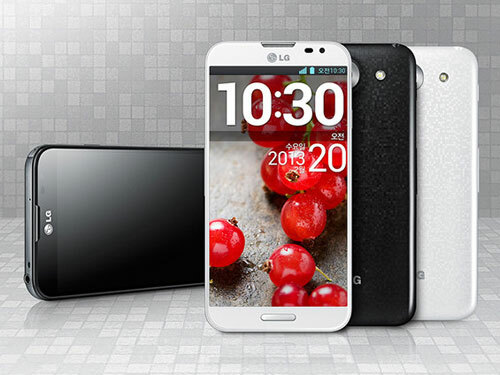 This week LG confirmed the existence of a G Pro 2 smartphone, saying it would officially launch the handset in February – but declining to spill any details concerning its specs, features or price.
Thankfully, there are plenty of online rumours about the upcoming device – and we've collected them all below for your reading pleasure.
Supersize my screen
The LG G Pro 2 will be the replacement for the current LG Optimus G Pro, but Korean site ET News says it will offer a significantly larger screen: 6in to the G Pro's 5.2in. That suggests it'll fall firmly into the phablet category of mobile devices. A full HD 1920 x 1080 resolution is also on the cards – no surprises there, as the Optimus G Pro boasts one.
Update 29/01/14 Images of the G Pro 2 have appeared on Korean forum DC Inside [via Engadget], showing off the phone's build and G2-style rear mounted button.
Update 06/01/14 The G Pro 2 will feature a super-skinny bezel measuring a mere 0.4mm, according to Korea's FNNews [via CNet]. That means that the phone's 5.7in Full HD IPS display will take up a whopping 77.2 per cent of the device's face.
Specs? Respectable
ET News' report claims that the G Pro 2 will run on Android 4.4 KitKat, and be powered by a quad-core Qualcomm Snapdragon 800 processor alongside 3GB of RAM. It's a respectable combination (quad-core and 3G seems set to become the base level for a decent high-end smartphone this year), if not quite as exciting as the upcoming flagship LG G3's purported octo-core "Odin" processor.
There's been no word as yet as to the G Pro 2's camera, but we'd expect it to be at least a match for the Optimus G Pro's 13MP snapper. The G3 is expected to land with a 16MP camera, and we could well see the same sensor squeezed into the G Pro 2.
Fastest finger first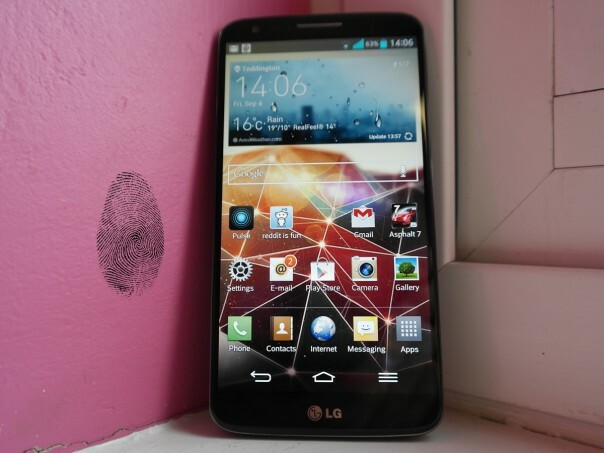 Hey, it's ET News again with another claim about the G Pro 2: it (along with the G3) will be the first LG device to come with a fingerprint scanner, which would be used to unlock the phone.
If LG can make the scanner work as well as the iPhone 5S's TouchID, we'll be mightily impressed. If it's more like the HTC One Max's somewhat sluggish, unreliable example, on the other hand…
READ MORE: LG could crash the fingerprint scanner party with the G3 and G2 Pro
OIS Plus and 4K video
LG has teased us with a few details surrounding the G Pro 2's camera, the first of which is Optical Image Stabilisation Plus (OIS Plus).
The OIS on the current G2 enables sharper shots and more detail in low-light conditions, and LG new Electro Image System will apparently further eliminate blur and shaking caused by hand movements.
It appears to be a software-based improvement, so we could very well see an update to the G2. Fingers crossed.
Other camera upgrades include 4K UHD video recording and HD video shot at 1.4 times the speed for slow motion playback.
Lastly, LG will introduce a new 20 shot burst mode which will combine all twenty shots into one single photo. HDR on steroids? It sure sounds like it.
READ MORE: LG G2 review
Price and release date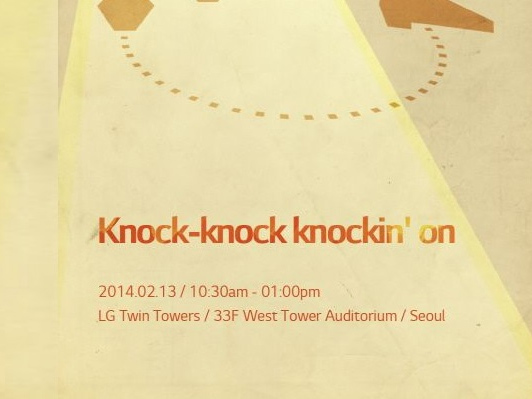 LG has already confirmed that it will release the G Pro 2 "next month" (meaning February) – and that could well mean an official launch at Mobile World Congress 2014 followed by an arrival in the shops a few weeks later. MWC kicks off on 24th February.
We'll doubtless turn up some concrete information concerning the G2 Pro's price at the same time as its official announcement, so check back for updates in the coming weeks.
Update 11/02/14: LG has sent out official invitations to a 13 February event in South Korea. The references to knocking are clearly to do with a G2-like ability to turn the screen on and off with a double tap. That, or LG is moving into the door manufacturing industry.
We still expect to wrap our hands around the G Pro 2 at Mobile World Congress, so we won't have too long to wait after its South Korean announcement.
READ MORE: Mobile World Congress 2014 – the biggest MWC news so far