Land Rover Explore review
This rugged smartphone is an ideal hiking companion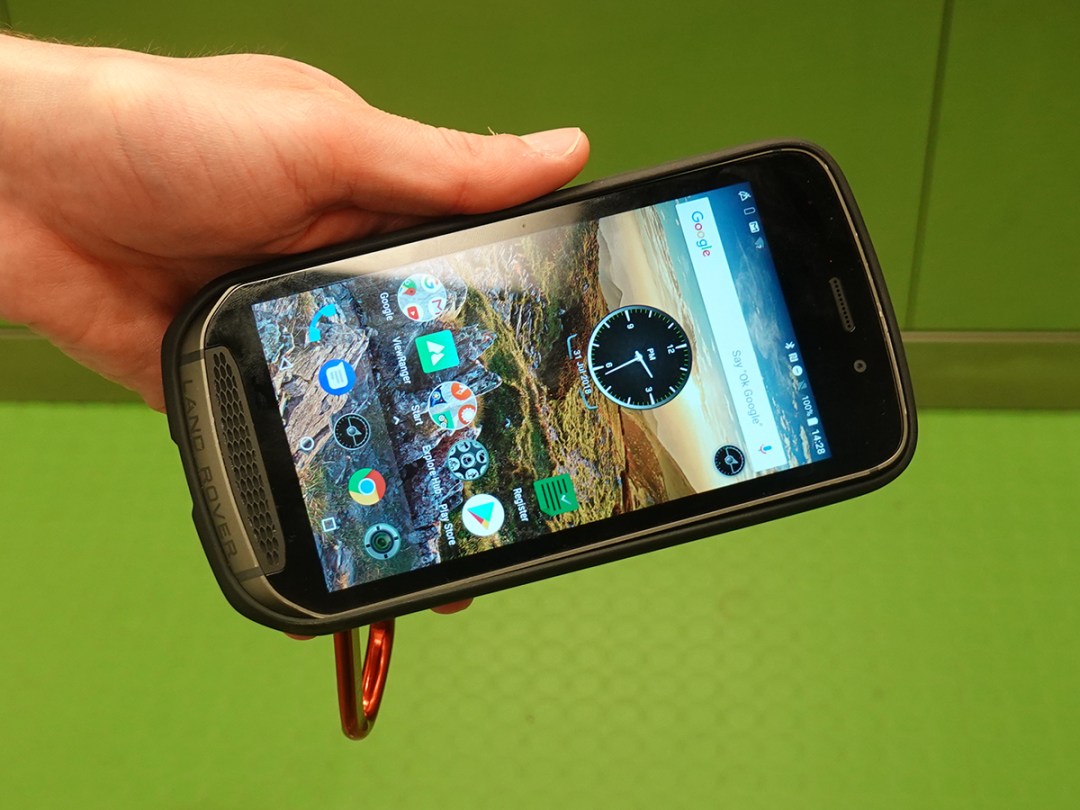 There are some people who can go on hiking for days without breaking a sweat. And then there are those who become breathless after a journey from the sofa to the fridge.
It's not too different with smartphones. Take an iPhone to the alps without protection, and it's likely you'll bring it back with a lovely big crack in the screen. Land Rover's new Explore smartphone, meanwhile, has been purpose-built to withstand the great outdoors.
OK, so the concept of a rugged phone isn't exactly new, but this British-made handset has some rather unique skills under its Batman-rivalling utility belt. Chief of them all is the Adventure Pack, which can be magnetically clipped onto the back of the Explore for healthy battery and GPS boosts.
But at a £599 price so steep that even the most experienced of hikers would hesitate to climb, this smartphone aims to be your permanent companion instead of just a drawer dweller that only comes out of hiding for an adventure. Whether you actually want this behemoth hanging from your hip at a cocktail bar is another question…
DESIGN AND DURABILITY: BORN SURVIVOR
Like Deadpool and Tom Cruise, the Explore's signature move is being near-on indestructible. Chuck it down a mountain slope, dunk it one-metre deep into the ocean or subject it to extreme temperatures between -30°C and 65°C and it'll survive to tell the tale. You even get a tough case and carabiner bundled in, just to prove this phone is for proper adventurers.
For a rugged smartphone, the Land Rover Explore doesn't look too shabby either. Sure, it's got bezels beefy enough to make an iPhone user snort, but its smooth edges and button-less front make it one of the best-looking tough phones out there.
But while having minimals buttons makes the Explore look great, it's not exactly practical. There's no home button or fingerprint scanner here, so the only way to wake it up from standby is to tap the power button on the side and then hammer in your passcode or sketch out your pattern. That's not too much of an ask, but it's undoubtedly frustrating when you're shelling out £600 for the thing.
Below the screen is the speaker, which has been fashioned to resemble the front grille design of an actual Land Rover – you know, the things that you can drive. It's a nice subtle touch, layering on some welcome brand personality. The speaker itself has a lot of gusto, so you can play your music over the bleating farm animals. But there's also a headphone jack if you fancy using wired headphones.
Sadly, the Explore isn't as pretty on the back as it is the front. It's got the Land Rover emblem in the top-right corner, with magnetic nubs arranged horizontally across and deep grooves running vertically. These design choices haven't been made in the name of fashion, but rather for practicality, allowing for the Adventure Pack – or the sold-sperately bike mount – to be easily snapped onto the back.
It's a rather chunky handset too. Think two iPhones strapped together. Clip on the Adventure Pack, and the Explore starts to get hefty enough to drag your shorts down to your ankles.
DISPLAY: TAKE A SHINING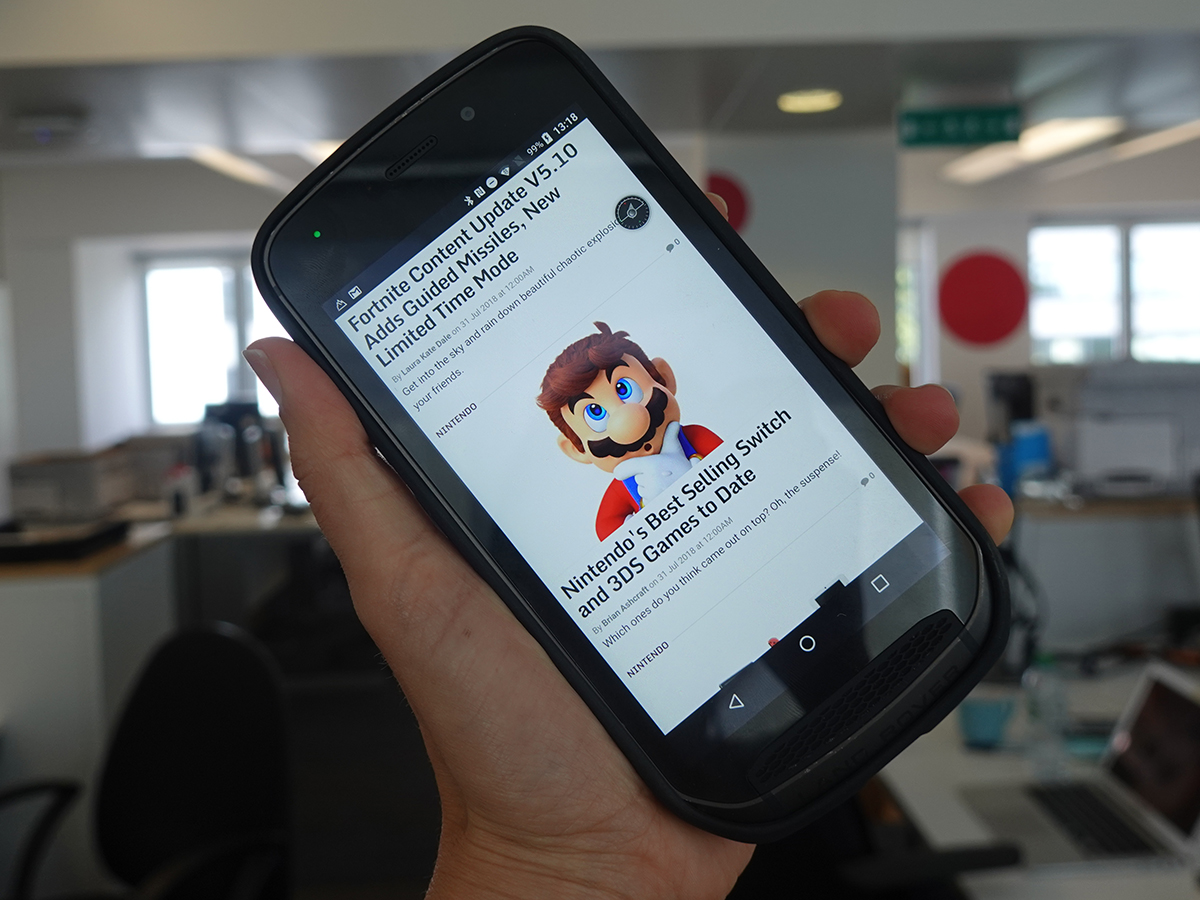 I've had a lot of fun testing how sturdy the Explore's Gorilla Glass 5 screen is. Whether I dropped this phone face-first onto a corner of a table, the kitchen floor or the rocky shore of Brighton, it came away scratch free. You even get a screen protector, which feels as pleasingly excessive as giving a suit of armour to Superman.
It's a rather bright display too. OK, so it lacks the vibrancy of my OnePlus 6 and other high-end smartphones, but the Explore's Full HD screen still offers plenty of detail and is easily visible in eye-stingingly sunny days.
If I'm being picky, things can get rather fuzzy when watching low-light video, but it's still perfectly suitable for watching the likes of Daredevil while curled up in a tent.
The 5in screen isn't exactly large, but since it needs the beefy bezels to remain hike-ready, the Explore's still the same size as 6-incher phones, so anything bigger would have been a pocket strainer.
PERFORMANCE & BATTERY: EXTRA LIFE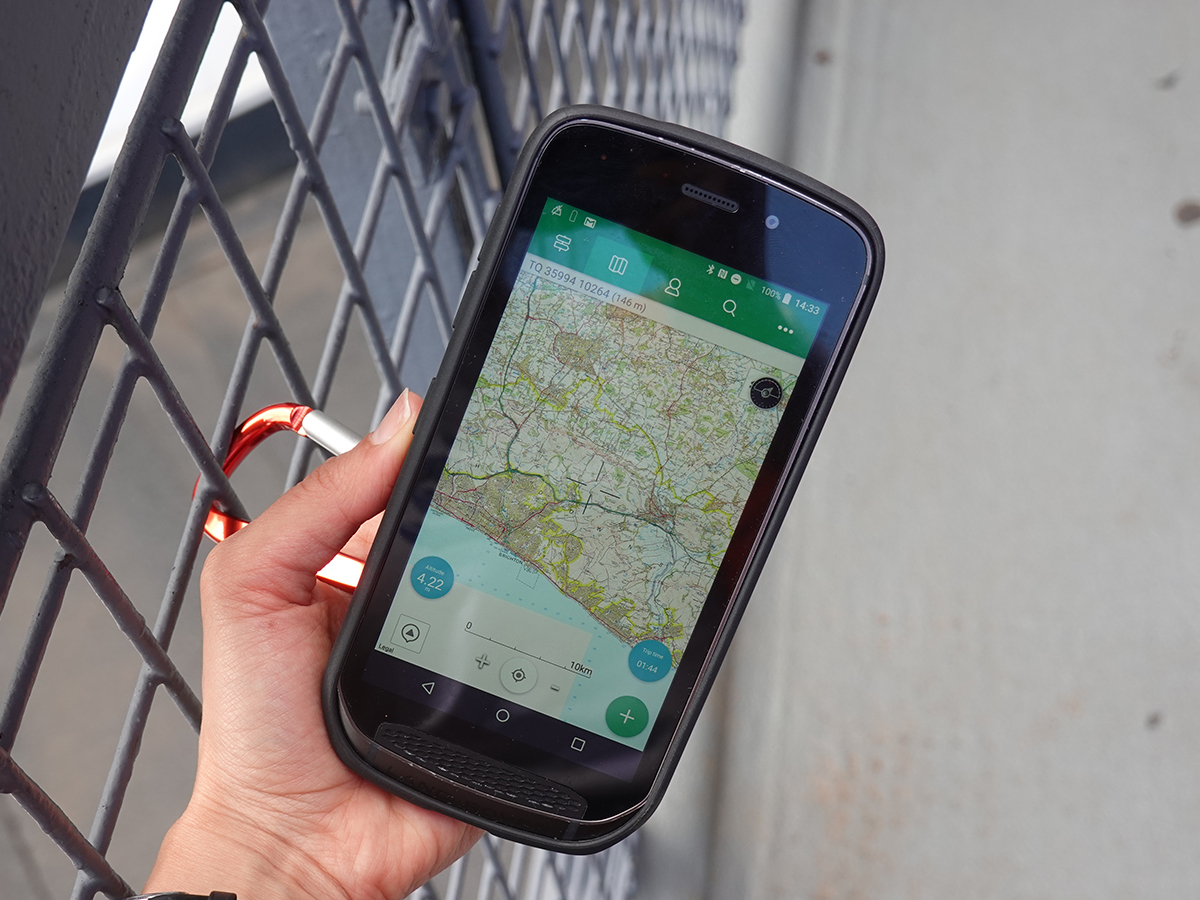 With the MediaTek Helio X27 processor and 4GB of RAM, the Explore is nippy enough to flit through apps, but it's nowhere near the pace of similarly priced, non-rugged smartphones.
That said, I was still able to run the likes of Asphalt 9 without any hitch or lag. Loading screens never seemed to outstay their welcome either. But let's face it, if you're buying this smartphone, you're probably more into hiking than gaming, and there's easily enough muscle here to run Google Maps and ViewRanger at full speed.
Since this is a phone purpose built for outdoor adventures, you won't want the battery to zonk out halfway through the trek. But thanks to the 4000mAh cell, the Explore can easily keep on chugging through to the next day, even with heavy use and your 4G turned on.
Fancy a weekend-long adventure? Snap the 3620mAh Adventure Pack to the back, and you'll get almost double the battery life and improved GPS, although you'll have to contend with the accessory's extra weight and bulk. It's probably best to wait until the campsite before you start recharging.
OS & SOFTWARE: DASH OFF TO ADVENTURE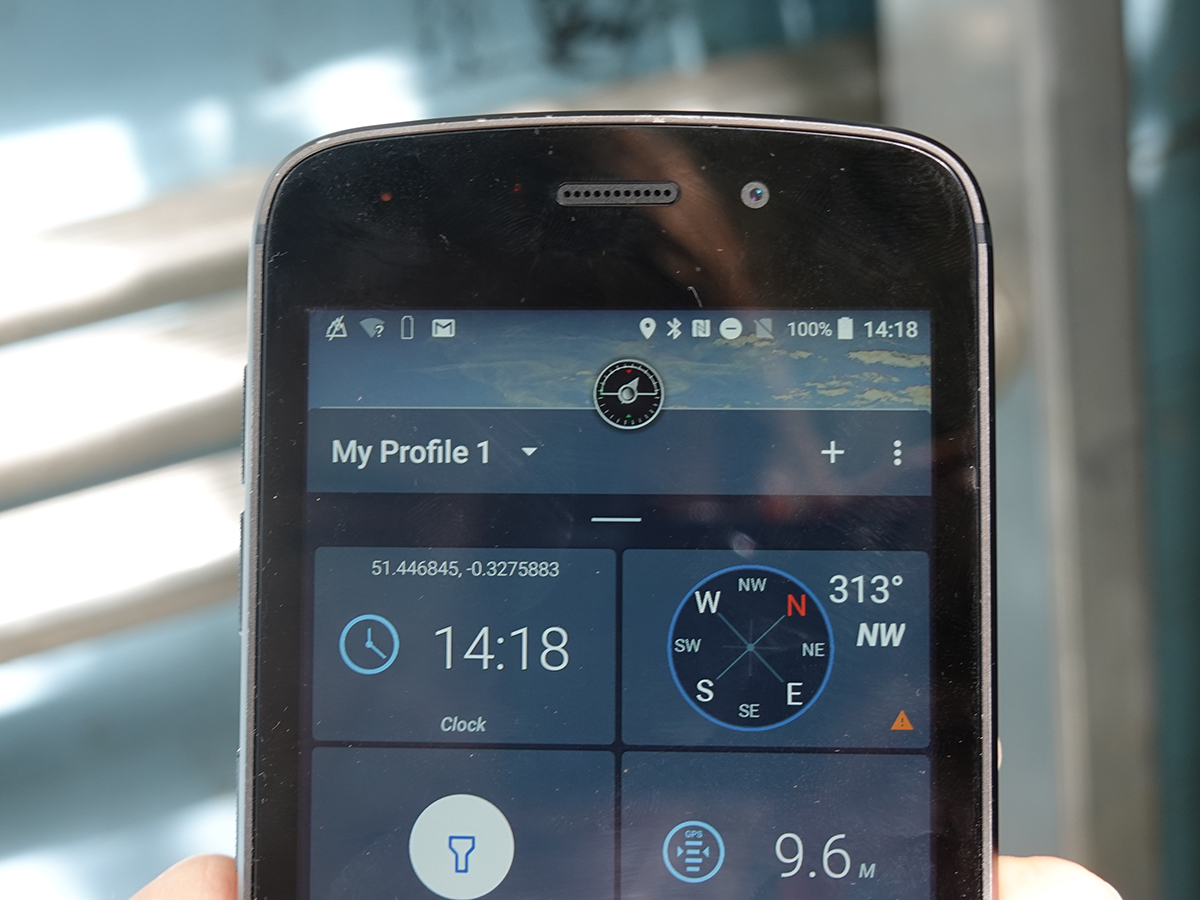 With rugged phones, companies will often slather their own software on top of the operating system. Land Rover has refrained from doing so with the Explore, keeping Android Nougat as basic as possible – imagine a vanilla scoop with chocolate sprinkles.
Swipe up and you'll open the app tray, while you can flick left to open more pages of your favourite apps. With 64GB of storage, you've room for plenty of applications too. There's even built-in NFC if you fancy going contactless for your payments. If you've ever used an Android phone before it will all be familiar. Oh, and you'll also be able to upgrade to Oreo.
One noticeable feature that Land Rover has introduced is the dashboard. Here you can customise the app to have all sorts of widgets and useful information, including a compass, altimeter, weather forecast and torch. The Explore Hub also offers shortcuts for adventure apps of various genres, from hiking to winter sports. It's small features like these that give the Explore such a clear and distinct personality.
For an extra dose of charm, Land Rover has included a ViewRanger voucher code in the box, which can be used to purchase any of the app's map packs. This is a lovely gesture, especially since the ViewRanger app and the Explore phone are a match to rival Love Island winners Jack and Dani.
CAMERAS: NATURAL TALENT
While most iPhone users are generally city dwellers, the Land Rover Explore's target audience encounters glorious sights on a weekly basis. Good job it's got a decent camera so you can show off to your friends back home then.
Snapping away with the rear 16MP sensor on the sunny-soaked coasts of East Sussex, I managed to get some surprisingly gorgeous photos. Images were always full of colour, but never oversaturated to the point that they look artificial.
Quality was very dependent on the available light though. As soon as it started to get dark outside, images would look blurry and out of focus. It's a similar story if you try to zoom in on your subject. This mainly because of the lack of a double-lens sensor, something we've come to expect if we want a top-notch smartphone camera.
One major gripe I did have with the camera, is that it can sometimes take a good few seconds to take a picture. Those seconds are precious when I'm trying to keep up with my hiking group.
There's not a lot of fiddling you can do with the Explore's camera, but that's not an issue for those happy to point and shoot. There are, however, some preset settings for certain scenes, including Beach, Snow and Sunset.
This phone isn't so great at selfies with the front-facing 8MP camera. Images look gloomy and washed out. But to be fair, who's going to snap their sweaty mug during a hike?
COMPETITION: TOUGH IT OUT
I've been pretty positive on the Land Rover Explore so far and for good reason – it's a quality rugged phone. However, there is a mighty sticking point: the price.
At £599 the Explore costs more than double the price of its similar-specced competition. It's got near-on identical specs to rugged phones such as the Doogee S60 and Ulefone Armour 2, so all you're really getting for the extra £350 is the modular flexibility and that Land Rover name. Oh, and the Doogee has wireless charging, so you could make the case that it's actually a better all-round phone.
And then there's the AGM X2 SE rugged smartphone, which has superior specs compared to the Explore in almost every department. It's got a bigger screen, an AMOLED display, a mighty 6000mAh battery and, to top it all off, a dual-lens camera that's very capable of taking low-light photos. The real kicker though? The AGM X2 SE costs £210 less than Land Rover's Explore – that's quite frankly absurd.
LAND ROVER EXPLORE VERDICT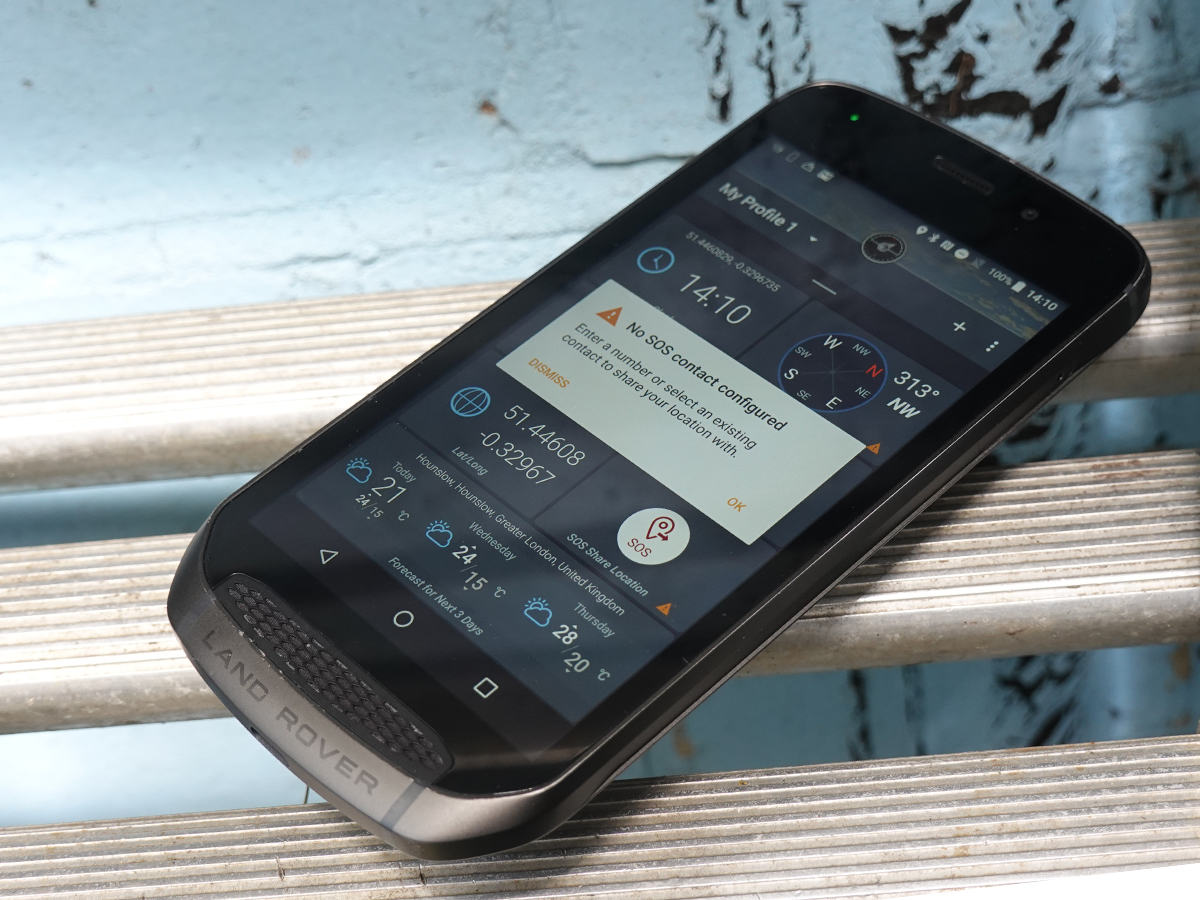 Ignore the price for a second, and the Land Rover Explore is close to being the perfect companion to your outdoor adventures.
The modular capability to slap on an extra battery pack or a bicycle mount is unquestionably very useful, while the screen packs a punch, the camera can take some wonderful shots and – crucially – the phone itself can take a right old bashing.
But the fact that you can get superior rugged smartphones for half the price is impossible to ignore. The Doogee S60 fulfills the need for hikers on a budget, while the the AGM X2 SE offers a more premium experience with a plethora of high-end features. It's difficult to see why you'd buy the Explore ahead of either of these phones.
In fact, the only real reason I can see anyone splashing out £599 on the Explore is so they can have the Land Rover name etched into their handset. Everyone knows you've got to have a matching car and smartphone after all…
Tech specs
| | |
| --- | --- |
| Screen | 5in, 1920×1080, TFT |
| CPU | MediaTek Helio X27 |
| RAM | 4GB |
| Cameras | Rear 16MP and front 8MP |
| Storage | 64GB |
| Operating system | Android Nougat (Upgradable to Oreo) |
| Battery | 4000mAh |
| Dimensions | 152x75x14mm, 232g |
Stuff Says…
The Explore is a good-looking and fully featured rugged phone that is perfect for frequent hikers. But its price is just too steep to be worth climbing
Good Stuff
Tough enough to survive the most brutal of hiking trips
Modular capabilities are very handy
Surprisingly decent camera for a rugged phone
Bad Stuff
Double the price of the competition
Excessively big and heavy with Adventure Pack attached
No fingerprint scanner or wireless charging