Krell KAV-400xi review
From a company used to making amps you need a mortgage to buy comes this 'budget' version. Have corners been cut?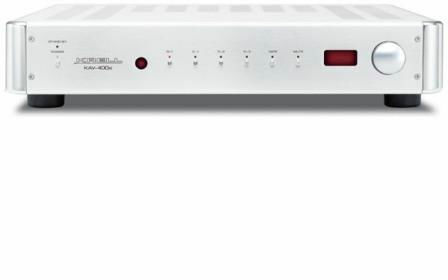 This could be called an entry-level amplifier, but only in Krell terms: the American company is known for massive power amps – its flagship stereo model delivers 700w into 8ohms, or a scary 2.8kw into a 2ohm load, and weighs over 90kg – and big price tickets. In fact, the company could quite easily sell you a pre/power combination costing as much as a new Mercedes – and we're not talking A-Class here.
So just how much of a Krell is this slimline integrated amp? Is it Krell Lite? Or is it really a true introduction to the way the Connecticut company, whose products are still designed by co-founder Dan D'Agostino, does things?
Heft
The KAV-400xi may look a deal more stylish than some of the firm's matt-black monsters – by the company's standards it's positively slimline – but it delivers a lot more of Krell core qualities than the price suggests. There's no hint of corner-cutting in the build: the KAV 400xi is as solid and skilfully finished as the other products from this brand. After all, it does still weigh 16.4kg…
Neither is there any obvious sign of compromise in power output: it delivers 200w into 8 ohms and doubles that as impedance halves, being able to swing 138V of output peak to peak. This may be the baby Krell, but it will still drive just about any speaker to high levels without even breaking a sweat.
But don't mistake this muscle-bound amp for a sonic thug: it's one of the most rounded amplifiers we've come across in recent years. Past Krell efforts could be a little mechanical-sounding and edgy, but this is neither: it's smooth, refined and delivers the midrange – which, after all, is where voices and the essential tonal characteristic of instruments are found – with generosity, control, body and warmth.
Speed demon
Make no mistake, though – there's plenty of attack when the music demands, as a spin of Nirvana's Nevermind proves. This is an amp fully capable of hitting hard.
Excellent bass performance is also something of a Krell tradition, and the KAV 400xi doesn't disappoint. There's no shortage of authority, but it's the speed and subtlety that impress: Massive Attack charges at full throttle, while the double bass on Miles Davis's Kind of Blue lacks nothing when it comes to richness or definition.
A high feature count isn't typical for an amp of this type, so this integrated's four line-level inputs and single tape loop are par for the course, with balanced input and an AV processor input for the power amp useful additional features. The remote's classy, too.