iUbi Blue review
In a world where most PMPs look and sound the same, the iUbi has come up with something different – Bluetooth support and a massive screen. Can it rule video town?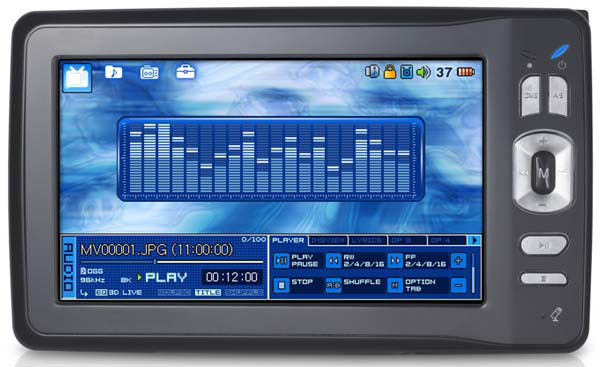 With the PMP market getting more crowded than the Central line at 8am, new contenders increasingly need something to stand out from the fray. Archos and the Zune have already snapped up Wi-Fi, so the iUbi Blue has opted to deliver on its name and pack stereo Bluetooth.
It's a welcome addition for anyone who frequently suffers from wire rage, but there's more to the Korean maestro than that. It also promises a huge 4.3in widescreen, a lengthy battery life and wide format support, including Ogg. A promising multimedia soup, then, but is it tastier than a freshly baked Archos?
The big screen
iUbi's 30GB machine offers one of the most expansive PMP screens around, barring Archos' ridiculous 7in AV700. But the feature that confirms it as the Biggest Swinging Richard in PMP town is direct recording.
To whip TV footage onto the Blue, connect the bundled audio and video leads and you're done. It's painfully easy. The screen isn't as sharp as the Apple iPod's or Epson P-3000's, but it's decent. And while the external speakers won't rival a 5.1 home cinema system for immersion, the iUbi did surprise us on some occasions with some prominent stereo panning effects.
Don't touch that!
Unfortunately, things begin to unravel when you delve into the software. The user manual seems to hark back to an age of computer products for computer people. The instructions are less than welcoming, and we couldn't persuade the supplied Transcoder file converting software to believe the iUbi was connected to our PC.
Spend time with it and, like us, you may harbour thoughts of dropping it from somewhere high. Let's not even discuss the crazy placement of the menu button precisely where the select button should be.
On the plus side, the Blue does offer good juice life with 8 hours for video and 14 hours for music, but this only papers over the cracks. Like the artist formerly and now once again known as Prince, the iUbi is a condensed package of entertaining talent, but often awkward, uncommunicative and unconventional with it.
Use it with…
Stuff Essentials – In-ear headphones