Ikea Symfonisk picture frame speaker review
Developed in conjunction with Sonos, the picture frame is a Wi-Fi speaker that's designed to resemble a work of art, cleverly hiding its audio innards within an inconspicuous frame
In a world where wireless speakers are as common as a millennial's existential crisis, it takes a fair amount to stand out from the crowd. Ikea's new Symfonisk Picture Frame speaker manages to do just that though, by, ironically, blending in.
Developed in conjunction with Sonos, the picture frame is a Wi-Fi speaker that's designed to resemble a work of art, cleverly hiding its audio innards within an inconspicuous frame. The idea is to enjoy music with one less obvious gadget cluttering up your view, which is something us minimalists can definitely get behind.
It all sounds perfectly reasonable, but there's always a risk of glamorous form taking over frumpy (yet practical) function. Does the Symfonisk picture frame manage to nail both aspects for its £179 price tag? We spent a few weeks with it to find out.
Design: you've been framed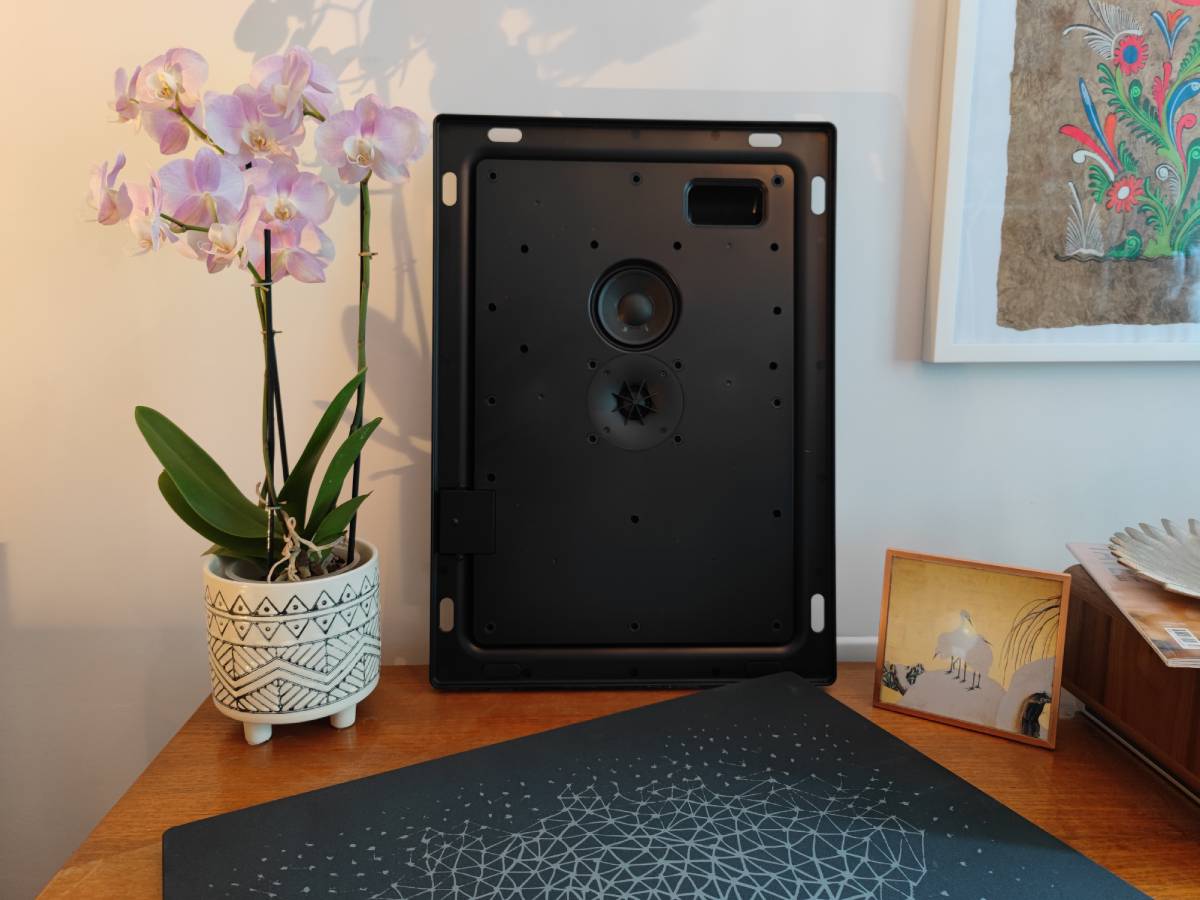 First of all, the picture frame moniker is a little misleading — there's no traditional frame as such. Instead, you've got a 41cm x 57cm rectangular housing with rounded corners, covered by a front panel which can be removed and replaced with different designs, to help keep things fresh and/or help you match your decor.
The standard panel that comes with the speaker features a pattern that we can best describe as a geometric neural network. Or, if we're feeling poetic, memories of a frozen cobweb, breaking and fading away into the merciless depths of time. Take your pick. Either way, it's available in black or white, and we… don't mind it. It's a perfectly safe pattern that you might find in the form of a generic poster hung up in one of Ikea's own fake showrooms.
If you're after something a little more eye-catching then you can currently snap up two other panels for £17 — a black panel with colourful paintball-like splatts, or a vinyl record design. At the time of writing, both are temporarily unavailable, and we'd like to see more designs in future, or even the ability to create your own.
Flip it round, and you're met with a plastic rear which houses some cleverly designed trenches and a hollow section, all of which are designed for tidier power cable management. That's right — despite being designed to be hung on a wall, you'll still need a power cable to, well, power the thing.
While we can't speak for everyone, it's safe to say that you're more than likely to find the cable a bit of an eyesore. Yes it's a braided white affair that's attractive enough as cables go, but the minimal aesthetic takes a big hit with a cord visibly hanging down beneath the speaker itself.
As a result, instead of wall-mounting the speaker (there are portrait and landscape brackets on the back for easy hanging, made easier by the unit's fairly slim 6cm thickness), we chose instead to place it on our sideboard, leaning it against the wall. This option meant that the cable was neatly hidden behind the back of the sideboard, transforming the frame into a bona fide work of art.
Two rubber feet are included for users who want to go for this wall-leaning option to prevent any accidental slips from occurring, and there's even a safety strap thrown in too, letting you attach the speaker to a wall to stop it from accidentally falling over. Despite owning an adventurous cat, we still reckon the strap is overkill, but it's nice to have the option included as standard.
Setup: Sonos simplicity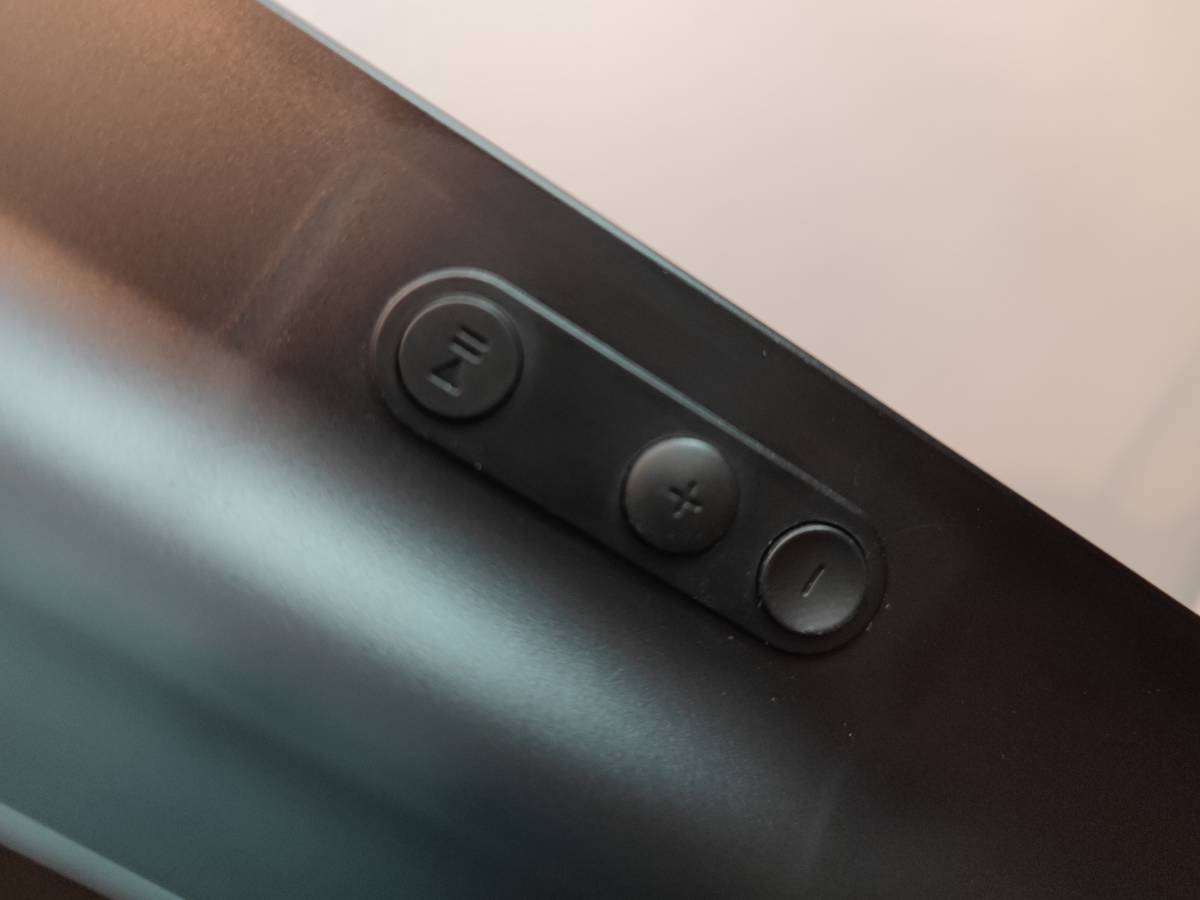 Setting up the frame speaker is as simple as plugging it in, downloading the Sonos app, following the on-screen instructions to add a new device and, well, that's pretty much it. Apple iPhone/iPad users can also use Sonos' Trueplay tuning feature, which uses the microphone on iOS devices to tune the speaker to your room. If you're an Android user you're out of luck, though you can borrow a friend's iPhone if you ask nicely.
Once that's done, it's as easy as streaming music from your app of choice. The frame plays nice with Spotify Connect and Airplay 2, but there's no Bluetooth — an omission that probably won't bother most users.
There are a few control buttons at the rear of the device for playing, pausing, and jumping through tracks, but beyond our initial test to see if they worked, we stuck to using the Spotify app for the remainder of our review as it's far more convenient.
Sound: warm and bassy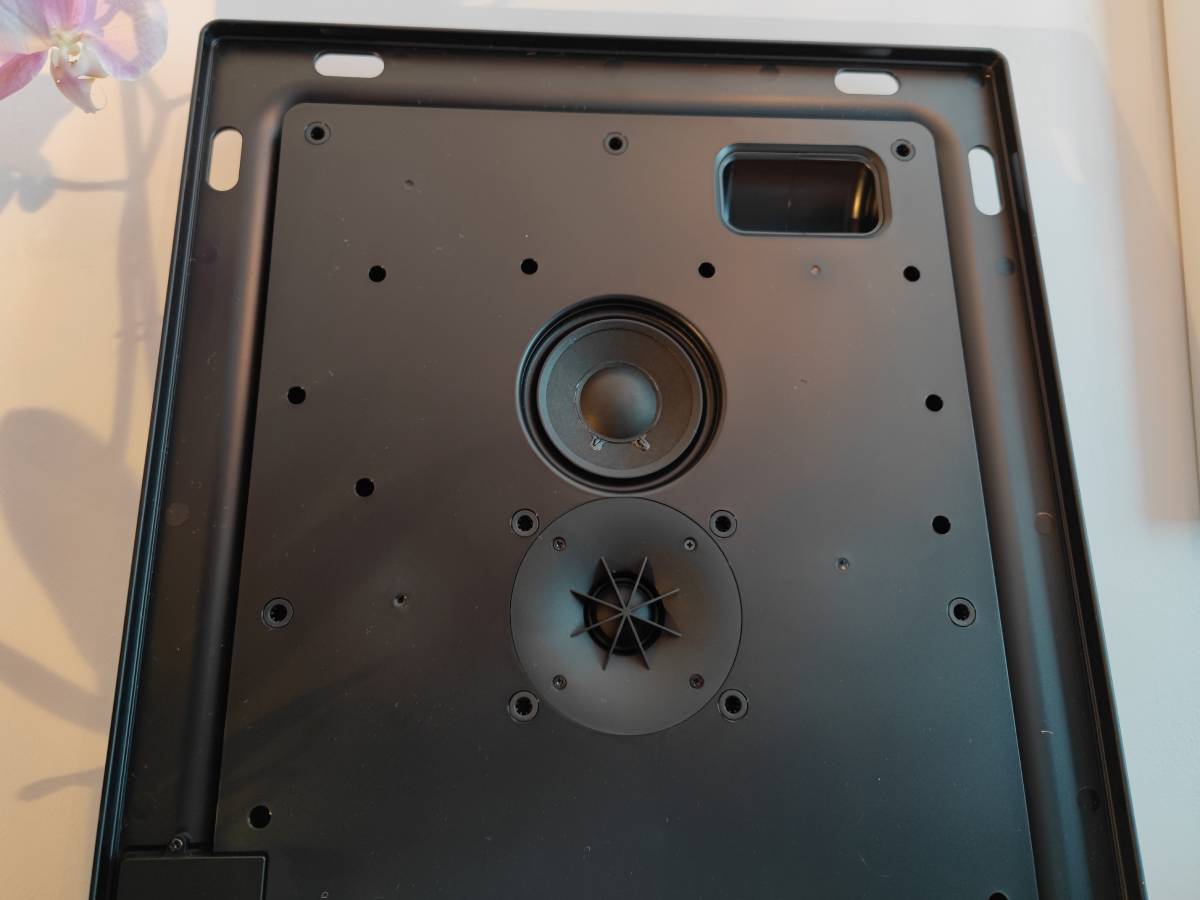 And here we come to the meat of this review. Looks aside, what does a picture frame-like speaker actually sound like? Thankfully, pretty good.
Thanks to Sonos' input and audio expertise, the sound on offer is room-filling, with a pleasant warmth and more than enough volume to power a party. We used the frame during a heatwave BBQ and it easily had enough oomph to reach the garden from inside, with plenty of untapped power to spare.
The low end too, is surprisingly powerful given the relatively diminutive size. So much so, in fact, that we found the bass to be just a tad overpowering in most songs we tried. Thankfully it's incredibly easy to tweak the sound to your liking, thanks to the EQ in the Sonos app. Our sweet spot saw very mild changes, with the bass lowered by -1 and the treble raised by +1. Overall clarity is impressive, though sometimes things can get slightly muddy if you listen closely, even with the tweaked EQ settings. Crank the volume up to max, and certain songs might sound slightly shrill and piercing on the high end too.
Audiophile nitpicking aside, this is still a solid-sounding speaker. We put a variety of genres to the test and found a pleasant listening experience each time. From picking out Flea's funky bass notes with delightful enthusiasm, to closing our eyes and being whisked away to the clubs of yesteryear as spacious melodic trance drops envelop our ears, the sound on offer doesn't disappoint. It's also worth noting that the picture frame can also act as a supplementary speaker to your existing Sonos soundbar setup, letting you pair two for full surround sound, making for an ultra-minimal setup that hides in plain sight.
Verdict: Almost picture perfect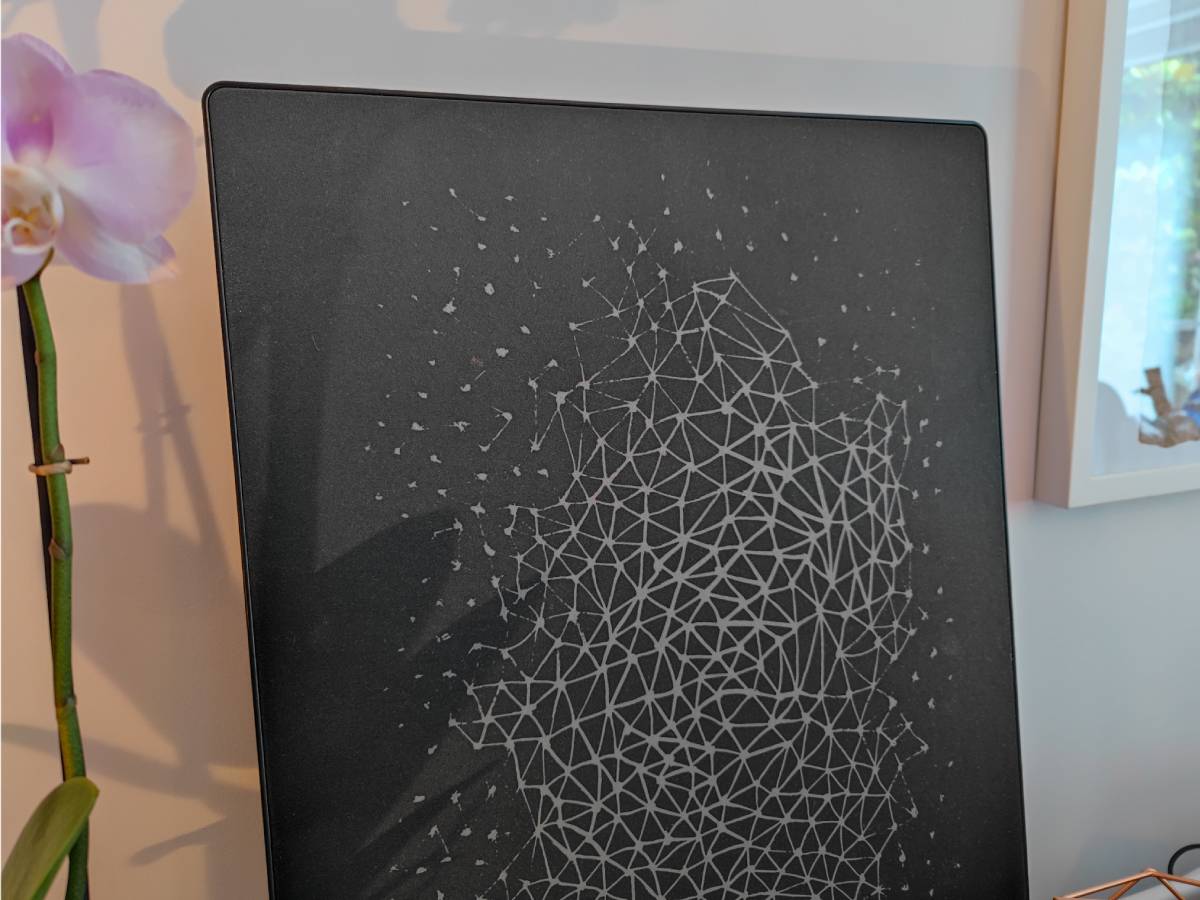 There's plenty to love about the Symfonisk picture frame. Its design does a great job of masking its true purpose, and it offers plenty of audio bang for your buck, with the reliability of Sonos's audio and app engine providing a smooth setup and listening experience.
If we could change one thing, it would be the unsightly power cable. We'd love to see a built-in battery that can be charged with a cable for a completely wire-free listening experience in between charges. This would obviously raise the cost and weight of the final product, but we think it's an option that most people would happily go for.
While you can snap up similar or slightly better sounding speakers for the same money (Sonos' own One SL comes to mind), nothing else comes close to offering the same form factor at this price. If you're after a punchy speaker that you can hide in plain sight, look no further.
Tech specs
| | |
| --- | --- |
| Specs | Woofer: 102mm, Tweeter: 25.5 |
| Size | 41cm x 51cm x 6cm |
| Cord length | 350cm |
| Connectivity | Wi-Fi, AirPlay 2 |
| Colours | Black, White |
Stuff Says…
A well-designed speaker that hides in plain sight, with solid sound to match
Good Stuff
Unique design
Room-filling sound
Easy to set up
Bad Stuff
No Trueplay tuning for Android users
Visible power cord
Needs more panel designs