HyperMegaTech Super Pocket review: Taito and Capcom retro gaming arcades in your trousers
This Evercade offshoot gives ancient arcade games an extra life
Stuff Verdict
A cheap and cheerful pair of handhelds that scratch the retro itch, with the Taito Edition in particular feeling like a bargain.
Pros
Plenty of built-in games
Easy to get started
Properly loud speaker
Comfortable to play…
Cons
… Apart from the buttons around back
Screen merely OK
Can't remap controls
No game instructions
Introduction
Another new handheld retro console? Sort of. Despite the new HyperMegaTech branding, the Super Pocket is really a baby Evercade. Only this console has a pocketable design, a pared-down (but still user-friendly) interface, and a wallet-friendly price.
It comes in two editions: Taito and Capcom, which cost $60/£50 each. From the off, you'll need to choose between leapy dinosaurs and punching people in the face, because you can't get games from one publisher on the other unit. However, the Super Pocket is compatible with Evercade carts. So that at least means you're not solely stuck with what comes preloaded – a plus over most other licensed retro consoles. So let's dig in and see if there's enough room for yet another retro handheld. 
How we test gaming hardware
All games consoles and gaming hardware tested on Stuff are put through their paces with days' worth of play time. We use our years of testing experience to judge areas such as build quality, software experience, battery life and other features. Manufacturers have no visibility on reviews before they appear online, and we never accept payment to feature products.
Find out more about how we test and rate products.
Design: Slots of fun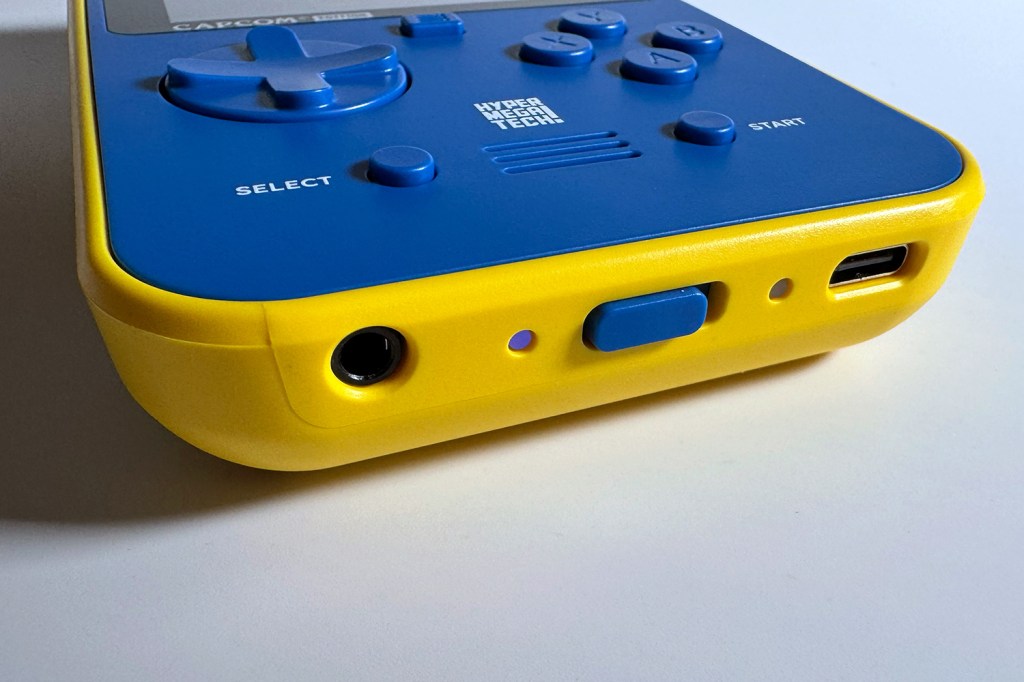 With bright colours and a bold design, the Super Pockets scream 'fun' – especially the blue and yellow Capcom Edition. They might look toy-like when set next to other retro handhelds, but I found the chunky form factor staved off cramp across hours-long sessions. In a nod to old and new, you charge via USB-C but can plug in headphones. And when you tire of the built-in games (assuming you can tire of Bubble Bobble), you can slide out a fake cart and plug in a real one.
Quality design extends to the interface. It's simple and effective. You pick games from a cover art carousel. There's an optional 'easy mode' when you receive a harsh lesson in how hard old games are. And I particularly appreciated in-game save slots and the option to turn off the menu music. Less so that the display settings (original aspect, pixel-perfect, and evil stretch-o-vision fullscreen) are global, rather than saved per game. Although I understand HyperMegaTech wanting to keep things simple.
Screen and sound: Pixel imperfect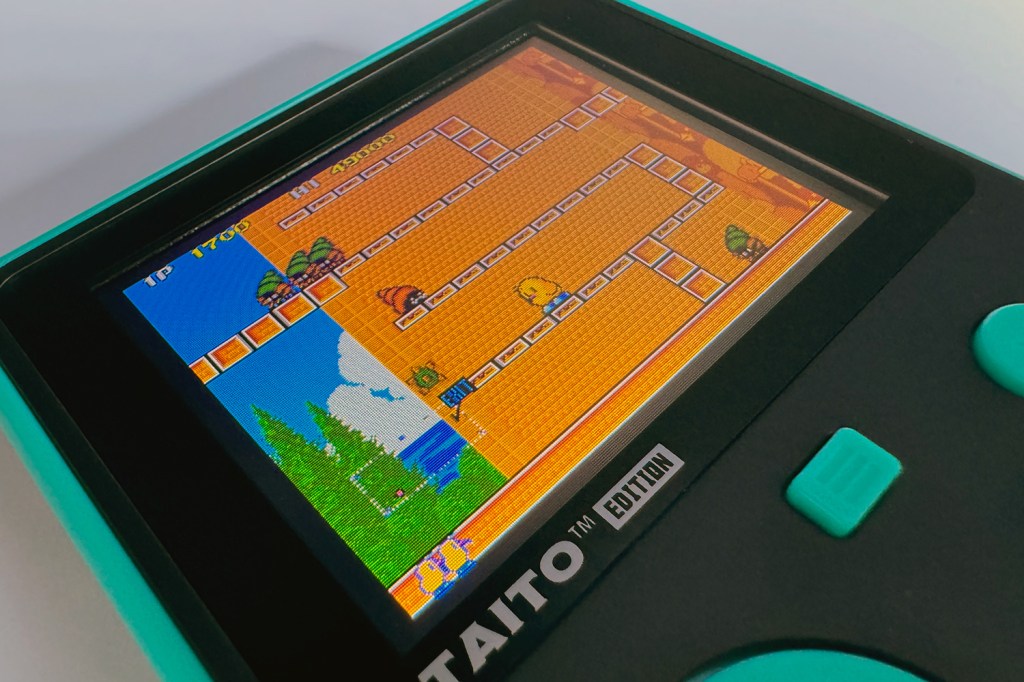 The 2.8in screen is big enough to play without squinting – and it's bright, with vibrant colours. However, the 320x240px resolution means games that output more pixels in one or more dimensions end up blurry, squished by way of interpolation.
Force pixel-perfect output and the likes of The NewZealand Story and Bubble Bobble look pin sharp. More modern fare – Street Fighter II, say – also tends to look good. But some more minimalist titles suffer on the Super Pocket when squashed down. For example, the original Space Invaders is a mess as the titular invaders gain and lose pixels as they march across the screen. Compared to the display on the Anbernic 35XX (in the same price range, but not hamstrung by licensing costs), the Super Pocket is a noticeable step down.
In terms of audio, though, I was surprised how loud the Super Pocket's speaker was – even at its lowest level. As was my wife, who at one point politely suggested I turn the thing down. Fortunately, there's that headphone port…
Controls: Press the right buttons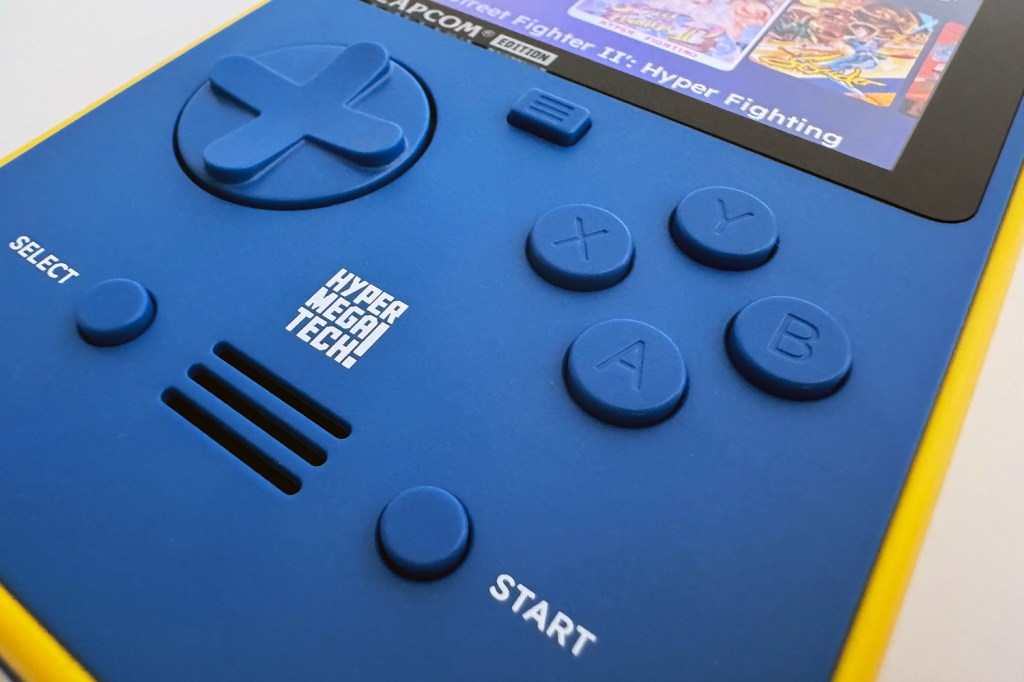 On the front, you get a D-pad, four face buttons, select and start. The buttons are nicely clicky. I much prefer them to the softer feel of those on Evercade units. The D-pad is an odd beast. It's responsive – I survived a long while in Magical Drop (from the Data East Evercade cart), and it rarely let me down in platformers. But when in intense brawlers/fighters, I sometimes found myself pressing the entire pad down, at which point it doesn't register directions at all. (Evercades have the same issue.)
Broadly, though, what's around front works well, especially for the Taito games. Where things falter is when you need those additional buttons, which are on the back of the console. They're awkward to reach and uncomfortable to use. Forget playing Forgotten Worlds on the Capcom cart. And Street Fighter II's heavy punch and heavy kick are mapped, respectively, to L2 and R2. Not ideal.
To be fair, I've not yet found a vertical handheld that's solved the 'shoulder buttons around back' issue. So the Super Pocket isn't alone. However, controls remapping has been solved elsewhere – and yet is absent here. A pity, not least when some games tell you to press X to start, but that actually means A on this unit. Huff.
Games: Wheel out the classics
Taito first. You get a whopping 18 games: Bubble Bobble, Cadash, Chack'n Pop, Don Doko Don, Elevator Action, Football Champ, Growl, Kiki Kaikai, Liquid Kids, Operation Wolf, Puzzle Bobble, Rastan, Space Invaders, Space Invaders '91, The Fairyland Story, The Legend of Kage, The NewZealand Story, and Volfied.
That's quite the mix of classics and rarities – and it's hard to grumble when you've Bubble Bobble, Puzzle Bobble and The NewZealand Story on the same cart. I'd have gladly swapped out light-gun game Operation Wolf (a weird inclusion and a dud with the provided controls) for Rainbow Islands or Zoo Keeper, mind. Still, this is a top-notch selection, which kept me engrossed for hours.
Over Capcom way, you get 1942, 1943, 1944: The Loop Master, Bionic Commando, Captain Commando, Final Fight, Forgotten Worlds, Ghouls 'n Ghosts, Mega Man, Street Fighter II: Hyper Fighting, Strider, and Wolf of the Battlefield: MERCS. In other words, the same games as on the Evercade EXP.
Personally, I've always found Capcom titles 'punch your face off' difficult, and less compelling. Easy mode at least dishes out lives like candy for Bionic Commando. Elsewhere, display and control issues make for a mixed bag compared to the Taito unit. 1942 and 1943 are vertical games and look iffy, Forgotten Worlds is borderline unplayable, and even the mighty SFII suffers. But 1944, the brutally hard Ghouls 'n Ghosts and Strider are all great.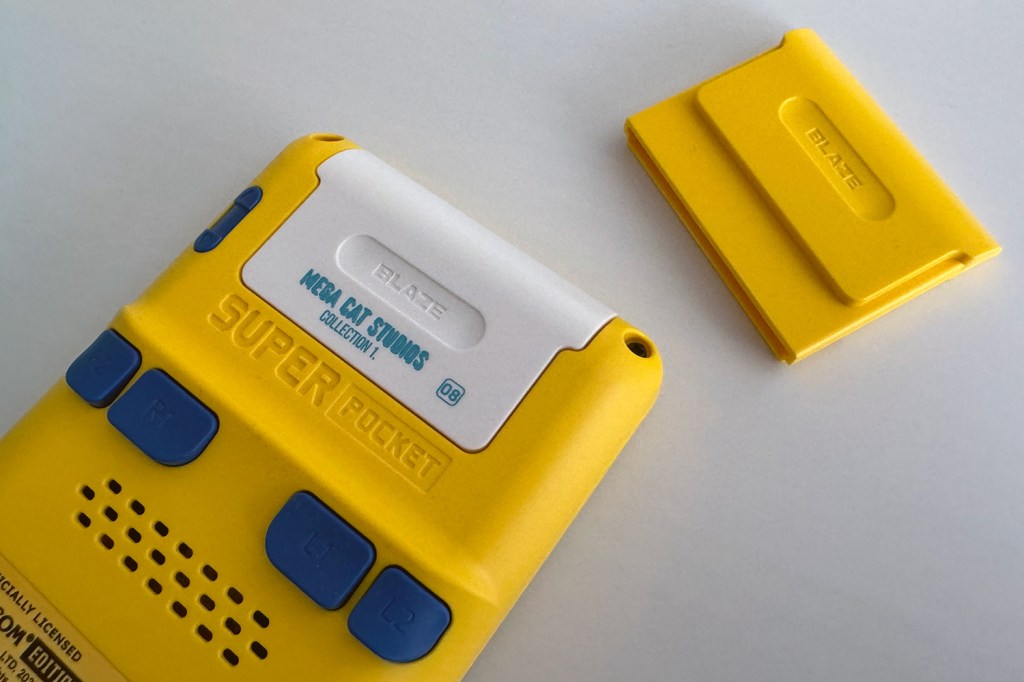 And don't forget the cart slot. I don't have a complete set of Evercade carts, but tried several with the Super Pocket. Stick to landscape games that don't require much interaction with the shoulder buttons and you'll be golden. My standouts: Mega Cat Studios Collection 1 and Collection 2, Xeno Crisis and Tanglewood, Atari Lynx Collection 2, Indie Heroes Collection 1 and Codemasters Collection 1 (for SWOS). Given the screen resolution of the Commodore 64, the two 'TheC64' carts will probably work nicely with the Super Pocket as well, but I didn't have those for testing.
HyperMegaTech Super Pocket verdict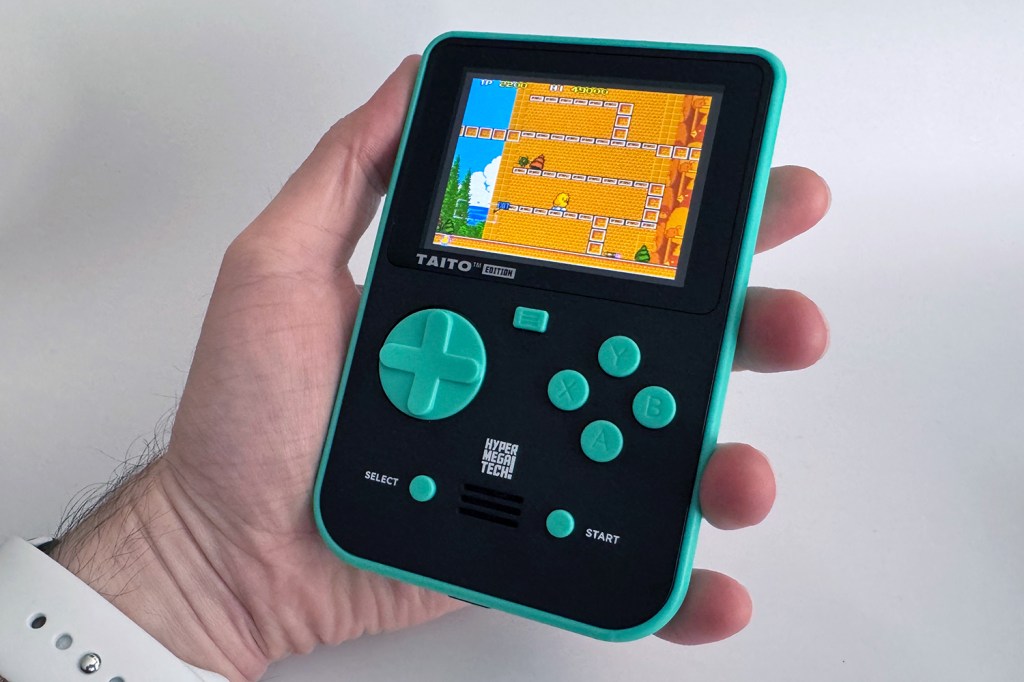 These days, you can't swing a space invader around the internet without cracking its head a few times on a cheap Chinese retro handheld. And on paper, the Anbernic 35XX matches the Super Pocket's power, has a better display, and lets you add whatever games you please. But the Super Pocket has advantages.
First up, it's officially licensed. Moreover, it's immediate. Turn the thing on and it's ready. That makes it a good bet for anyone who'd like to revisit some old classics, but doesn't want to spend ages finding ROMs, messing around with SD cards, tweaking settings, and hoping FAST don't throw them into retro gaming copyright jail, forcing them to plan an exciting escape alongside a surprisingly athletic mole. Also, if you already have an Evercade collection – or like the idea of building one, because physical carts – Super Pocket is an affordable portable 'extra' handheld or a good place to start.
I do wish the screen had a higher resolution, and that the Capcom titles were more optimised. But in all, I had plenty of fun with these units and would without doubt have bought the Taito one had it not been sent over for review. So that gets a solid 4. Maybe pretend we do half stars and in your head knock the Capcom unit's rating down accordingly – unless you can live with the 'shoulder' buttons or have a Strider fixation.
Stuff Says…
A cheap and cheerful pair of handhelds that scratch the retro itch, with the Taito Edition in particular feeling like a bargain.
Pros
Plenty of built-in games
Easy to get started
Properly loud speaker
Comfortable to play…
Cons
… Apart from the buttons around back
Screen merely OK
Can't remap controls
No game instructions
HyperMegaTech Super Pocket technical specifications
| | |
| --- | --- |
| Screen | 2.8in 320x240px IPS |
| Connectivity | Headphones, USB-C charging |
| Processor | 1.2Ghz quad-core |
| RAM | 256MB DDR |
| Battery life | About 4hrs |
| Dimensions | 78x125x25mm, 160g |