Huawei Mate Xs 2 hands-on review
An outward-folder of impressively skinny proportions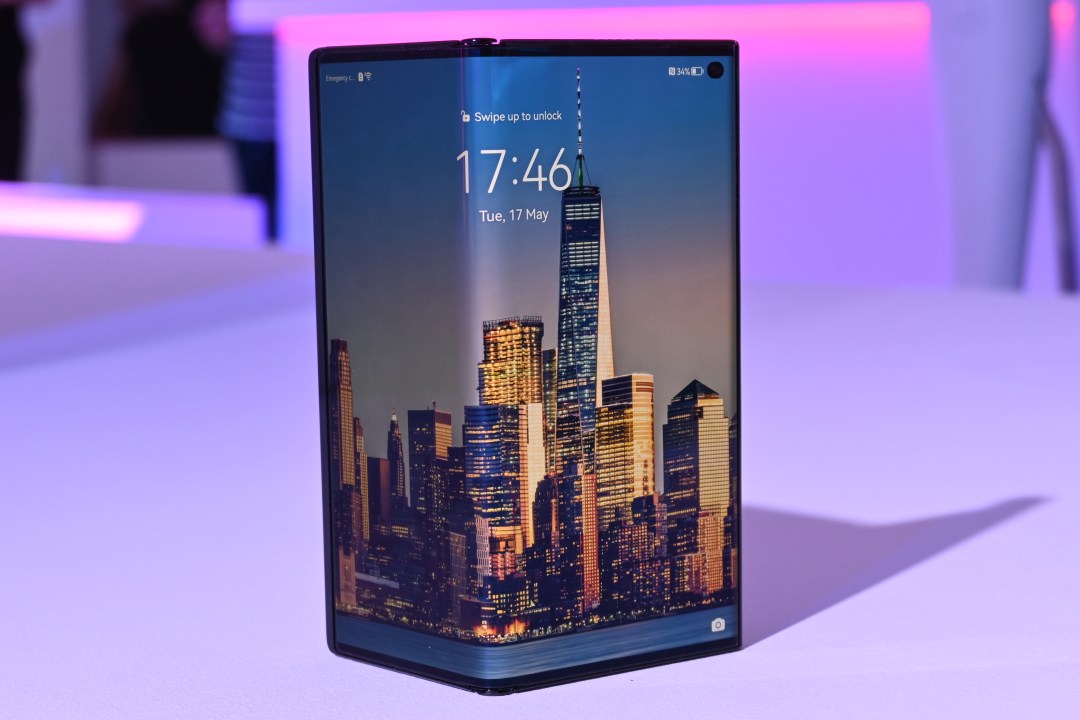 If you thought smartphone makers were done innovating, you've been looking in the wrong place. Foldable handsets are where it's at – and Huawei is back on the scene with a second-gen effort that does things differently from the rest of the pack. The Mate Xs 2 has an outward-facing screen that wraps around the front and rear, unfurling into a 7.8in mini tablet or compacting down to a 6.5in smartphone no thicker than the handset probably sat in your pocket right now.
After an initial reveal in China back in April, the funky foldable has been given the go-ahead for more global release. We headed to Huawei's European reveal event to get a first taste, and find out whether the Samsung Galaxy Z Fold 3 et al should be worried.
Design & features
Folded shut, you might not realise the Mate Xs 2 is anything particularly out of the ordinary. It's impressively slim, with a hinge design that closes shut almost completely flat. The general design hasn't really changed from the original Mate Xs, but the hinge mechanism has been refined and the screen crease made less noticeable.
All the physical buttons are found on the right side of the phone, with the camera module stacked on the rear in a column. The USB-C port is built into the bottom edge. This bar has a bit of a Kindle Oasis vibe, giving you something solid to grip on to when unfolded. It sits comfortably in one hand when closed, too.
As a leftie, I had to hold the phone upside down when unfolded, but the screen auto-rotates. Just remember to flip it back before making any video calls, or the hole punch selfie camera will be at the bottom edge rather than the top. Which is a guaranteed recipe for unflattering, double-chin angles.
You don't just unfold the screen like a book: you press the button beneath the fingerprint/power combo button and it pops open part-way, then you finish the job. It's a little stiff, at least on the box-fresh version we tried, but reassuringly so. Unfolded, it doesn't want to flop shut when you hold it by one of the two halves. It's just 5.4mm at its thinnest point, so that rigidity is impressive.
On the inside, a textured finish feels suitably premium to the touch, even if it's made from a plastic composite.
Screen
When shut, you're looking at a 6.5in OLED with a 19:9 aspect ratio and 2480×1176 resolution – so largely on par with more traditional top-tier handsets. The 120Hz refresh rate helps scrolling and motion look silky-smooth, and viewing angles were excellent. Colours had real pop, and brightness was plentiful with minimal reflections, even under harsh event lighting.
Unfold the screen and you've now got a 7.8in display with a 2480×2200 resolution. The screen crease wasn't entirely invisible, but it was certainly subtle – without having a Samsung Galaxy Z Fold 3 to hand for a side-by-side comparison, we'd give the win to Huawei right now.
We weren't able to crank the stereo speakers during the preview event, so will have to withhold judgement on the Mate Xs 2's sonic abilities for now.
Performance & software
Underneath all that glass, Huawei has squeezed in a Qualcomm Snapdragon 888 CPU, 8GB of RAM and as much as 512GB of storage space. Why not a newer Snapdragon 8 Gen 1? Blame the US trade block, unfortunately. That also means this is a 4G-only device, which might be a bitter pill to swallow for tech addicts wanting the latest and greatest. It still felt perfectly responsive during our short play session, opening apps quickly and happily running multiple apps side-by-side.
The battery's longevity remains to be seen, but the 4600mAh cell is a respectable capacity given the phone's thinness. 66W wired fast charging should be good for a complete top-up in under an hour. It's unclear right now if the top-end model announced for China, with extra RAM, storage and a bigger 4880mAh battery, will be heading to other territories.
Naturally it's running EMUI, Huawei's home-grown Android overlay. Unfortunately it doesn't have access to the Google Play Store, though. We jumped into the App Gallery app store and spotted a handful of big-name apps like Snapchat and Tiktok, but others were absent, so the user experience is still more hands-on than it would be on a rival handset. Still, sideloading means it's possible to get the stragglers added if you're determined enough.
Huawei has also stepped up its big-screen game with swipe gestures for floating windows, which makes it easier to use the larger screen to its full potential. These worked well during our demo, but we'll have to wait and see how well they play with third-party apps.
Cameras
The original Mate Xs didn't have any kind of front-facing camera, instead relying on the rear snappers. That changes for '22, with the new version getting a hole punch cam in addition to the three-lens rear array. That should make video calls and selfies a little more natural, although you can still use the rear half of the display as a viewfinder if you want the best quality.
Around back, there's a 50MP main snapper, along with a 13MP ultrawide that doubles up as a macro shooter, and an 3x optical zoom telephoto. We tried them all out in Huawei's (dimly-lit) demo area, and were generally impressed with detail, colour accuracy and lack of noise.
A full review would reveal how it stacks up against the best smartphones on sale today.
Initial verdict: open and shut case
Skinny enough when closed, paper-thin when open – the Mate Xs 2 is a seriously desirable folding phone. It's no thicker in a pocket than a traditional brickphone, yet unfurls to double the screen size. While not running the latest, most powerful silicon, it still seems plenty fast, and appears to take a great photo. In hardware terms, it's a genuinely appealing take on foldable tech.
How well an outward-facing foldable will hold up over time remains to be seen, though. It's definitely something we'd want to know before splashing out the considerable cash Huawei will be asking for the Mate Xs 2. Still, the firm has a great track record with durability testing, and is confident its design is sturdy enough for daily use.
There's also no avoiding the lack of Google support. You have to jump through a few hoops to get the apps you're familiar with installed, and even then it's not always smooth sailing. But with Huawei itself now completely in charge of the operating system, updates should arrive sooner, and software support is getting better all the time.
It's impossible to ignore the price: €1999, a hefty premium over rival foldables. Is there enough here to justify the extra cash? We're hoping for some extended test time later this year to see if that's enough to bring Brits back to the brand. On first impressions, the slick shape and pocket-friendly dimensions alone could make it worth your attention.
Huawei Mate Xs 2 specifications
| | |
| --- | --- |
| Screen | 7.8in, 2480×2200 foldable OLED (6.5in 2480×1176 when folded) w/ 120Hz refresh rate |
| CPU | Qualcomm SM8350 Snapdragon 888 4G |
| Memory | 8GB RAM |
| Camera | 50 MP, f/1.8 main w/ Laser AF + 8MP, f/2.4mm 3x zoom telephoto w/ OIS, PDAF + 13MP, f/2.2 ultrawide rear. 10.7MP, f/2.2 front |
| Storage | 256GB / 512GB on-board, NM card slot |
| Operating system | Android w/ EMUI |
| Battery | 4600mAh non-removable, 66W wired charging, wireless charging |
| Dimensions | 157x139x5.4mm unfolded / 157x76x11.1mm folded, 255g |