Google Pixel Tablet review: welcome home
A smart display you can carry around the home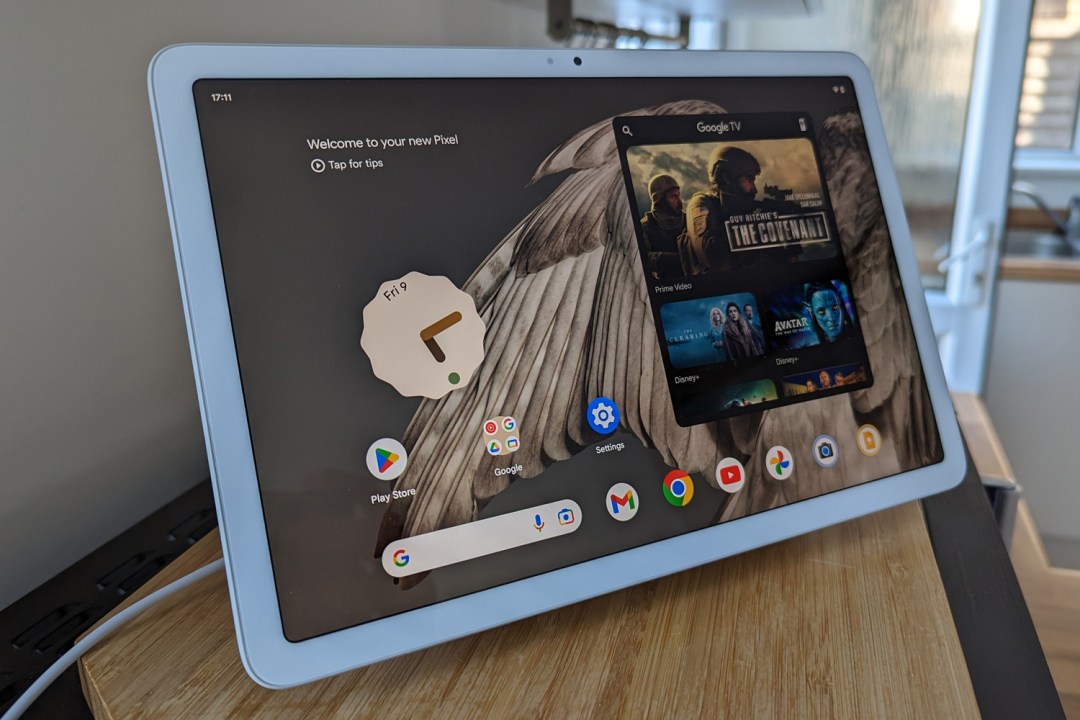 Is it an iPad rival? A smart display you don't have to keep tethered to a single spot? Or Google's latest vision for what Android should look like on bigger screens? The Pixel Tablet is a bit of all three. The firm's first home-grown slate in five years ships with a bundled speaker dock, so as to stay useful when not in your hands, and a version of Android 13 that's been properly optimised for tablets.
Priced to compete with Apple's entry-level iPad, the Pixel Tablet is more a mainstream model than a luxury one – but its 2-in-1 approach should help carve out a niche all of its own. At least, that's the theory. Does it do enough to earn a spot on our best tablets list? Or does the software experience still have a long way to go?
Tablet design: keeping it simple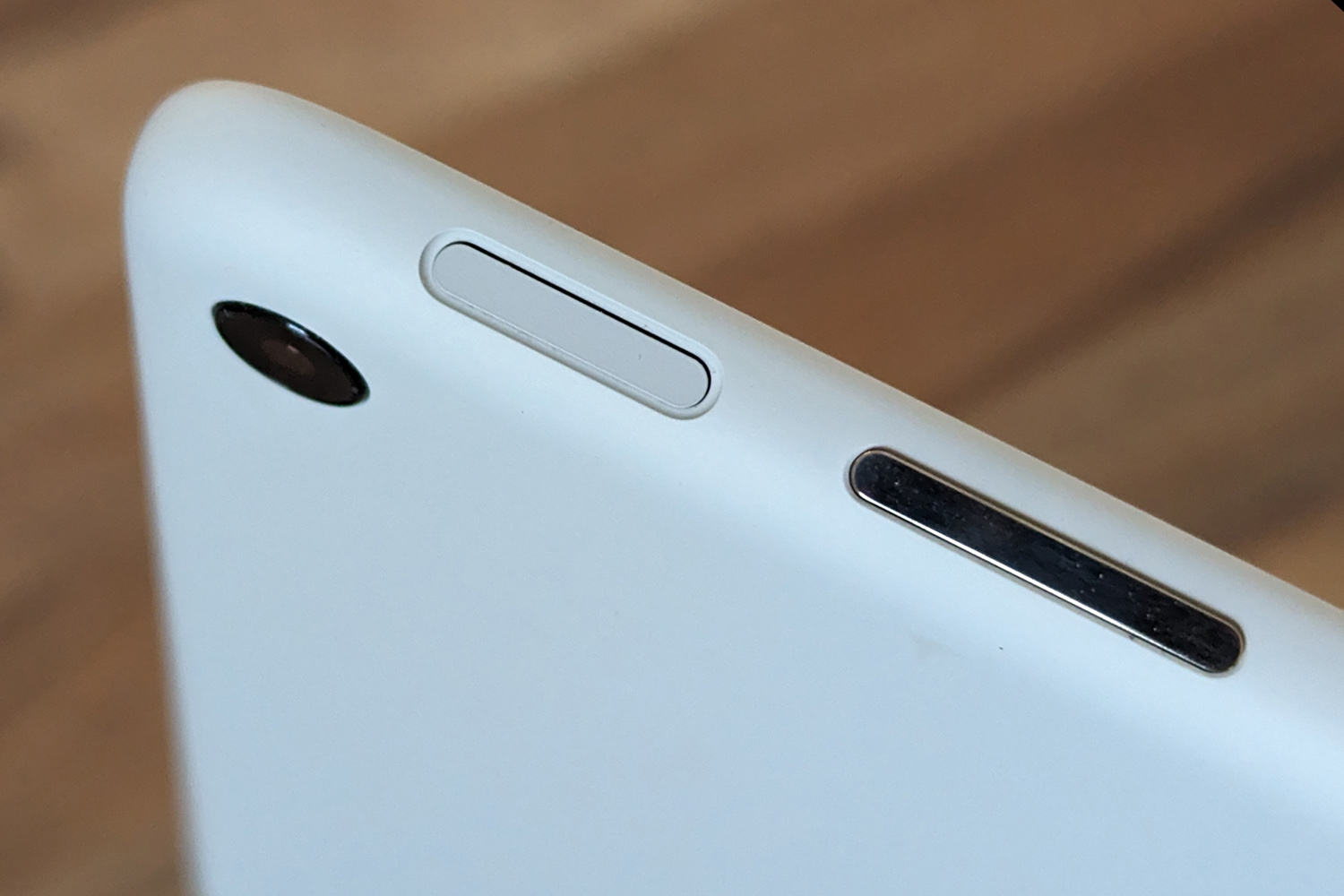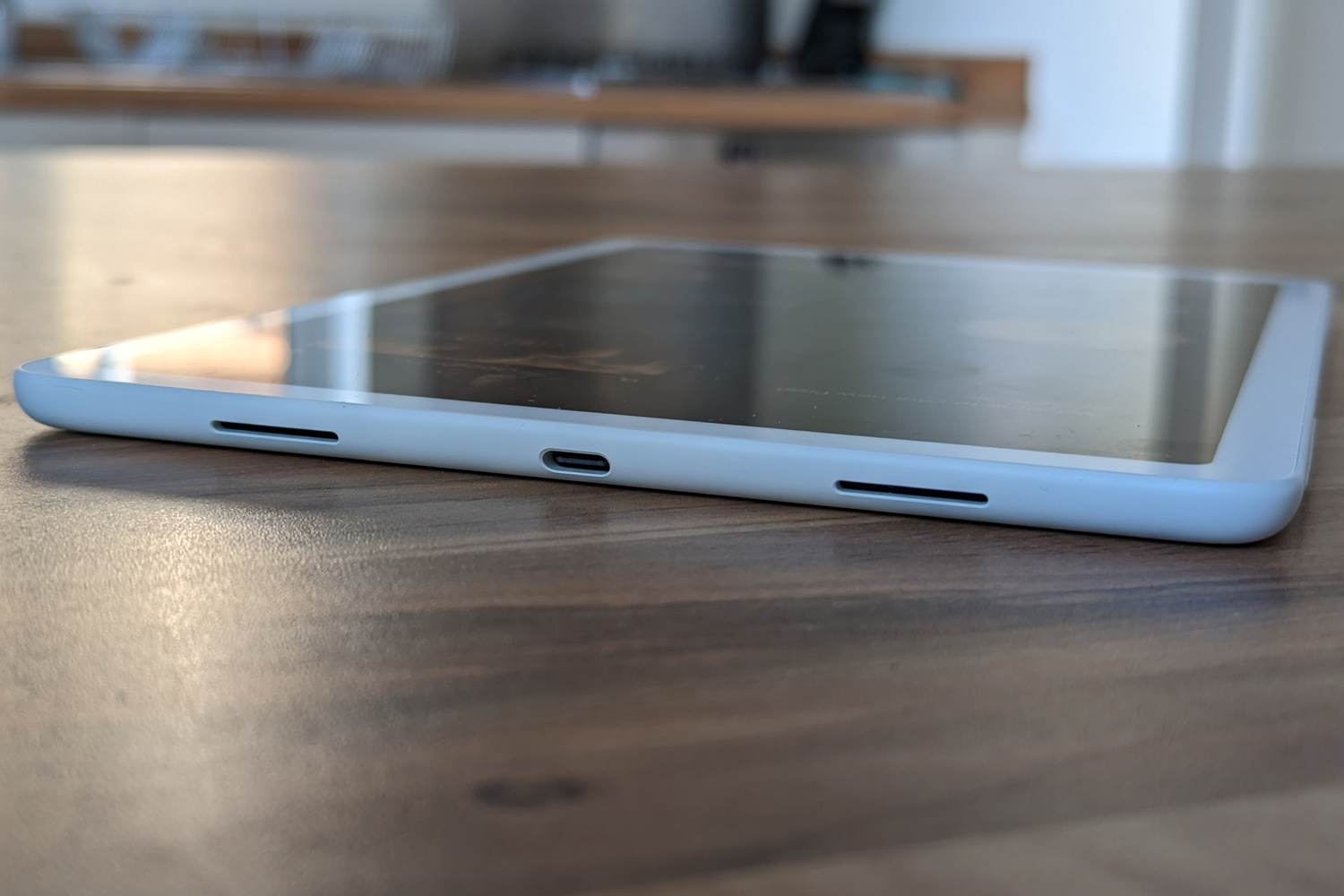 The Pixel Tablet itself plays it safe on the design front, with moderately chunky screen bezels up front and rear made from polycarbonate material. It's been treated to feel like porcelain so is smooth to the touch, and an aluminium inner frame provides plenty of rigidity once you pick it up.
That there's no family resemblance to Google's Pixel smartphone range is no big deal: a device-spanning camera shelf would've been overkill for the Pixel Tablet's modest 8MP rear snapper. It isn't pretending to be a premium device, but manages to avoid looking cheap, whether you go for the lighter model tested here or the darker Hazel colour option. A third Rose colour is available in other territories, too.
At 493g it's just a little heavier than a 10th-gen iPad, and is meant to be held in landscape rather than portrait: the 8MP webcam built into the centre of the top bezel is a dead giveaway. The power button/fingerprint sensor combo can also be found on that edge, in easy reach whether the tablet is docked or in your hands. It had no trouble quickly detecting our digits.
Magnetic pins at the back handle charging through the speaker dock, although there's also a USB-C port at the left side for direct charging. It's flanked by a pair of speaker grilles, with another two on the right side for stereo sound. They get decently loud and are clear enough to not send you running for a pair of headphones, but prioritise upper-mid and high frequencies, so speech sounds better than music. You're gonna want to dock the tablet before playing tunes.
Speaker dock: leading the charge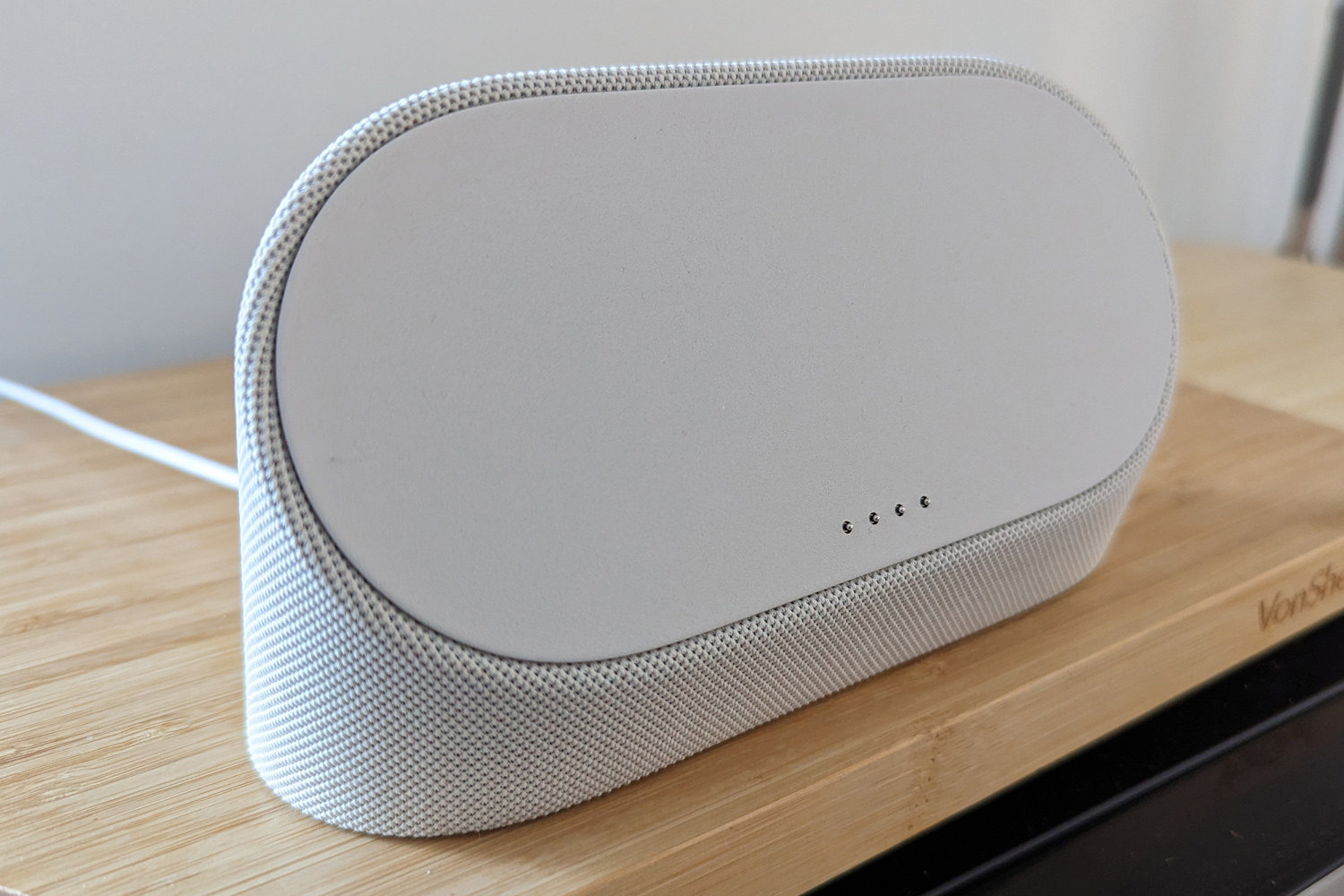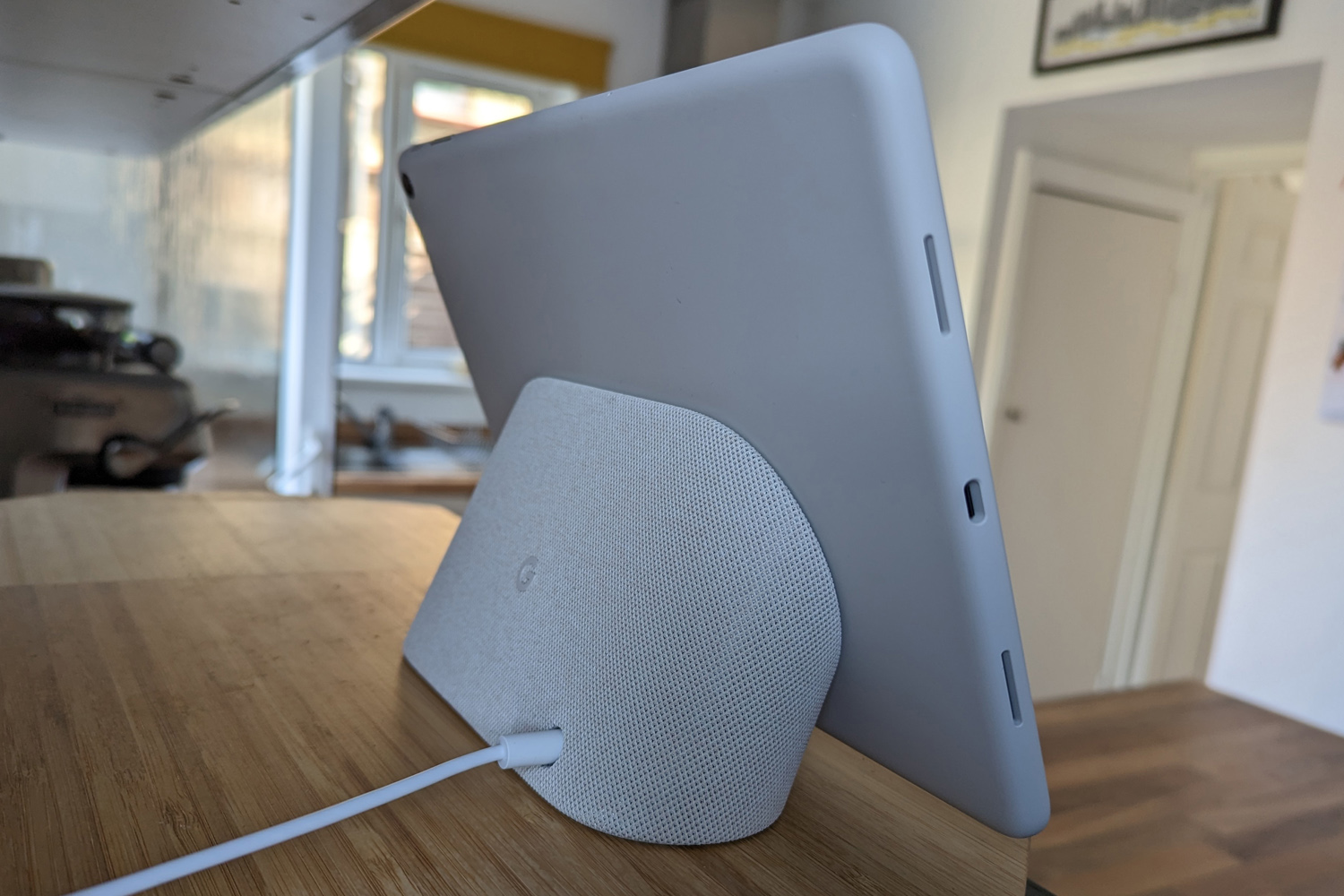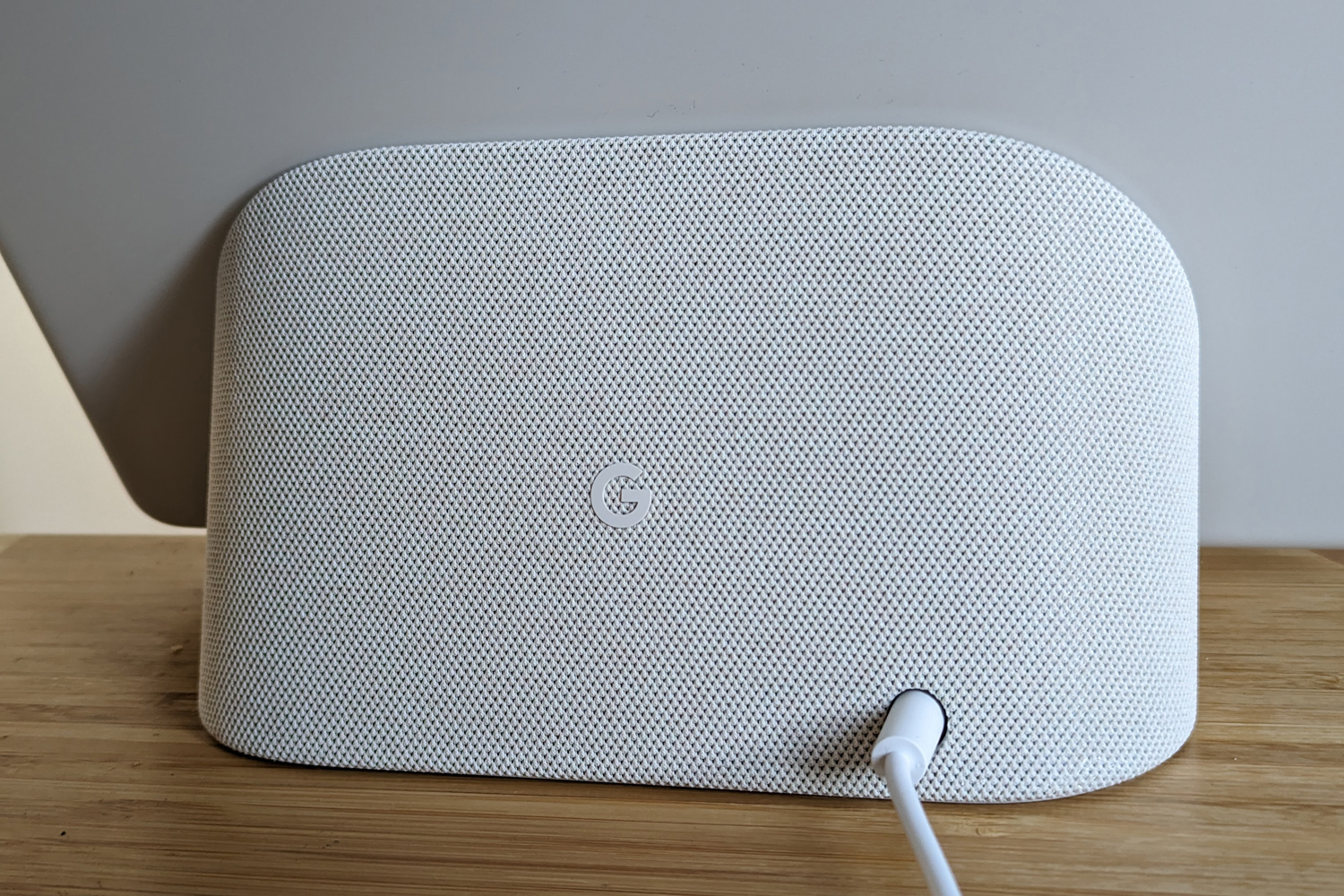 By bundling the charging dock in the box instead of making it a purely optional extra, Google blatantly intends the Pixel Tablet to live in full view, rather than stashed away in storage when not being used. The dock looks almost as minimal as the tablet itself, wrapped in fabric made from recycled plastic, and hiding a 43.5mm full-range speaker inside. It takes up as much surface space as a typical smartphone, so should sit neatly on small bedside tables as well as expansive kitchen counters.
There's just a single power port at the rear, and four pogo pins up front for hooking up to the tablet. Magnets under the surface keep the tablet locked in place, and are strong enough that you'll need to use at least one hand to keep the dock in place when removing it. It'll supply 15W of juice to the tablet, but by default will only ever charge it to 90% to keep the battery healthy.
Once docked, the tablet faces forwards at a slight upward angle; it's enough to still see the screen clearly when placed on a low surface, but with no way to adjust the tilt it's not ideal for placing on higher shelves. It's then effectively a smart display, with an always-on lockscreen showing your choice of personal photos, weather animations or curated artwork as well as the time, date and incoming notifications.
It puts in a decent showing as a speaker, bringing a lot more bass than the Tablet alone can manage and having plenty of volume in reserve. We found 50% was a comfortable level while working in the same room, but it doesn't distort or reverberate when you crank it up. The mid-range has a good amount of detail and the highs aren't nearly as sharp as the tablet.
All audio comes via the dock, which feels like a missed opportunity: we wonder if Google could've come up with some bespoke tuning so the dock and tablet's drivers worked in tandem. As it is, we'd put overall sound quality slightly ahead of an Amazon Echo Dot, but behind full-size smart speakers including Google's own Nest Audio. Tablet volume is also louder than dock volume, so we regularly had to turn up the dock, then turn down the tablet when taking it away with us.
Extra docks available for $129/£130 if you wanted to dot them around your house, but keep in mind they're next to useless without a Tablet connected to them. There are no smart home sensors inside, you can't cast audio to its speaker, and there's no built-in mic for Google Assistant. The charging pins won't play nicely with any other Google gadgets, either. It feels like a missed opportunity.
Screen: spacious and striking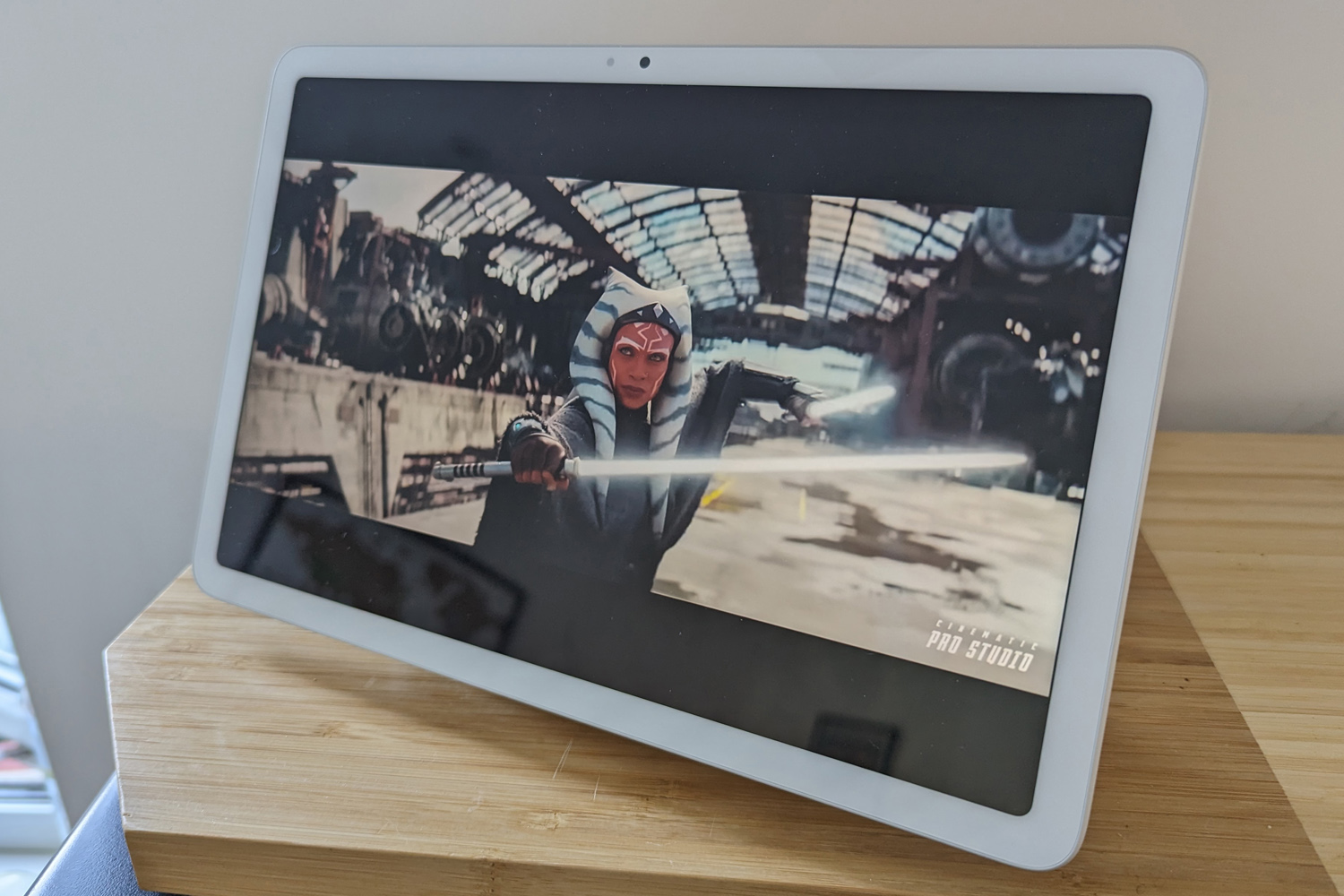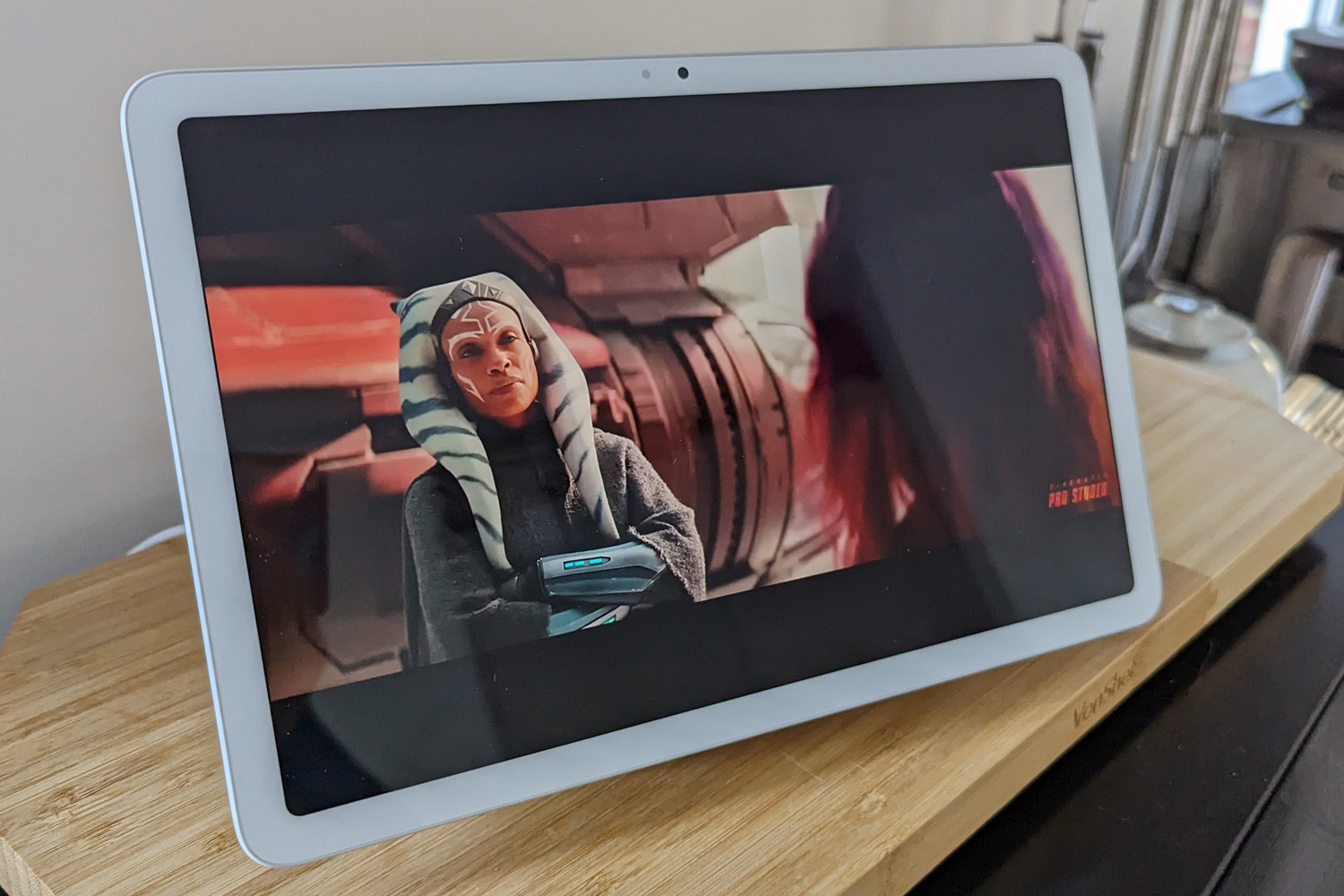 The 10.95in display dominates the front of the tab, with a 16:10 aspect ratio that's ideal for web browsing and split-screen multitasking. There's some minor letterboxing when watching most video content, albeit less than what you'll see on a 10th-gen iPad. At 2560×1600 it's perfectly sharp for a mid-range tablet, with crisp text and enough detail to do justice to Full HD and 1440p content.
Google has gone for an LCD panel rather than OLED, possibly to help keep costs in check. It's also limited to a modest 60Hz; compared to the OnePlus Pad we tested recently, scrolling and animations feel a little jerky. It can't compete with pricier tablet rivals on contrast or deep, inky blacks, so movies lack a little visual punch, but colours are still suitably vibrant and it gets bright enough for comfortable indoor use. That's handy, as built-in Chromecast support mean you can fling videos from your phone with just a few taps for watching on a bigger screen.
An anti-smudge coating does a decent job of keeping fingerprints under control, and viewing angles are excellent. The display also supports stylus input, but Google doesn't include one in the box; if you want to get sketching, you'll need to buy one separately.
Software: ready for the big screen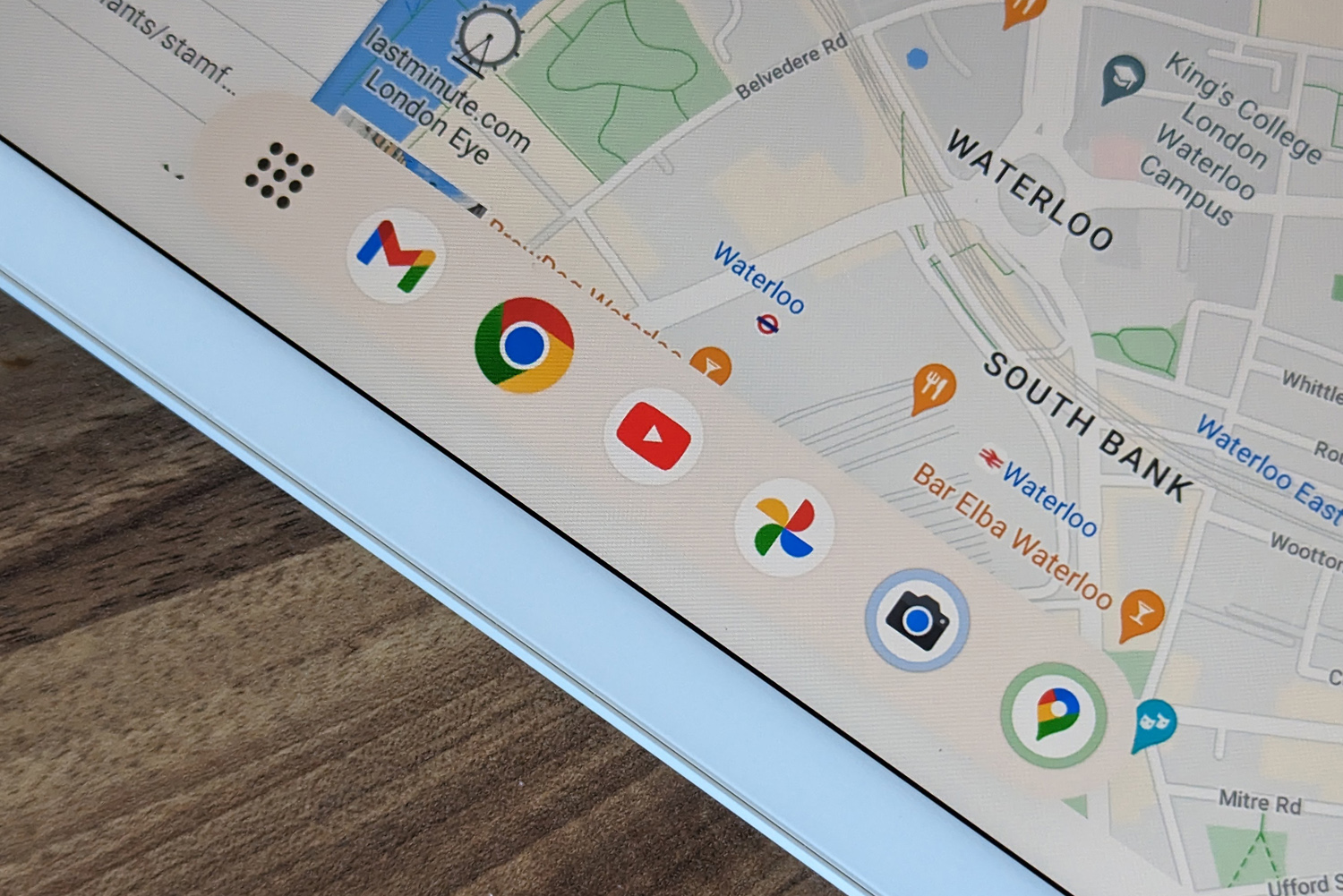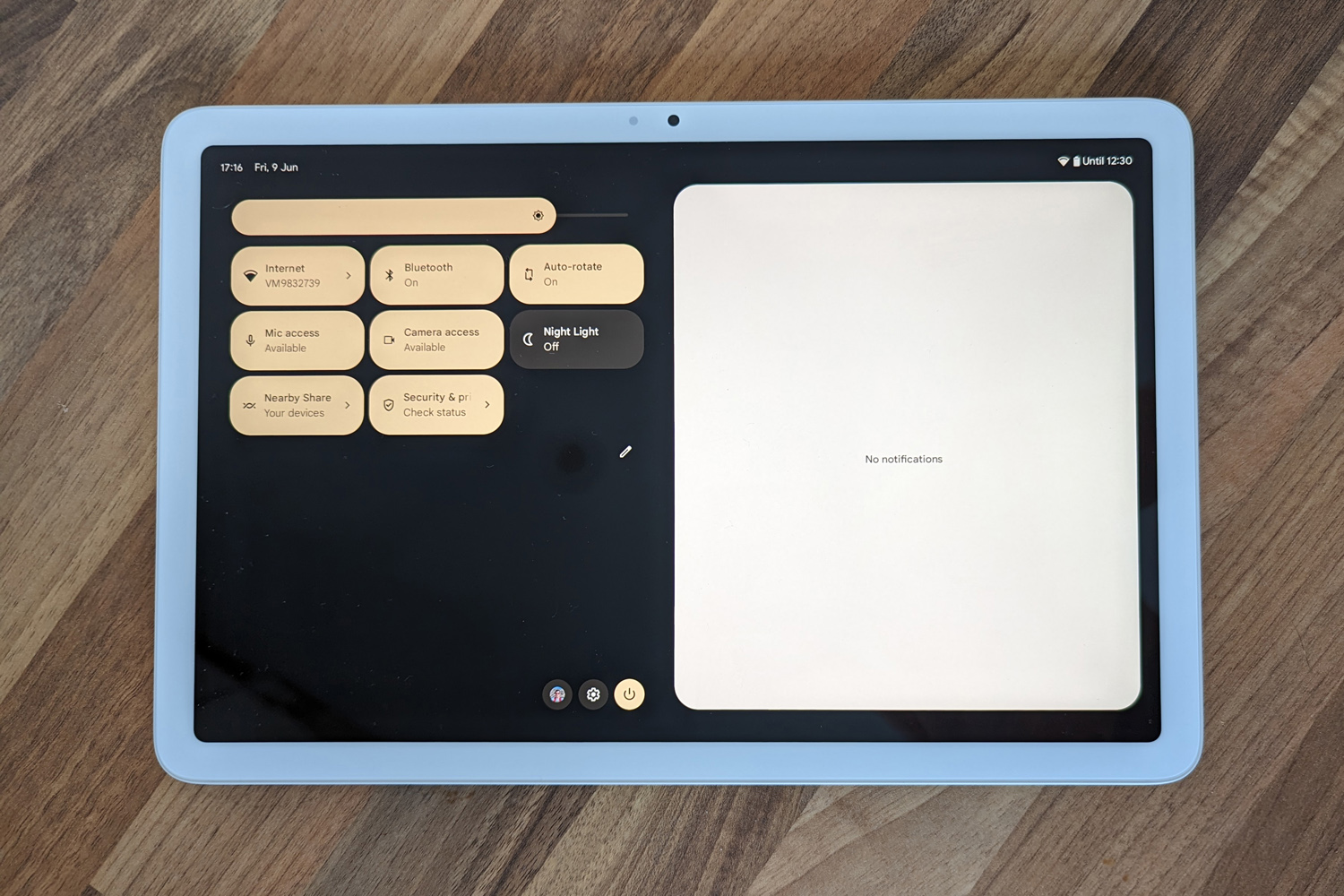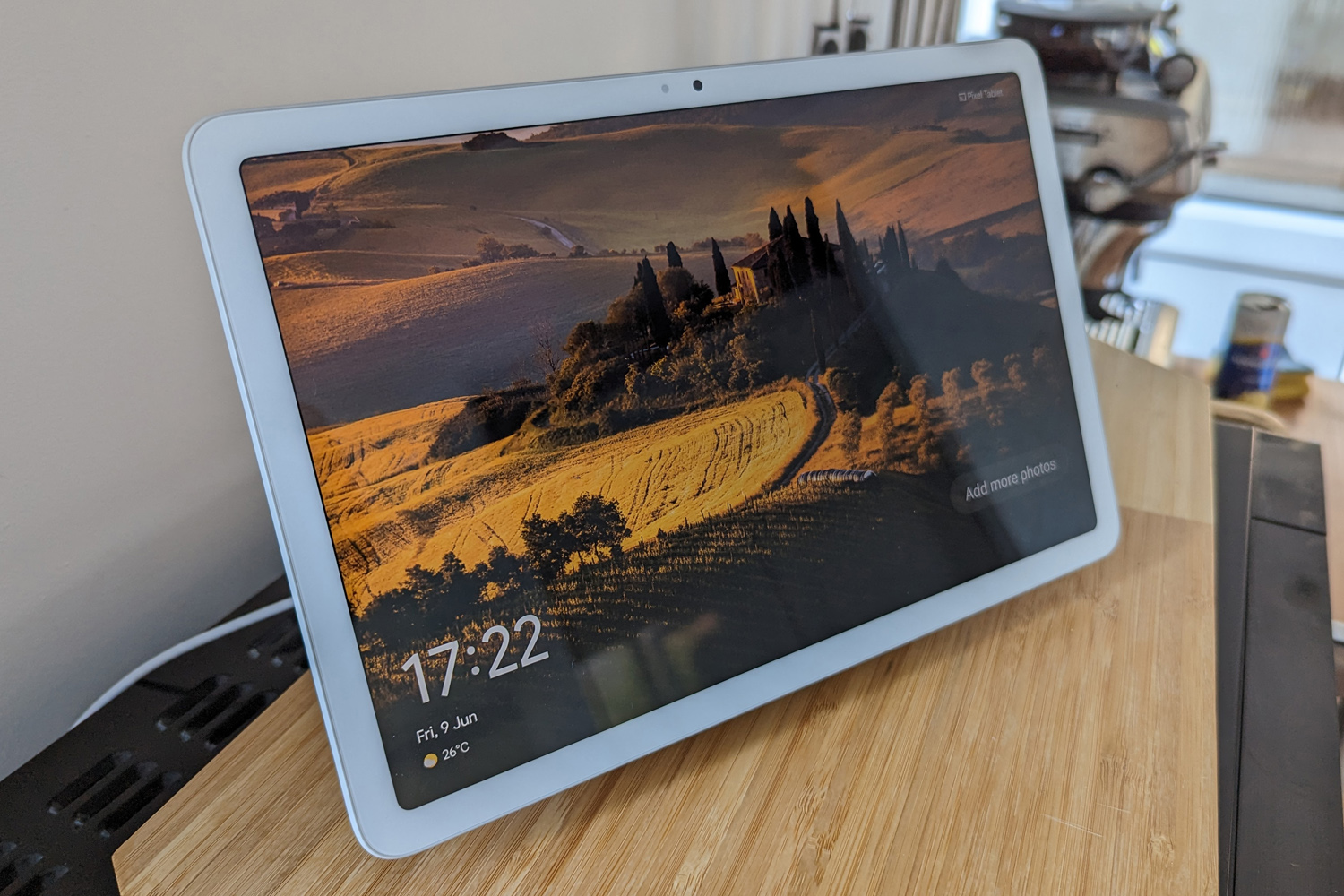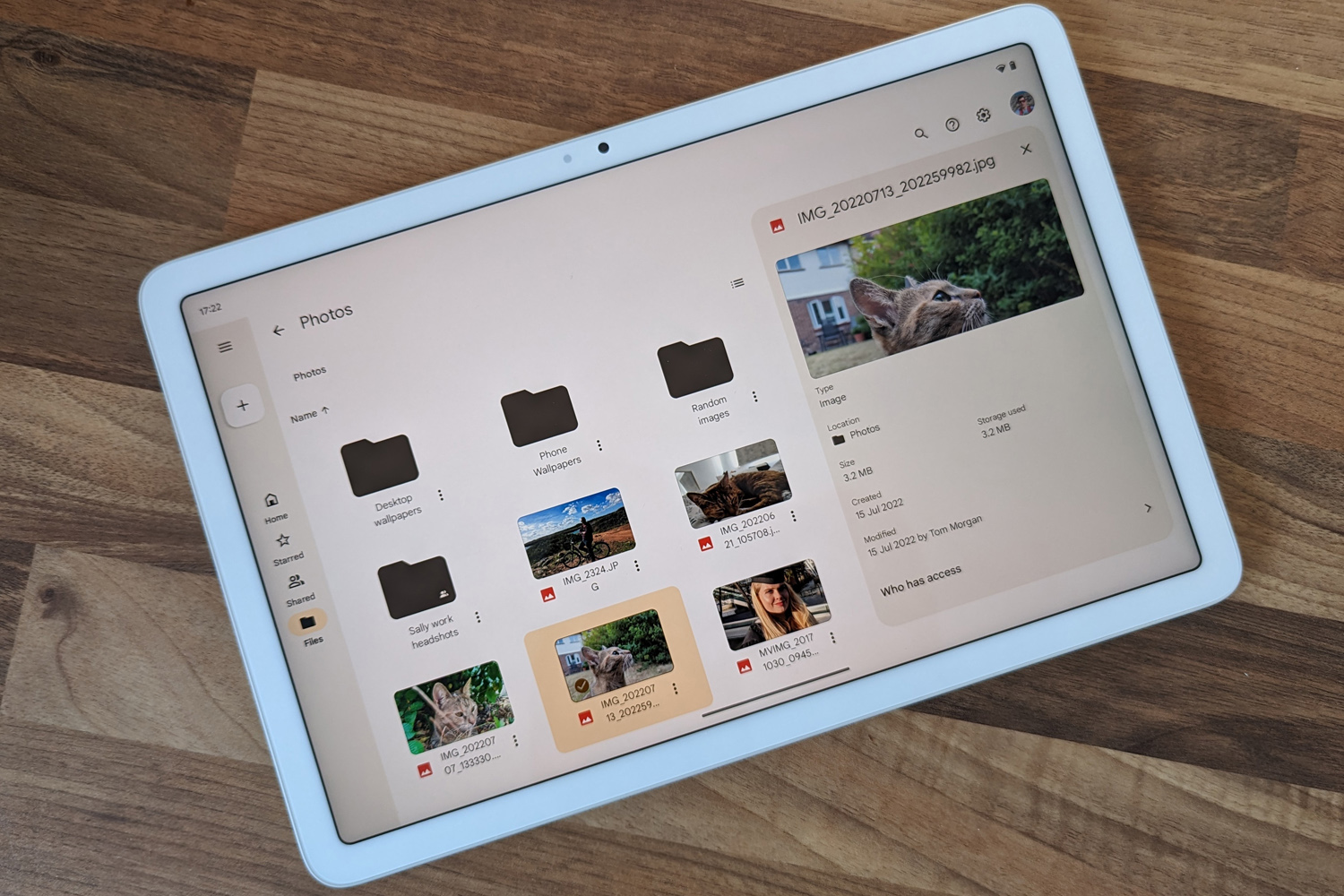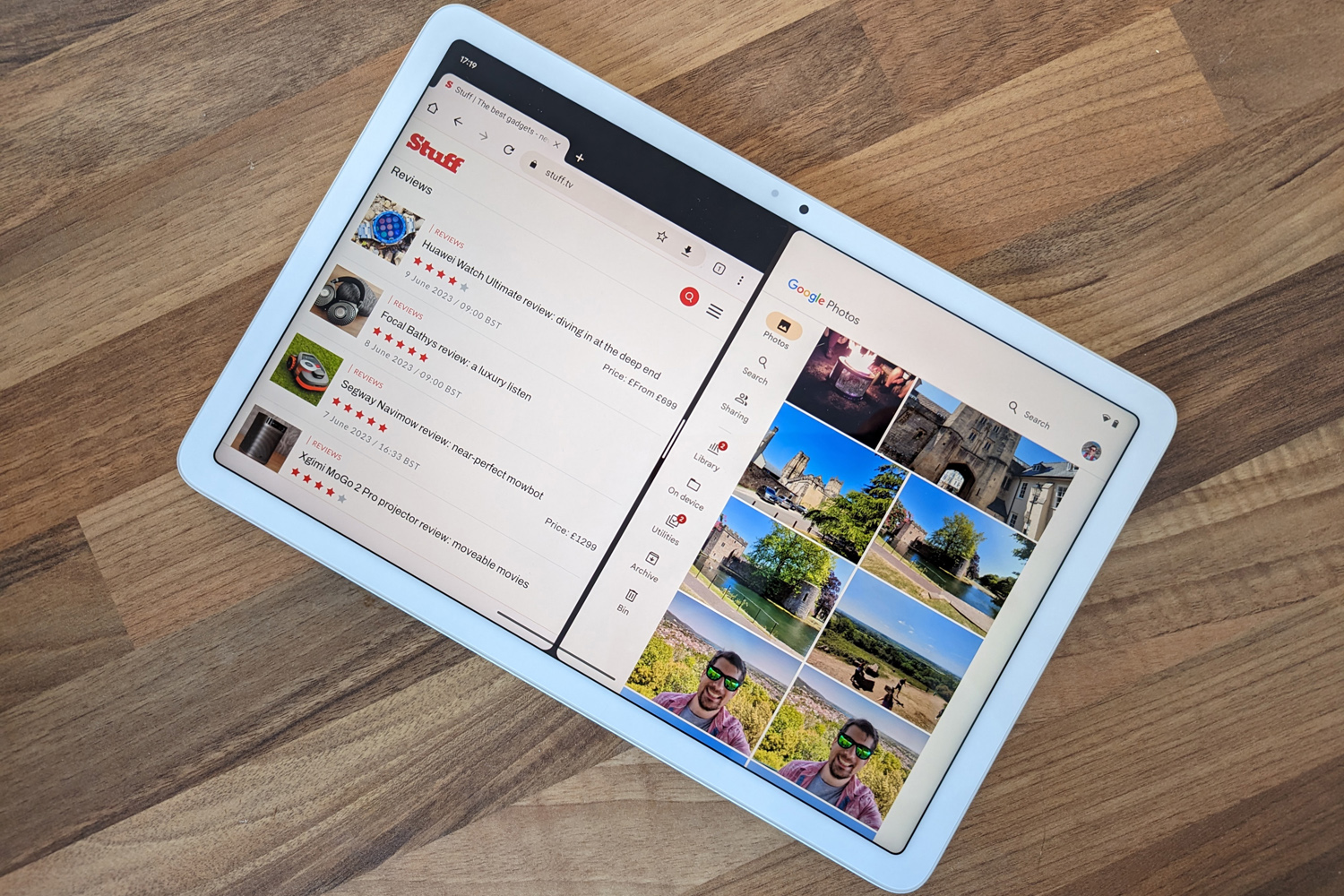 As a showcase for Android's improved support for larger screens, the Pixel Tablet largely impresses. The UI has been overhauled to make much better use of space, while still keeping the colourful Material You elements anyone with a Google-powered phone will recognise.
The Status bar now puts quick shortcuts on the left and notifications on the right. There's drag-and-drop between split-screen apps now. And a more visible profile switcher makes perfect sense for a tablet that'll largely live at home, to be used by multiple family members. Over 50 big-name apps (including plenty of Google's own, but also the likes of Spotify, WhatsApp, Netflix, TikTok and eBay) have also been optimised for tablet view with two-pane layouts.
It's the smart taskbar, which appears with an upwards swipe from the bottom of the screen, that makes the biggest difference to usability. You can add up to six shortcuts (or let the Tablet suggest your most recently opened apps) and open the app drawer to find others, all without having to head back to the homescreen first. Drag an app out of the dock and it'll jump straight into split-screen.
We're hopeful this will be enough to give developers the hurry-up to update other apps with big-screen support, although it's still a long way from matching the tablet-friendly app ecosystem enjoyed by Apple. The Pixel Tablet isn't competing with pricey iPad Pros (it'll largely be used for video streaming rather than video editing), but even the basic iPad can be used for those sorts of jobs if you're determined.
Performance & battery life: dependable power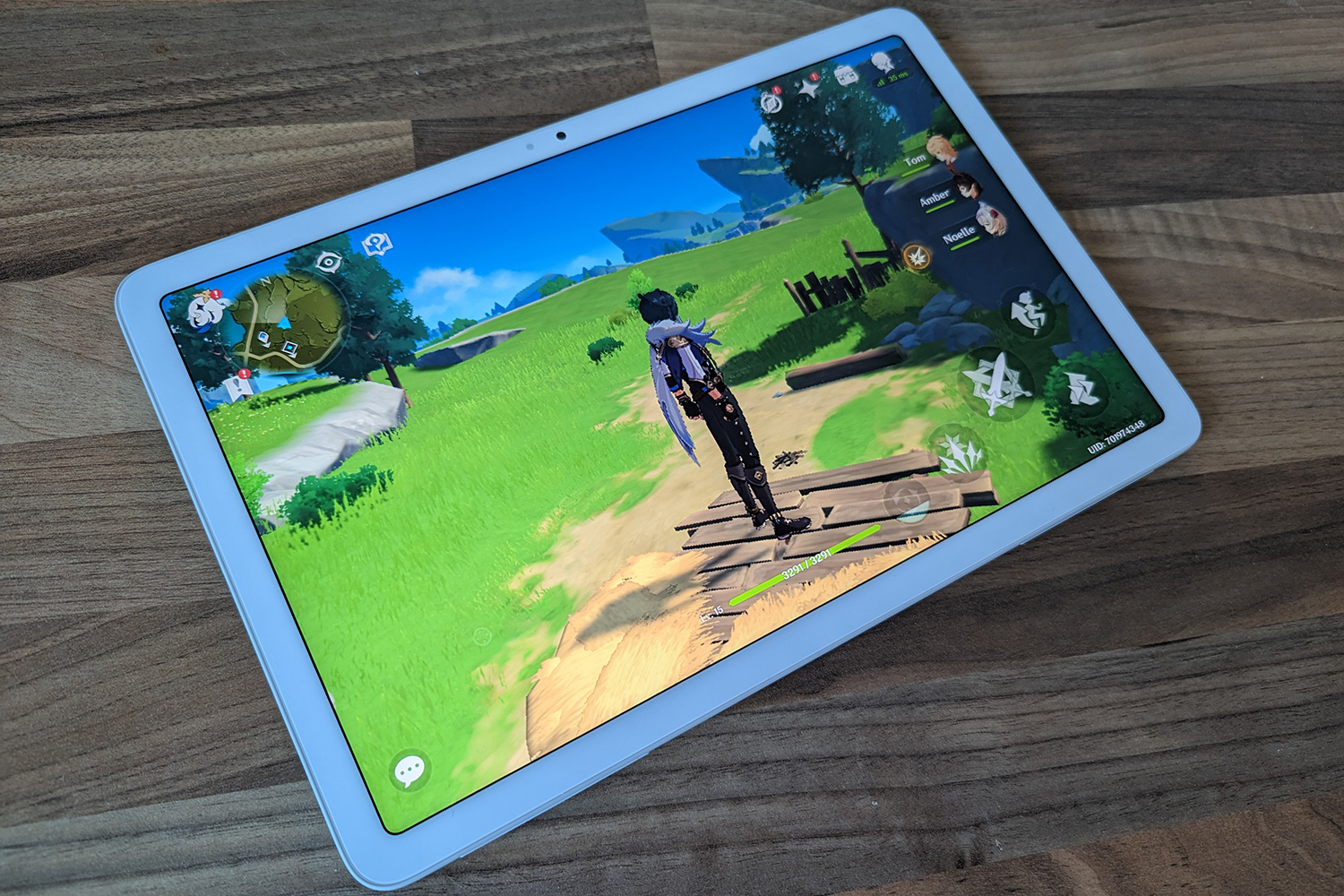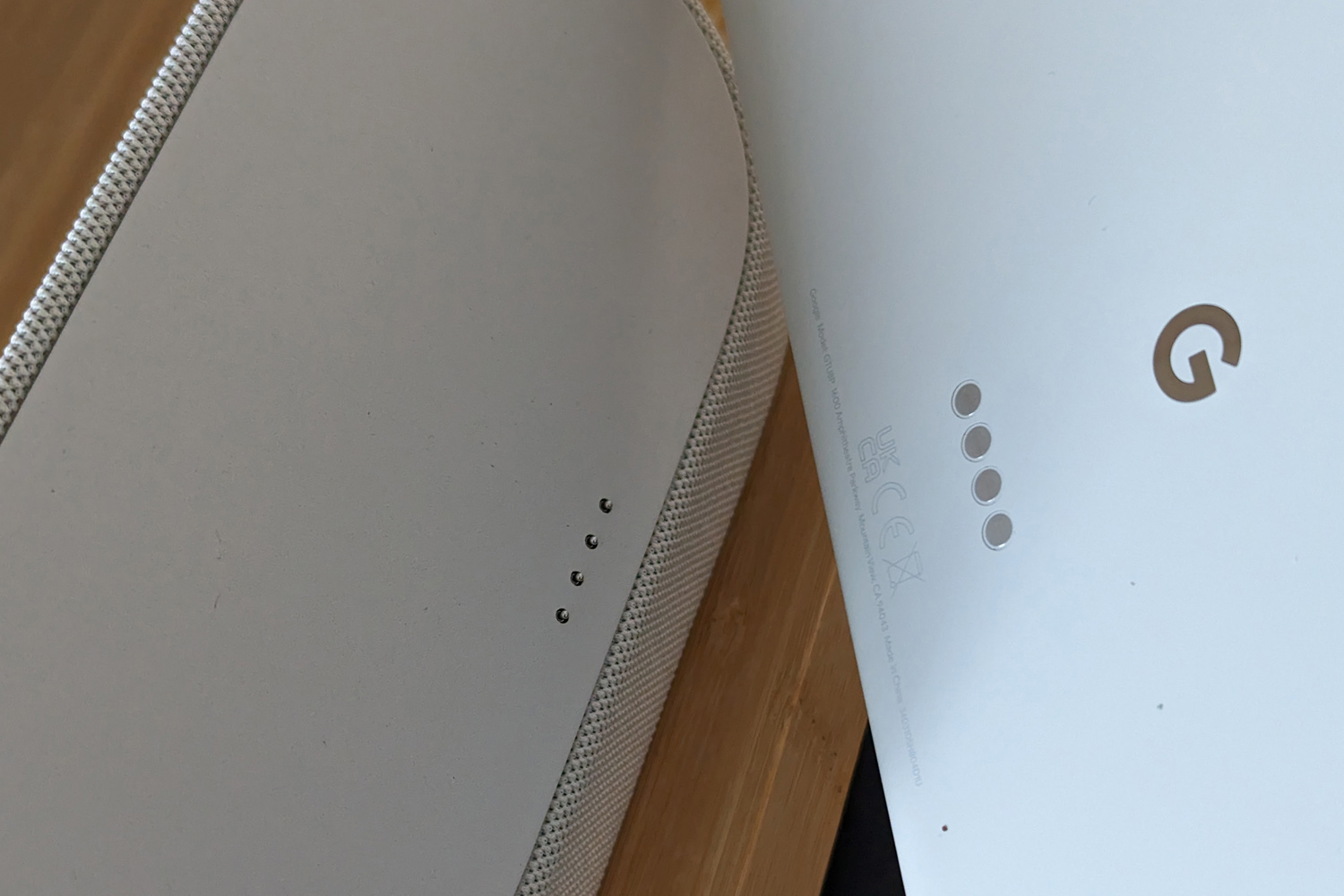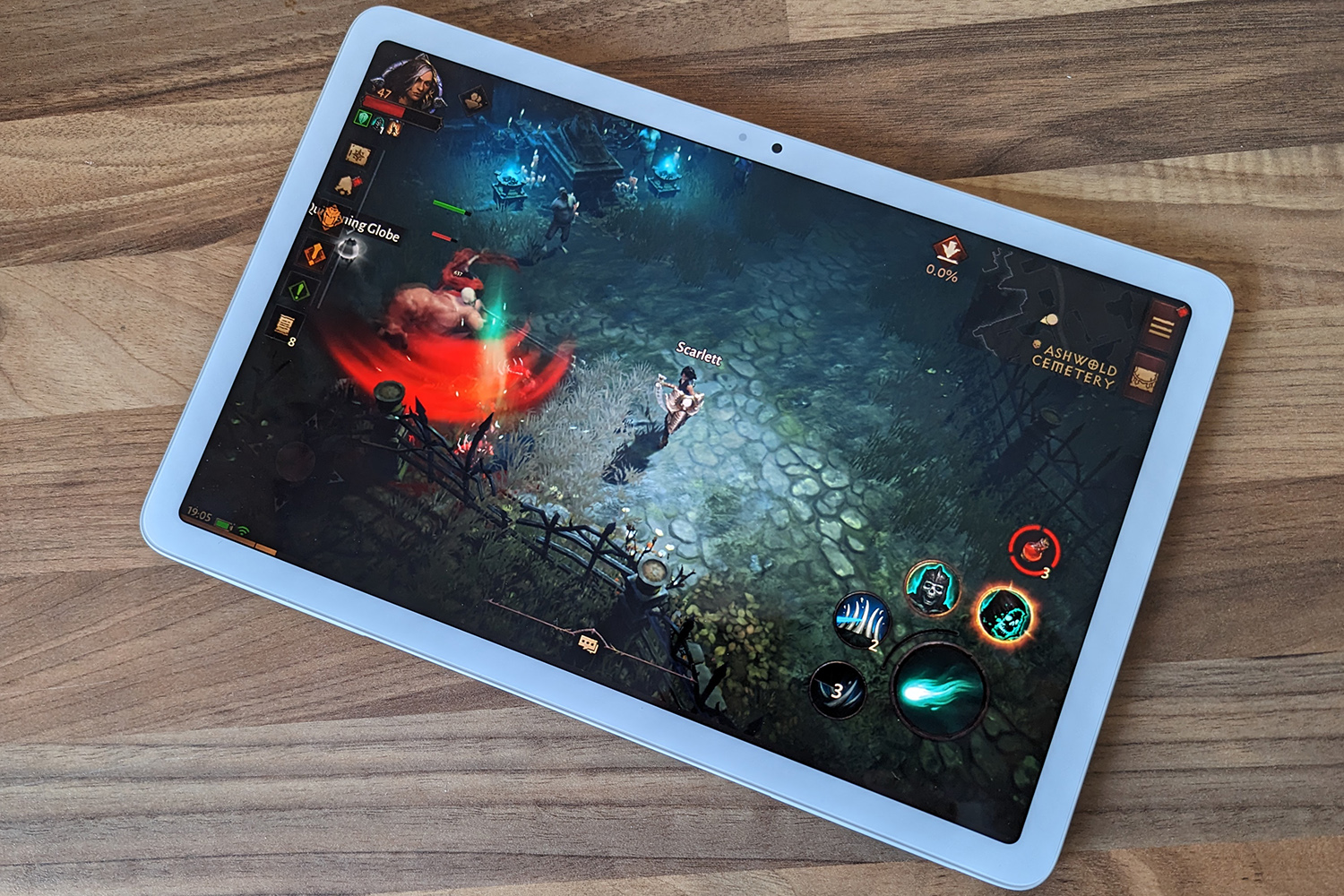 The Pixel Tablet uses Google's in-house designed Tensor G2 CPU, paired with 8GB of RAM and your choice of 128 or 256GB of on-board storage. It's a combo we've seen previously in the Pixel 7 Pro, Pixel 7 and Pixel 7a, where it comfortably competed with the best the phone world had to offer. There's enough grunt here to run Android 13 comfortably, even when split-screen multitasking.
Apps open quickly, you're never left waiting for taps to register, and the basics like social scrolling or web browsing are a breeze. Our review unit was locked off from downloading synthetic benchmarks, so it's not clear whether it keeps pace with the best Android tablets in taxing creative apps, but seeing how the Play Store isn't exactly overflowing with those, anyone looking for a tablet to get productive with is still better off with an iPad.
The screen's 60Hz refresh rate also means this isn't the tablet for playing fast-paced shooters, but it copes just fine with animation-heavy card battler Hearthstone, and can manage more demanding adventure titles like Diablo Immortal or Genshin Impact at sensible graphics settings.
Games will make a bigger dent in the Pixel Tablet's battery life than video; we saw north of 11 hours of 1080p YouTube streaming from a single charge at high screen brightness, which is largely in line with Google's estimates, and largely on par with the iPad 10th gen. The dock isn't especially quick to charge, but means the tablet will always be juiced up when you want to take it on the move.
Cameras: box tickers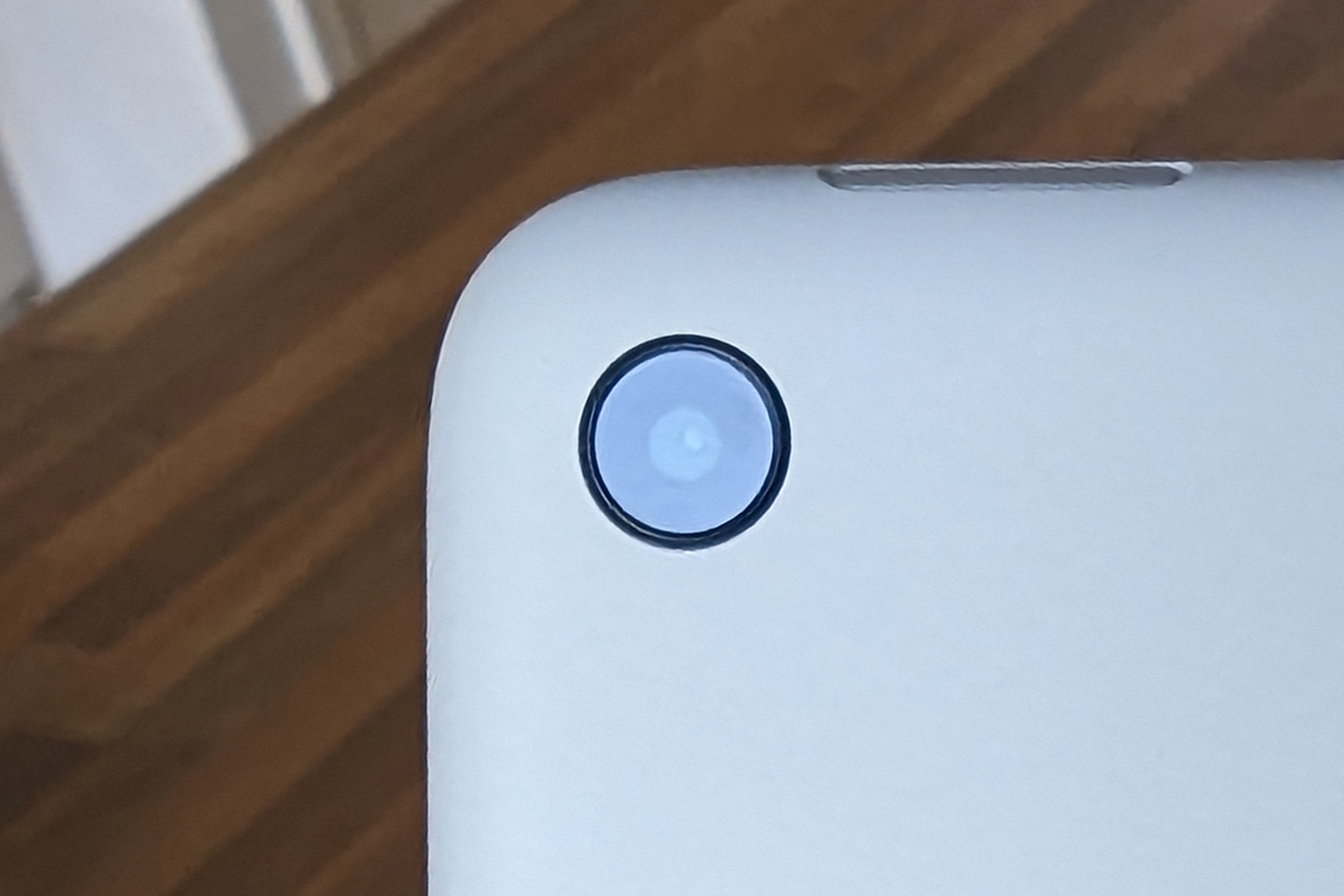 Neither the front or rear camera has a particularly huge pixel count, but they do rely on Google's excellent algorithmic image processing, so deliver better than expected results for a mid-tier tablet. Colours are satisfyingly vibrant and snaps show a reasonable level of detail. Just don't expect them to be on par with even the budget-minded Pixel 7a smartphone.
None of our shots looked especially sharp, but close-ups in particular felt very hit-or-miss. Dynamic range is merely OK, and image noise quickly jumps up as light levels dim. The camera app is responsive enough, but the 2x digital zoom toggle is rather optimistic.
You're limited to 30fps recording at 1080p on both cameras, which is a step behind the iPad 10th-gen, although the digital video stabilisation does a respectable job.
Google Pixel Tablet verdict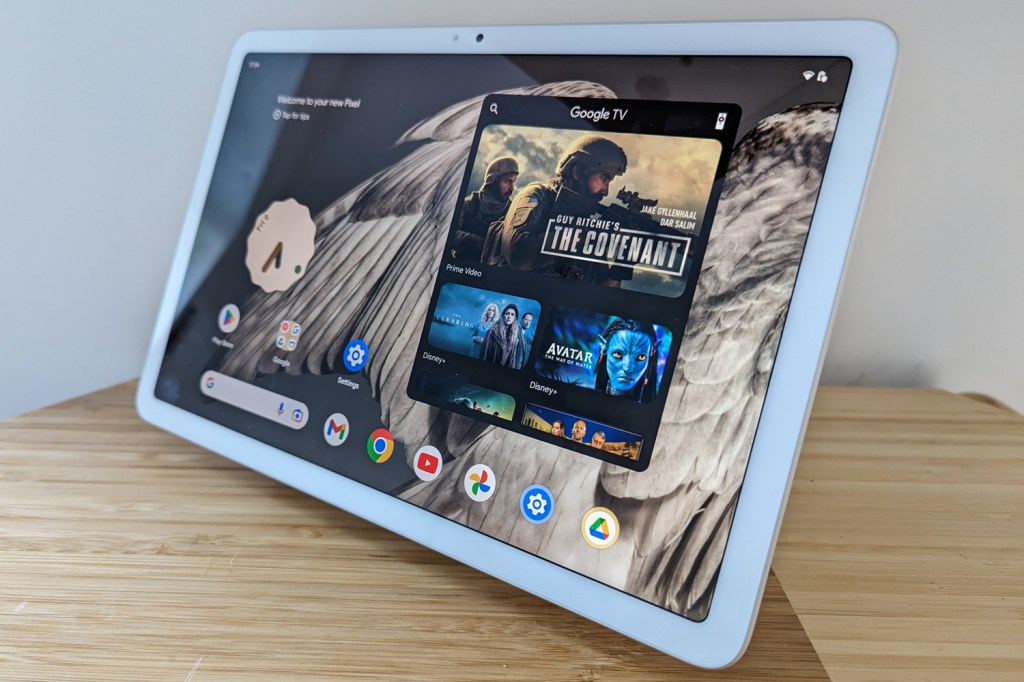 Google fans hoping the Pixel Tablet was going to wipe the floor with every iPad are going to be disappointed, but those with more realistic expectations are in for a treat. The 2-in-1 device is an effective smart display while docked, and a capable entertainment slate while carried around. There's a lot more on offer here than you'll get from a Nest Hub Max.
The sorely-needed software improvements are also a firm step in the right direction for Android tablets in general, even if it still lags behind Apple in areas like productivity and creator-focused apps. US prices are competitive at $499 including the dock it's only $50 more than a a 64GB iPad 10th-gen. But that's not the case in the UK where it costs £599.
It's not going to replace your laptop, and probably won't spend much time away from home. But for curling up on the sofa for a Netflix binge, then having somewhere other than a desk drawer to stash your device when you've finished watching, it nails the brief.
Stuff Says…
A convincing, though not perfect, hybrid of entertainment tablet and smart home display. Hopefully the Pixel Tablet shows Google is committed to improving the Android experience on larger devices.
Good Stuff
New tablet UI and optimise apps much better than older efforts
Bright and colourful screen well suited to streaming video
2-in-1 approach makes it great choice for families
Bad Stuff
Dock is dumb once you take off the tablet
App ecosystem still behind Apple
Google Pixel Tablet technical specifications
| | |
| --- | --- |
| Screen | 10.95in, 2560×1600 LCD |
| CPU | Google Tensor G2 |
| Memory | 8GB RAM |
| Storage | 128/256GB on-board |
| Cameras | 8MP rear, 8MP front |
| Operating system | Android 13 |
| Battery | 27Wh |
| Dimensions | 258x169x8.1mm, 493g |