Google Nexus 5X review
The great everyman of Android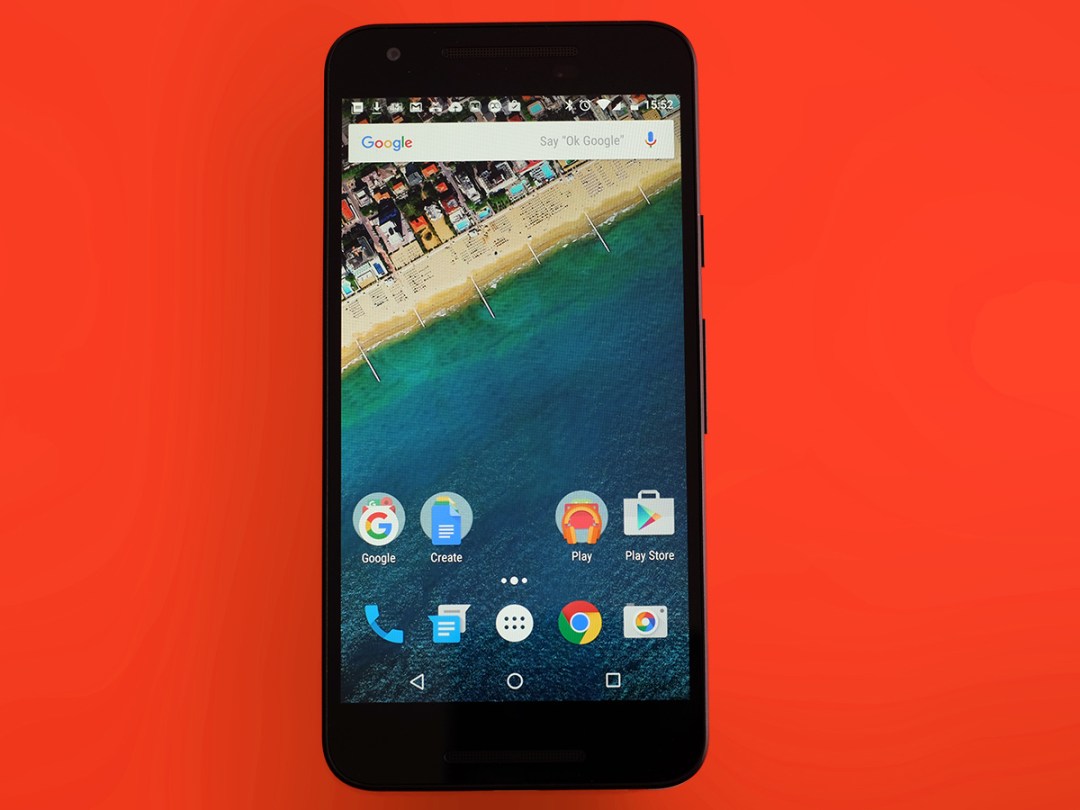 Nexus phones are the closest you'll get to a pure-blood Android. In the world of teen vampire TV shows or Harry Potter, that'd mean the thing's drenched in evil. But the Nexus 5X is ultimately a dead likeable little guy.
He's not so big he demands a pocket all of his own, he won't kick your bank account into its overdraft and isn't full of appy bloat.
The only thing that takes the shine off him is the competition. If you don't mind a bigger phone, the Nexus 6P is a better all-rounder. And if you're after a fancy feel on a budget, the OnePlus X puts the Nexus 5X to shame.
Saying that, there are few other mid-range Androids we'd be happier to live with.
Plastic booty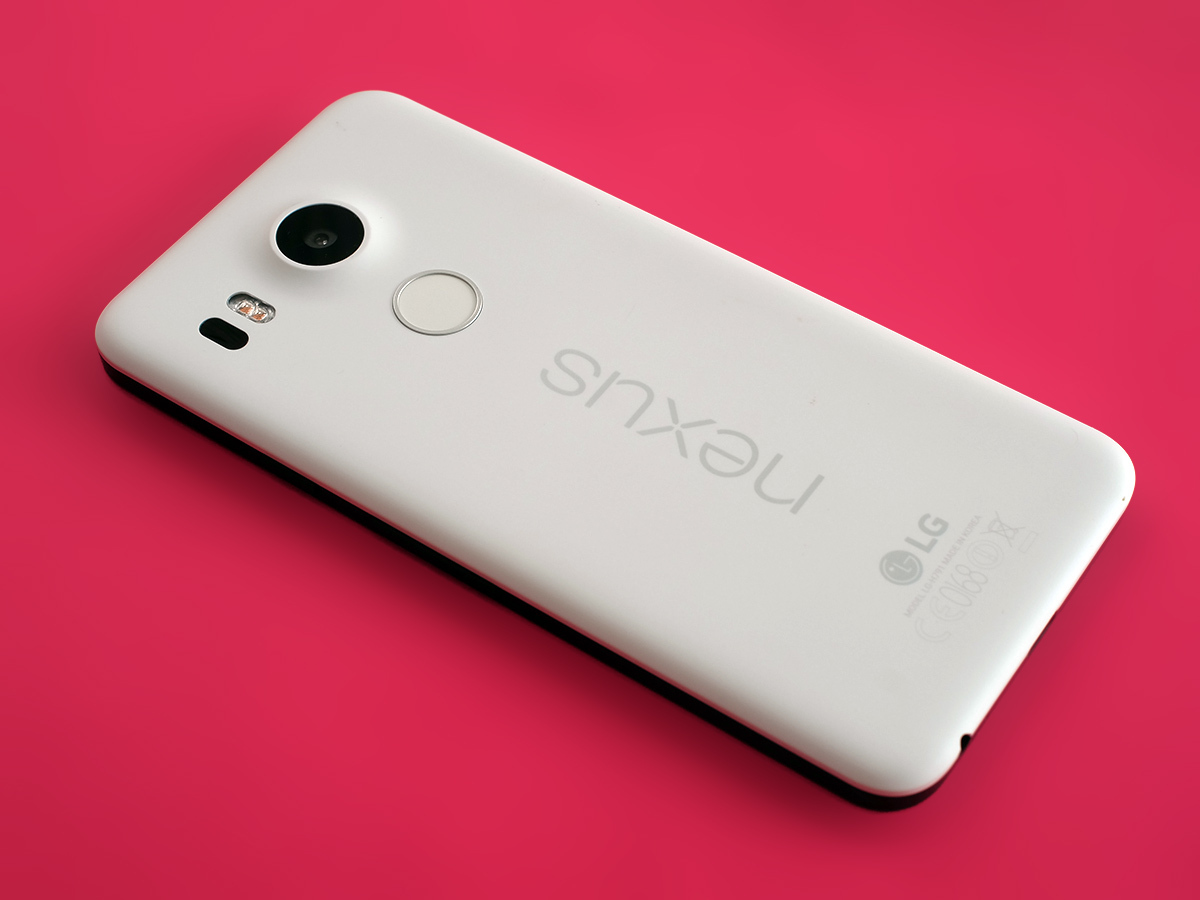 Like the very first Nexus 5 from two years ago, the Nexus 5X is made by LG. In the last few years, LG has dished out some jaw-dropping bargains, but aside from the eyebrow-raising leathery LG G4 it has never wowed with the build of its phones.
The Nexus 5X ain't going to change that. It's smooth, it's slim and it looks simple enough, but get your mitts on the thing and you're not going to mistake it for anything but a prosaic plastic phone.
There's even a tiny bit of give to the backplate, despite it being totally fixed. It's the kind of phone you pick up, shrug at and then walk on from. You won't sit around later on daydreaming about it, like I often do about the Galaxy S6 Edge. Honest.
This would be fine if someone hadn't just gone and levelled-up my expectations of what's possible in a more affordable phone. I've been using the Nexus 5X next to the OnePlus X, and the OnePlus is far more impressive. And it costs £140 less. Ouch.
This says more about OnePlus's success than any failure on the Nexus 5X's part. But when you've got X quid to spend on one phone, whether we're talking about praise or blame doesn't matter.
Biometric bliss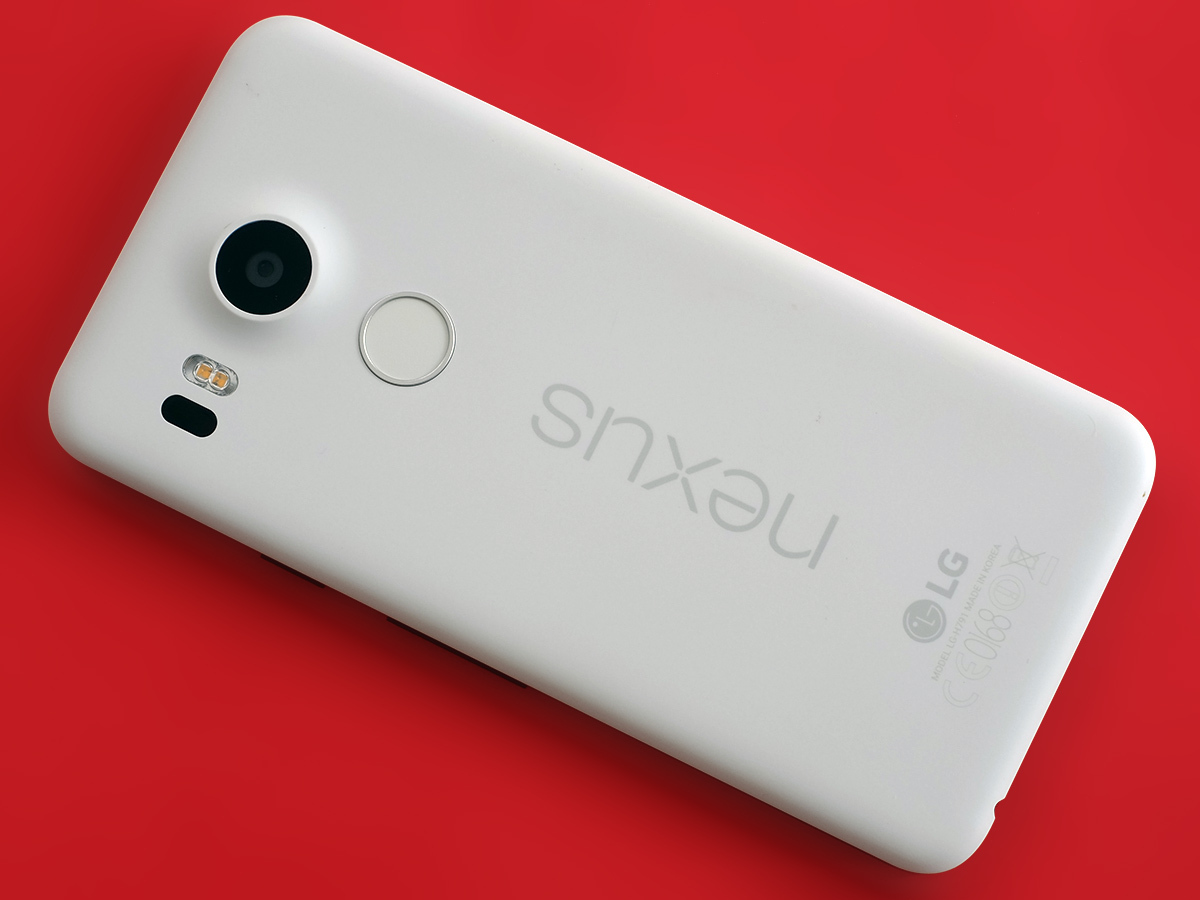 The Nexus 5X's pure hardware design is not going to blow your mind, but in use it comes off far better. As with the Nexus 6P, the star is the fingerprint scanner. It sits on the back like an index finger tractor beam and is dead fast and accurate.
While I tend to prefer using a front finger scanner, some people disagree and it is certainly far faster to use than even tapping in the 0000 code security simpletons like me use. The Nexus 5X proves fingerprint scanners are well beyond the early awkward phase, even if there's not all that much you can do with them yet.
It can even handle wet fingers pretty well. Much better than most.
Lean software and speedy ease of use make the Nexus 5X seem dead inclusive. But it's strict in other ways. There's no expandable memory, so you need to pick between the 16GB and 32GB versions carefully. They're £319/399 a piece, and there's no elephant-brain 128GB Nexus 5X on offer. You need to level-up to the Nexus 6P if you need that kind of storage.
Classic LCD chops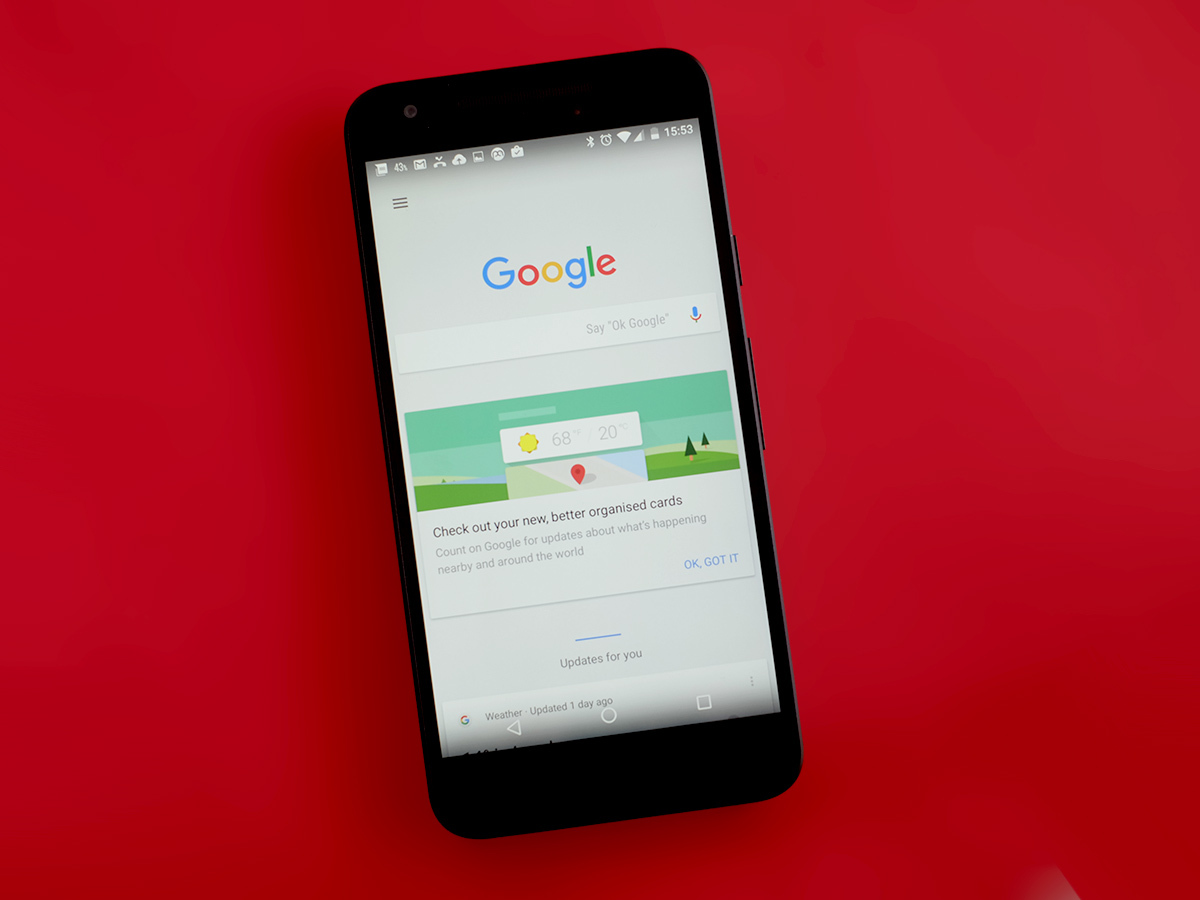 The Nexus 5X seems slightly 'lesser' than the Nexus 6P in a few ways. It's not just smaller.
The Nexus 5X has a 5.2in 1080p LCD, making it pretty similar to what you get in the HTC One M9 and Sony Xperia Z5. Given LG makes the phone it seems likely this is an LG screen panel. It sure looks like one, with the characteristic excellent sharpness and relaxed, natural-looking colours I've come to expect.
Sure, an LG G4 or Samsung Galaxy S6's display will look more immediately impressive up close, but it's a relief to see the Nexus 5X avoid the super-jacked-up colour so many phones have these days. Seriously, it's like they're auditioning for Joseph and the Technolour Dreamboat or something at times.
Being an IPS LCD, blacks aren't as deep as those of an OLED, and the screen image doesn't pop like the Sony Xperia Z5. But it's nice to look at in quite an iPhone-like fashion.
Marshmallow fluff: Vanilla flavour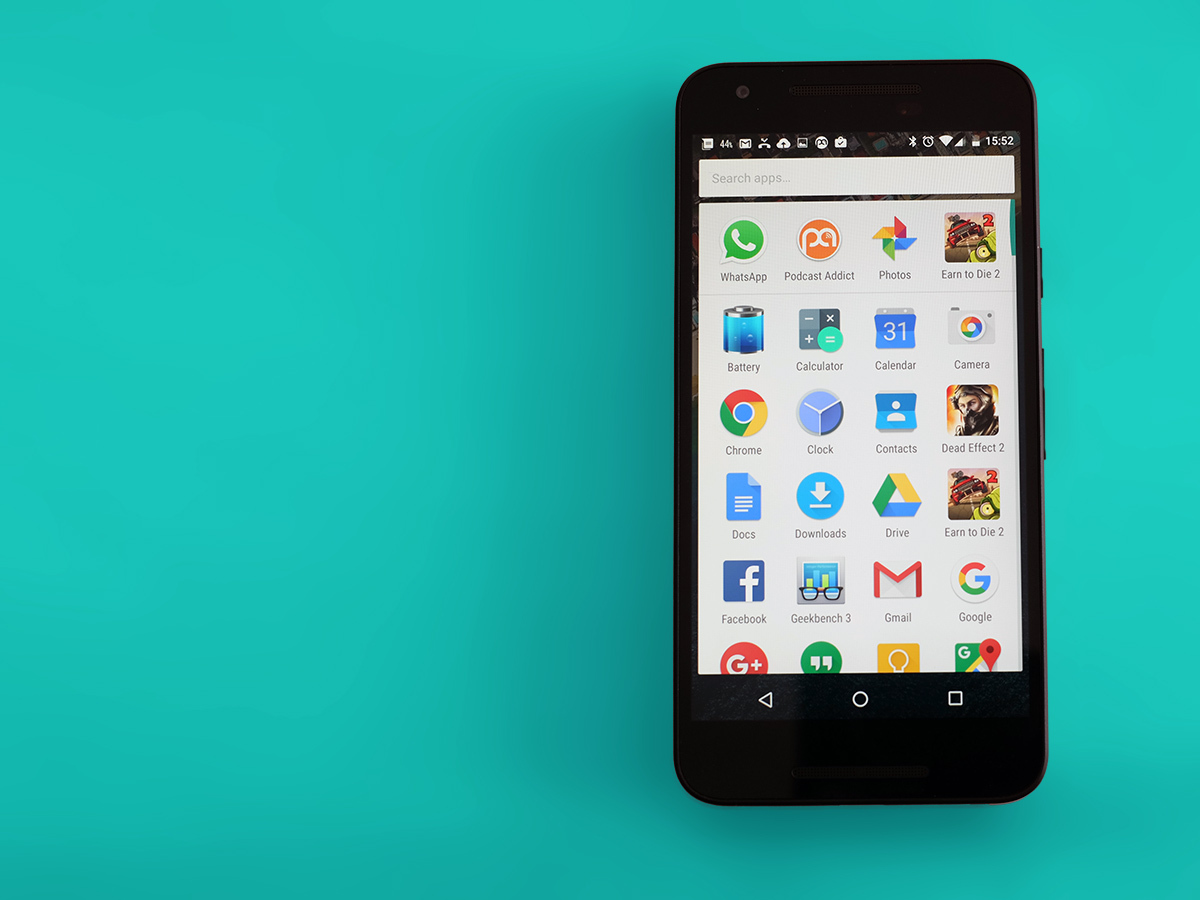 Some of that clean, cool iPhone feel really persists in the software too. After all, the whole point of Nexus devices is that they show off the latest version of Android rather than one plastered with Samsung virtual billboards and billowing clouds of app guff.
Having now spent a pretty good while with Android 6.0 Marshmallow, I can tell you it's pretty darn good. It sheds the slightly slow feel of Lollipop, both by making the system run that bit speedier and using a new apps menu style.
Rather than pages of apps the Nexus 5X uses a long vertical scroll. This mean you can get from one end of your apps collection to the other in one gesture, a quick swipe. It works really well because the speed of it is so variable. Aggressive little swipes make it tear by at 100 miles an hour. Slow ones just nudge it down a bit. The intuitiveness hides that it's actually pretty smart.
The other big addition for the Nexus 5X's Marshmallow is the new Google Now assistant feature. Until now, Android had the lowest-key digital assistant around. It didn't push its way into your life, just flung a few digital post-its to the people who wanted them.
In the Nexus 5X it's far more dynamic. A long-press on the Home button bring up Now on Tap, which makes the Now assistant scan the screen and look for anything you might want more info on. We're talking bands, films, companies, restaurants – stuff like that. Any bits it finds then pop-up as Google Now's good old digital post-its, with links to their web pages, Facebook, YouTube account and so on.
You'll kinda need to teach yourself to use it rather than heading to Chrome and typing in a search. But even the most hardened Siri hater would have too admit it's kinda neat.
808s, no heartbreaks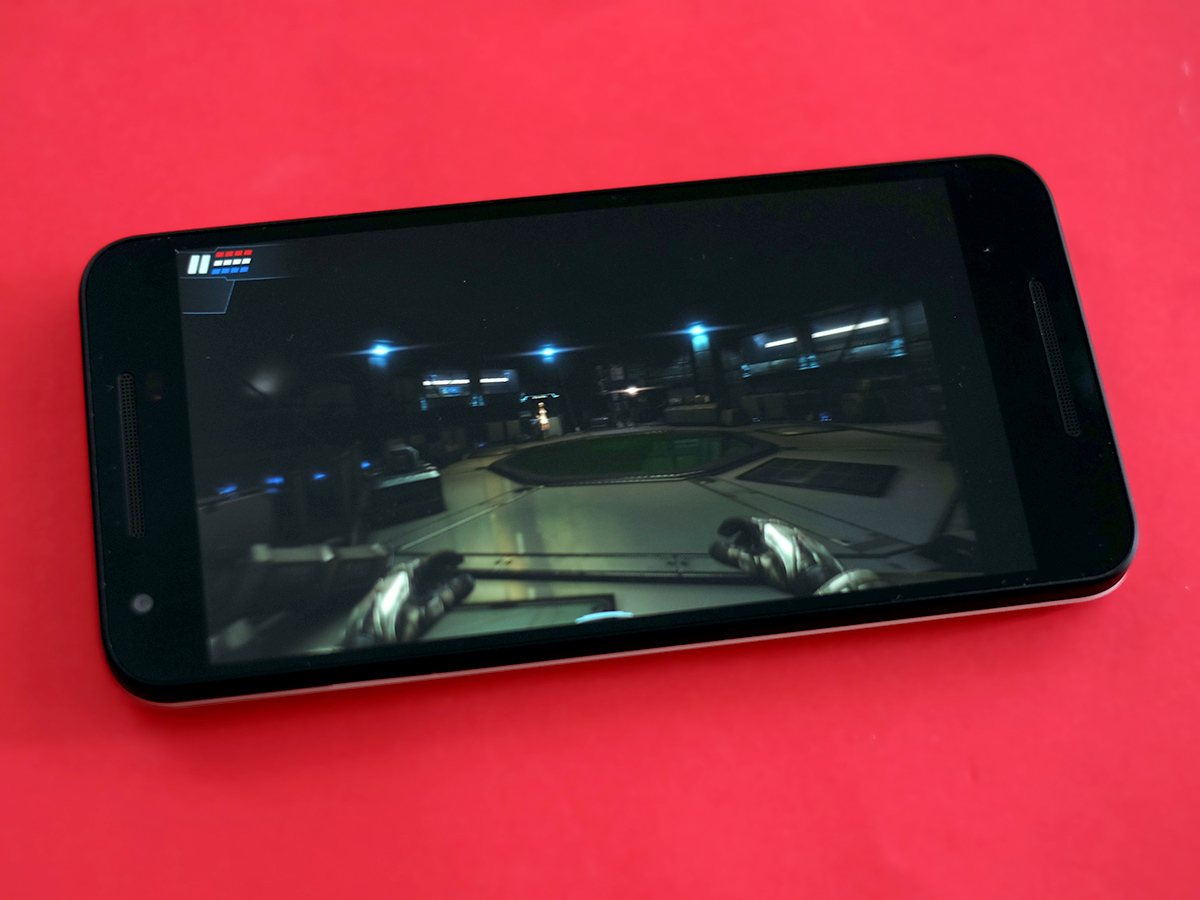 Performance is terrific too. The zippiness Google gave away with Lollipop feels like it's back. Even the way apps load is different, zapping you away from the Marshmallow interface before the app's data has had time to actually boot. Google clearly took the Android 5.0 criticism about performance on-board.
The Nexus 5X's brain isn't truly top-end either. It has a Snapdragon 808, a which sits one rung below the Snapdragon 810 with eight cores instead of six. It's the same chipset used in the LG G4.
It's a good CPU, though. It scores 3304 on the Geekbench 3 benchmark, and has easily enough power to make Android's current gaming kings of flash run just about perfectly. If it was enough for the ultra-high res LG G4, it's certainly going to do the trick in the 1080p Nexus 5X, right?
For gaming I'd still pick the Nexus 6P, though. The 5X's 5.2in display is geared for everyday hand and pocket friendliness rather than anything cinematic and the internal speaker is pretty average. It's not as it appears either. On first taking the phone out of the box it looks like there are stereo speakers on the Nexus 5X, but only the bottom one actually pumps out loud audio. The other one is just for calls.
The speaker you do get lacks some of the beefiness and smoothness of the best phone speakers. It's fine, but not remarkable.
Pack a spare battery, folks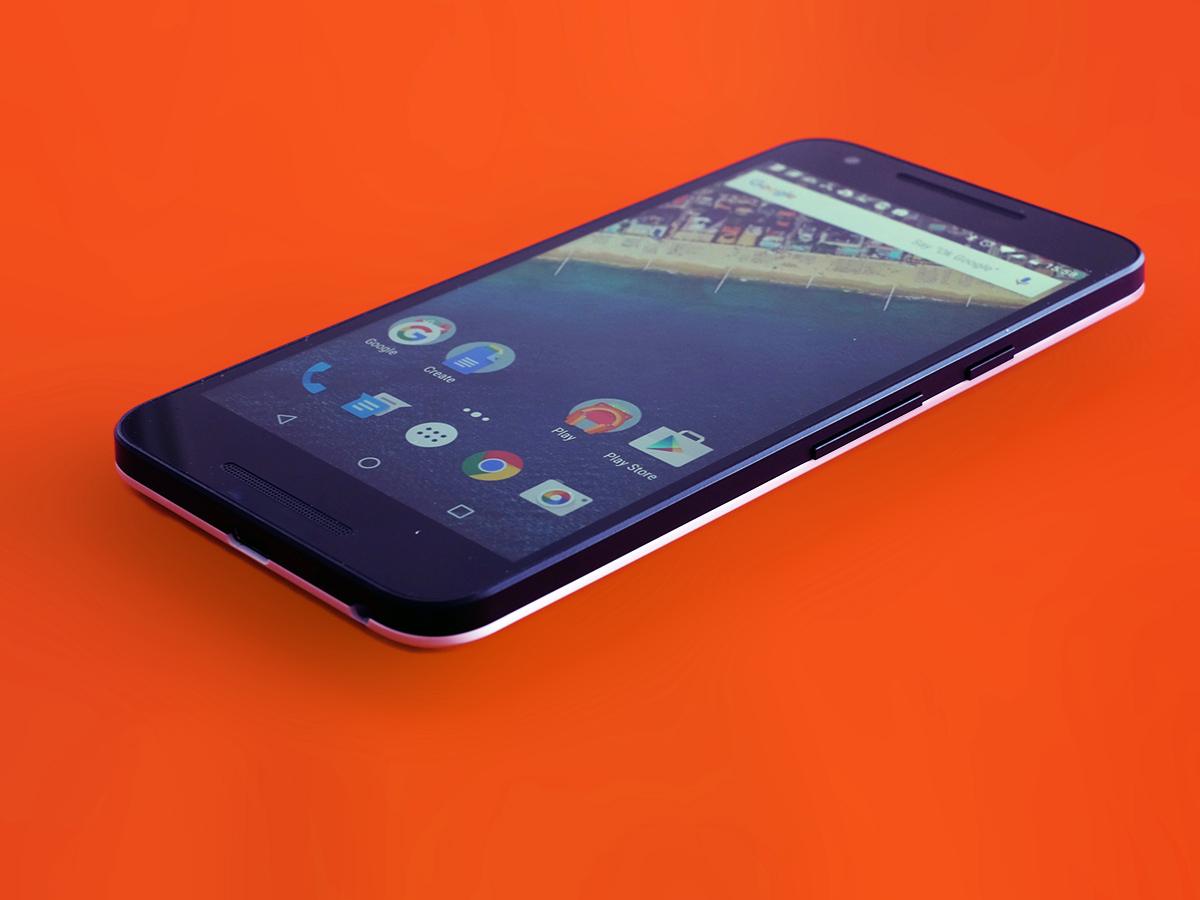 A few parts of the Nexus 5X feel just about right for the money, and nothing more. Battery life is perhaps the issue you should consider the most.
These days there's often very little connection between a phone's price and its stamina, and the Nexus 5X only seems to care about supplying real baseline longevity. For example, right now it's 2pm and the phone is at 53 per cent. Aside from a quick blast on zombie-flattener Earn to Die 2 I haven't done anything too taxing with it.
Heavy users are probably going to have to charge up in the evening fairly regularly.
With our regular video playback run-down test the Nexus 5X doesn't do so well either. It lasts for eight hours forty minutes. That's not terrible, but it's not great either. Like so many of 2015's top phones, stamina just isn't getting better. It's getting worse. That said, the Nexus 5's battery life was dreadful. It's almost a family tradition.
You may have heard a lot about how the Android 6.0 Doze feature could amp-up battery life, but that only really helps out when you're not using the phone. Not much good if you actually know how to have fun with the thing, is it?
Like the OnePlus 2, this is one of the early phones to adopt the USB-C charge connector. It's the shape of the future, but if your last couple of phones have been Androids, it's also a bit of a pain. It means you can't use your old chargers as backups. Drat.
You can't even plug the phone into a computer to load it up with tunes, as the Nexus 5X's cable is USB-C at both ends. Better put a USB-to-USB-C cable on your Christmas wish list, eh?
Still, you'll want to use the official charger anyway as it's an high-power 3A one that's faster than the average. It doesn't use any of the fancy Qualcomm or Vooc standards and doesn't seem quite as nippy as those tech-tactic formats. But it's quick enough, getting the 2700mAh battery from flat to full within about two hours.
Professor Megapixel
This isn't a spec-chasing phone, and one area where that really pays off is the Nexus 5X's camera. It has a 12-megapixel rear camera using a Sony IMX377 sensor, and it's one of the best lessons I've seen in why sometimes reducing the resolution of a camera is the best plan.
To sum it up: get up close and personal with one of the Sony Xperia Z5's 23-megapixel photos and it'll look horrible. Kinda scratchy and indistinct, all those extra pixels don't really add up to much. But scrutinise the pixels of a Nexus 5X photo and they generally look clean and clear as anything.
Why becomes obvious when you consider that the two phones have sensors of the same 1/2.3in size, giving them the same area in which to collect light. Having those larger camera sensor pixels improves all sorts of things: noise handling and dynamic range most importantly.
It's this smart style that lets the Nexus 5X crank out really rather good low-light shots even though it doesn't have optical image stabilisation. OIS evens out those little micro movements you might make while the shutter's open, letting a camera use longer exposures without your photos becoming blurry smears.
The Nexus 5X camera is also very fast as long as you don't shoot HDRs, which slows things down a bit. Focusing occasionally gets a little unsure at night time, but in daylight you can pap away quick as you like. Focusing is given a kick up the backside with the laser AF assist, which helps the camera zap to the general area of focus before finishing things off with traditional contrast detection.
I even found that some of the exposure issues I noticed in the Nexus 6P seem to have been improved since I used that phone (they have the same camera setup). It's still not perfect — for example it struggled not to overexpose a white flower where an iPhone 6s or Samsung Galaxy S6 would have breezed through. But then Google's camera app brains have never been the strongest.
If there's a weak point to the Nexus 5X's camera, it's probably the app. Google has bunged some HDR and flash controls on the top-most layer of it, but otherwise it seems like the app pretty much every manufacturer has dumped for years. It works and it's simple. But it ain't great either.
The selfie camera isn't as good as that of the Nexus 6P, but then that was the first selfie cam in the history of phones that actually blew me away (some of us still aren't into selfies, folks). This selfie camera is still well above average, but the 5-megapixel front camera here plays at the same level as the top contenders rather than being a whole league above like the Nexus 6P one.
Let's not be too down about any area of the Nexus 5X's camera, though. It really is a corker, using probably the best mid-resolution mobile phone sensor around. For example, I used it alongside the 13-megapixel OnePlus X and found that the Nexus offers cleaner images, better dynamic range and greater clarity.
Much of this comes down to Sony's smart sensor design. But it's still Google that had the smart idea to pack this little sensor in.
Google Nexus 5X verdict
The Nexus 5X feels every bit the successor to the original Nexus 5. It's so overdue that the original now feels like a phone from another lifetime.
It has all the phone's good bits, like great performance and smart pricing. But it also keeps a few bad bits too, like a pretty naff battery life, unambitious speaker and slightly pedestrian-feeling build.
Elements like the very high-quality camera and great fingerprint scanner tell you this is absolutely a phone of the here and now. But of the new Nexus brothers, it's the Nexus 6P that has that extra special sauce zing.
Tech specs
| | |
| --- | --- |
| Screen | 5.2in 1920 x 1080 pixel IPS screen |
| Software | Android 6.0 Marshmallow |
| CPU | Snapdragon 808 six-core 1.8GHz |
| RAM | 2GB |
| Storage | 16/32GB non expandable |
| Camera | 12MP rear with dual-LED flash and laser autofocus, 5MP front |
Stuff Says…
Every bit the successor to the Nexus 5, this is a mid-range smash
Good Stuff
Great value
Slick performance
Top-notch finger scanner
Very good photo quality
Bad Stuff
Feels a bit cheap
Battery life is mediocre
USB-C will prove a pain to some