Fujitsu-Siemens Lifebook P1510 review
The P1510 could fit in a very big pocket and has a 180-degree rotating touch sensitive screen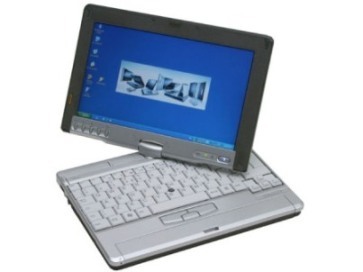 One of the smallest tablets around, the P1510 is so tiny it'll fit into your pocket – if you went to the MC Hammer School of Trousers. A 180-degree rotating touch sensitive screen handles portrait and landscape viewing.
It has the 1.2GHz Intel Pentium M processor and an underwhelming 60GB HD. As a result the Lifebook P1510 delights and frustrates in equal measures.
As a tablet it's versatile and accomplished but, in terms of performance, it lacks oomph, while the external DVD drive is decidedly naff.
It may be of a luxurious ilk, and at 1KG rather light into the bargain, but it lacks the pace and power to fulfil our laptop dreams.