Ferguson FD1 Prism review
The FD1 Prism combines two of our favourite things ever: multi-channel telly and those giant airport-dwelling Toblerones. Can it live up to such promise?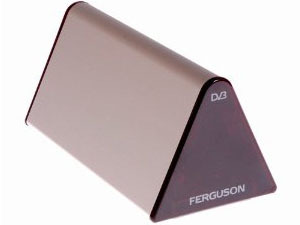 God bless the Ferguson FD1 Prism. Finally, an inexpensive Freeview with an actual, real life talking point – see, it's triangular.
Triangular TV
Okay, it might not be a flying car-sized talking point, but the designers at Ferguson deserve a pat on the back, even if the very similar TVonics Prism can be bought for the same money. The next question, of course, is do they also deserve a smack on the forehead for compromising this set-top's performance?
Surprisingly, no. Picture quality is pretty good, if not quite the best we've seen. We caught up on a spot of tennis and were able to keep track of the ball easily, while the frequently troublesome Sky Sports News ticker was dealt with easily.
The FD1 Prism has another little quirk up its sleeve: instead of a conventional Scart socket it has a multipin miniature DIN connection, which means it can output in 'proper' RGB.
Review continues after the break…
Action star
There's a touch of on-screen noise and mild motion blurring, but both are bearable. In fact, the only thing missing for complete home cinema appeal is a digital audio output.
That aside, this set-top works well with a wide range of screens, and hits most grey-box designs for six.