Elonex Artisan LX review
The Artisan LX looks like a DVD player yet packs in an analogue TV tuner, 200GB hard drive and Hi-Fi quality home cinema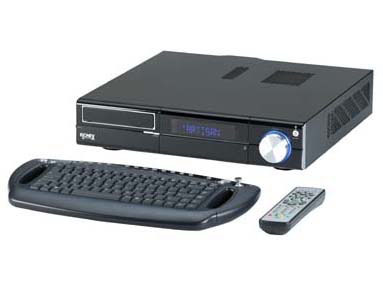 Will computers never give up? Not content with running our working lives – you must at least have read about a time when humans used a lovely, organic work system known as a pen and paper – the hard cases are invading our homes, too. And upstairs just isn't good enough.
A computer in DVD clothing
The Elonex is no exception: it disguises itself in its DVD player-esque case, in the process demanding pole position in your living room, under the telly. Add an analogue TV tuner and a mammoth 200GB hard drive, and you begin to appreciate why your crusty VCR, tinny DVD and dusty set-top box all look as nervous as a pancake the day before Ash Wednesday.
The Artisan LX won't crash all the time or sound like a hair dryer on full – Microsoft Windows XP Media Center Edition 2005 OS rates an 'occasional manual check' in the ease-of-use department, and its cooling internals are impressively hushed.
It's the big playback
Even better, recording to the disk is simple and results look faithful, while the sound and vision from DVD playback are excellent – especially if you hook up via the DVI and coaxial digital outputs.
The Artisan LX doesn't offer iPod-like usability but it does give hi-fi quality home cinema. The rear panel's DVI socket offers the best quality video connection, so get a telly with a DVI input and make good use of it.
Make new friends
The supplied keyboard and mouse are wireless, and one of those pillowed trays you use for your TV dinners makes a splendid keyboard base. The Artisan LX doesn't include a digital tuner as standard but you can spec one before you buy – if you haven't heard of an American comedy called Friends, we suggest you do just that.
TVs, these days, go from 'switch on' to 'I'm ready to play' pretty quickly. PCs, however – at least the majority, including this one – are a bit more 'Hold on, I'll be with you in a minute, I'm just getting my keys.'
So, if your televisual needs are often of an urgent nature, think twice. If, however, you want to be spoilt by a top spec Media Center viewing experience, step right up.