Chromecast with Google TV review
Google's mini streamer finally gets a remote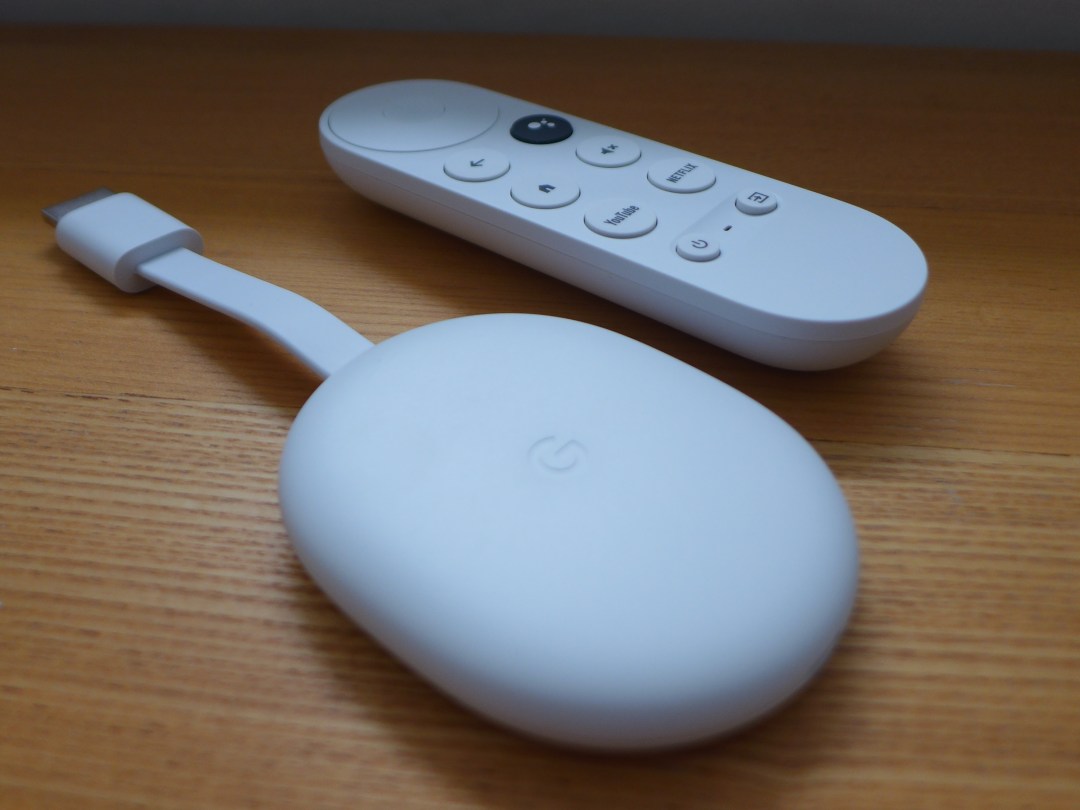 Google has updated its unique little pocket streamer with a brand new interface and a physical remote control.
The rather awkwardly named Chromecast with Google TV, is now a full-fledged mini streamer, rather than just being a 'caster'. You can still cast direct from thousands of compatible Android and iOS apps, but now you can also choose what to watch from the home screen on your TV, whether it's Netflix, iPlayer or Disney+.
At £59 the new Chromecast is double the price of the 2018 model, but is it worth the extra spend? Let's find out…
DESIGN AND BUILD: FINALLY A REMOTE!
For those with illusions of grandeur, the new Chromecast comes in Snow, Sky, or Sunrise. That's white, blue or pink to the rest of us.
The updated pebble-like design is pretty slick, giving the Chromecast a silky premium look and feel. Not that any of this really matters because when you plug it into the back of your TV no one will see it anyway.
The bendy HDMI connector means it's easy to plug into your telly, even if it's really close to the wall. The real news here is the new remote control which was, totally unsurprisingly, the most requested feature by users of the old models.
Powered by 2xAAA batteries, it's small and sleek, similar to a Roku remote, and it matches the colour of the main Chromecast unit. The remote looks a little less premium than the Chromecast itself but it does the job.
You'll find dedicated buttons for YouTube, Netflix and the search function, along with the usual navigation ring and select button in the centre. There's also a volume rocker on the side. A tiny LED light near the foot of the remote lights up when the microphone is activated.
Nearly half of the Chromecast's plastic mechanical parts are made from recycled plastic so you can feel like an eco warrior even when you're horizontal on the sofa stuffing Monster Munch into your gob.
SETUP: FAST AND EASY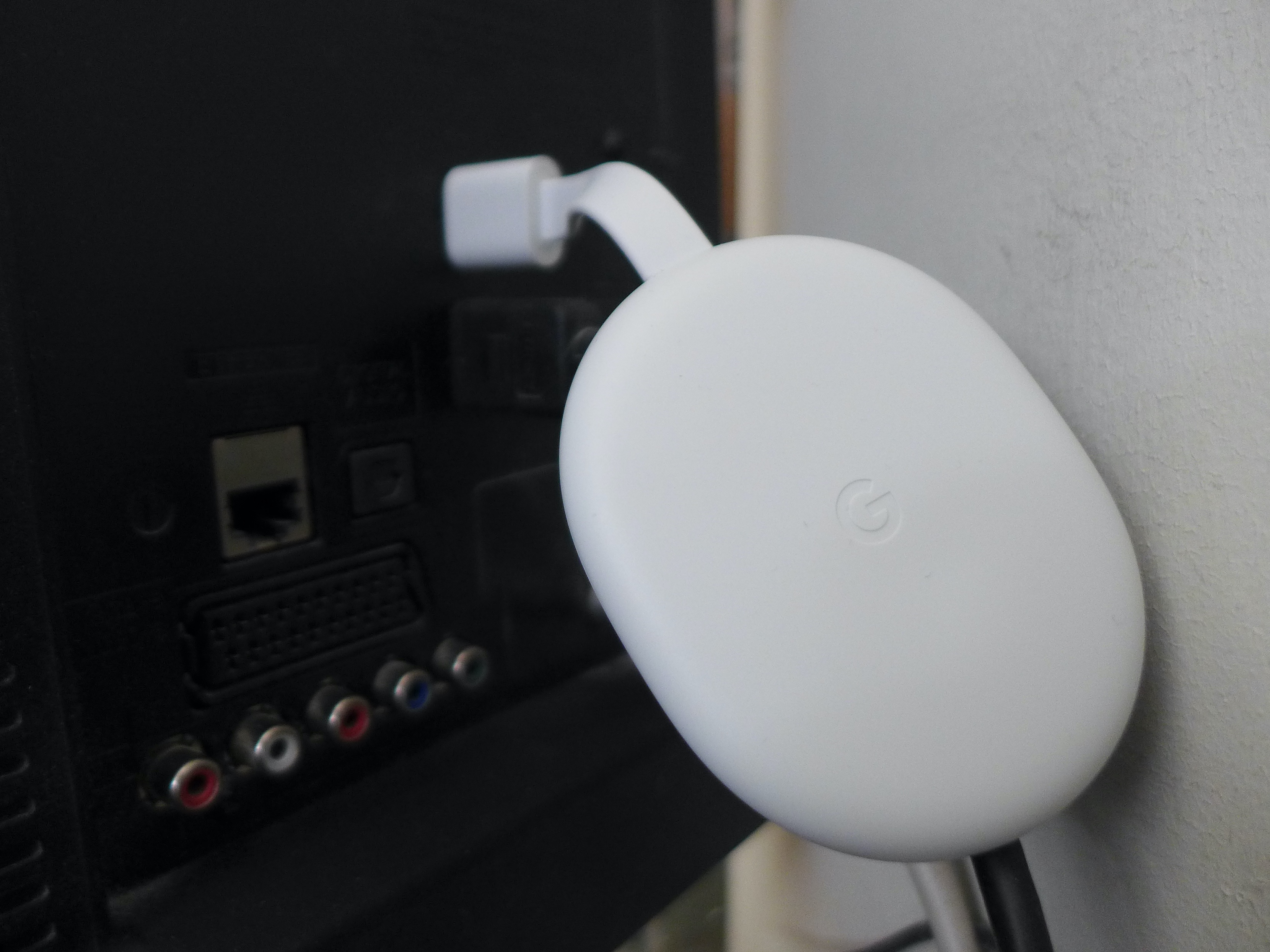 After plugging the Chromecast into the HDMI port, you may find that your TV is powerful enough to give it enough juice. It's more likely that you'll also need to plug it into the mains as well.
Setup is incredibly easy but you'll need a Google account. Let's face it, you wouldn't be buying a Google streamer if you didn't have a Google account, would you? No.
Using the free Google Home app on your phone, you simply scan the QR code that pops up on the TV and you're away. You'll be asked which platforms you've coughed up cash for, plus the freebie catch-up service that you use so that Google TV knows which apps to drop onto your home screen.
FEATURES: BRAND NEW INTERFACE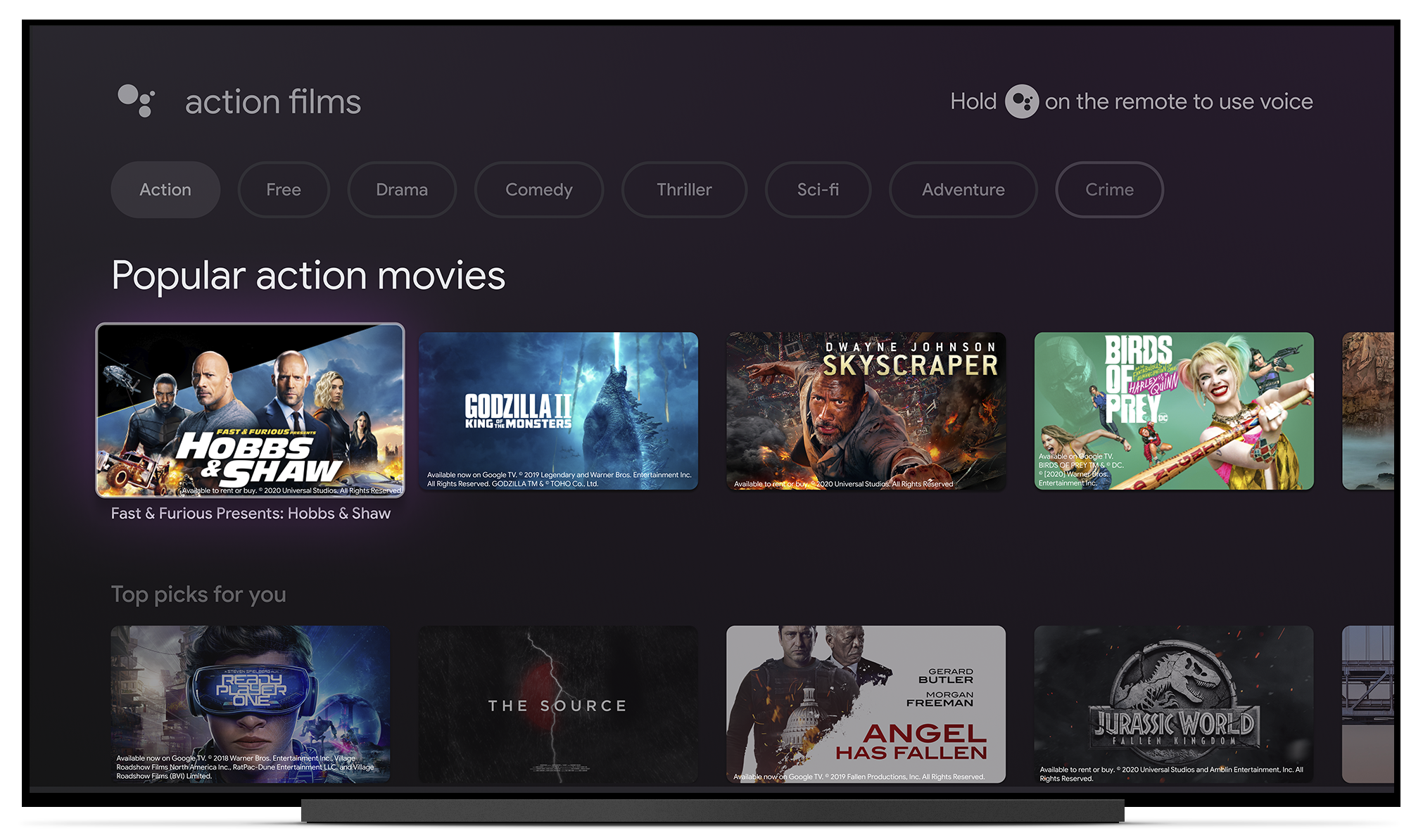 Now that the Chromecast has a remote, it needs an on-screen interface to to go with it, and that's where the new Google TV "entertainment experience" comes in. The idea is that films and TV episodes from all your favourite apps and subscriptions are cobbled together in one place, which is really quite useful. The 'For You' tab is your home screen and offers up personalised recommendations from across your subscriptions based on what you like.
Our list started well enough with The Right Stuff remake (already watching it on Disney+, thanks Google!), but then next on the list was Space Jam on Netflix. A 24-year-old film which is mostly famous for having a still-functioning Alta Vista-era website. Cheers, Google. The rest was a bizarre selection of incredibly mediocre films we'd either seen or have no intention of watching because life is too short. In fairness, the recommendations will probably get better with time, but we didn't find them all that useful right now.
Under your recommendations row you'll find the roster of apps you added on setup, and then various rows sorted into genres like 'Adventure Films' and 'Crime Shows'. The UI is generally speedy and slick, though we did find there was a bit of lag sometimes when hitting the home screen button. Films and TV shows are all displayed with a handy Rotten Tomatoes score, and they also state which platform they're from and if there's a an additional pay-for-view fee, which is a neat touch.
The Watchlist lets you bookmark stuff and you can add to your list from your phone or laptop so that's its ready and waiting for you when you plonk yourself on the sofa. You can either search on screen or just hold down the black button on the remote and use voice search. We found that it worked pretty well but as with all voice assistants you do need to pronounce your words very clearly.
APPS: ALMOST EVERYTHING YOU NEED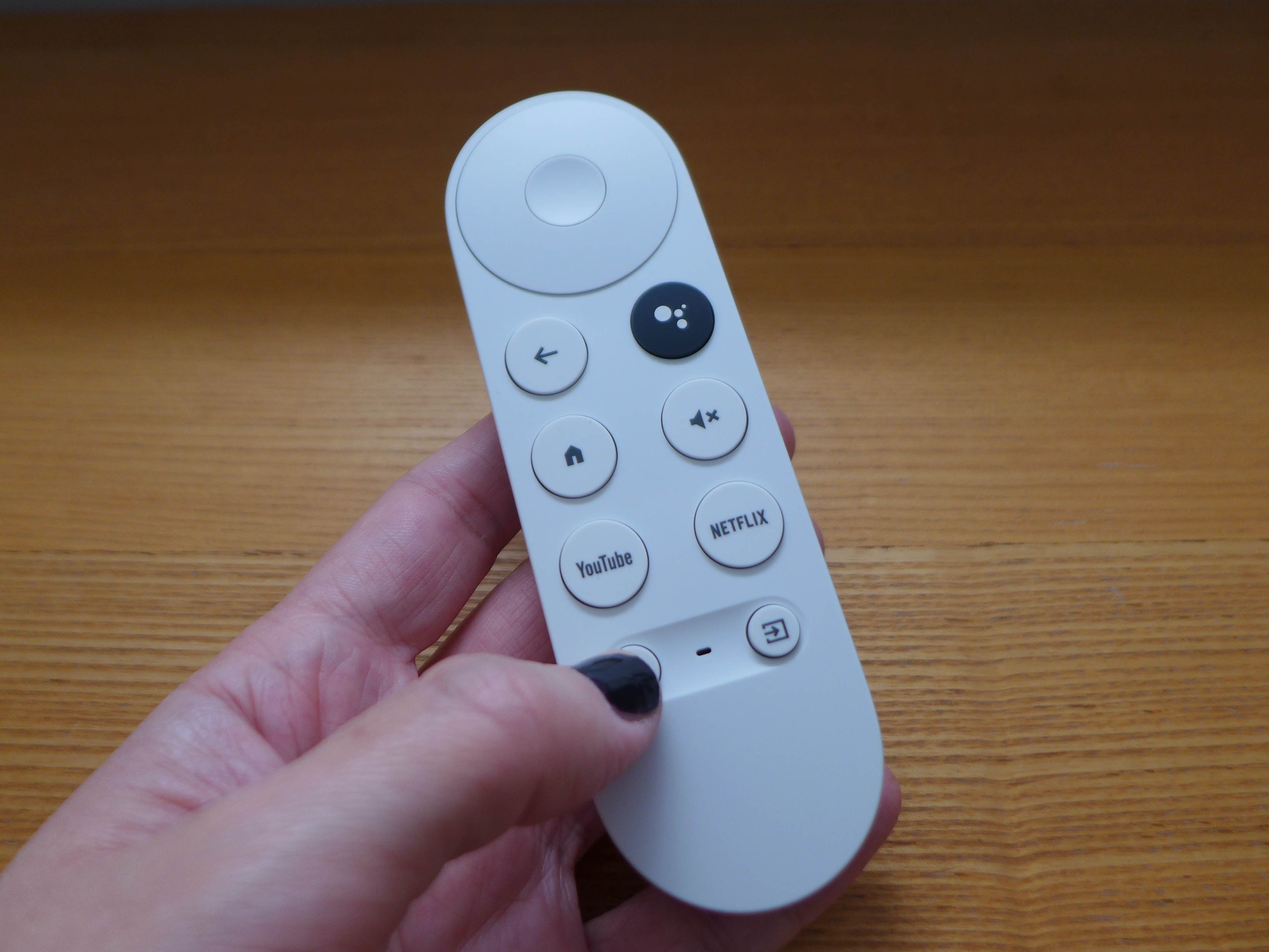 The new Chromecast offers access to more than 6,500 apps meaning you can browse more than 400,000 films and TV episodes.
You'll find most of the big app names covered, including Netflix, Disney+ and YouTube (obvs) and unlike the old days, Prime Video from arch-rivals Amazon is here too. The freebie TV catch-up services like iPlayer are mostly covered, though weirdly this doesn't currently include Channel 4's All 4.
Google is clearly not a Great British Bake-off fan. Also MIA is Apple TV+ and Sky's Now TV. Not that important if you're not a subscriber to either, but possibly a deal-breaker if you are. It's also worth noting that there's currently no support for Google Stadia.
PICTURE AND SOUND: NO COMPLAINTS HERE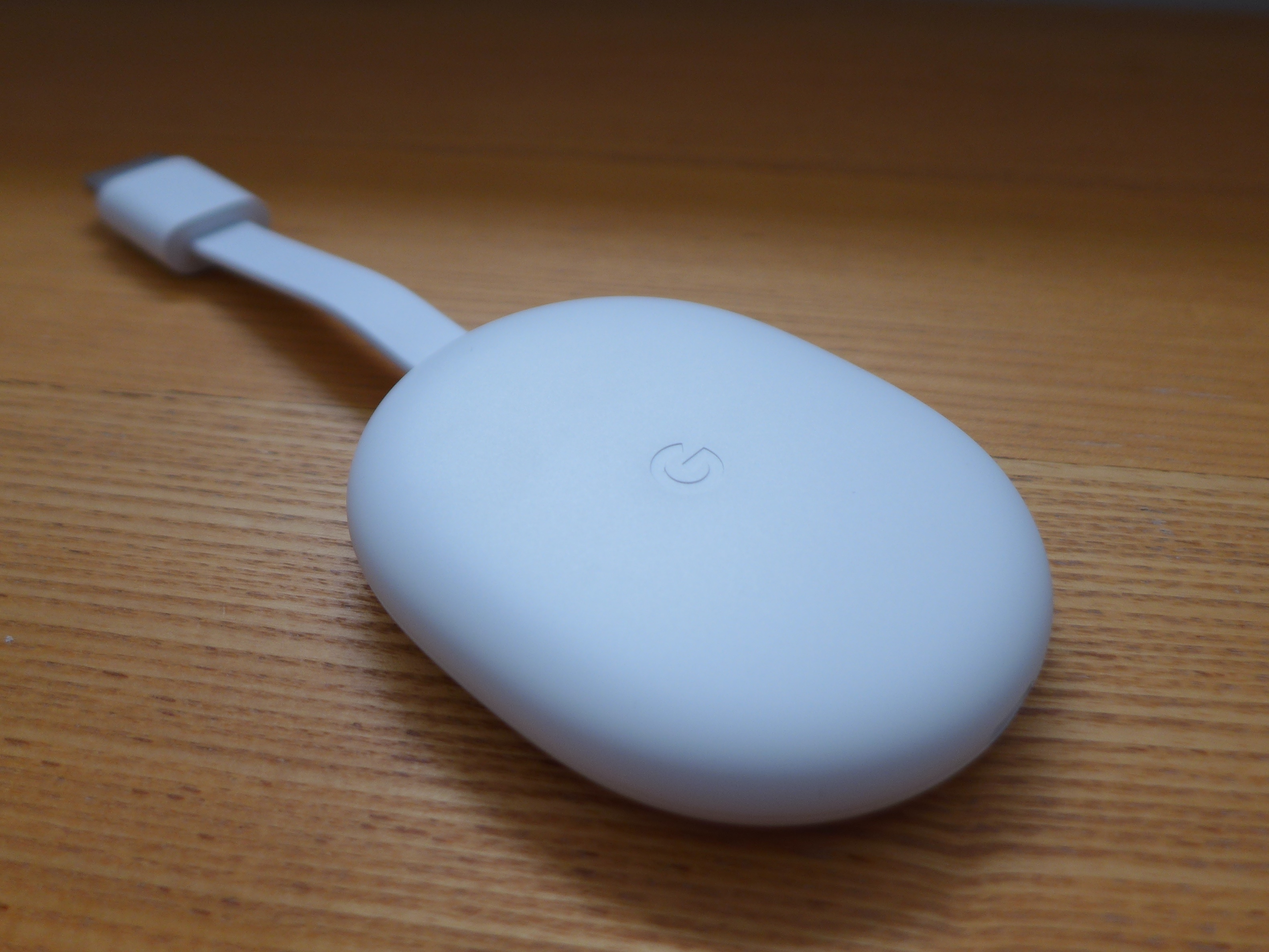 The new Chromecast offers you 4K HDR up to 60fps, including support for both Dolby Vision and rival HDR10+. We found the pictures to be really sharp with no buffering issues.
New to the Chromecast on this model is support for Dolby Atmos, the 3D audio format that pushes sound your way from all directions, including overhead. Obviously you need compatible speakers to make this work. Sadly, we didn't have Dolby Atmos speakers to hand to test this out on, but good old surround sound was top-notch.
Chromecast with Google TV VERDICT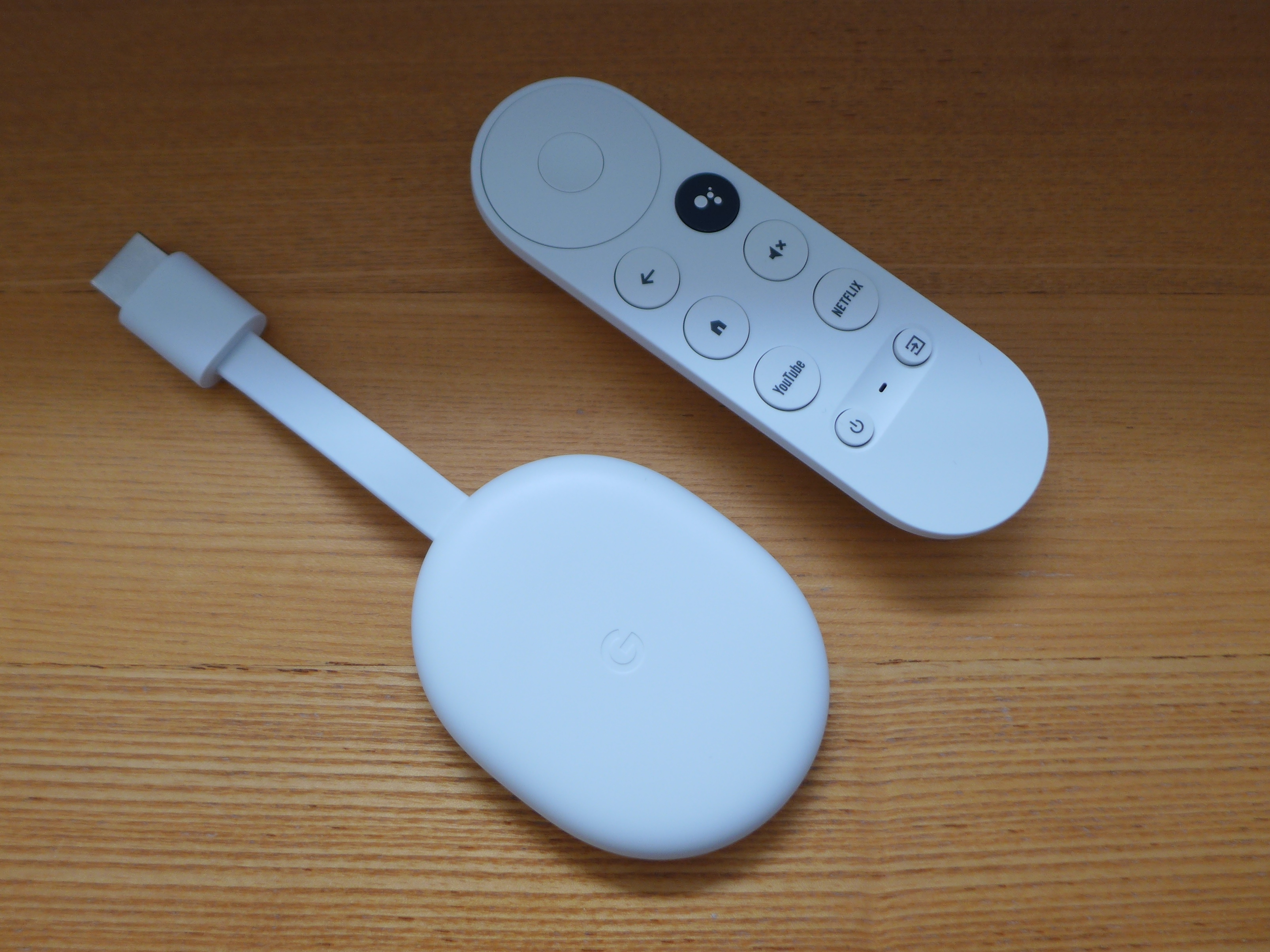 The ability to cast from apps was always a cool feature, but it wasn't for everyone. Sometimes you just want to watch TV without having to involve your phone or tablet in the process.
The addition of a real-life remote control and the Google TV interface makes the new Chomecast a far more appealing option. However, we do feel it's a little pricey for a mini streamer at double the price of the previous model.
Having said that, it's a great little gadget and a solid purchase if you like the casting function but you also want all your apps in once place. Just remember that if you're a Now TV or Apple TV+ subscriber your pennies might be better spent elsewhere.
Stuff Says…
The best Chromecast so far but it's missing a few major apps
Good Stuff
Remote control (finally!)
Slick design
4K HDR
Dolby Atmos support
Bad Stuff
Somewhat pricey for a mini streamer
No Apple TV+ or Now TV apps
No Google Stadia support
Recommendations aren't great