Archos 704 Wi-Fi review
Archos has stretched the screen of its 604 Wi-Fi to a huge seven inches. But does bigger mean better?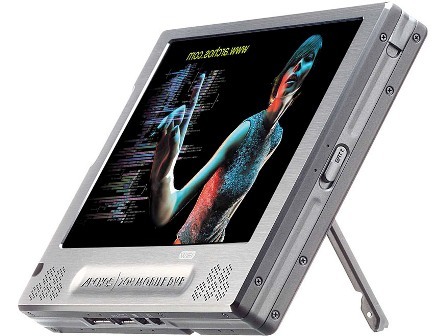 Archos' media players seem to be going the way of the today's professional rugby union players – the bigger, the better. With the 604 Wi-Fi's screen measuring a mere four inches, the French company had to act – so it made the biggest and most powerful portable media player we've ever seen.
The 40GB 704 Wi-Fi can hold your tunes, videos and photos – but that's just the start. Add the optional DVR station – you'd be mad not to – and the 704 becomes TV-friendly, turning into a portable PVR. And grab a Wi-Fi signal and you can use the Opera software to browse the World Wide Web.
A heavyweight beast
Out of the box the 704 is a solid slab of gadgetry – if Naomi Campbell had grabbed this instead of her 'cell phone' that pesky maid may not have been around to testify. But it's also heavy at 0.6kg, so make sure you've warmed up those wrist tendons.
Most of the menus – power, volume – are reached using the 704's touch-screen and, although this makes the huge screen possible, we're not crazy about the system. There's no stylus supplied, and the occasionally unpredictable response from finger-dabbing means we'd recommend investing in one. 
Web browsing is speedy, but the plodding UI makes typing URLs a bit of a drag. Once you reach your target, though, the seven-inch screen comes into its own – it's a genuine laptop alternative here. And, unlike our experiences with 604 Wi-Fi, this model quickly snatched available wireless networks. A rare oversight, we reckon, is the lack of flash support – bad news for Stuff.tv and Youtube fans.
Not quite the video star
The 704 Wi-Fi isn't just about surfing, of course – with that screen, it's made for watching video. Sadly, our opinions here are mixed. The contrast is a bit lazy – we want blacker blacks and brighter whites – and rapid action assaults the 704's otherwise composed picture. Off-axis performance isn't brilliant, either, meaning once you find the visual sweet-spot you best not move a muscle.
There's no question the 704 Wi-Fi is an awesome bit of kit – it can e-mail, browse, stream, record and juggle, and the battery life impresses. But that frustrating UI plus some performance glitches mean that it may be the biggest Wi-Fi capable PMP, but it's not the best. 
Use it with…
Stuff Essentials – In-ear headphones
Rivals