Apple TV 4K review
Apple's little black box joins the 4K brigade with mostly great results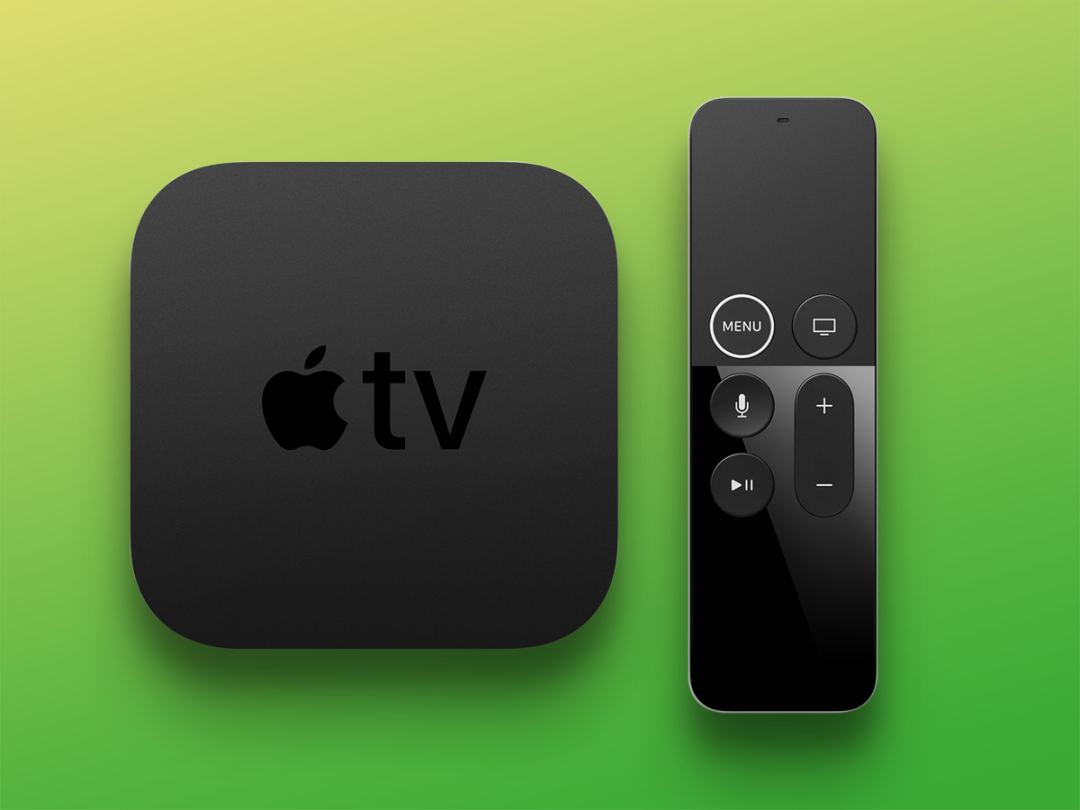 I've owned two Apple TVs over the years, and neither saw much use. When I look back now, it's clear why. I bought them because I thought they'd bring some of the greatness of my Macbook Pro and iPhone on to my big screen. Only they didn't.
Perhaps it was a dumb expectation in the first place. Truth is, the iPhone and Macbook transformed my productivity more than my media habits. If an Apple TV was going to work, it would need to terraform my viewing, a feat that neither the third- nor fourth-gen ATV pulled off.
In latter times, the Apple TV's cause has been made all the harder by the competition. Since I bought that last fourth-gen ATV, I've allowed a Sky Q box and an Xbox One S to take up residence under a new-ish 50in 4K TV in my living room. 4K live TV? Tick. Hi-def gaming with instant access to a mega library of titles? Check. Smart TV access to 4K Netflix and Amazon? A button prod away.
Still, the news of a (long overdue) 4K Apple TV got my attention. I have enough vested in iOS to want Apple to launch a box that's great enough to replace (or at least join) the other boxes under my TV. I'm willing to forgive the false starts – I still want Apple to win. But I believe the stakes for Apple are high, more so than with any other product in its arsenal. The 4K cannot afford to be a steady-as-we-go upgrade.
So let's find out – is it the required leap, or too small a step on the way to a greater place?
DESIGN: Happy staying in the background
Like its predecessors, the fifth-generation Apple TV is designed to vanish. It's a box. A very black box with rounded edges, and a little white light on the front that shines to let you know that it's doing stuff.
Atop the box there's an almost-black Apple logo, while around the back you'll find sockets – one for power, one to take an HDMI cable, and one for your Ethernet cable (just in case your wireless signal isn't strong enough for the Apple TV's built-in Wi-Fi).
Although the case's depth will catch your eye quicker than Amazon's almost-flat, easy-to-hide Fire TV box, the ATV will still fade into just about any environment. And it's as quiet as it is physically anonymous – the 4K's silent in operation.
Apple's Siri Remote is more interesting than the box that accompanies it. If you've owned or played with an Apple TV before, you'll be familiar enough with how it works. There are buttons to control the volume, to invoke Siri and to move you in and out of the interface, along with a smooth trackpad that takes up the top third of the stick.
Although the Siri Remote hasn't changed much from its forebear (there's now a white surround to the Menu button), it still ranks as one of the coolest, smartest remotes on any device – it's light, easy to handle, and incredibly accurate. And handily, it can be charged via the same lightning cable you use for your iPhone.
SETUP AND SOFTWARE: Typical Apple slickness here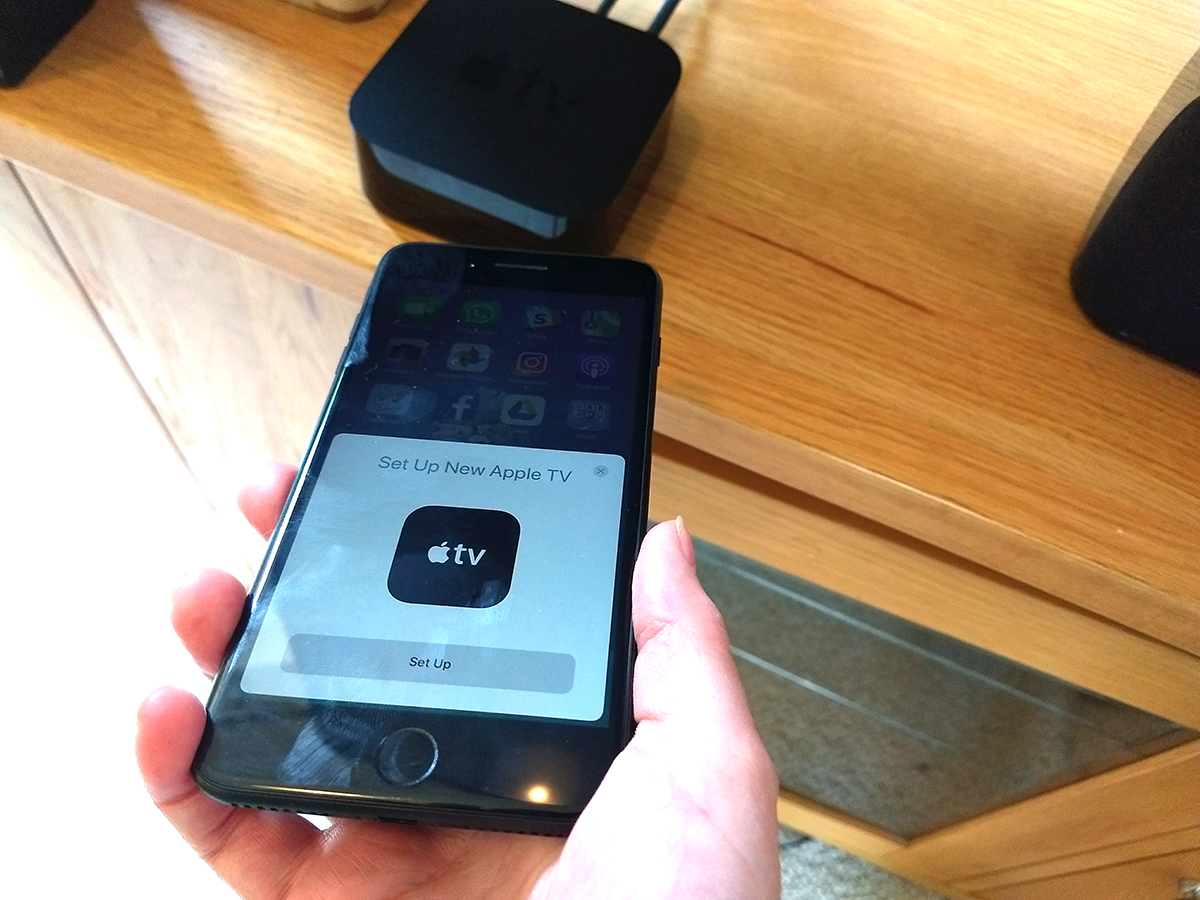 If you own an iPhone – and I'd guess that most Apple TV users will do – your new TV 4K will be up and running in a few minutes. The set-up walkthrough is self-explanatory – and at the point where you need to login to your iCloud account, it prompts you to hold your iPhone next to the Apple TV box (needless to say, the two must be connected to the same Wi-Fi network). Input a PIN code, and that's it – within seconds, you're greeted by the Apple TV home screen. If you don't own an iPhone it's a bit more of a faff, but you'll still be sorted in about 10 minutes max.
As you'd expect, the new 4K comes with the latest tvOS, version 11, straight out of the box. Fact is, there was little wrong with the tvOS interface in the first place; it's simple, clean and logical. So it's good to see that the latest update doesn't mess with those its strengths.
Instead, you get nice new touches, many of which are genuinely useful. For example, there's auto-detection of AirPods built in. Dig into Settings, and you can completely switch the interface to Dark Mode, or set it to automagically switch. Lastly, you can now sync home screens via iCloud, should you own more than one Apple TV (what do you mean you have six?).
PERFORMANCE: This thing really flies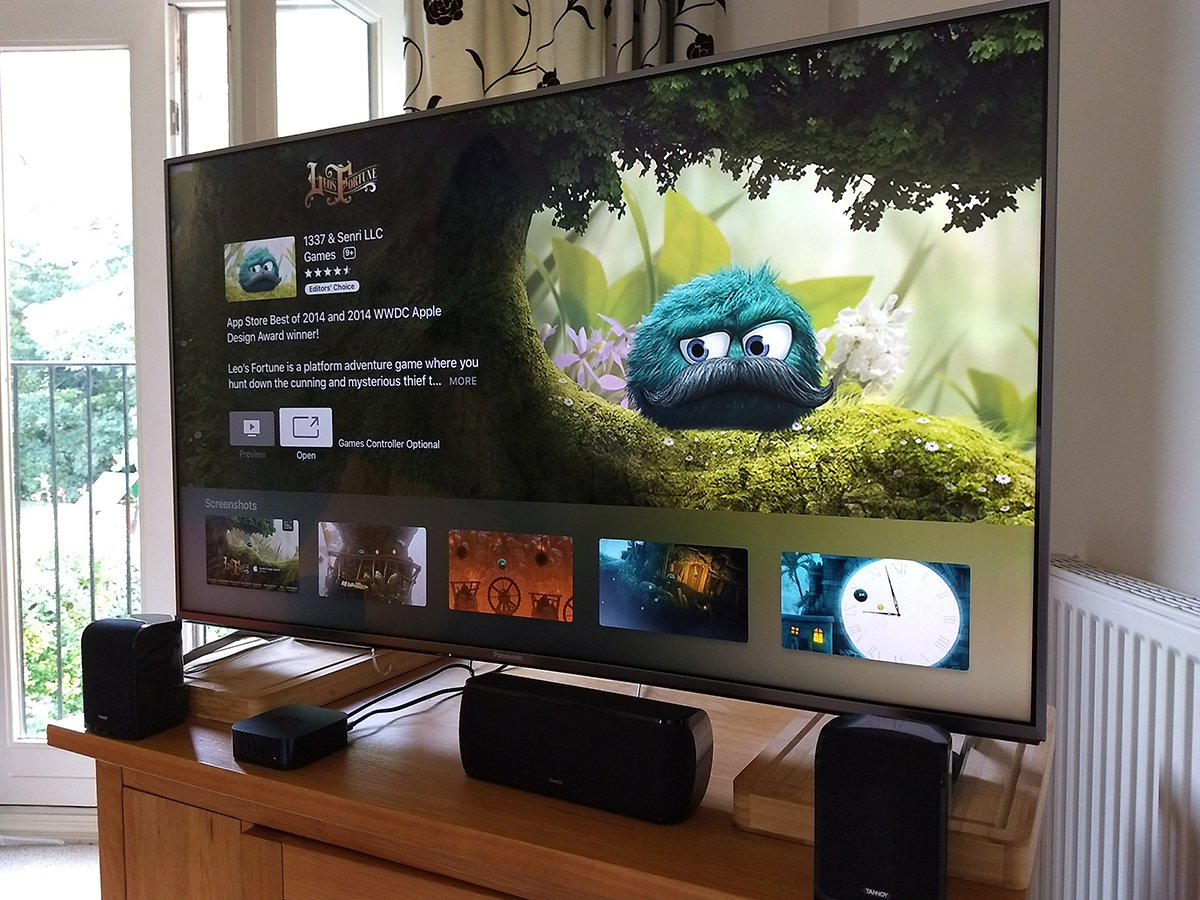 The Apple TV 4K is fast. It's quick to set up, and reliable in day-to-day use, with transitions between screens particularly smooth. All of this should come as no surprise given that the memory has been upped from 2GB to 3GB, while the heavy lifting now comes courtesy of the A10X Fusion chip (the same 64-bit processor you'll find under the hood of the 12.9in iPad Pro).
Apple claims that the A10X is 30% faster than last year's A9X, with a 40% faster GPU. Throw Wonder Woman in 4K HDR at the new ATV, and you'll happily believe it. There's simply zero stutter or lag.
Just as impressive is how quick the interface is to switch between applications. With nothing else in mind but abuse, I began playing Leo's Fortune, then switched to streaming Alien Covenant, then an NPR podcast, then Netflix playing It Follows. I then spent 10 minutes speed-multi-tasking between the four. Try as I may, I couldn't get the new ATV to lose its footing (in fact, the only glitch seemed to come from the Netflix app – the others retained their still preview in the multitasking view, while Netflix showed as a blank black box).
Picture quality: The best Apple TV has ever looked
Of course much as the minor speed boost and UI improvements might be welcome, you're really only here for one reason: eye-delighting 4K telly.
The good news is that the 4K picture quality on offer is generally superb. That's certainly true of any 4K films bought from iTunes, with a crispness to images that you'll miss the second you return to watching plain old 1080p. Not that you'll want to do that again.
It's worth bearing in mind that you can't download 4K movies or shows from iTunes – that'd take up too much space – so you'll need a fairly fast broadband connection or risk buffering hell; I experienced a few minor problems on my 100Mb line, although only when starting to play a new episode rather than during one.
HDR is available too, assuming your TV supports it, and this is another big bonus. Sure, how effective it is depends on what you're watching – it's more obvious and therefore more worthwhile in high-contrast scenes – but with iTunes content it always improved the picture.