Apple TV 4K review (3rd gen, 2022): play it again
In one of the year's least expected upgrades, Apple has given its TV streamer a bit of a beefing-up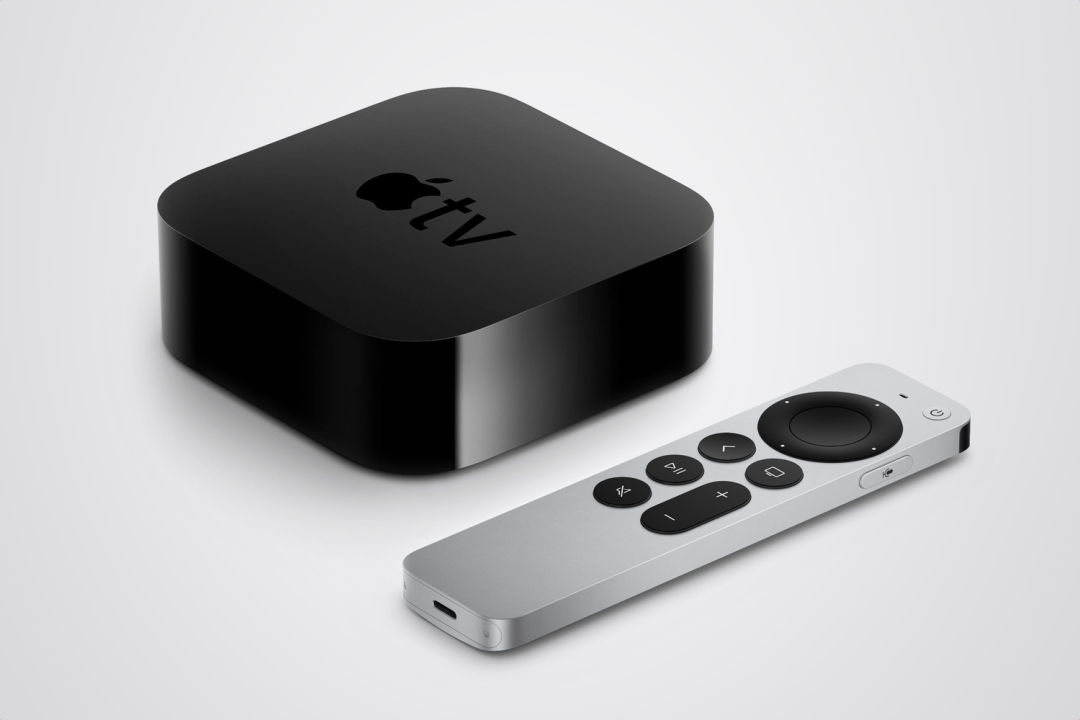 Unboxing the latest 4K Apple TV, it's clear that a lot has changed for Apple's television strategy over the last couple of years.
The advent of Apple's TV+ streaming service has finally brought some kudos, but TV+ apps are available for (almost) everything these days.
What's more, it's likely your telly doesn't require you to spend $129/£149 (or $149/£169 if you want more storage plus Ethernet and Thread support) to get it. Even AirPlay 2, once effectively an Apple TV exclusive, is now integrated with smart TVs at all price points.
Review originally published 11 November 2022
The Apple TV has always been a great streamer, though, and we don't see that changing here. Mind you, the big caveat is that you need to be embedded in the Apple ecosystem to make the most of it – and be prepared to pay a premium over perfectly decent streamers from Amazon, Roku and Google.
The black box has changed a little – it's around 20% smaller, and gone are the Apple logo and the 'TV' on the top, replaced by the standard logo. Unlike certain people on the internet, we'll say this is probably just down to standardised branding rather than any wider ambitions.
The metal remote is the same as on last year's model but now charges via USB-C rather than Lightning. This probably means Apple sees this box sticking around past the EU's deadline to make devices USB-compliant. The change is worthwhile. This version of the Apple TV remote is much chunkier than we saw in the early days of the streaming box and that makes it far nicer to use. But if you misplace it, you can always use your iPhone to control the puck instead.
Setup
Indeed, the initial setup is now ridiculously easy if you have an iPhone – no longer do you have to laboriously type in your info, and it will autodetect your device and transfer your Apple ID and Wi-Fi settings seamlessly.
Individual app setups are a bit patchy, just as on other systems like Fire TV or Sky Stream, but you can use the keyboard on your iPhone if you do need to enter any text, as well as confirming purchases with Touch ID or Face ID – very welcome indeed.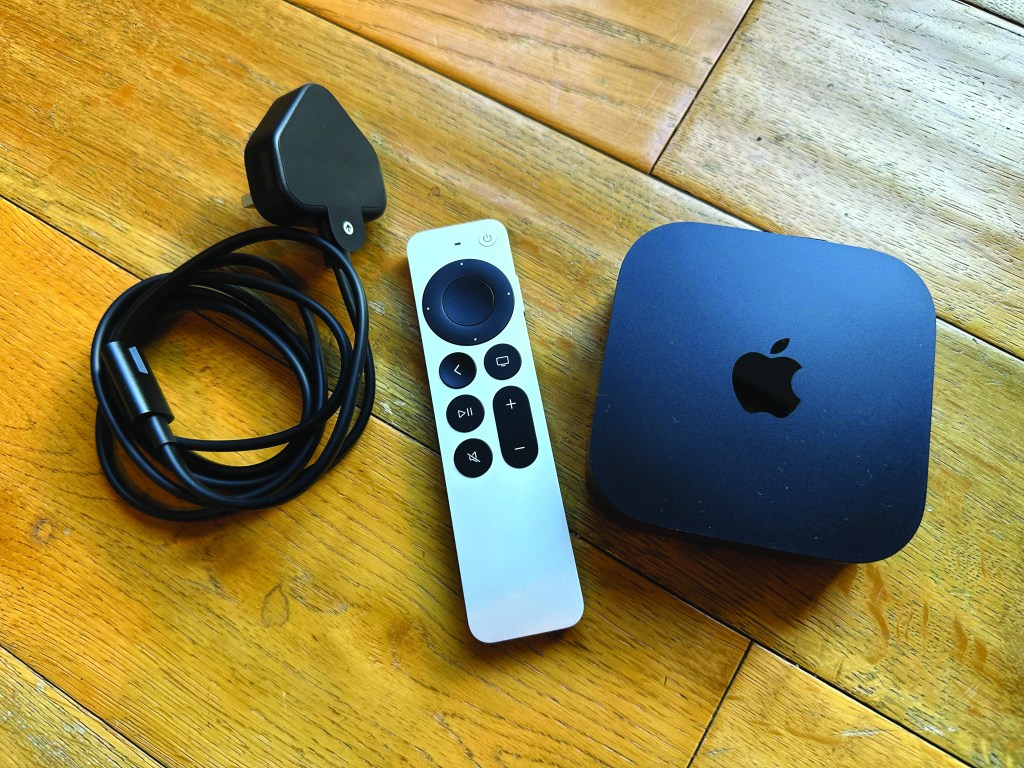 Performance and interface
We have experienced HDR issues with other devices, but you just don't get these with the Apple TV. This one now covers HDR 10+ in addition to Dolby Vision, HLG and HDR10, and it's a robust streamer for these formats as long as the rest of your hardware is up to it.
We were using an HD Apple TV prior to this, and the upgrade to the A15 chip inside the new one is noticeable. This is not a groundbreaking change, but things are loading more quickly and the experience is considerably slicker than the interface on, for example, my Amazon Fire TV Stick.
It also helps that the interface is clean and simple (as it always has been) and, aside from some basic programme banners that can show you the next episode of things you've watched, isn't littered with ads or promoted items.
Apps and customisation
Apple TV no longer has an issue that dogged it for its early years; third-party app support is now great, with all the standard UK services you'd expect including BBC iPlayer, Now TV, BT Sport and ITVX in addition to the biggies like Netflix, Amazon Prime Video and Disney+. You can customise the home screen with the array of apps you want.
I am finding that, more often than not, I need to go into the individual apps to find what I want. You can set up multiple users these days with tvOS, but this is of limited use as you still need to have different profiles within many apps.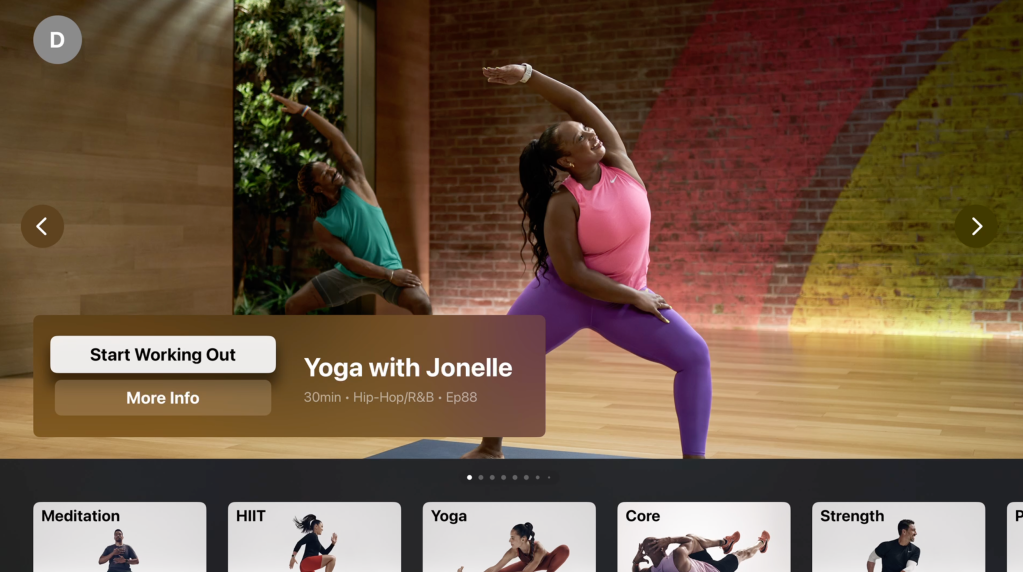 Naturally all of Apple's key apps are integrated. Photos remains a favourite for easy public display of photograph albums, and Fitness+ did become much loved on the old box because of its tight Apple Watch integration, although – full disclosure – our household lost access to this recently: due to a hike in the price of the Apple One sub, we removed it from our package. Sorry, Tim.
Apple TV 4K verdict
Despite some drawbacks, I really do love the new Apple TV. We have a Sky box as well, so Apple's puck isn't always the first thing we go to, but I much prefer to use it than my telly's own OS. Why didn't Apple make its own TV again?
Stuff Says…
A top streamer if you're already an Apple fan… and don't mind paying the premium
Good Stuff
Seamless for AirPlay
Great for photos
Apps are generally ace
Bad Stuff
Costlier than rivals
Why are there two models?
Lots of TVs now have AirPlay integrated
Apple TV 4K tech specs
| | |
| --- | --- |
| Processor | Apple A15 Bionic |
| Storage | 64/128GB |
| Connectivity | Wi-Fi 6, Bluetooth 5.0, HDMI 2.1; optional Thread support and Ethernet |
| Video formats | SDR, Dolby Vision, HDR10+, HDR10, HLG, H.264, MPEG4 |
| Dimensions | 93x93x31mm, 208/214g |