Apple MacBook (2016) review
More power, more pink, but what else?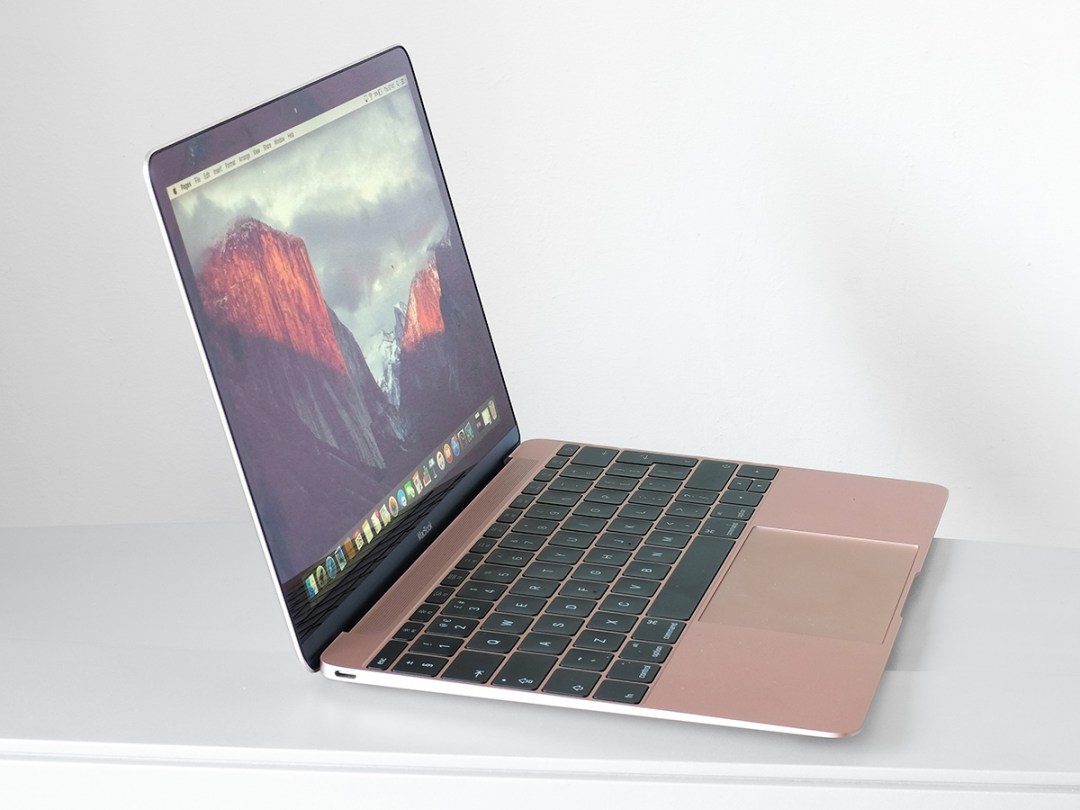 Apple is past-it. The glory days are gone. Steve Jobs would be thoroughly ashamed. We hear this sort of nonsense every time Apple releases a new shiny gadget. But the simple truth is we still want 99 per cent of the stuff it makes, don't we?
Last year it reinvented the laptop with the 12-inch MacBook. I found it infuriating in many ways, but even I had to admit it was pretty darn brilliant. This year the new MacBook is nothing like as jaw-dropping.
If last year's model made its debut at a showy My Super Sweet Sixteen-style extravaganza, this one just gets a mention in the Apple family newsletter. But what's new?
Enter the flamingo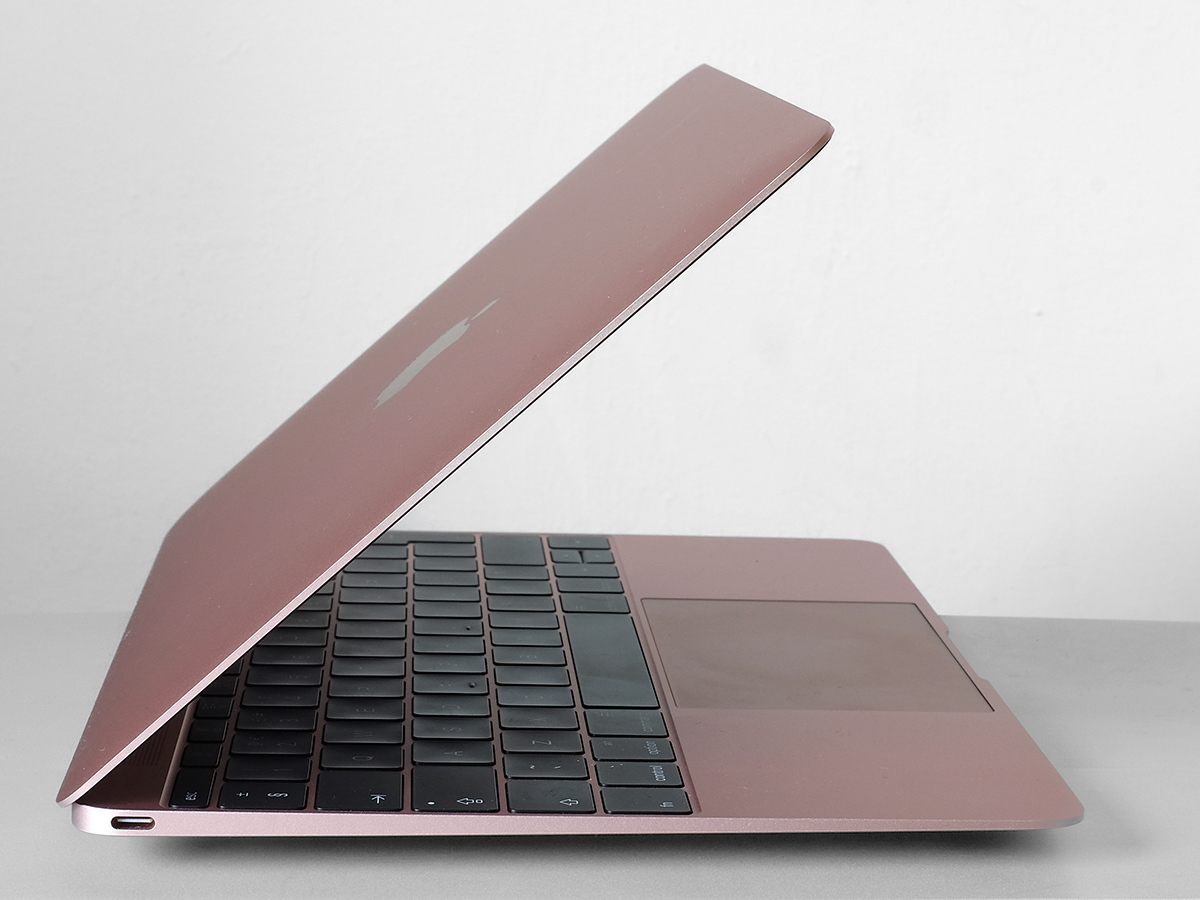 The most important change to this year's MacBook can be summed-up in one work: pink. Apple now makes a Rose Gold MacBook. It's the one Apple sent us to have a look at too.
I think this must be the only pink laptop to date I'd be happy to own. Like the iPhone and iPad Rose Gold, it's a subtle pink, not the day-glo shade that might earn you disgusted looks on the train.
At this stage it almost seems pointless to tell you about how well-made the MacBook is. As we've said in every MacBook review since MacBooks began, it's a lovely all-aluminium thing. One day there'll probably be one of these propped-up in a design museum somewhere next to a Philippe Starck chair. If there isn't already.
At 13mm thick and 920g-odd grammes, it almost feels as though you could fit the thing in your back pocket (pro tip: you can't). You can check out the review of the last year's MacBook for more gushing about this laptop's design. But what is its 2016 incarnation like to use?
A weekend to remember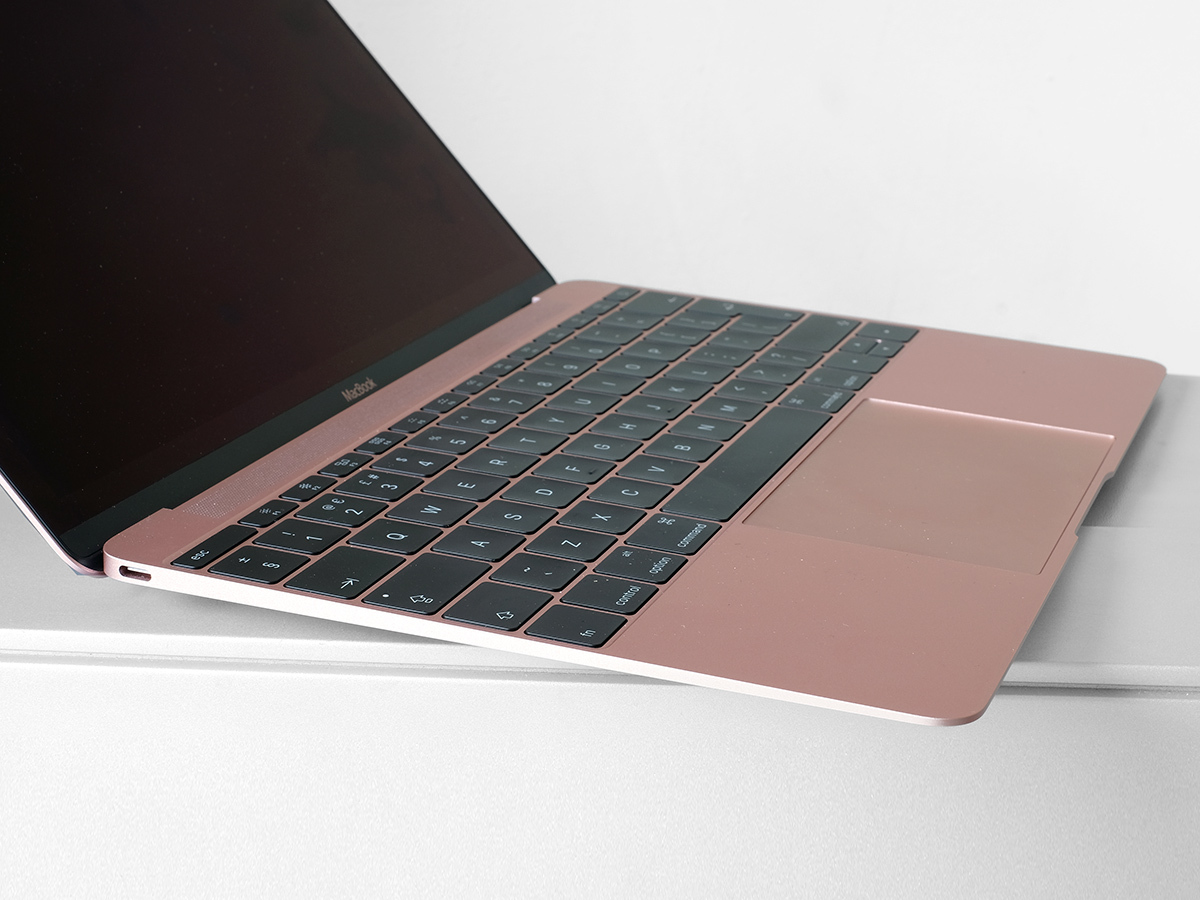 Using the MacBook again has been like reacquainting with a French cousin who likes to party. It's been fun, but there are some nagging cultural differences that result in a few awkward moments.
Let's start with some of the good stuff, though. The MacBook (2016) has fantastic speakers for a laptop this small and thin. I've used hulking great big 5kg gaming machines that splash hi-fi brands across their front but don't sound as good as this. Last year Apple's big boast was about how the MacBook is full to the brim with battery, but there's clearly also a little bit of space reserved for a speaker cavity.
The sound is surprisingly rich and loud, with the same sort of "crikey I didn't expect that" effect you get from a good wireless speaker. I'll still take a Bose Soundlink Mini II on holiday, but it's impressive stuff.
Short stack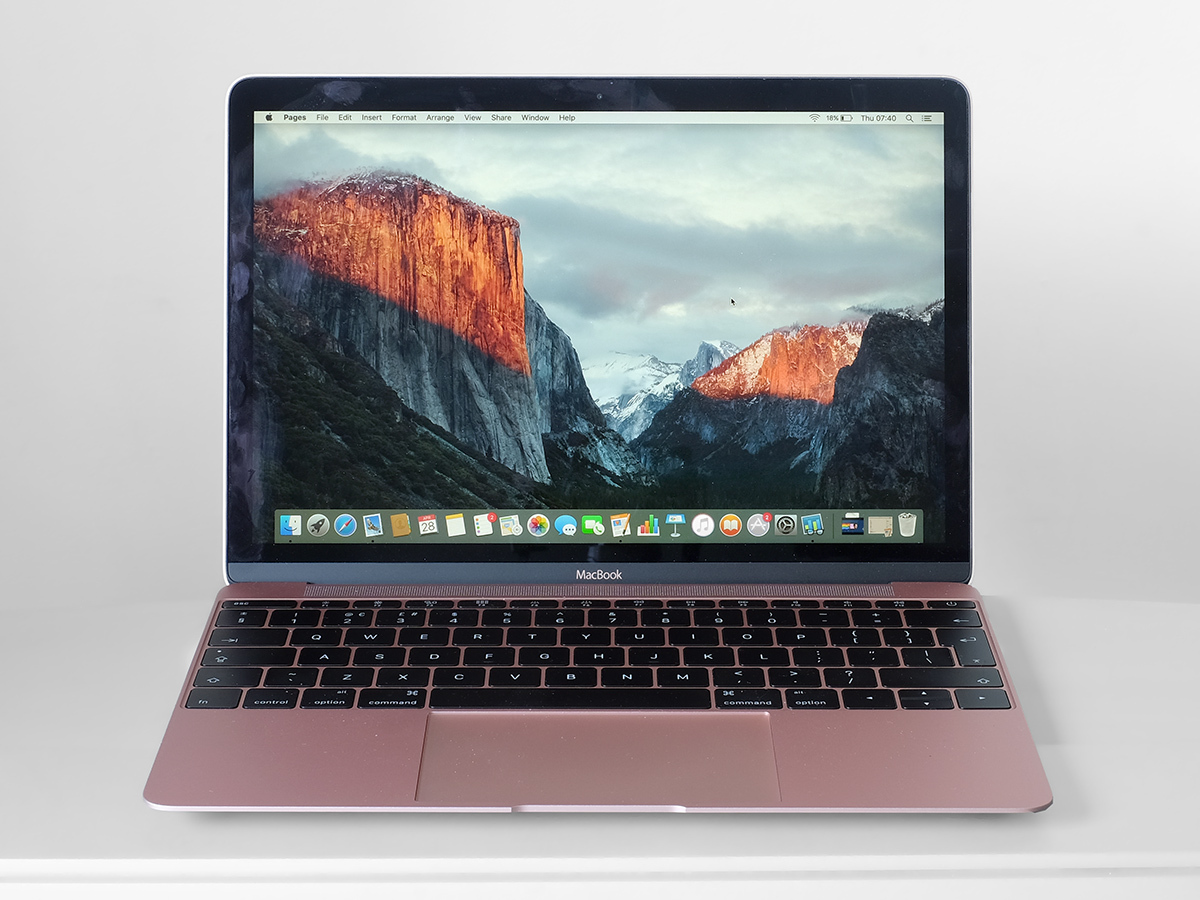 Then there's the size issue. Small Windows laptops can feel a bit cramped. Almost all 12-inchers use full-size keys these days, but a super-slim keyboard surround or a teeny trackpad can make it feel as though you're typing on a kids' toy.
Not here. Size-wise at least the MacBook (2016) doesn't feel radically different to the MacBook Pro 13in (2015) I use day-to-day. Everything's squeezed-in a little, but not much. The trackpad is still huge, and has the lovely glass surface other MacBooks have.
It's a Force Touch pad, meaning you get a normal click and then a deeper one as you press harder. That firm press is used as a gesture to do things like preview web links and peek into photo albums. You don't get that with Windows laptops.
The keys to success
The first slightly sour note to my MacBook 2015 keyboard was the key feel. A year on, tapping on those wafer-thin keys still feels like waking up, getting out of bed only to land on a carpet of crushed egg shells. It doesn't hurt, but it feels weird. If you haven't used one of these 12in MacBooks before, they have super-shallow keys.
They're very crisp so don't feel like typing on a touchscreen or a rubbish Bluetooth keyboard, but the feel takes a while to get used to. Apple seems to hate keyboards, treating them as a tired obstacle in its quest to make a tablet as thin as a single piece of white printer paper. I'm not going to miss the MacBook's skinny keyboard, I'll admit, but the awkwardness does drain away after a while.
After two days using the laptop as my main machine, it started to feel normal. We're adaptable creatures, and crucially Apple uses a new (for last year) Butterfly key mechanism that makes the buttons feel far surer than an ordinary one would with this tiny bit of travel. They are also a bit bigger than those of other MacBooks, by cutting down some of the space in-between.
There's also an excellent keyboard backlight that gives you as much control over its intensity you have over the screen backlight. Unless you like your backlights rainbow-coloured like a gaming laptop, it's probably the best in the world right now.
Plug-in crazy
The other MacBook issue is one that hasn't gone away. Like 2015's MacBook, this new one has a single USB-C socket, used to both charge the battery and connect any other accessories you might need, bar headphones. There's still a 3.5mm jack, thank god. But there's no memory card slot either, which is actually the bigger problem for me.
Do you want to plug in a camera every day? Or use this as a desktop, plugged into a monitor and keyboard/mouse? The MacBook isn't so hot for that. The older MacBook Air or a MacBook Pro might be a better buy. You don't even get a single USB-C-to-USB converter included. It's a £15 accessory.
More laptop makers are starting to adopt this "connections are the devil" philosophy, but with the MacBook Apple has produced a flat-out connection-hating Kool Aid factory. I'm not quite ready to join the cult just yet. Consider whether you are before buying.
Shiny, shiny baubles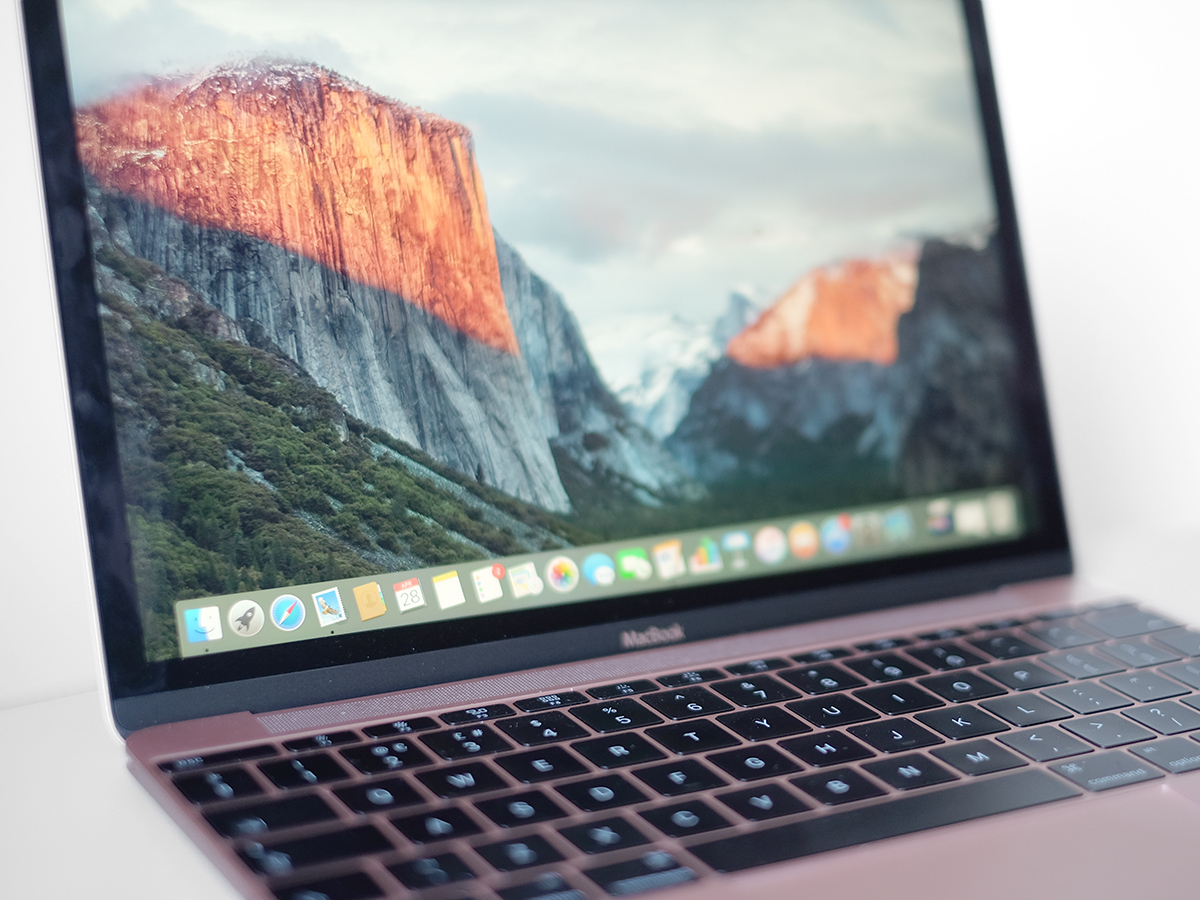 It's only really these little issues and the price that should put you off the MacBook 2016. Its 12in 2304×1440 LCD screen is lovely and, like every MacBook, not a touchscreen. But that's because OS X is not a touch-friendly operating system. About 60 per cent of similar Windows 10 laptops/hybrids (a made-up stat) may have a touchscreen, but that system still feels most at-home with a trackpad or mouse at your fingers.
I've been out and about in London using the MacBook, and its screen can even handle direct sunlight, despite having a glossy finish. Just like my normal MacBook Pro, the backlight does tend to go a bit mad if you pelt loads of different light conditions its way, at times going really bright or dim with no obvious reasoning. That said, overriding the backlight control is only a key tap away.
As a roving work machine to use everywhere from the couch at home to a bench on a Dunstable train station platform, I'd rather use this than an iPad Pro, a Microsoft Surface Book or a Samsung Galaxy TabPro S. There's life in the laptop yet.
Upgrade-itis?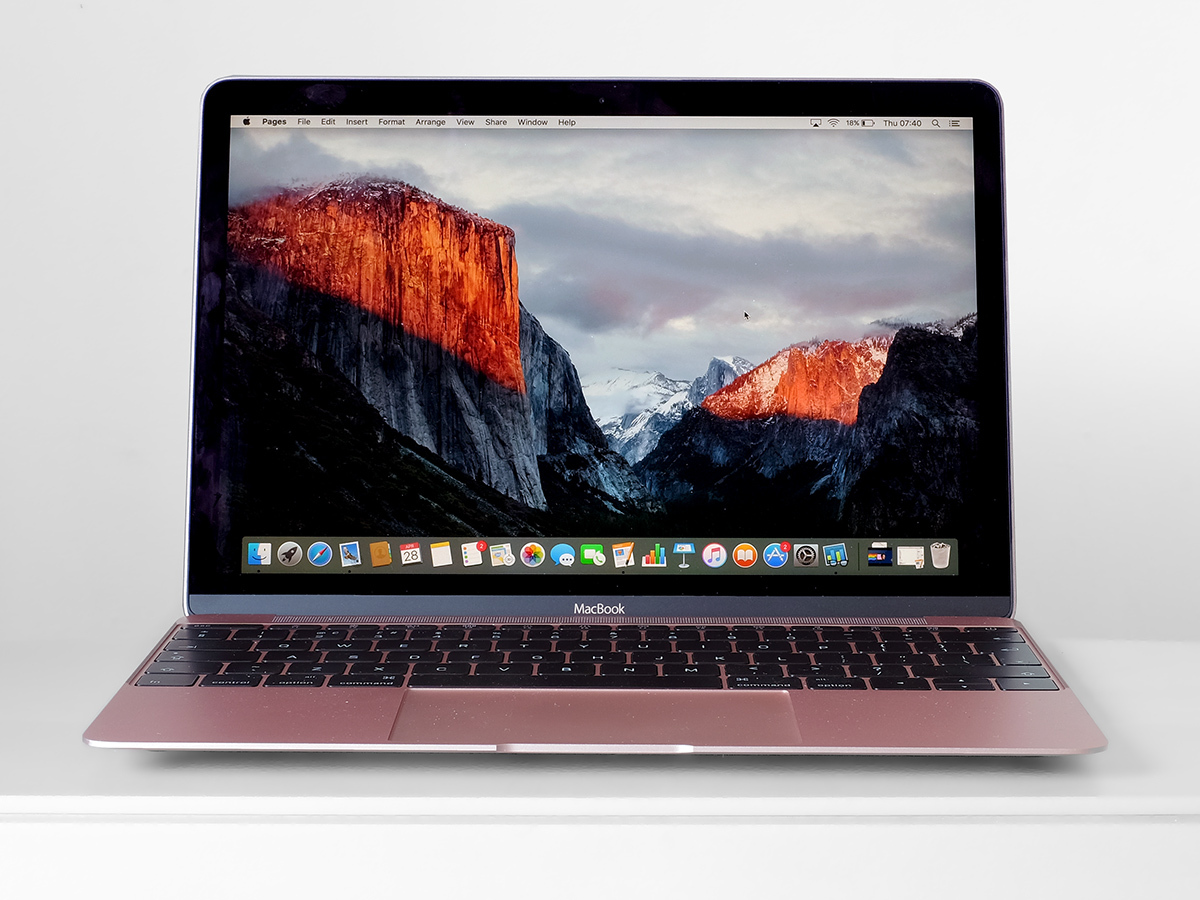 If you already have a 2015 MacBook, you'd be mad to upgrade to this one, though. Aside from the pink option the big difference is that this generation uses Skylake Core m processors instead of Broadwell ones. They're better, faster and more efficient chips. But I don't think you're going to notice all that much of a difference unless you dredge up benchmark results: this laptop scores 5030 in Geekbench 3, using the lower-end Core m3 version I'm using.
Performance is about 10 per cent better this time. Like every device using one of these latest-gen Intel Core m brains, and there are loads of them now, the MacBook 12in feels just great when you're doing the laptop equivalent of pottering about. Browsing, writing stuff, watching videos all feel as fast as they would on a machine with 4x the power and 5x the bulk.
The SSD and 8GB of RAM have a big hand in this too. Apple is using a faster SSD this time around. Where the old MacBook storage revs up to 500MB/s when reading and writing, this one writes at 650MB/s and reads at 850MB/s. Some MacBook Pro drives read at up to 1300MB/s these days, but the one used here must be exceptionally tiny. It's a joy to use.
Stuck at the Gamer Gate
It's not great for gaming, though. The Intel HD 515 is marginally snappier than the old Intel HD 5300 of the last 12in MacBook, but it's still going to be the last team member picked, outclassed by MacBook Airs and 13-inch Pros.
And they're C-team "starts wheezing after running 50m" players as it is. Some games work well enough at the lowest settings, though. EA has made sure Dragon Age: Origins works acceptably on such humble hardware, for example, but not at the MacBook's native resolution.
Getting an extra frame per second in a game that's unplayable with either generation of MacBook doesn't matter that much. But Skylake's efficiency chops mean great things for this laptop's battery life.
Battering the battery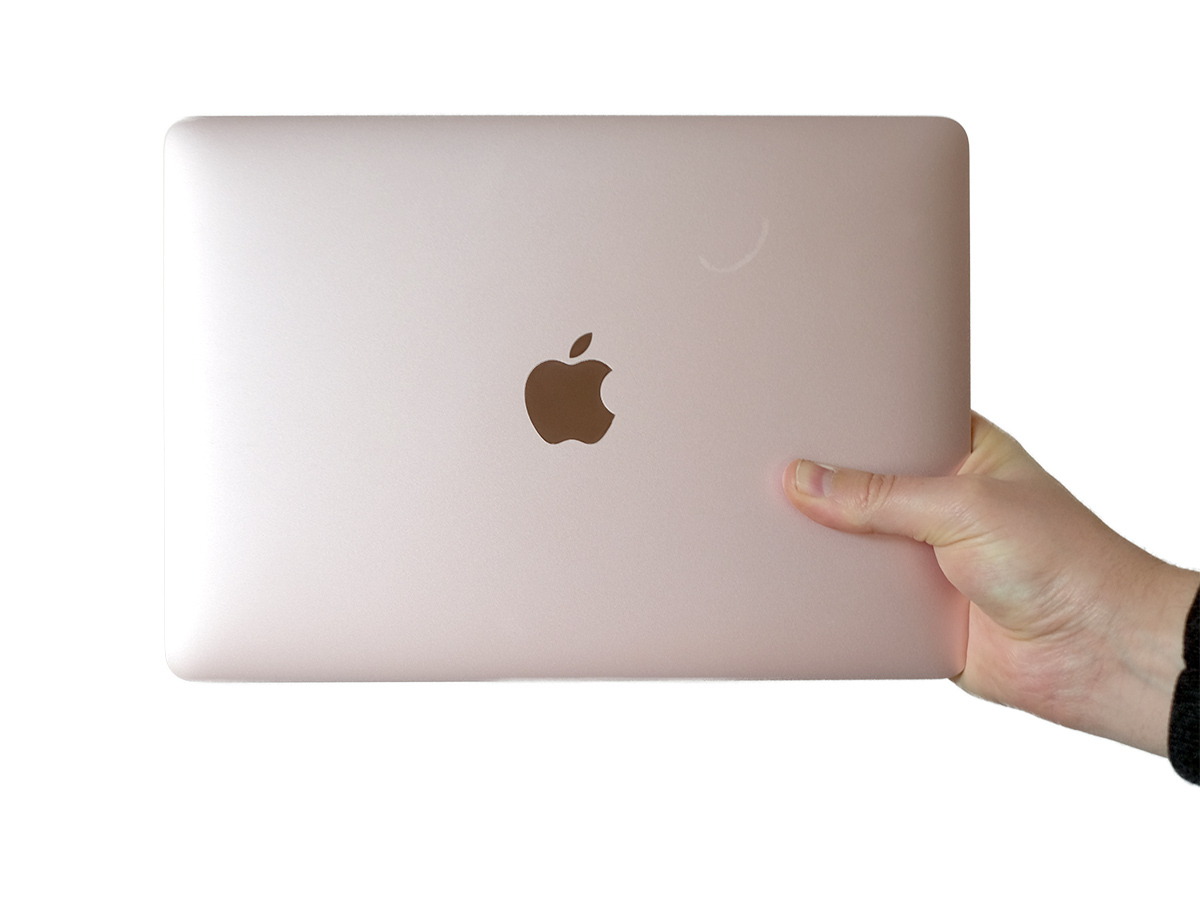 Stamina in the first MacBook is good. This one's even better. To prove Apple's point I took the MacBook out for a work day trip into London town. 30 minutes working on the bus with the laptop on my knees we're down to 99 per cent.
As usual, Apple's battery reporting likes to hold onto the magic 100 figure for as long as possible. It's not actually going to last for 50 hours. Sorry. The next hour in a Pret A Manger hooked onto the terrible Wi-Fi took 10 per cent of the level. Another hour working in a pub, and we're down to 75 per cent. That's 25 per cent gone in two and a half hours of active use. Not bad.
Later on in the day, another hour and 10 minute stint in a coffee shop took 15 per cent of the battery. The MacBook's battery reporting isn't 100 per cent consistent, but this was after using the thing a couple of days. Battery calibration takes a little while to bed in, and we're still on target for Apple's claim of 10 hours' web browsing use. A few hours laters, I tried, and failed, to drain the MacBook down in a single day's ordinary work use. Nice one Apple.
An hour's video playback took 12 per cent off the battery, suggesting you'll get around 8.5 off a full charge. Apple says you should get 11 if you use iTunes. I didn't. Having a full hour's extra use between charges is a big benefit that only deserves shade thrown if the nine hours of the last MacBook is already more than enough for your needs. 12-inch MacBook Airs last a bit longer, but their screens are plain bad in comparison. Almost embarrassingly so these days.
The last part of the MacBook barely deserves a mention, but as we're here: the camera. There's still just the one lodged in the screen surround, and it's still rubbish. A 480p FaceTime camera, Apple might as well write "we know none of you are using this, but here's a camera anyway" on its product page. Fair enough, I can't remember the last time I used a laptop camera other than to see whether it was terrible or not.
Apple MacBook (2016) verdict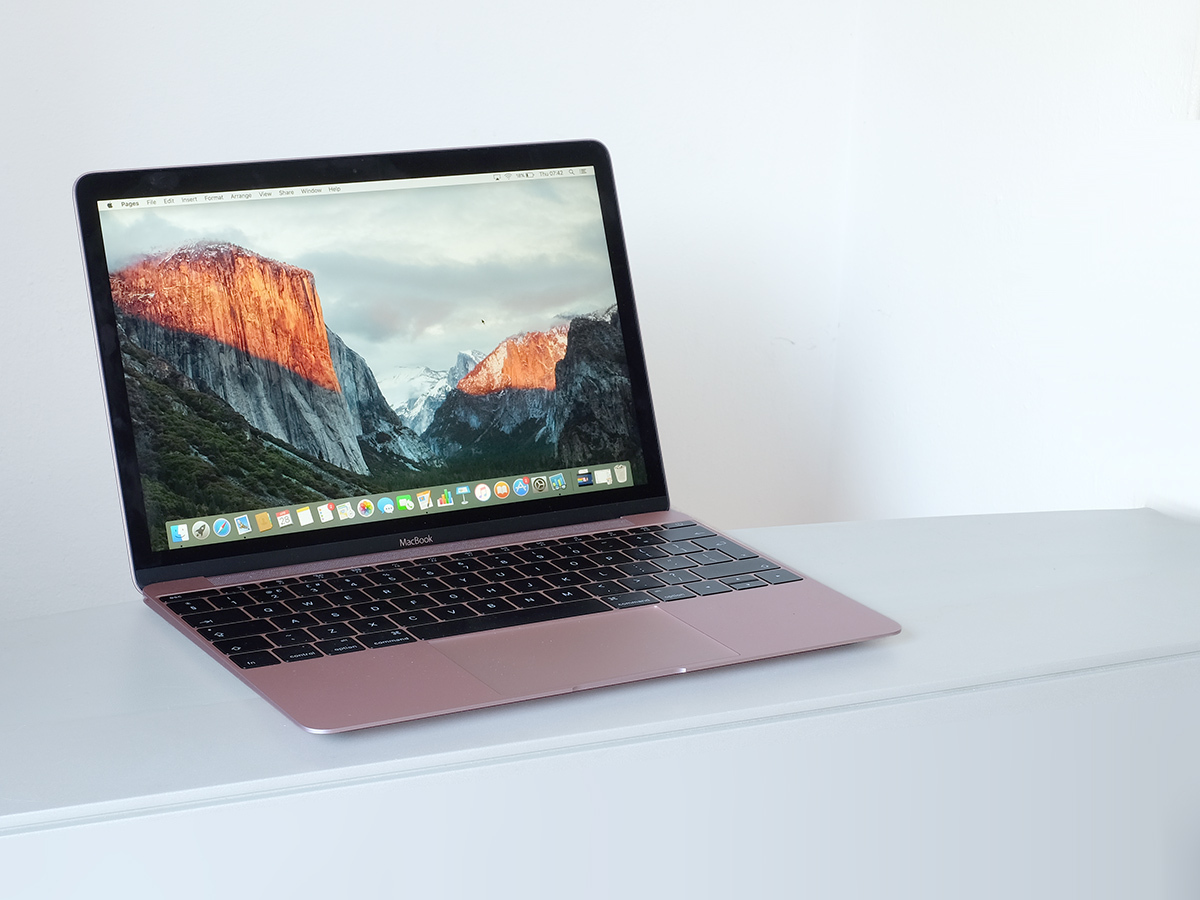 Apple played so many of its design cards last year that the MacBook (2016) looks and feels largely identical to last year's one. It's skinny, fab to work on and has a lovely screen.
It's the MacBook Air's prettier, younger brother. But sometimes we wish it had a bit more of the MacBook Air about it. One USB-C is only really going to cut if you're one of those stereotype millennials who uses a laptop solely to watch YouTube, obsess over their Instagram likes and waste time browsing inane websites.
For the remotely hardcore crowd, this is better as a second, ultraportable PC. And for the bargain-savvy buyer, why not check out Apple's first-gen MacBook refurbs? Unless you'd lap up that extra hour's battery life, the older version is just about as good.
Buy the Apple MacBook (2016) here from Amazon
Stuff Says…
Two pounds of pink aside it's much like last year's 12in MacBook. But that's no bad thing.
Good Stuff
Good battery life
Great screen
Lovely trackpad, good keyboard layout
Class-leading speakers
Bad Stuff
Rubbish connectivity is still annoying
No memory card slot
Mixed feelings about the slim keyboard