Apple iPod Shuffle 2G review
Apple's second-generation budget iPod is short on function but high on style.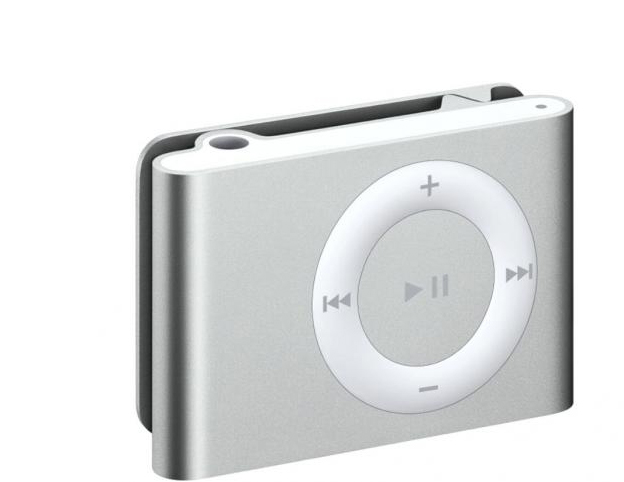 When Apple refreshed its iPod range for Christmas 2006, surprises were sorely lacking: the big iPod was given more disk space and battery life (sarcastic whoops), while the Nano was reborn as a smaller iPod Mini (silence). But one product – the second-generation Shuffle – provoked a chorus of cooing. Newly clad in Mac Pro-aluminium, the simplest MP3 player known to man was now the coolest – and smallest, too.
Small size, big sound
As with its predecessor, the new Shuffle lacks a screen, and has the simplest controls – forward, back, play/pause and volume up and down. On/off and random/sequential sliders are tucked away on the bottom, but there's no lock and – unlike the old white Shuffle – no battery check. A tiny LED on the top and bottom of the device blinks when the battery is charging or the player is paused.
How has Apple managed to make the Shuffle so small? Well, for a start there's no built-in USB plug – instead, the cheapest iPod (£55 at launch) is the only one that ships with a dock that uses the Shuffle's headphone socket to recharge the 12-hour battery in around four hours.
The Shuffle doesn't come with any software, so you'll have to download iTunes 7.0.2 for free from Apple's website – which is a concern if you don't have broadband. With one click, iTunes will fill the Shuffle with about 200 random tunes, with a bias towards highly rated tracks if you wish. Alternatively, you can manually copy files to the Shuffle, and drag them into order so you know what comes first.
As well as a dock, the Shuffle comes with the ubiquitous white earbuds. These aren't the worst earphones on the planet, but even at this end of the market we'd advise spending an extra tenner – or £20 if you can afford it – on a pair of Sennheisers or AKGs. With better 'phones, the Shuffle sounds involving, if a little bright.
But iPods have never been about sound alone, but rather the whole user experience: the way that iTunes makes the process of ripping, buying and transferring music so simple and enjoyable; the pleasure of holding a masterpiece of industrial design in your hand. Or clipping it to your shirt.
Which brings us to the clip issue. Let's set one thing straight: gadgets on clips are the tech equivalent of moustaches – a badge of pride for the people who have them, and a no-go zone for the rest of us. Well, all that's about to change thanks to the Shuffle – what was once IT anti-style will now become de rigueur for the urban fashionista. That must present Apple boss Steve jobs with quite a problem – he's been hermetically sealed into the same black Banana Republic jeans-and-turtleneck combo for so long he no longer understands the concept of a 'lapel'. Where will he clip his Shuffle?
For the rest of us, the Shuffle's a cheap, stylish no-brainer. Yes, it's lacking in features. but whether you're giving someone their first iPod, or you're just looking for a second MP3 player that'll compliment your Speedos, the Shuffle edges the iPod line even closer to gadget perfection. It makes other players – and MP3 mobiles – seem clumsy, ugly and overcomplicated. Don't think – just feel. And buy.