Apple AirPods review
A new dawn for wireless headphones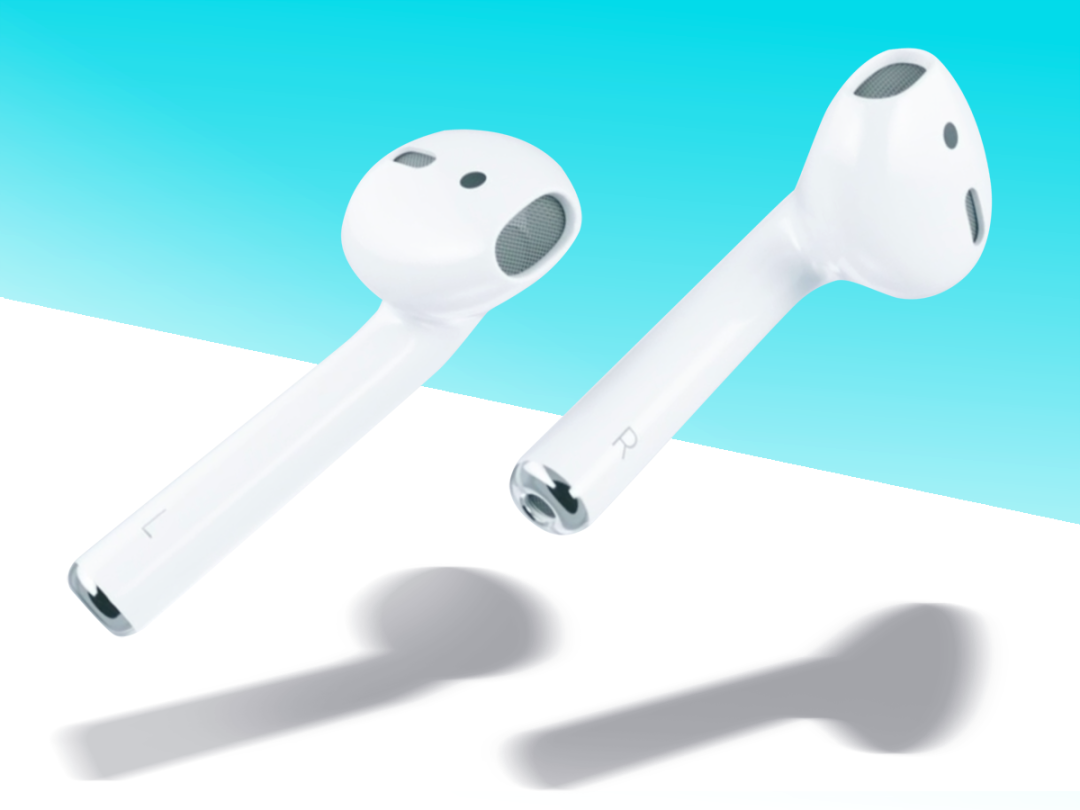 The AirPods are the most Apple product in absolutely ages, for better and for worse.
They deliberately hark back to the conspicuous white earbuds of the original iPod, which is fair to say changed the direction of consumer electronics and the fortunes of what had been until that time a computer company.
But while they nod to the past, they're also stunningly, fabulously futuristic. Apple's constantly claiming it's reinvented stuff, but for once it's not arrogance or hyperbole. The AirPods are an undeniably huge step forward in the world of headphones.
But that's not to say they're perfect…
Apple AirPods design: breath-taking and a bit daft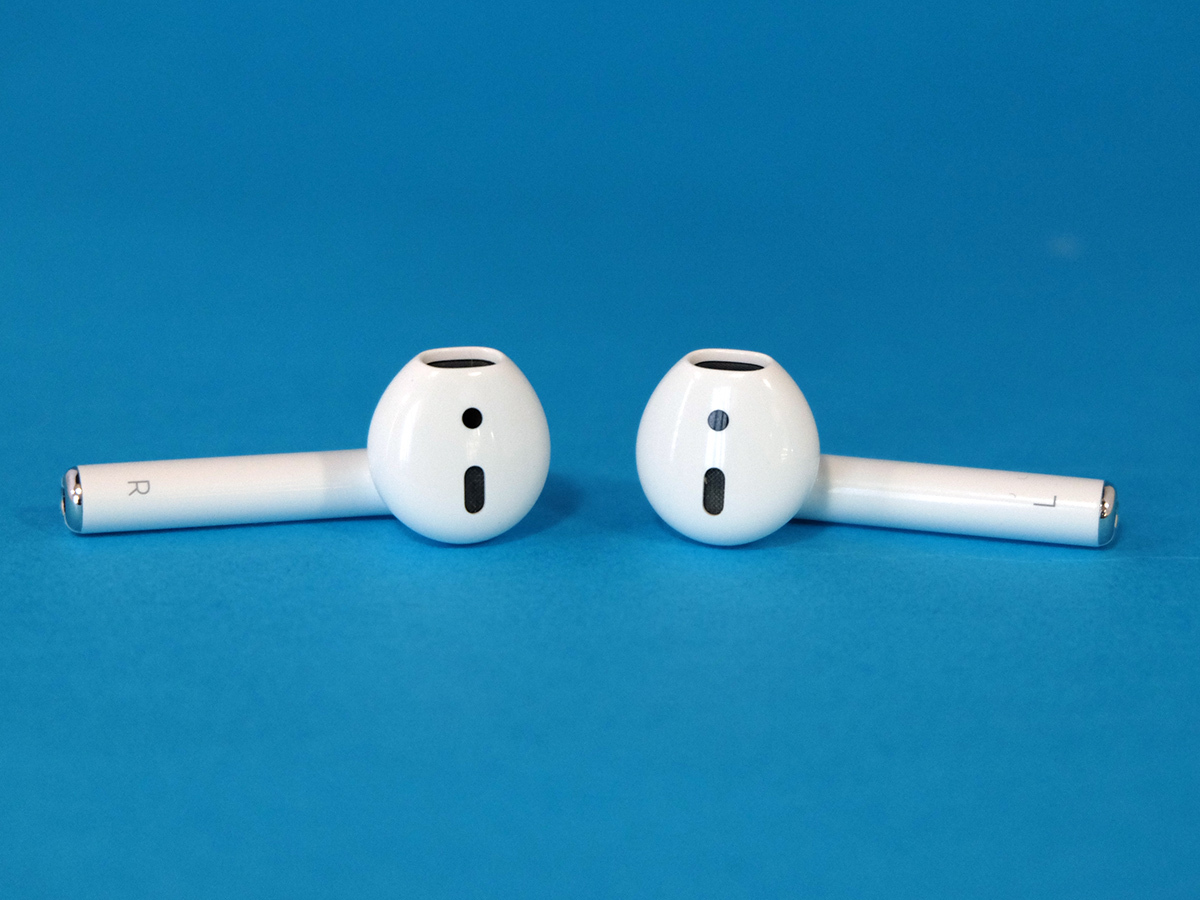 Yes, the AirPods look like a pair of Apple EarPods with the cable snipped off and yes, that looks a bit daft.
That Apple has managed to cram some truly astonishing wireless tech into such a small device is little short of mind-blowing, but the way the arm extends from the bud (it's about an inch long) gives the whole design a distinctly jewellery-like appearance. These things attract attention, and in my experience it's rarely positive.
I know Apple has gone for white for those aforementioned nostalgia-tweaking properties, but I can't help but feel like a black option would immediately make many people feel a lot less self-conscious while wearing them.
The fit, though, is pretty amazing – at least it is for me. They're actually slightly bigger and more rounded than the wired EarPods, and they sit perfectly and perfectly comfortably in my ears. They're surprisingly secure in there, too, even when running or cycling.
But years of testing earphones has taught me that I've got very normal ears, unlike loads and loads of people out there. And lots of people in Stuff Towers, it seems. Magazine editor Rob Leedham found the AirPods rather uncomfortable, while reviews editor Tom Morgan found they just wouldn't sit in his ears properly and the sound suffered as a result.
As they come in just one, non-adjustable size, it really is worth trying a pair on before you buy. But if, like me, you've got ears of an average size and shape, you should find that the AirPods are extremely comfortable and light – so much so that it's easy to forget you're wearing them.
Apple AirPods connectivity: next-gen wirelessness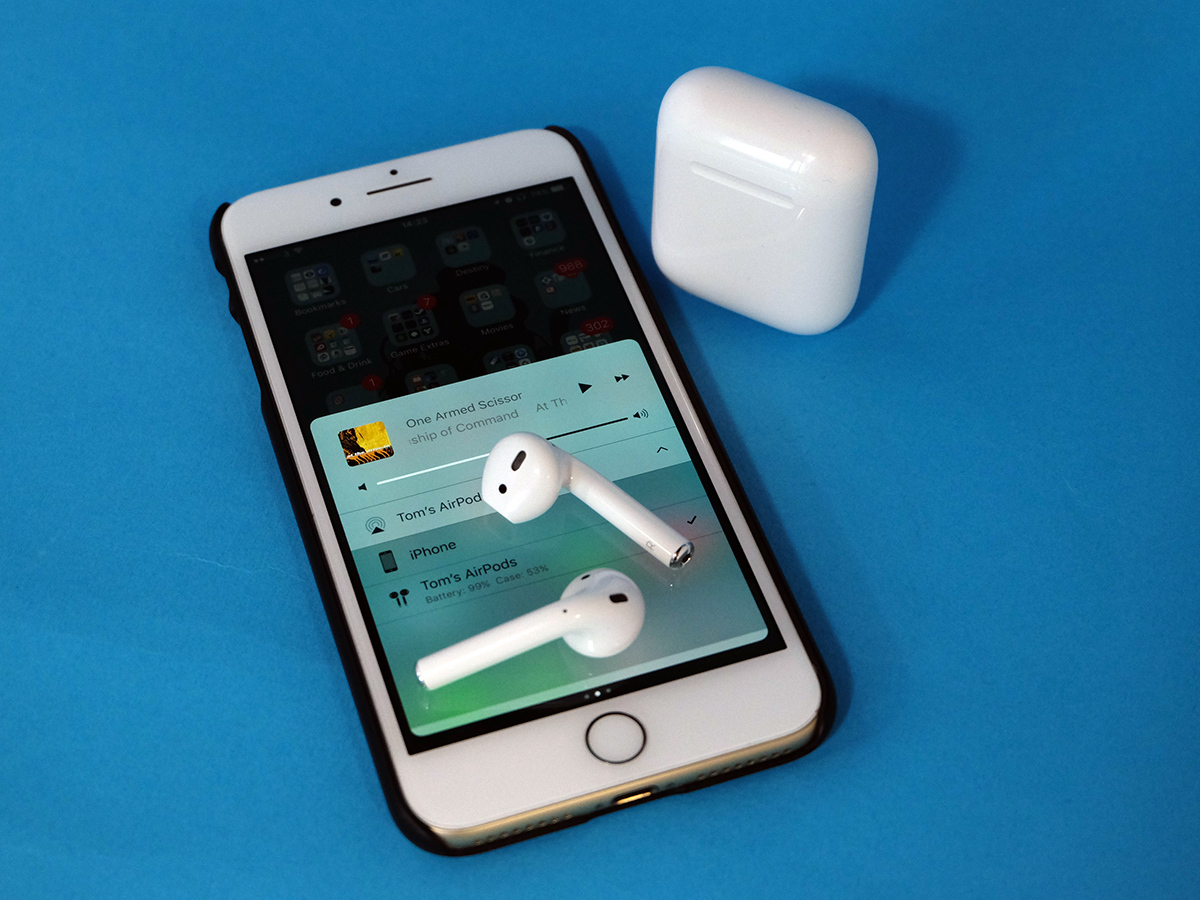 If you're someone who regularly uses Bluetooth headphones you'll know that they can often be a faff. Turn them on, hold down a button, wait for the flashing lights, find the Bluetooth pairing setting on your phone or computer, press to pair, check the number that appears on your screen is the correct one, click yes, say three Hail Marys and hope the connection works.
In the case of the AirPods all you do is open the carry/charge case that the earphones come in. Do so and an AirPods window appears on your iPhone. Press a button and you're connected.
In fact, at this point you're not only connected to your iPhone, but also every other Apple device that your iCloud account is linked to, assuming they're all running recent Apple software.
It's all thanks to the W1 chip, which you'll find in the Beats Powerbeats3 and Solo3 headphones as well as these AirPods, and it makes wireless setup so quick and intuitive as to makes standard Bluetooth look instantly archaic. You can still use the AirPods as standard Bluetooth headphones, should you want to connect them to a non-Apple device, but I suspect that if you're a big enough Apple fan to buy a pair of AirPods you're probably not drowning in Windows or Android devices.
Apple AirPods features: Siri's no substitute for buttons
You'll have probably noticed that there are no buttons anywhere on the AirPods, and that's both a blessing and a curse. On the one hand it contributes to the incredibly tiny size of the buds, but on the other it means you're heavily reliant on Siri if you don't want to be constantly digging your phone out of your pocket.
To activate Siri you just double-tap either of the AirPods, which is simple enough, but then you have to wait the second or two for the Siri sound effect before you can issue your instruction, and then you have to wait a bit longer for your request to be sent to the cloud before the instruction is carried out. The whole process feels very sluggish, especially if all you're trying to do is skip a song. And that's assuming you don't mind anyone and everyone around you thinking you're regularly saying "skip track" into thin air.
Pressing the button on your phone will often be the quicker and less conspicuous option, but that feels starkly at odds with the wireless aims of the AirPods. I can't help but think that Apple has ditched physical buttons before its AI assistant is truly ready to take over.
I'm a big fan of the way you pause your music while using the AirPods, though, as it simply involves taking one of the buds out of your ears. This forces you to develop a habit of removing at least one of your earphones whenever you're talking to someone which, let's be honest, is the least we can all do from a social etiquette perspective. Pop the AirPod back in, and your music resumes. I have admittedly found that holding a bud in my hand can occasionally fool the sensors and restart my tunes, but that's a very minor inconvenience that's easily avoided once you're aware of it.
It's also worth mentioning that carry case again, because as well as being an incredibly compact and neat way to store your AirPods (which slot in satisfyingly thanks to clever magnetisation), it also keeps them juiced up. The AirPods themselves will handle about five hours of constant music, but that case holds around another 19 hours of charge. Pop your AirPods in there and within 15 minutes they're ready to rock for another three hours. There's a Lightning cable in the box for when you need to charge up the case. If the whole setup sounds like an awesome charging solution it's because it is.
Apple AirPods sound: better than you're probably expecting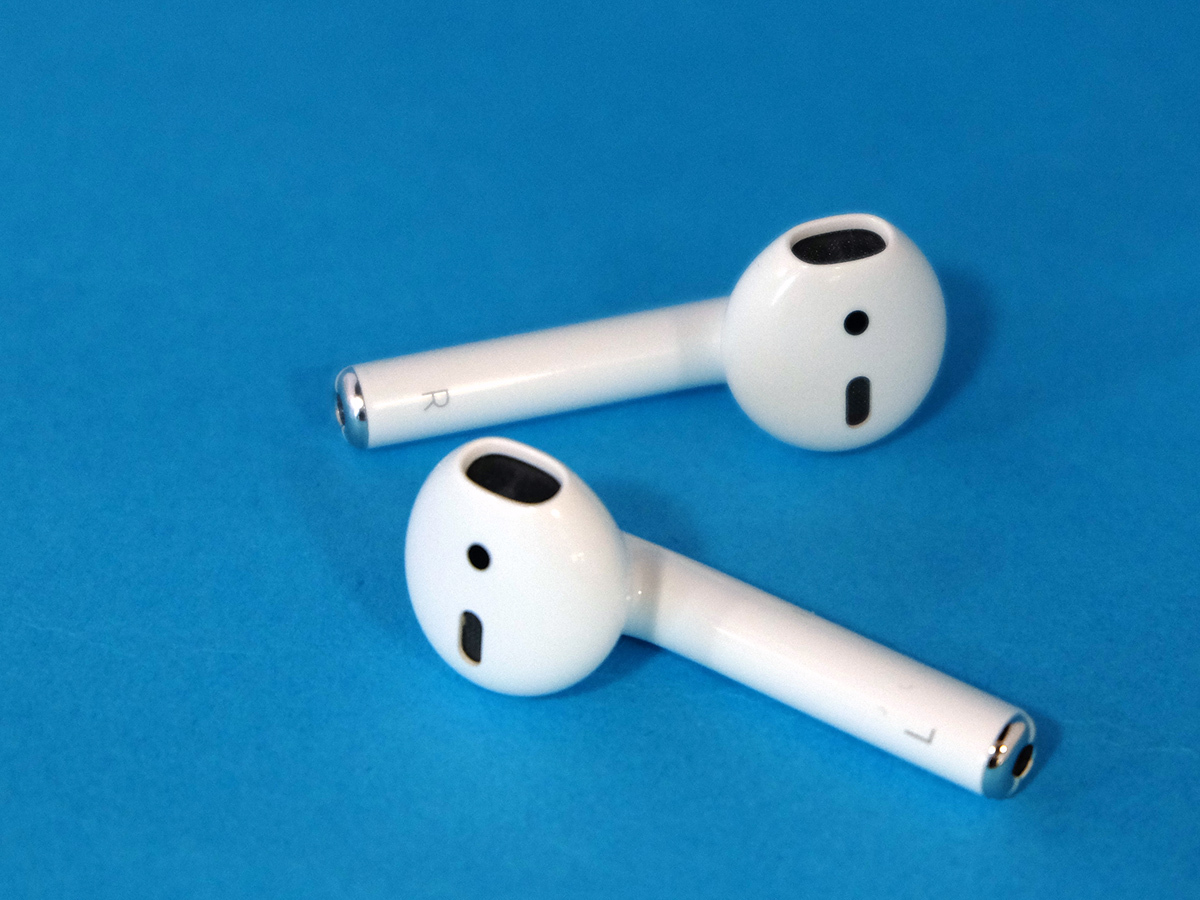 Apple's own earphones aren't exactly renowned for amazing sound, so my expectations were relatively low, but I'm actually quite pleasantly surprised with what the AirPods have to offer. You can definitely buy better-sounding wireless headphones for £160, but it's worth pointing out that none of those do the wirelessness bit nearly as well or as neatly.
Apple's gone a bit bassier in recent years, presumably as a result of the Beats influence, but they're certainly not overblown in the bottom end, instead delivering that bit more weight and authority without drowning the mid-range. Treble has been rounded-off a bit too, which means there's no harshness anywhere.
They're not incredibly detailed or subtle, but for most music most of the time, they're really very listenable. You're unlikely to have any serious complaints.
It is worth pointing out, though, that this is a non-isolating design, which means they don't block out external noise. That can be a good or a bad thing depending on who you are and when/where you're using them – I like to be able to hear a little of what's going on around me, especially when walking, jogging etc, but I know lots of people prefer total aural isolation. Really, it's a matter of preference.
Apple AirPods verdict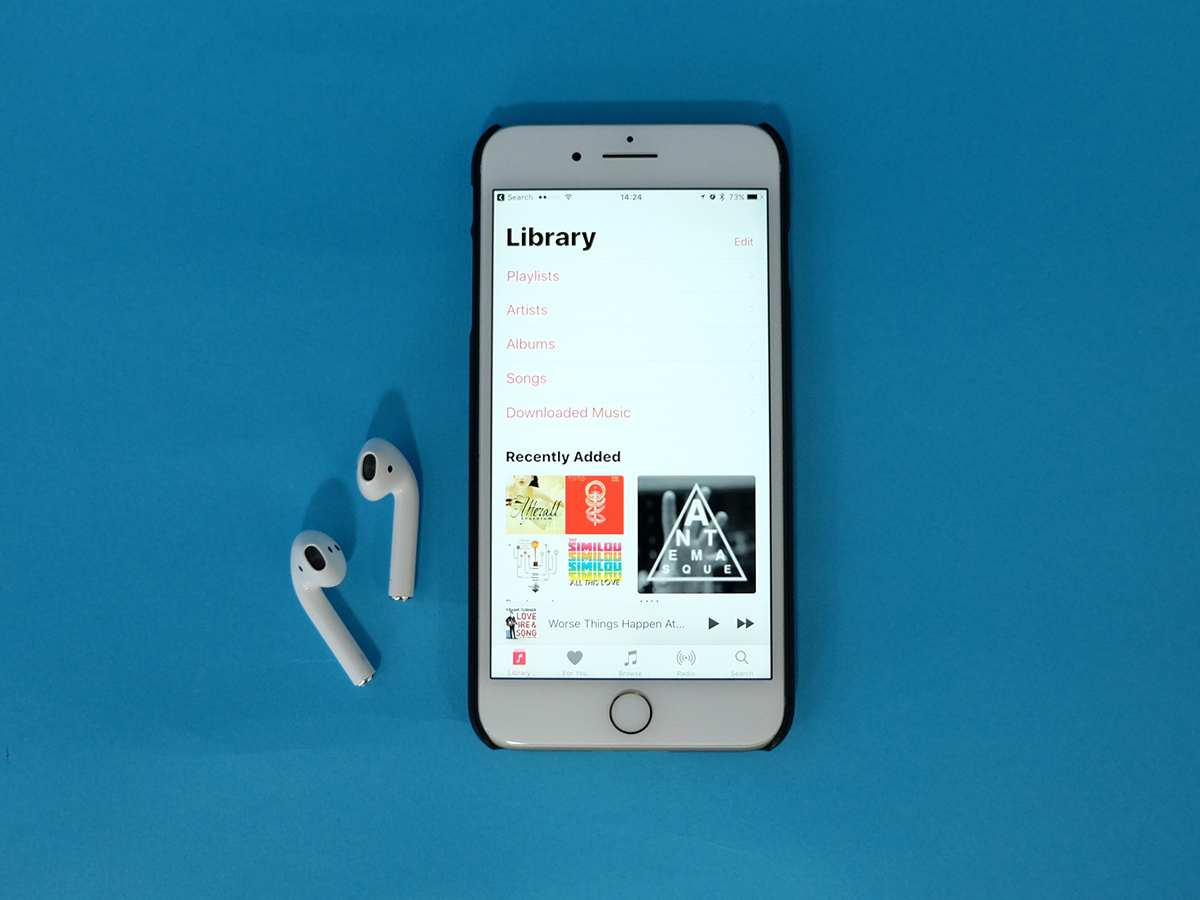 In a number of ways the Apple AirPods are genuinely amazing.
As a piece of engineering they're stunning, fitting the most advanced and user-friendly wireless technology into an incredibly compact design. Without a doubt, the W1 chip is ushering in a new dawn for wireless headphones.
The fact that they look the way they do is going to put a lot of people off, though, as is the non-customisable size and shape. The heavy reliance on Siri can be a real irritation, too. All of which needs to be carefully considered before you drop £160 on a pair of earphones.
But with very few tweaks these could be the perfect headphones, which is why I'm already giddy with excited for the inevitable second-generation AirPods.
Stuff Says…
They make you look daft and are in some ways ahead of their time, but tech-wise the AirPods are undeniably awesome
Good Stuff
Brilliant, transformative wireless tech
Very decent sound
Awesomely neat, battery-boosting carry case
Amazingly lightweight, compact and comfortable for those with average ears
Bad Stuff
Non-adjustable size and shape means they won't fit everyone
Attention-grabbing design, and generally not in a good way
Easily lost and expensive to replace
Siri isn't yet a good replacement for buttons