Aorus X3 Plus v5 review
A gaming laptop that isn't big and bulky? Whatever next!
The problem with gaming laptops is that they're always hulking behemoths that weigh a ton and sound like a helicopter taking off, right? Not so the Aorus X3 Plus v5. 
This little beauty is only 23mm thick at its thickest point and just 1.9Kg on the scales, yet it packs in one of Intel's Skylake Core i7 CPUs, a high-end NVIDIA graphics processor and up to 16GB of DDR4 RAM.
Don't worry if such things make little sense to you; what counts is that this thing is a pint-sized can of console-smacking whupass.
First impressions count
It gets points for presentation too, arriving in a sleek black box with fabric sleeves for the laptop and power supply and a cloth for dusting off the screen and keyboard.
The laptop itself looks a little like it's been designed by Lego Batman, with the kind of matte blacks and sweeping lines that the cuddly caped crusader favours, plus some impressive looking vents tucked behind the screen hinge at the rear of the machine.
Despire all that frivolous frippery, the X3 Plus v5's aluminium chassis means it feels extremely tough. There's a fair amount of flex in the lid, but that's almost a given when you take its size and slimness into account. The keyboard's backlit while the touchpad bears Aorus' hawk emblem, also found in shiny silver plastic on the lid.
Some people love a laptop with more lights than the Vegas strip, but the Aorus is a little more discreet. The keyboard is backlit and the G key in the top-left corner switches colour, but that's about as brash as this one gets.
Fan noise levels are a little higher than you'd expect from an ordinary laptop, even when relatively idle, and they reach a pretty terrifying roar when you're gaming hard. Given the components and the space involved, however, that's probably to be expected.
One pixel-packed little panel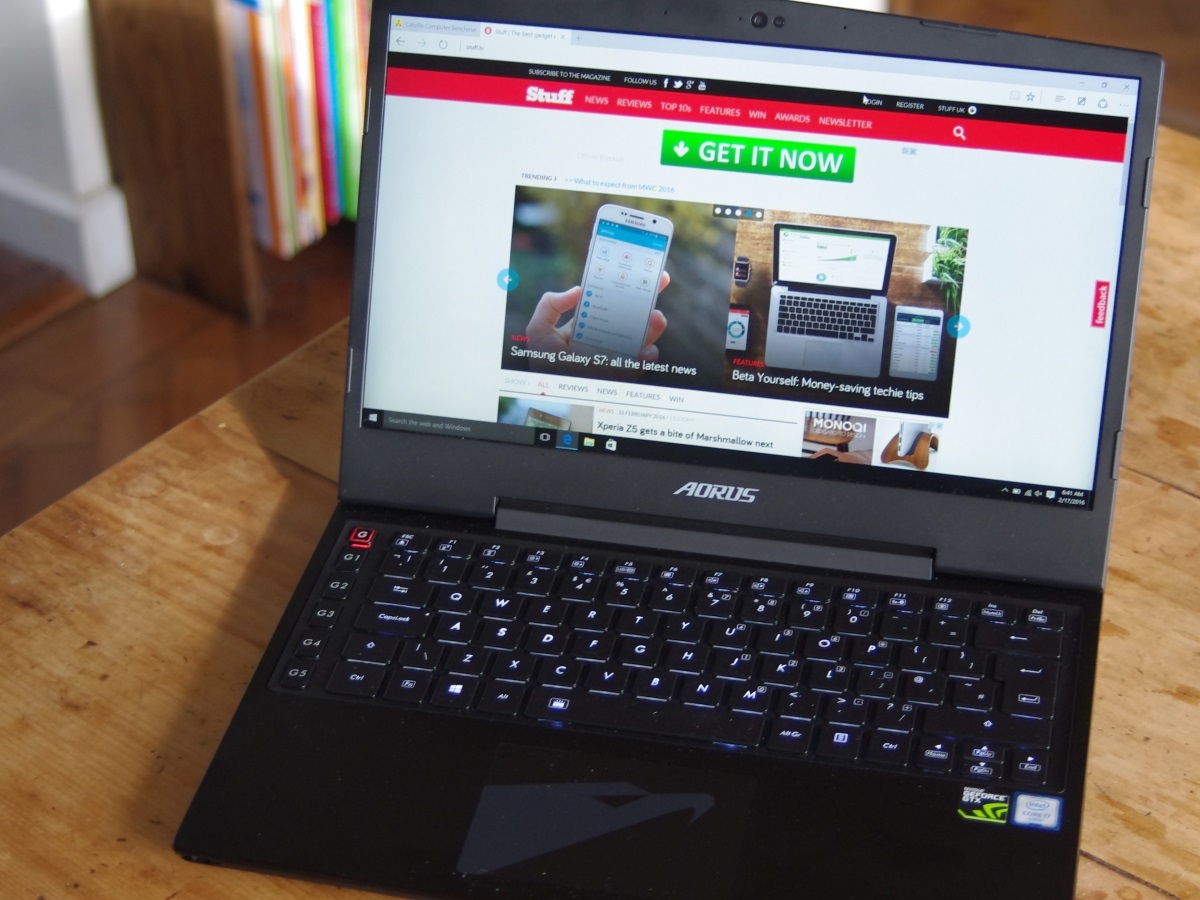 The screen is an unusual 13.9-inch IPS panel with a QHD resolution of 3200 x 1800. That's a lot of pixels in not a lot of space, though the extra 0.6ins gives games a little more impact than the normal 13.3.
Such a high pixel density has its upsides and downsides.
Let's take the negatives first (sorry, that's how we roll): while Windows 10 now handles screen scaling pretty well, not all apps, games and browsers follow suit, making some rather difficult to read.
On the plus side, however, you do of course get an incredible level of detail to high-resolution photos and 4K videos, not to mention any games you can run at the native resolution. Overall we'd still call it a win for the Aorus – after all, apps and games will get better on this front.
Resolution aside, it's a very crisp panel, bright and with fair viewing angles, and while the blacks don't look as deep nor the colours as vibrant as, say, those on the Dell XPS 13's Infinity display, they're still very good.
Audio isn't quite so fantastic. Something like the Schenker XMG U726 can produce a really powerful, bass-heavy sound, but then it has the bulk to house the hefty speakers that requires. The Aorus manages more depth and a wider soundstage than most slimline 13.3in laptops, but the tone is thinner and the output more congested. It's fine for playing games or watching movies at low-to-medium volume, but if you want to feel immersed, you'll want to don some headphones.
Keys to victory
Hardcore gamers have different keyboard needs to those of regular users, and the Aorus is clearly built with them in mind. The keys themselves are actually very good for typing, with a really solid but speedy and responsive action. The layout is easy to get to grips with and the backlighting a big help in a darkened room.
On the left you'll spot a bank of keys which can be set to handle common Windows functions or in-game combos or macros (the customisable strings of keyboard inputs used by strategy gamers to build vast bases in a few quick keystrokes), with the top 'G' key working as a colour-coded switch. With 25 settings there should be enough for even hardcore StarCraft II or League Of Legends players, let alone mere gaming mortals.
The touchpad, meanwhile, is fine for everyday use. It has a slick, polished surface, textured at the bottom for easy-clicking, and it's a nice, responsive, well-sized pad.
Console-smashing power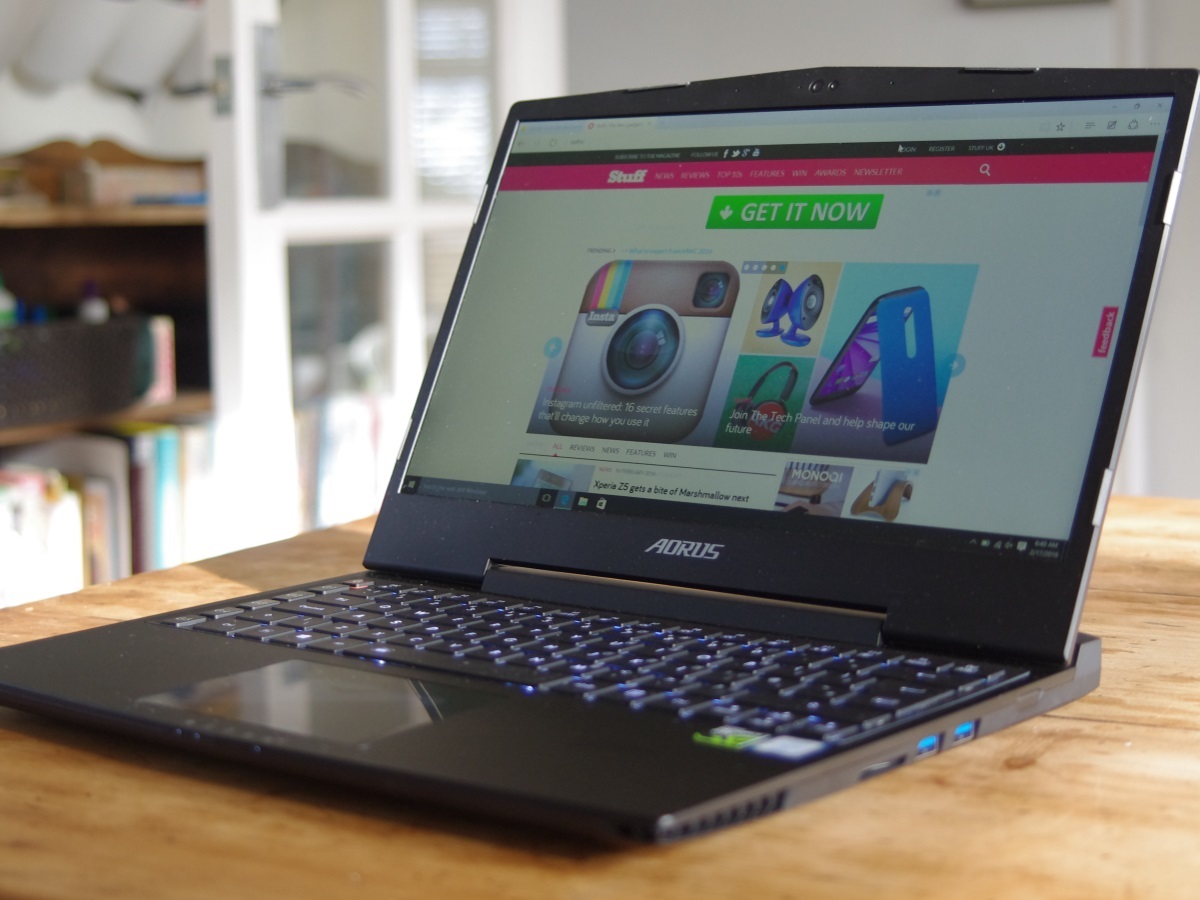 Performance is everything on a gaming laptop, but you wouldn't expect a slimline effort such as this to really go toe-to-toe with the big boys, would you? Well put aside your preconceptions, because it can – up to a point.
Now, prepare yourself for a tech spec onslaught. With a Geekbench score of 10,627 there's plenty of straight CPU horsepower – the Core i7 6400HQ, 16GB of DDR4 RAM and Geforce GTX970M make a potent combination when it comes to gaming. With 1280 cores running at 924MHz the mobile graphics chip is roughly on a par with NVIDIA GTX960 desktop graphics chip, meaning there's enough muscle to run all the latest games at 1080p with detail levels pushed up to the max – or close. In fact, you can even play some games at the laptop's 3200 x 1800 resolution, as long as you're prepared to make a few compromises here and there.
Far Cry 4, for example, runs surprisingly well at 1800p with the detail settings at high, or at 1080p when set to very high. The only reason to skip the higher resolution is that, as the action hots up, you might see the odd jerk; and not the sort that tries to shoot you with his AK-47 before being fed to a hungry bear.
Assassin's Creed: Unity is a different story. It will run at 1800p when set to High, but the frame rate dips below a smooth 30fps a little too often for comfort, so it's best to stick to just 1080p and have a slightly less crisp but more playable experience.
There's an argument that 1080p is still the sweet spot for most laptop hardware, and until NVIDIA's next-gen graphics chips start rolling out we don't see that changing. Even the mighty XMG U726 struggled with Unity at 4K resolutions, and that's got a little more horsepower to play with than the diminutive X3 Plus v5.
Tech onslaught over. Sorry about all that.
Keep the charger handy
High-end quad-core CPUs, dedicated GPUs and high-resolution screens are never going to do a laptop any favours, and the X3 Plus v5 hasn't got the space for a large capacity battery. No surprises, then, that this laptop manages just under 4hrs of lightweight use with the brightness dialled down, or that this drops to just over 90 minutes when you're playing intensive games.
That's par for the course for a gaming laptop, but another sign that this is no normal Ultrabook, and shouldn't be expected to double up as one.
Speedy storage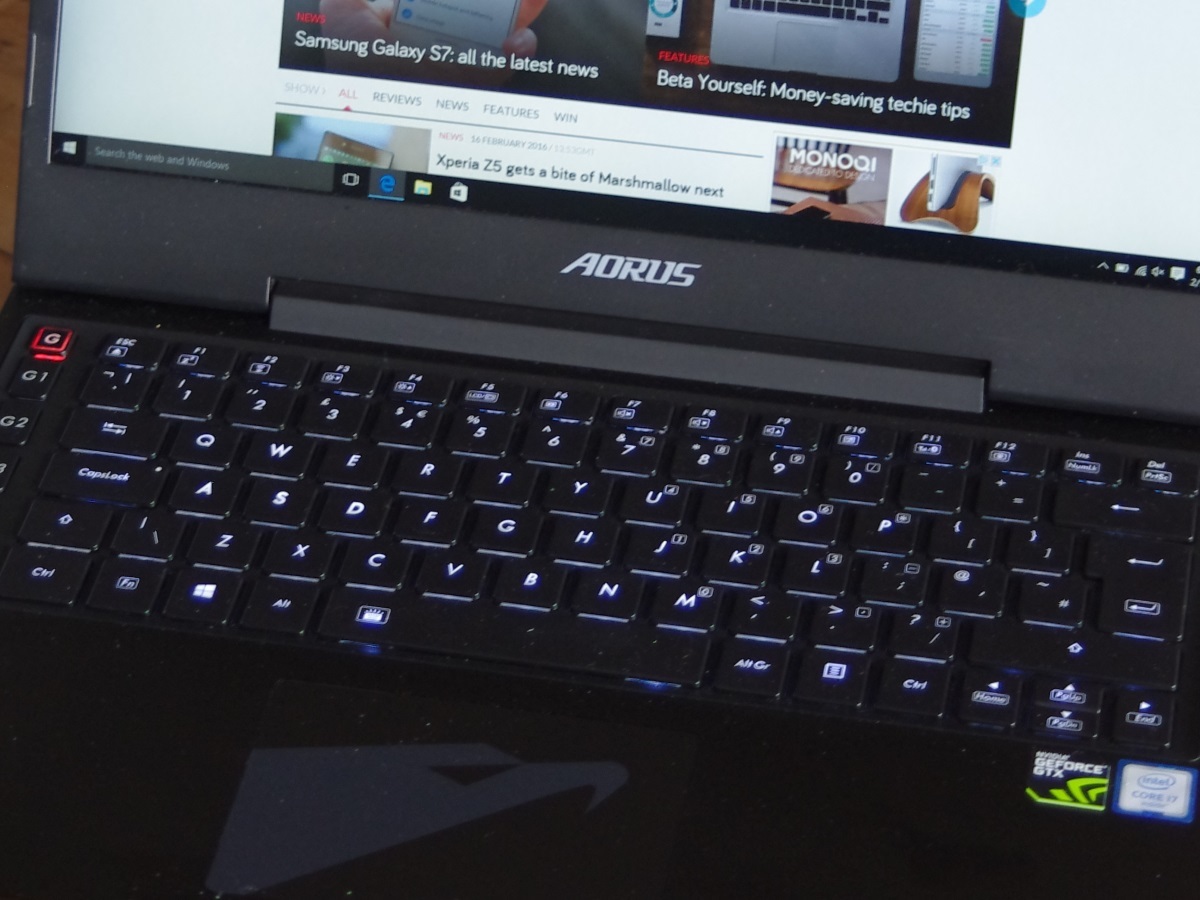 Fast storage is becoming more important for gaming laptops, just to keep games loading quickly, support the huge, streaming open-world landscapes of the latest games and stop post-death reloads becoming even more painful.
The X3 Plus v5 gives you a super-speedy Samsung 512GB SSD, which is great on the performance front, though you'll get through that space quite quickly if you install a dozen AAA blockbusters.
One way round this is to store the games any games you have on hold on a USB3.0 external hard drive, and with three suitable ports to choose from that's easy to do. The X3 Plus v5 also crams in HDMI and mini DisplayPort video outputs, an SD memory card slot and a brand, spanking new USB-C port, not to mention a Gigabit Ethernet port at the rear. This is one of those supercharged Killer NIC efforts, too, so you won't be able to blame your woeful Black Ops III or Heroes Of The Storm performance on a slow connection. In fact, with 802.11ac Wi-Fi support, there's no excuse on wireless networks either.
Aorus X3 Plus v5 verdict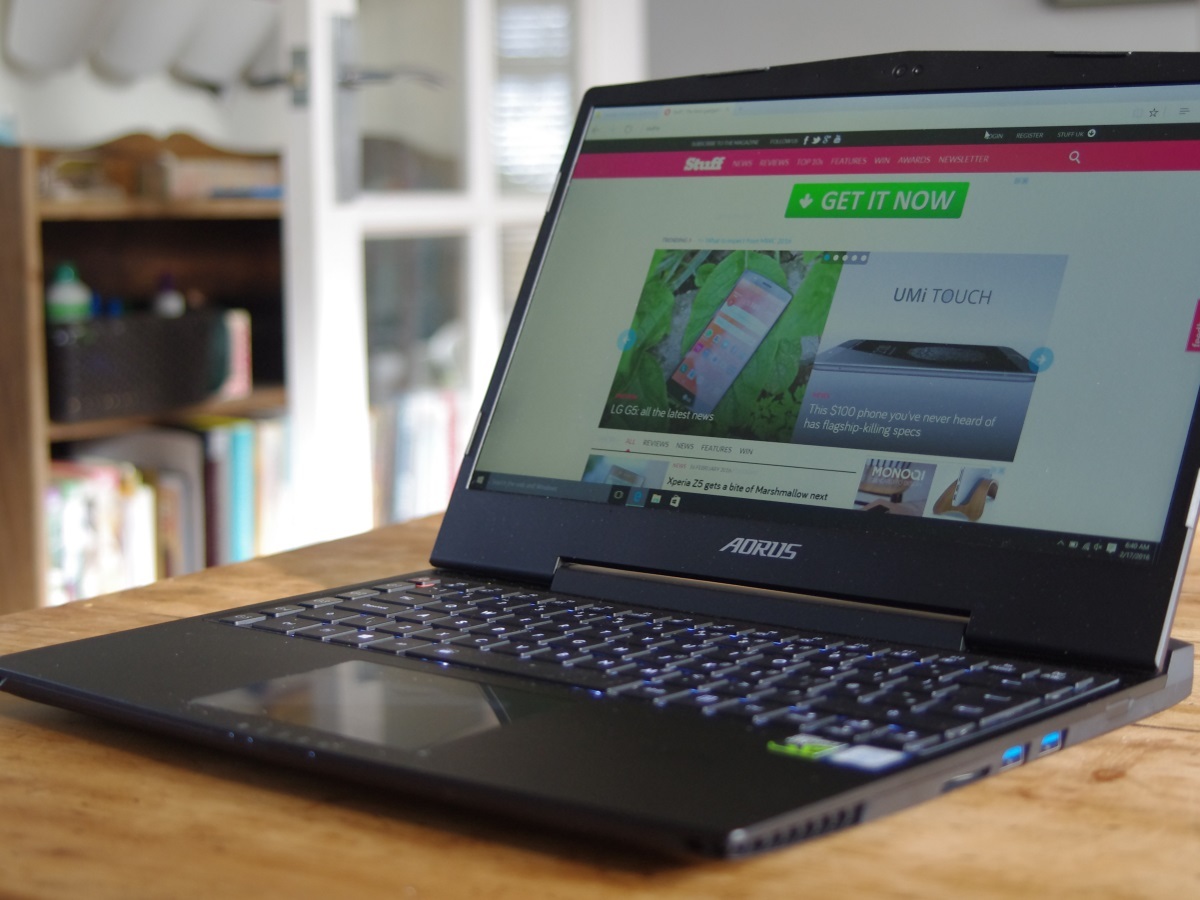 The X3 Plus v5 is a great gaming laptop, minus the usual bulk. It can't quite match the performance of monsters such as the Schenker XMG U726, but then it's slightly more affordable and a lot easier to live with if you don't want Darth Vader's laptop sitting in your lounge or you're stuck for space.
It's solidly built and very usable, with a fantastic high-resolution screen, and it has the power required to run the big blockbusters, both now and for a few good years to come.
At £1799 it doesn't exactly come cheap, but then you're paying a premium for style and sleekness. And in our book that's always worth doing.
Tech specs
| | |
| --- | --- |
| Operating system | Windows 10 64-bit |
| Screen | 13.9in IPS LCD with 3200 x 1800 resolution |
| CPU | Intel Core i7-6700HQ at 2.6GHz |
| GPU | NVIDIA GTX 970M 6GB |
| RAM | 16GB DDR4 |
| HDD | 512GB M2 SSD |
| Optical drive | None |
| Connectivity | Wi-Fi 802.11ac, 3x USB3, 1x USB-C, 3.5mm, DisplayPort, Gigabit Ethernet, HDMI |
| Dimensions | 330 x 263.5 x 22.9mm |
| Weight | 1.8Kg |
Stuff Says…
Serious gaming power in a sleeker-than-normal package
Good Stuff
Tough slimline chassis
Impressive performance
Great high-resolution screen
Good connectivity and fast storage
Bad Stuff
Noisy at full-tilt
Poor battery life