Acer Aspire Vero review: green and grand?
A practical laptop with bonus green points
In the tech world, cars catch a lot of heat for their environmental impact. But everything from a phone to a novelty electric fork has an environmental cost. Acer has tried to lower those costs a little with the Aspire Vero – here's our Acer Aspire Vero review.
On the inside it's your typical mid-range Acer Aspire laptop. Good specs for the money, sturdy build, enough power to do just about whatever you need. The Acer Aspire Vero is a little different on the outside, though, with a case and keyboard made partially from recycled plastic.
You can also register your Acer Aspire Vero at the Ecologi website to fund the planting of 100 trees, for additional carbon offsetting. Bonus green points.
This laptop is a pretty good advert for using what are often considered compromised plastics because the Aspire Vero is actually one of Acer's better-looking laptops. The main compromise here is the screen, which isn't hugely bright and has quite poor colour reproduction in its class. 
The Acer Apire Vero starts at £649, and that particular spec is a totally sound buy. It has a 512GB SSD, 8GB RAM and an Intel Core i5. Our spec isn't widely available, but you'll pay £849-899 for a Vero with a Core i7 CPU, 1TB SSD and 16GB RAM. That is a lot for under a grand. While you'll find criticisms in this review, it's good to see Acer combine environmental awareness with that classic Aspire value.
Design
PCR plastic is the big sell of the Acer Aspire Vero. It stands for post-consumer recycled plastic. That is plastic recovered from other products and packaging, melted down into a resin to be reused. This can lower the carbon footprint of its manufacture and offers a way to use some of the plastic waste we're frequently told ends up in places where you hope it wouldn't be. Mostly the sea.
The Acer Aspire Vero is an eco laptop of sorts, not that this change makes it environmentally neutral, of course. Its casing is 30% PCR, the rest presumably 'virgin' plastics that give Acer more control over the strength of the plastic and its finish. And making all the gubbins that goes in the case has a big old carbon footprint of its own.
Acer seems to have used this additional plastic to really lean into the recycled look. The Vero's finish has a roughened texture of teeny-tiny embossed honeycomb shapes and a greeny-grey finish mottled with dots of grey and yellow. That may not sound too appetising, but it looks better in person.
And like Acer's better budget and mid-range plastic laptops, the casing flex is not excessive — just a little if you press down fairly hard on the keyboard. The screen isn't 100% stiff either, but that comes with the design: its display surface is plastic, not glass. To make a 15.6-inch screen rigid you need either metal or glass, neither of which are found here.
Acer also says it has made the Vero more easily upgradeable, by using standard screws. We've opened up a bunch of laptops. The screws are rarely the problem. Cases you can damage by pulling off the wrong bit first, or layered inner designs that seem like labyrinths, are.
We opened the Vero up for a look. The underside comes off easy enough. No YouTube tutorial is required. And both the SSD and RAM slots are easy to identify for anyone who has seen these components in the flesh before. However, 8GB of the RAM is soldered to the board, giving you access to just one system memory slot. 
Acer is extra-generous with its RAM and SSD storage in the Vero, though. Hardly any people who should buy this laptop will need to upgrade it. 
The main potential issues to note here are standard for the Vero's class. It's a 15.6-inch laptop, so is not quite as portable as a 14-inch one. And it weighs 1.8kg, around 500g more than the slim and light ideal. However, it will fit into a normal size rucksack.
Screen
We like the Acer Aspire Vero's look well enough, but the screen raises perhaps the most serious issues. On paper it is exactly what we'd expect. You get 1080p resolution and a matt finish. The Vero uses an IPS panel, meaning it doesn't look weird at an angle like the trashy TN screens you still see in some bargain basement laptops.
However, colour reproduction is pretty poor. It's something we noticed within three seconds of Windows 11 booting for the first time. Red app icons that should pop look more like pastel shades, and while we find the limited saturation of blues and greens a little less obvious, it's still there.
A colorimeter tells you exactly how bad the situation is. It's a display-testing tool that can analyse the range of colours a display can reproduce.
The Aspire Vero hits just 61% of sRGB, the classic standard for laptop displays. While a £700 laptop with the Vero's specs can certainly get by without 100% coverage, we'd hope to see closer to 75-80% in 2022. The higher you get, the less obvious that undersaturation is.
43% coverage of the deeper DCI P3 standard, which Apple now uses to grade its MacBook screens, should tell you the Aspire Vero is not a laptop to buy for photo editing, video editing or any kind of art creation beyond a hobbyist level. This display has significantly worse colour than even pretty cheap smartphones.
Maximum brightness is not impressive either, at 269 nits. We'd ideally hope to see closer to 300-320 nits in a laptop like this. However, high brightness is more crucial in a laptop with a glossy screen. The Aspire Vero has a matt one.
To give it a real-world road test we worked outside with the laptop for a while on a crisp, cold February morning in London. The Vero fared OK. As long as the sun isn't blasting right into the display, you can comfortably work on basics like document writing. Games and videos won't look so good. The Aspire Vero has a pretty basic display, and we have seen significantly better from laptops around £700. It's not a touchscreen either, and while the display bezels are not embarrassingly large, they are chunkier than some.
Keyboard and touchpad
There's nothing too dramatic going on in the Aspire Vero's keyboard. In typical 15.6-inch laptop-style, there's a NUM pad off to the side. Acer has squished these keys horizontally a little, which is a great move as it means the primary keys are not shunted to the left too much. This can feel odd and uncomfortable if you're accustomed to a NUM pad-free portable laptop. We are, and had no problems transitioning here. 
The keyboard is backlit, but there's no control over the light level. It's on or off. Key feel is fine if nothing special. 
Travel is the standard millimetre and change, there's OK resistance at the actuation point and these keys feel fast to type on. The Acer Aspire Vero does not have a deep dish meaty keyboard, or one of those contentious ultra-shallow ones.
PCR returns here too. The key caps are 50% recycled plastic. And Acer has reversed the "R" and "E" characters to highlight the recycled angle. Edgy stuff.
Harder typists will notice a hint of hollowness as the force of key presses reverberates around the plastic chassis, which you don't tend to feel in an ultra-dense metal design. But we've happily typed a handful of thousand words on the Acer Aspire Vero.
The Acer Aspire Vero touchpad is also middle-of-the-road stuff. Again, that slimline NUM pad lets it sit almost centrally in the laptop, earning it bonus usability points. It's of a good size too, more like the scale of an ultraportable laptop's pad rather than an old-school productivity laptop. 
However, the surface is plastic, not textured glass. At this price, it's pretty common to see plastic pads, though. A few have glass, most don't. And those that do typically have less RAM and smaller SSDs than the Aspire Vero. 
We have to hand it to Acer, mind – we initially thought the pad was glass because the soft-touch plastic used here is a great impersonation of textured glass. It's only when you run your finger back and forth across its surface that you feel the telltale squeaky resistance of plastic. 
A fingerprint reader is inlaid, but it's not much cop. Half the time it fails to recognise your finger, providing the not-so-smart login experience that was typical of Windows laptops from a few years ago.
Performance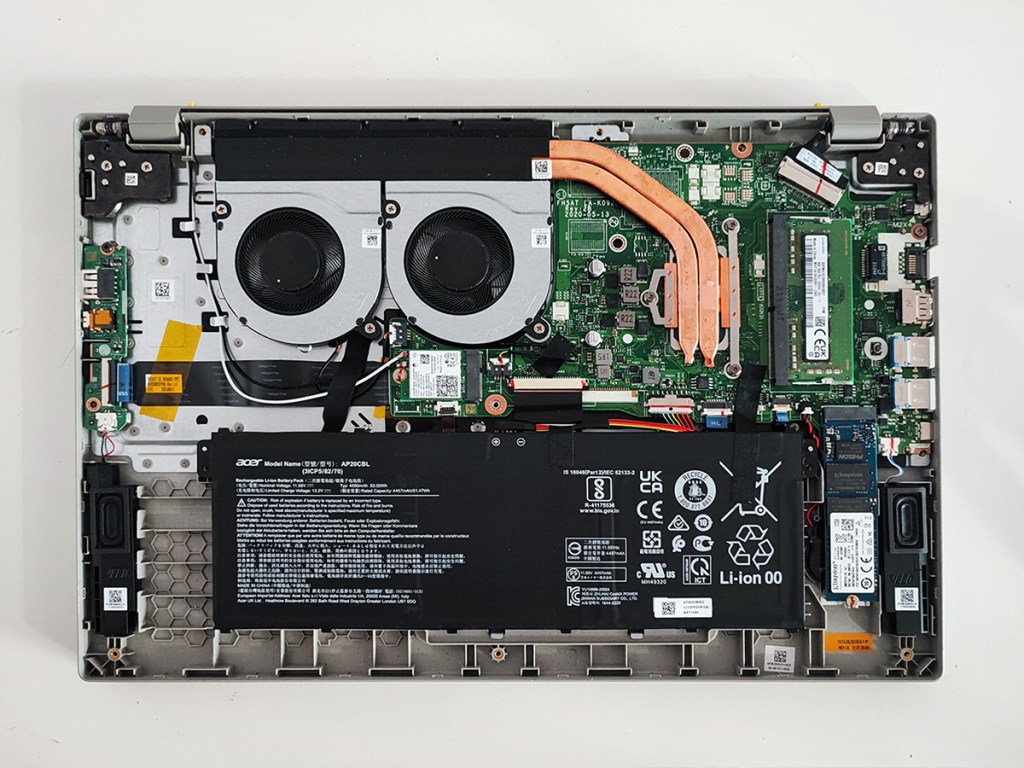 Not a great screen, and nothing too notable in the keyboard and touchpad: is Acer just using the Acer Aspire Vero's green cred as a way to market a somewhat mediocre laptop? The specs help to vacuum up some of that cynicism.
The CPU options are typical of what we'd hope for in a laptop series that starts at £650. You can choose from an 11th Gen Intel Core i5 or i7. We think most will be fine with the Core i5, but we have the higher-end Core i7 version.
Acer's Aspire Vero pulls ahead of some of the competition with its SSD and RAM. Even in the £700 model, you get 16GB RAM and a 512GB SSD. That is double the RAM, double the storage, we typically see in more portability and style-led laptop at the price. 
Acer may like to highlight the somewhat easier upgradability of the Vero, but these generous entry-level specs mean you probably don't need to. There is a £650 version of the laptop available online with 8GB RAM, but this still has a 512GB SSD. And limited storage is likely to be the first point of irritation for lighter users. 
The Acer Aspire Vero is not a laptop just made for the basics, though. Intel's 11th Gen processors are good enough for video editing, for just about any everyday productivity job we could mention. And while AMD's latest Ryzen chipsets can often beat them in benchmarks, there's no reason to turn your nose up at Intel in a laptop that starts at £650.
This laptop can even handle games pretty well, considering it's not designed for that job at all. Like all laptops with a full-fat Core i5/i7, the Acer Aspire Vero has Intel Xe graphics. 
It lets you play Control at 720p resolution, upscaled to 1080p so it actually looks tidy, at 30-35fps with the graphics set to Low. Skyrim Special Edition runs in the low 30fps range at 1080p, Medium graphics. That rises to mid-high 40s frame rates if you drop the graphics to Low, or closer to 60fps at 720p, Medium graphics.
The Acer Aspire Vero isn't a gaming laptop, but in use, its abilities don't seem all that different to a PS4.
It doesn't generate a lot of noise under pressure either. However, as the Vero uses a standard cooling setup, you will hear that higher pitch sound of a smaller diameter fan working hard. It's not loud, but it is noticeable.
Battery life
The Acer Aspire Vero has a 48Wh battery. It's not tiny. It's not huge. As in some other areas of the design, it's just the typical kind of component you might expect to see in a laptop of this type.
Stamina is OK, but little more. In an undemanding video run-down test it lasted six hours 56 minutes, but in general, light involving writing documents with a little web browsing use we found it could drop to just below five hours. And while slowly freezing outdoors with the display at maximum brightness, the amount it drained suggested a full charge will last around four hours. 
The Acer Aspire Vero is a semi-portable laptop with battery life to match. Acer may have achieved better results with an AMD Ryzen chipset, which typically let a laptop last longer in our experience.
It's likely to satisfy most people's connectivity needs, mind. You get a single USB 2.0 on the right, to connect a mouse. All the other connections sit on the left. There's a 5Gbps USB-C port: quick, but not Thunderbolt-quick. This sits alongside two USB 3.0s, a classic full-size HDMI and an Ethernet socket.
The Acer Aspire Vero uses an old-school cylindrical jack to charge, so the USB-C isn't occupied while filling up the battery. An SD card slot is the obvious missing part here, but if you're a photographer desperate for memory card support you probably shouldn't buy the Vero anyway thanks to its limited colour reproduction.
And the speakers? They use a standard stereo array, with grilles on each side of the Vero's bottom. There's no bass here. Kick drums sound like someone lightly tapping on a piece of cardboard, but the sound otherwise is not too bad, with enough mid-range to avoid the thin audio you want to avoid.
Verdict
The Acer Aspire Vero is one of the most affordable laptops that has an environmental bent. Apple's MacBooks make significant use of recycled aluminium but are out of reach of many of us. Back in 2019 HP made the Dragonfly Elite, which also used a lot of recycled plastic. But it cost a small fortune and was a business laptop. HP's comparable Pavilion series also uses some "ocean-bound" plastics, but seemingly only in the speaker enclosure. 
Making laptops with recycled materials is an honourable aim, even if it does not make up for the environmental impact of all the stuff that actually goes into a laptop. It's time to bring up a cliche phrase: let's not make the perfect the enemy of the good.
But should you actually buy an Acer Aspire Vero? It looks decent, performs very well and you get a generous amount of storage even in the base model. You do have to put up with so-so battery life, a display with weak-looking colour and a design that may not cut it if you value portability. The Acer Swift 3 could be a better buy for those after an all-round value PC, but the Vero offers one way to assuage the guilt some feel when buying new tech.
Stuff Says…
A practical laptop with more storage and less attached guilt than usual, but the screen lacks the punch of the best.
Good Stuff
Generous storage
Better environmental cred than similarly-priced laptops
Partially recycled plastic casing looks decent
Bad Stuff
Limited screen colour depth
So-so battery life
Tech specs
| | |
| --- | --- |
| CPU | Up to Intel Core i7-1195G7 |
| RAM | Up to 16GB |
| GPU | Intel Iris Xe |
| Storage | up to 1TB |
| Screen | 15.6″ Full HD (1920 x 1080) 16:9 |
| OS | Windows 11 |