Look ma, no hands: The ball bearings on this watch let you tell the time with your fingertips
This gorgeous titanium timepiece (originally developed for blind people) uses magnets and ball bearings to tell the time
That's a very pretty watch. But… where are the hands?
It sure is. And it doesn't have any. Instead, it's embedded with two ball bearings – one on the watch face, and one on the side.
Uh huh. That doesn't really explain how you're supposed to tell the time.
We're getting to that. Both ball bearings precisely move around the watch, coontrolled by an internal magnet.
The front ball bearing marks the hour, while the one on the side marks the minutes. Easy enough, right?
Ah. I get it. But why?
Lots of reasons. For one thing, it looks great, and that's as good a reason as any. But there's an even better one than that.
The Bradley watch (named after Bradley Snyder, an ex-naval officer who lost his eyesight in an explosion in Afghanistan) was originally designed for use by blind people.
The ball bearings and protruding hour markers are used to determine the time simply by touching the watch face itself.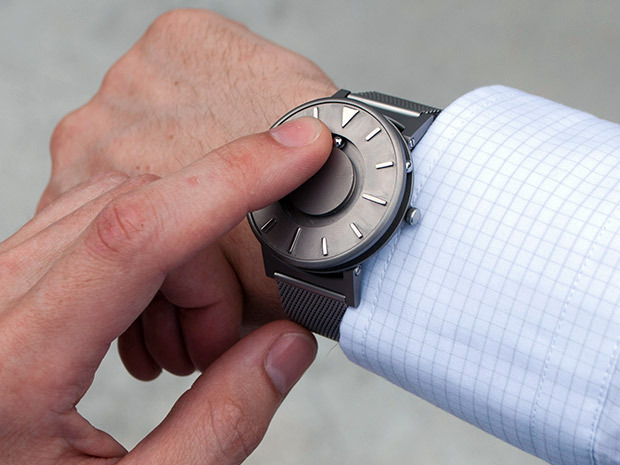 Clever stuff. My wrist wants one.
Excellent. It's currently available to pre-order for £162 from Dezeen, and its sleek titanium body and stainless steel clasp should keep your wrist looking smart no matter what else you've thrown on.
READ MORE: All the hottest stuff, on one scorching page