Vertagear SL5800 review: comfortable and colourful
Equal parts head-turning and bum-supporting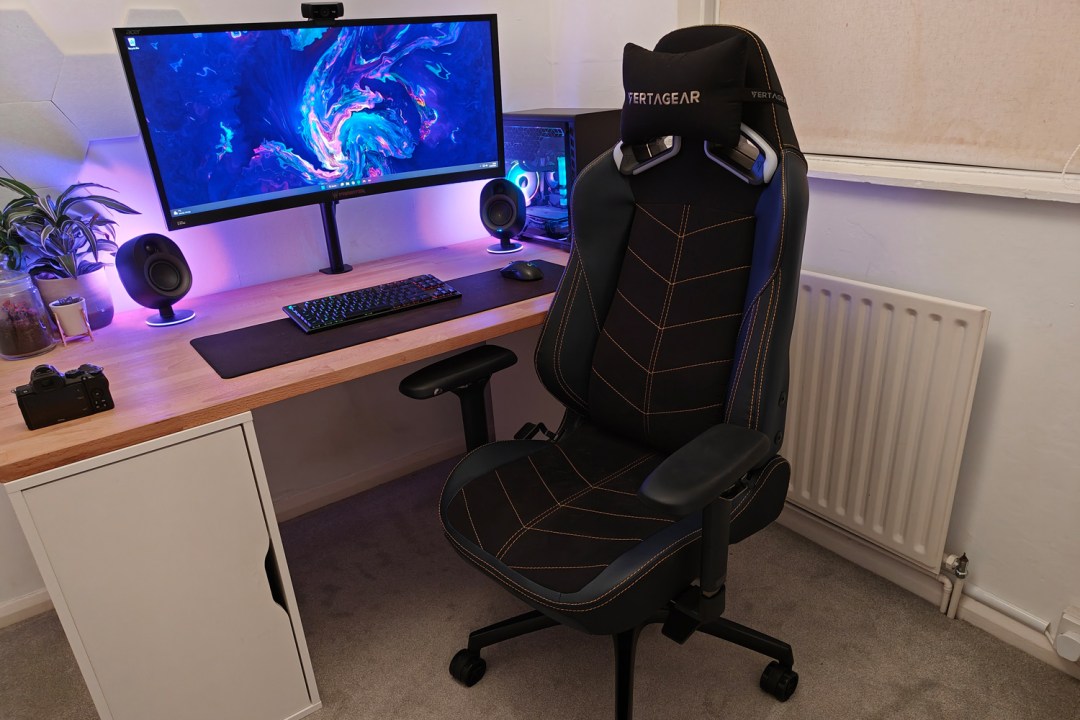 It doesn't matter if you started working from home during lockdown and have yet to return to the office, or only sit at your desk after hours to get your game on: you owe it to your back to invest in a comfortable chair. Vertagear's 800 series might look like typical bucket-backed gamer fare, but underneath the Twitch and YouTube-friendly styling lies some serious lumbar support.
Plenty of chairs promise perfect posture, though. What sets Vertagear's thrones apart are the colourful personalisation options: not only can you order PC-controlled RGB lighting, but the Dutch firm will also add fully customisable inserts to show off your channel logo or show support for your esports team of choice while streaming.
There's something for all shapes and sizes here, starting with the SL3800 (good for sub 6-footers weighing under 100kg) and climbing to the PL6800 (which can accommodate 6ft 8, 180kg man mountains). We sampled the SL5800, which splits the difference. At €500 (discounted to €430 at the time of writing), it's a pricey investment – but is it also a worthy spot to park your posterior?
Design & build: foam fortress
The SL5800 arrives in kit form, in a box weighing in at over 30kg. It'll take some serious lugging from your front door, but everything is well packaged to prevent transit damage and assembly is as straightforward as it gets. The instructions are clear, the parts well labelled and there's no real way to make any mistakes. The armrests come pre-attached, and the wheels pop onto the legs with minimal force. Aligning the backrest with the seat hinges was the hardest part, and that just needed a small shuffle to properly align the screw holes.
Once built the whole thing feels supremely sturdy, with the steel frame providing a sold base and the adjustment arms having just the right amount of resistance. It uses a fairly standard gas cylinder for height adjustment, so should be easy enough to replace. Vertagear's 10-year warranty on the seat frame is generous, while the two-year coverage on everything else is pretty typical.
The five caster wheels are rubber coated, letting you glide smoothly over hard floors but staying largely in place once you've picked a sitting position. They don't roll quite so effortlessly over rugs and carpets, but you'll get by without having to lift the chair up every time – which is handy, given it's especially hefty.
Whether you go for the Midnight Blue of our review unit, or the Carbon Black, Midnight Green, Midnight Purple, Burgundy Red and Black & White colours also on offer, each chair uses a mix of artificial leather, memory foam and Vertagear's own HygennX embroidery. The latter is a breathable textile made from coffee grounds, which cuts down on odours and prevents heat build-up. It held up perfectly after three weeks of nine to five working (plus a few hours of gaming here and there) smelling fresh and showing no signs of wear. The orange stitching stayed snag-free as well.
4D armrests are a pretty standard inclusion on gaming chairs, and the SL5800's are as adjustable as any rival's. There's also lots of incline available from the backrest: at full tilt the chair's centre of gravity makes it liable to topple, but you could quite happily catch 40 winks if you wanted.
Features: seeing the light
Cloth colours aside, the other way to customise the SL5800 is with one of Vertagear's LED upgrade kits. We tried the top kit, which replaces the headrest cutouts that would accommodate a racing harness were this an actual car seat; there's also a lower kit, which adds Max Power-style underglow to the chair's legs.
Unscrewing the existing surrounds and fitting the light-up ones is a five minute job, although add more time if you get the central perspex inserts around the wrong way, like we did. The seat has ones with Vertagear logos as standard, but the firm can knock up ones with any logo you send them for an added fee. Diffused LEDs make each one look more like a hologram than a 2D logo, which is neat.
The lights use NZXT's CAM control software to customise the effects and colours, via a wireless dongle that'll eat up one of your PC's USB ports. You can pick static hues, set flashing or fading patterns, or set them to react to in-game audio, but with no on-board memory they default back to static blue if you power them on without the dongle plugged in. Oddly you can't dial down the brightness through CAM's global slider, and they're impressively vivid, illuminating our small office rather effectively.
Rechargeable batteries (which are included with the kit) sit behind a plastic flap at the rear of the chair, above the power button, battery life LEDs and charging port. The power brick has a sensible cable length, so plugging it in shouldn't pose much of a challenge, and the magnetic attachment means you can't trip over it and send the chair tumbling. Expect a comfortable 24 hours of continuous use, or enough juice for a week of shorter play sessions.
They're a cool addition that brings a bespoke touch to the chair, but one that'll leave a serious dent in your wallet: each kit costs an eye-watering £230, meaning a fully-loaded SL5800 could set you back almost £900. Ouch.
At least the head cushion comes as standard, rather than costing extra. The elastic strap that holds it in place perhaps isn't as slick as the magnetic one seen on the Secretlab Titan Evo, but it's easy to adjust the height and it stays in place once you lean back on it. It doesn't obscure your expensive lighting system, either, which is a bonus.
Comfort and posture: lean into it
Having used a mesh-backed office chair previously, we weren't sure whether the SL5800's comfort claims would stack up. The good news is Vertagear's ContourMax lumbar support system works brilliantly, combining soft memory foam with more rigid rubberised plastic, which flexes to meet your back's natural curvature and movement.
There's no adjustment here, and is at its best when sat completely upright, with your bum and back wedged right into the cushioning. That might not suit gamers that lean over their keyboards and have their faces mere inches from their monitors, but it is best practice to save yourself from later life back pain.
The waterfall-style seat helps on that front, encouraging a feet-flat-on-floor stance that takes pressure away from your knees. There's ample padding on both the seat and the backrest, so despite the posture-focused shape you still sink into it slightly. The armrests are firmer, but the rubberised texture still has enough give to let your elbows sit comfortably.
Vertagear SL5800 verdict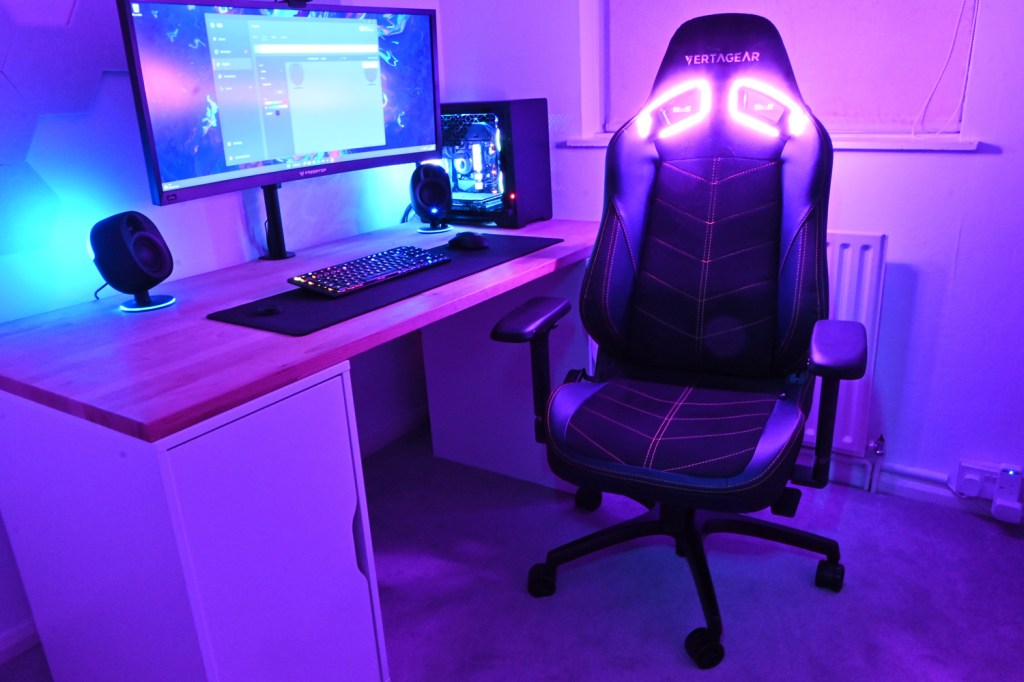 Plenty of gamer-style chairs look the business, and are made to a high standard, but punish your posture after extended gaming sessions. The Vertagear SL5800 is much kinder on your back, thanks to the clever lumbar support that adapts to your shape. There's no worrying about whether you've got the settings dialled in correctly here, although some may still prefer manual adjustment.
The materials are high quality and keep heat build-up under control even after a full day of work. There's plenty of arm rest adjustment, and the handful of colour options should mean there's something to suit most tastes.
This is an expensive chair, though. It'll set you back more than our current favourite, the Secretlab Titan Evo 2022 edition, even before you add one of the RGB light add-ons. Those wanting pure bang per buck may want to look elsewhere. But if you make a living through streaming the LED kits are a justifiable expense, and being able to add them later brings down the upfront costs. For sheer style points, few rivals come close.
Stuff Says…
As feature-packed and customisable as gamer-friendly office chairs get. It's pricey, but the Vertagear SL5800 looks the part without compromising on comfort.
Good Stuff
Supremely comfortable and easily adjustable
Optional lighting upgrade kit adds unique personalisation
Excellent construction and materials quality
Bad Stuff
Has a premium price even before adding RGB
Lighting kit is fiddly to fit and software is limited
Fixed lumbar support won't suit everyone