Technicals Lethbridge review
The Lethbridge outdoor jacket is one of the first to feature cutting-edge eVent fabrics – but can it cope with the English summer rain?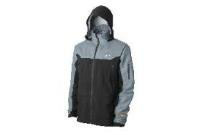 As the summer months draw in, most of us feel oddly compelled to spend larger portions of our lives out in the open. Fair enough, you may think, but in the UK where the weather is universally appalling, we're often not equipped for the outdoor lifestyle.
That's where the Technicals range of outdoor clothing, exclusive to Blacks, comes in. All of the new gear features the most cutting-edge materials available, and this is the jewel in its crown: the Lethbridge, a four-season jacket with three-layer construction, as tested by the English and Welsh Mountain Rescue teams.
The main eVent
The Lethbridge, along with much of the Technicals range, is made from breathable eVent fabrics instead of the more common Gore-Tex. They act in a similar way, letting moisture escape from your skin into the outside world but preventing liquids (rain, say) from being transmitted in the other direction. eVent claims to do a far superior job, acting as soon as you start sweating rather than waiting till the inner surface of the jacket is sodden.
And from our experience eVent really works. Normally, if the rain hasn't soaked you, the physical activity will have done, but not with the Lethbridge – sweat is sent out into the ether almost as if you never secreted it.
There will always be a slight film of moisture on the inside of the jacket after strenuous physical activity, but it's absolutely minimal. Also, though the wind won't get through and there are no discernible air holes, you always feel ventilated.
Trails and tribulations
We've been through thick and thin with the Lethbridge – hill walking in the blazing sun, cycling in torrential rain, scrambling up mountain streams – and it's never performed anything other than brilliantly. It's ultra-light and comfortable even in the most unpleasant conditions.
Also of note is just how hardy this jacket is. A day's scrambling up bare grit surfaces left not a single abrasion mark – it's as though there's some kind of invisible force field surrounding the fabric.
As for the design of the jacket, its pretty sober – no fashion week-worthy details, just muted colours, neat logos, two chest pockets, a rollable peaked hood and elasticated die-cut cuffs and waist drawstring to keep the weather out. Fit is reasonably close but flexible and comfortable.
So this is a very, very good outdoor jacket. If you plan any adventures over the summer that'll involve inclement weather, this is a fine choice to get you through them.