Sony A5100 review
Sony's camera is the littlest APS-C lens swapper in the world – but is it a case of small being beautiful?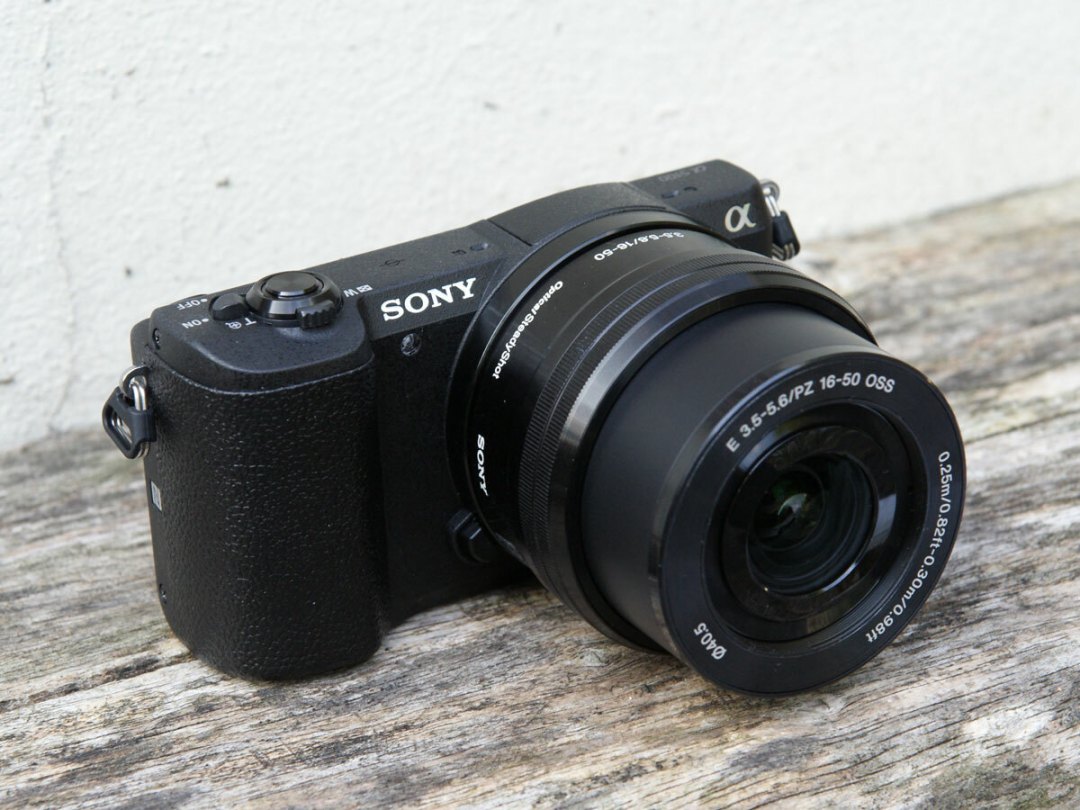 How small is too small? Depends on the gadget, obviously. A postage stamp-sized TV would be pointless. But a teeny tiny lens-swapping camera? Well that might just work.
Sony clearly thinks so, because its latest E-mount camera, the A5100, is the smallest and lightest camera in the world for its class.
It slots in between the A5000 (which may be discontinued fairly soon) and the A6000 (which we adored). And it makes both look positively huge.
But that doesn't mean it's short on features or ability: when compared to the A5000, there's a new sensor, new video capabilities and a new autofocus system on board. So did this little camera make a big impression on us? Read on and we'll tell you.
Build and design: a wee wonder
We'll say it again: the A5100 is small. It's wee. It's tiny. It's little. Dinky, even. And that's both a good and a bad thing.
First, the bad.
The A5100 lacks the large grip of the A6000 to help you hold it steady, merely having a small textured bump to cling to. With the (also compact) 16-50mm kit lens attached the thing has a nice balance in your mitts, but attach larger, heavier bits of glass and things start to feel a little less poised.
Morever, because there's no viewfinder (more on that below) you'll be framing shots using the screen and thus holding the camera out in front of you, which makes it even less steady. It's not a huge deal-breaker in our opinion, but it's worth noting – especially if you happen to be of the larger-fisted persuasion.
But then there's the good.
Our hands are probably best described as "normal-sized", and we had no real problems using it. The diminutive size and light weight (it's just 283g with battery and memory card) make it one of the most convenient system cameras to carry around everywhere. It won't fit in your pocket (unless you wear really, really big jeans), but put it in a bag with one of Sony's smaller E-mount lenses on it and you won't even know you're carrying it.
The exterior is tough plastic, which seems acceptably solid and sturdy to us. The A6000 has a metal body, and Sony's reasoning is probably that those who want to go down that particular route can pay a little more for the next model up.
Usability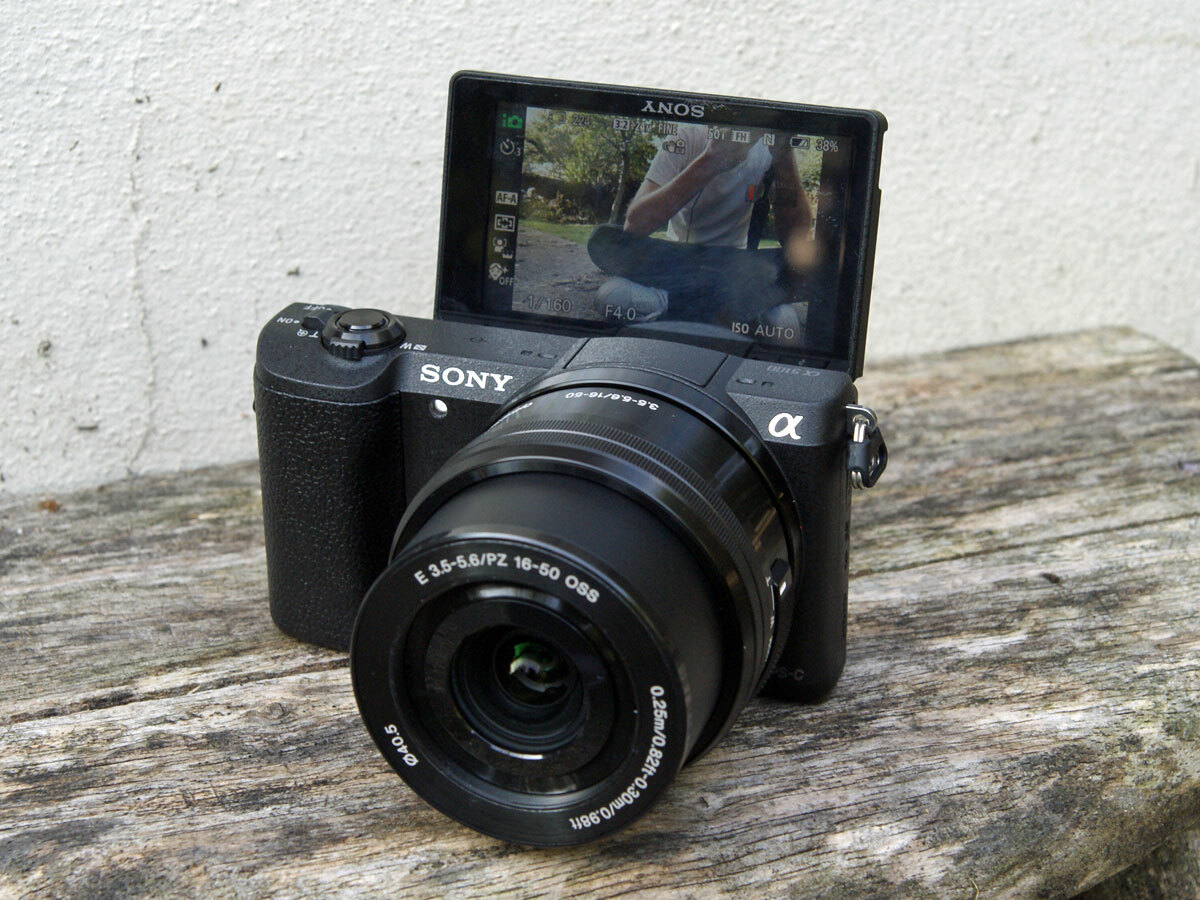 As mentioned above, there's no electronic viewfinder here. While that helps keep the A5100's size as small as possible, it does mean you're forced into using the 3in TFT screen for composing shots. Personally, we like using a viewfinder: they're handy on a sunny day when reflections make the LCD barely visible; they let you hold the camera up to your face, which helps steady it; and they're great for situations where you don't want the screen distracting or irritating people around you, for instance at concerts. Plus, Sony has a recent history of making brilliant, sharp OLED EVFs.
That said, the screen is sharp and bright, and it's also touch-sensitive. While this can be a source of annoyance in some cameras, Sony has made the physical controls good enough that you don't need to use the touchscreen at all if you hate it – and at the same time, features such as touch focus (tap a spot on-screen and the A5100 focuses there and takes a photo immediately) are frequently useful. We do wish it was a little bigger and more sensitive to your taps, however.
The screen also tilts upwards up to 180 degrees, which means you can face it forward (hello, better selfies) or up (hello, shooting with the camera held at waist level). Again, handy stuff.
As with all Sony's E-mount cameras, there's no optical image stabilisation built into the A5100. Where it feels OIS is necessary, Sony builds it into lenses, so it isn't a huge deal if you're using E-mount glass. However, if you're mounting other lenses via an adapter, you'll need a steadier hand than you might with some competitors' system cameras.
Super-speedy autofocus
As with its beefier sibling the A6000, the A5100 has Sony's latest hybrid autofocus system, marrying 179-point phase detection with 25-point contrast detection. Those words might not mean much to you, but translated into normal human words they indicate that it's very, very fast and very, very accurate when it comes to autofocus.
Half-press the shutter button and you'll find the A5100 locking on to subjects almost instantly (and staying locked even if those subjects move, thanks to the superb tracking focus mode). For a camera that sits just above entry-level, it's incredibly impressive, and useful too: it'll help you properly capture moments you might otherwise have missed.
Sony A5100 tech specs
Sensor: 24.3MP Exmor APS-C CMOS
Lens mount: Sony E-mount
ISO range: 100-25600
Continuous stills shooting: 6fps
Flash: built-in pop-up
Video capture: Up to 1080p at 60fps in AVCHD 2.0/MP4/XAVC S formats
Screen: 180-degree tilting 3in LCD with 921,600 dots
Connectivity: NFC, Wi-Fi, USB, micro HDMI
Dimensions: 109.6 x 62.8 x 35.7mm
Weight: 283g
Photo quality
The A5100's 24.3MP APS-C sensor is of the same physical size as those found in most DSLRs, and it's the same as the one used in the A6000. Its large size helps it capture more light in short shutter speeds, which makes it a good performer in lower light situations (although there's also a pop-up flash should you need it).
Sony's BIONZ X processor also aids noise reduction, and you can push the ISO sensitivity up a long way before noise starts to become an issue. The ISO range is impressively wide for a cheaper system camera (100-25600), and shots taken at 3200 and below are relatively noise-free. When using a fast or image stabilisation-equipped lens, you can shoot handheld in truly murky conditions and still end up with usable results.
In good light, though, the A5100 truly excels. We mainly used the 16-50mm kit lens, and found that on a sunny day this combination turned out shots with superb detail, contrast, colour reproduction and, in the right conditions, good bokeh and a narrow depth-of-field. As with most Sony cameras, it also has the ability to create lovely HDR exposures with both bright and dark areas of the image nicely exposed.
READ MORE: Stuff's Guide to Photography: What is bokeh – and how do I get it?
Video quality
Impressively, the A5100 can shoot in three different video formats: AVCHD 2.0, MP4 and XAVC S. You're probably familiar with the first couple (AVCHD is more suited to TV playback, MP4 to PC playback), but you might not know much about XAVC S. It's a Sony-developed format that supports 4K (not on this camera, sadly) and offers extremely high image quality – so high, in fact, that it wouldn't even record on our (not particularly old or slow) SD card. But really, it's aimed at pros and enthusiasts rather than people who just want to film their cat looking surprised or their kid's first steps.
Happily, we can attest that the other formats both work on normal SD cards and that they both offer excellent quality: crisp, clean 1080p at up to 60fps, with all the advantages offered by top notch lenses. And clear stereo sound, too.
Wi-Fi smarts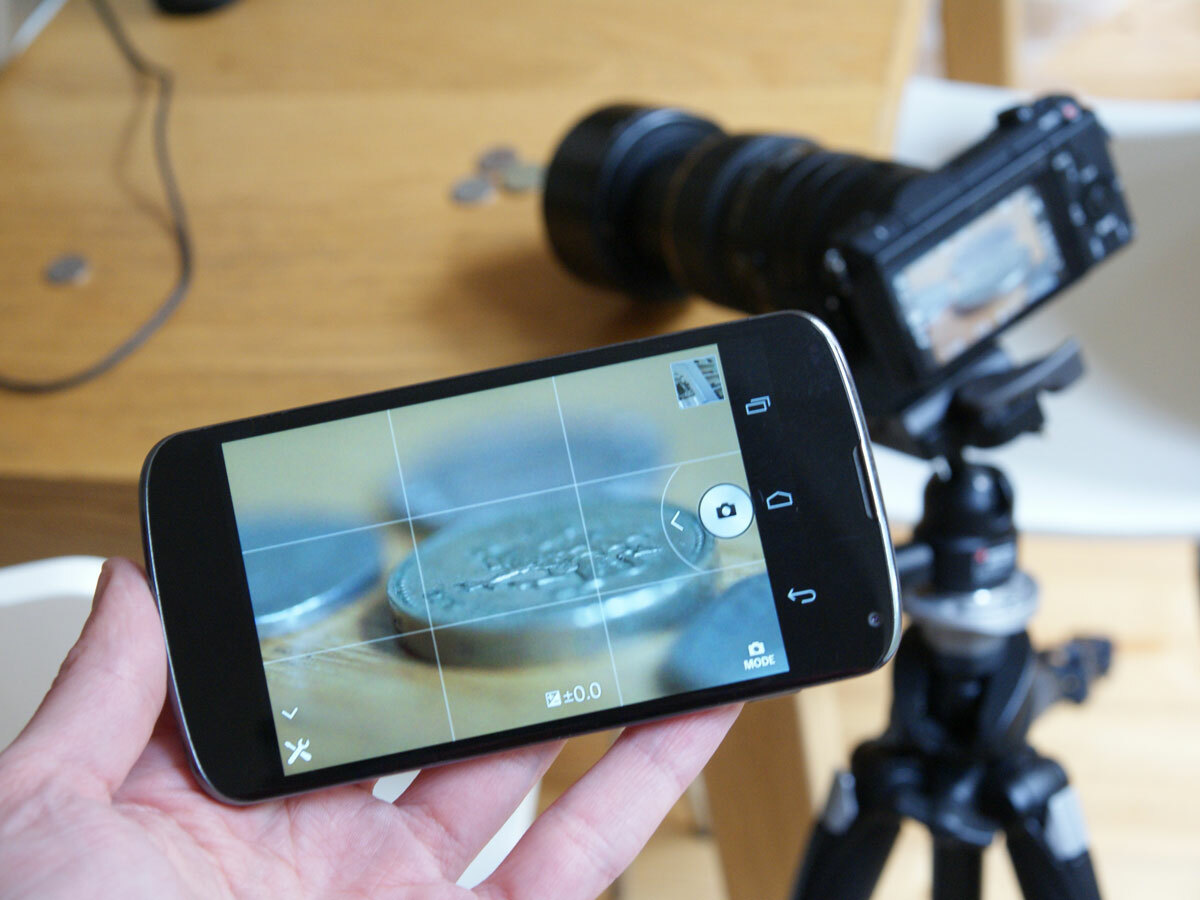 The Sony A5100 comes with Wi-Fi, allowing you to connect to other devices to wirelessly transfer photos and videos and remotely control the shutter. It's not a feature we imagine all or even most owners making use of, but compulsive internet sharers will appreciate the fact that you can take a snap with this camera, transfer a lower-res version to your phone and then post it to social media straight away.
Sony's PlayMemories app (available for iOS and Android) is one of the better camera-linking smartphone apps in terms of functionality and reliability, and if your phone or tablet is NFC-equipped then linking it up to the A5100 should take all of ten seconds once you've tapped the products together. With other phones, things will be a little more fiddly.
Sony A5100 verdict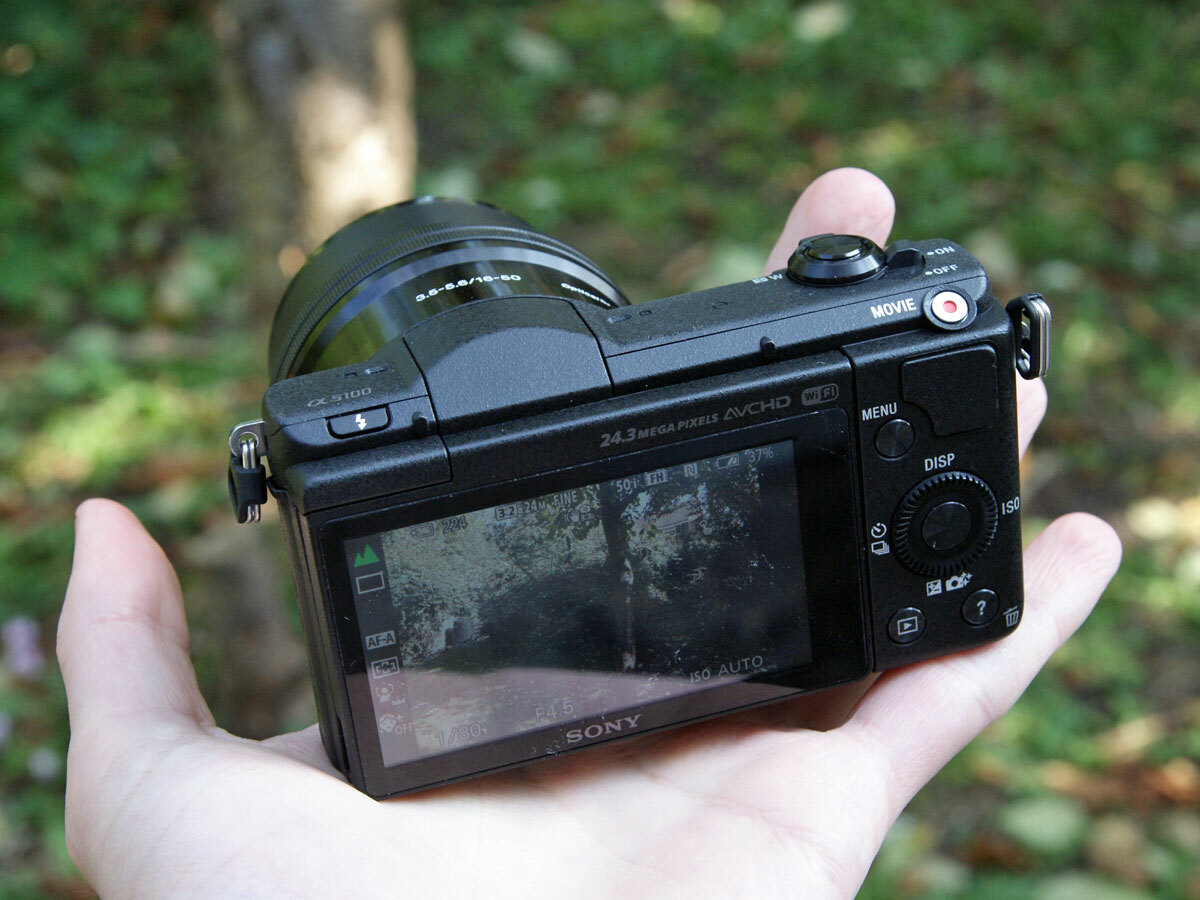 We're hugely impressed with the Sony A5100, given its price. For £550 (and you'll probably find it cheaper than that online very soon) you get superb still and video quality in almost all conditions, as well as class-leading autofocus, all crammed into a camera almost preternaturally tiny. And a decent zoom lens too!
It's not perfect (we'd really like a viewfinder, but we suppose there's always the A6000 for that) but it's hard to think of a better overall performer for the money. Highly recommended as a first system camera.
Stuff Says…
DSLR-quality performance in a camera a third the size of most DSLRs
Good Stuff
Tiny and lightweight
Great photo and video quality
Lightning-fast autofocus
Bad Stuff
No electronic viewfinder
Screen a tad small for touch