Samsung Miniket VP-X110 review
A lightweight camcorder that can morph into an MP3 player sounds great but the movie quality is basic for the price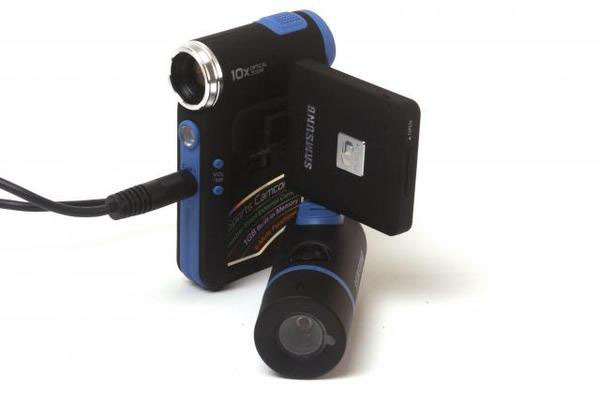 Samsung's range of Miniket solid-state camcorders are ideal for the kind of person who wants to carry a camcorder not with the intention to shoot movies but just in case.
This is the Sports Miniket, and it's different from most solid-state camcorders in that it has a cool, black-and-blue rubberised finish (which is not officially weatherproof) and a plug-in Xtreme Cam external lens (which is officially weatherproof) for radical on-foot/on-bike/on-cliff shooting.
It also comes with 1GB internal memory plus a Memory Stick Pro slot and you can use it as an MP3 player, voice recorder, data storage or to watch MP4 movies on its tiny LCD.  It's light as well, weighing in at a dainty 145g.
Unsurprisingly, given its iPod-esque dimensions, the VP-X110's lens and sensor are pretty small. Movies taken using the built-in lens are reasonable – you can store about 25 minutes in the internal 1GB – but the lack of quality becomes more obvious when you use the neat AV cradle to connect to a big TV.
We love the idea of carrying a 2GB MP3 player that can also be a low-rent camcorder but movies taken using the 546k-pixel Xtreme Cam are pretty basic and the asking price is too high for this kind of frivolous convergence to truly appeal.