Q Acoustics BT3 review
This seemingly innocuous speaker set actually adds up to a brilliantly versatile music system
A dock is all very well, and any soundbar should improve your TV's sound, but you deserve more – you deserve proper hi-fi stereo sound when you're watching telly or streaming tunes. The Q Acoustics Q-BT3 speakers will give you just that.
 These powered, wireless stereo speakers easily outperform almost any iPod dock and stand shoulder to shoulder with an equivalently priced music system – and give many a soundbar a good kicking when it comes to blasting out powerful TV sound. Just add source.
Transform your TV's sound
The Q-BT3s are being sold by Q Acoustics as an alternative to a soundbar. But we can't help but feel that's selling them a little short – these small speakers deserve better than to be merely pumping up the volume of Strictly or Bake Off.
Mind you, they do a superb job of it, so by all means put them to good use when they're not playing music. You will have to find space to accommodate them on either side of your TV, though – they're not as convenient to place as a soundbar.
Connect four
It's with music these speakers truly shine. Especially when you consider the variety of ways you can get tunes out of them. There's a digital optical input, a pair of phono inputs, and a 3.5mm aux-in if you want to have a direct, wired connection. There's even a subwoofer out, should you wish to add even more oomph to an already powerful package.
It's the inclusion of aptX Bluetooth, though, that marks the Q-BT3s out as special. Pairing your source via aptX Bluetooth is simple, and the unit will switch source when it detects the signal coming in, which makes for a frustration-free set-up.
Sweet sound
Whatever the source, the Q-BT3s sound impressive. The midrange, in particular, rings clean and true (perhaps why they are being pushed as a soundbar alternative – they're great with TV dialogue). That easy-to-listen-to midrange doesn't dominate, though: the treble is clean and bright, the bass fast and precise.
Sonically, the Q-BT3s laugh in the face of most iPod docks, and will banish many a soundbar to the bedroom.
Stay in control
There's a credit-card style remote that allows you to control volume and select which input you want to use. The light on the right-hand speaker (the master of the two, via which everything is run) lights up in different colours depending on the source it is playing.
Talking of volume, these speakers go deceptively loud for relatively small cabinets – easily loud enough to fill a decent sized room with tunes at a gathering.
Q Acoustics BT3 Verdict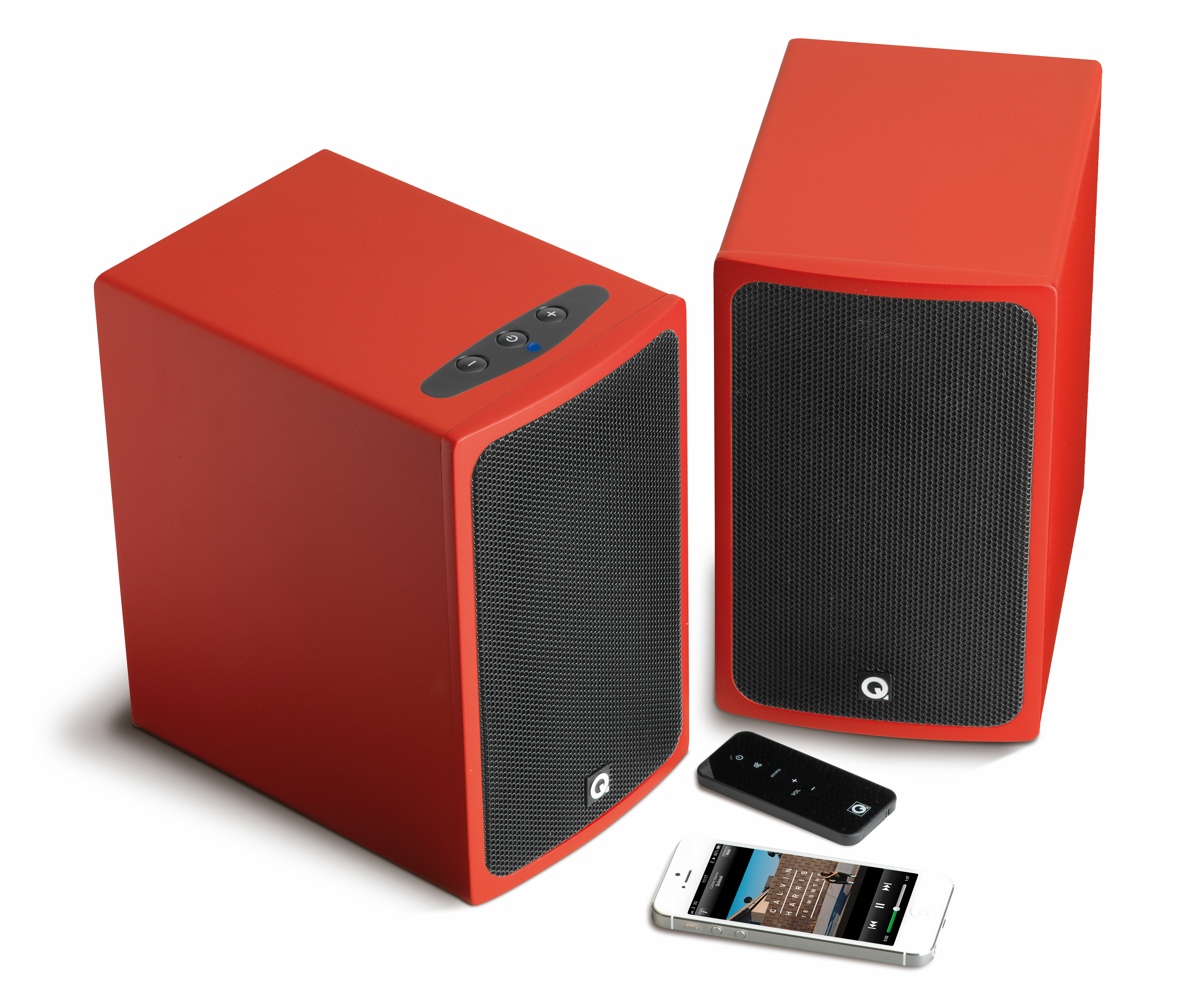 The Q Acoustics Q-BT3 is a thoroughly modern take on the old-fashioned stereo speaker.
They might look a little dowdy next to some new-kid-on-the-block dock, but the performance they dish out and their versatility make up for that in spades.
They can take the place of your music system, iPod dock and soundbar in one hit, and sound better than all of them to boot, and that makes them a bit of a bargain.
Stuff Says…
Music system? Wireless iPod dock? Soundbar? The Q-BT3 does the job of all three – and it sounds brilliant
Good Stuff
Great sound – and loud
Versatile, with wired and wireless connections
Simple to use
Bad Stuff
Maybe too understated for some