Panasonic HDC-SD5 review
Panasonic's SD5 claims the smallest Full-HD 3CCD camcorder crown – but has too much been lost shrinking it down from the impressive SD1?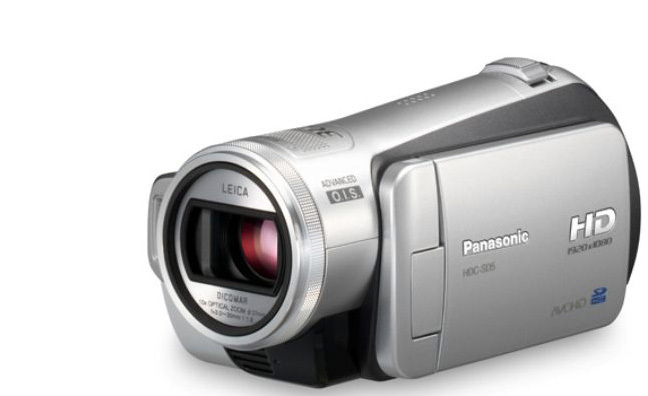 The camcorder world is fiercely competitive and Panasonic's fighting a war on three fronts with the SD5 – size, price and resolution.
To keep up with the Joneses – or, more accurately the Sonys, JVCs and Canons – it's upped the resolution from the SD1's 1440x1080i to 'Full HD' 1920x1080i. It's also regained its world's smallest title from Sony's HDR-CX7 by slimming down 20 per cent and managed it all at a launch price lower than its predecessor.
'May as well just hand out the Hot Buy garland now,' you say, but hold on there a minute mayor – there's been a few cut backs to get here.
The optical zoom is now down to 10x from 12x. It's also lost its external mic input and headphone output (which rules out any serious semi-pro shooting), still doesn't have a hot shoe, has swapped its excellent 5.1 surround sound mic for a bog standard stereo version and the impressive 1/4in CCDs have been shrunk to 1/6in chips.
Case for the defence
In its defence there's a nifty new Pre-Rec mode which keeps a permanent three seconds in cache so you capture the action that just went when you hit record.  A Disc Copy button instantly archives footage to the optional VW-BN1 external DVD burner and the already rock steady optical image stabilisation (OIS) has been improved.
The camera records to SD cards in AVCHD format – now supported by both Macs and PCs. A 4GB card's in the box, good for 40 to 90 minutes depending on quality.
The battery lasts for roughly 90 minutes too. Like the SD1, it's housed in a closed compartment so there's no scope for a larger high capacity cell. For that you'll have to turn to the larger, uglier SX5 which also adds a hot shoe, viewfinder and internal DVD drive.
Camcorder waif
Picking up the SD5 you realise how tiny it is, there's barely any weight to it. Panasonic's done a good job at the rear, keeping all the controls under thumb, with a large record button and a smaller joystick for the menus.
It's up top where we run into problems. The rubber grip strip from the SD1 has gone, leaving any tendril-like digits to wrap almost entirely round the cam, often smothering the top-mounted microphone with interesting audio effect.
The 2.7in fold out LCD, though, is stunning. It now gets a release button and catch to keep it securely stowed and the res has been upped to 300K pixels, whipping Sony's 211K effort. Playback looks superb and it's easy to select clips using the diddy, if slightly fiddly, joystick.
What a performance
Two things concerned us about how the SD5 would perform. Firstly its smaller chips – usually a recipe for unwanted noise – and secondly the fact that the extra resolution isn't being achieved with extra pixels but by a technology called 'pixel shift'. We needn't have worried. Panny's worked hard at improving the CCDs so that the smaller size doesn't create problems and the Full HD output is jaw dropping.
Definition, contrast and colour are absolutely bang-on. Yes, there's some noise in gloomy situations but no more than is to be expected. The new 'Advanced' OIS keeps everything rock steady, even at full zoom. Only the audio is a let down, with the stereo mic picking up some wind noise, making it no match for its predecessor's fantastic 5.1 audio.
So there are definitely strides forward here, but also some baby steps back. If you've already got the an SD1 there's little point in upgrading. But if you're yet to make the HD camcorder jump and want something that'll do the job well with no fuss, then this one should be right at the top of your list.