Panasonic Eluga review
The Eluga looks the part – even underwater – but Panasonic's first phone for the UK will need to compete with powerful Android rivals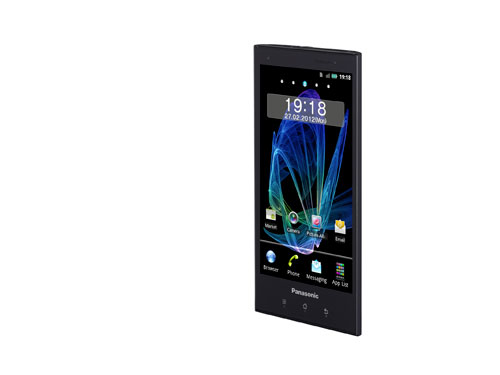 Panasonic Eluga review – overview
Panasonic's badge is no stranger to European gadgeteers, thanks to Viera TVs and Lumix cameras, but the Eluga represents a rare smartphone footing on Europe's shores. Indeed, it's the first Panasonic phone to make it to Britain ever. So has it arrived full of hi-tech Japanese wizardry that's ready to do battle with territorial stalwarts like the HTC One X and Samsung Galaxy S III?
Panasonic Eluga review – design and build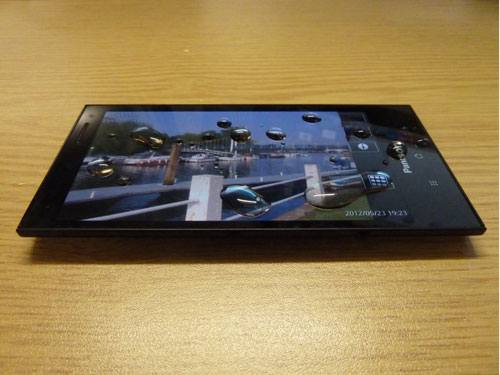 In a sea of me-too Android handsets, the Panasonic Eluga's design is wonderfully refreshing. HTC might have broken the mould with the One X, but it's encouraging to see Panasonic has burst out of the gate with a super-slim 7.8mm curved body that feels extremely well made and solid in the hands yet weighs just 103g.
The slightly textured matt plastic back and minimalist flat glass front scream high quality, as do the Eluga's thin bezels. Up top you'll find a headphone jack as well as a covered micro-SIM slot and micro-USB port, but as the volume and power buttons are placed directly onto the Eluga's curve, it's impossible to use them with just your right thumb without flipping the phone.
Panasonic Eluga review – waterproof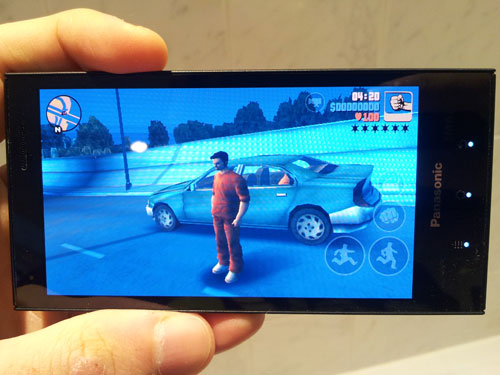 Aside from its novel form factor, the Eluga is also fully waterproof. Panasonic claims that the Eluga can be submerged in up to 1m of water for 30 minutes, and it handled our "tap" and "glass of water" tests with no problems whatsoever. Hopefully we'll never find ourselves in a situation where we'll need such water-fending capabilities, but it's still a nice feature to have if you live somewhere rainy (or you're a bit clumsy).
Panasonic Eluga review – screen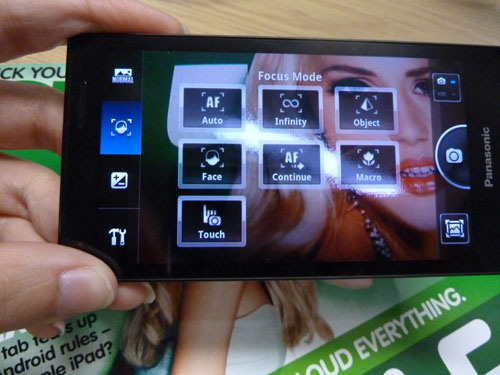 The Eluga's 4.3in OLED screen is the ideal combination of enticing size and one-handed user-friendliness, and it produces bright colours with deep rich blacks. Whites could look a lot cleaner, though. It's 540×960 resolution is also on the low side, especially when compared to pixel-packing displays like those of the HTC One X and iPhone 4S.
Panasonic Eluga review – power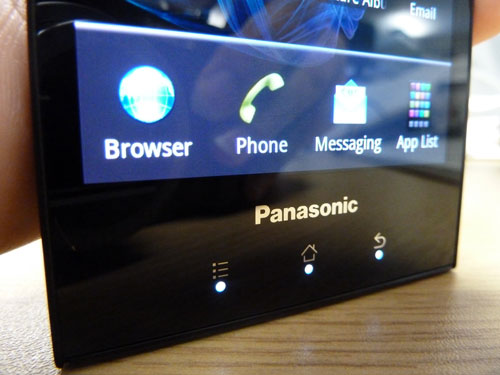 Though the Eluga's 1GHz dual-core processor looks outdated when compared to quad-core beasts from HTC and Samsung, it still manages to deal with the likes of GTA III and other 3D Android games without a hitch. And while the Eluga moves between apps and menus quickly and smoothly most of the time, we did experience the odd freeze, resulting in a forced restart – fingers crossed these are just symptoms of an early sample.
Web browsing over Wi-Fi is fairly smooth. with just the occasional little stutter here and there, but overall browsing is a much better experience than on budget smartphones like the single-core HTC One V.
Panasonic Eluga review – camera
The Eluga's 8MP camera takes decent pictures in conditions with good lighting, grabbing images without over-saturated and false-looking colours. The lack of a flash could be a deal-breaker for casual shutterbugs, however, as the Eluga is next to useless in low-light conditions, even when compared to budget Android handsets.
Panasonic Eluga review – battery life
The Eluga's 1,150mAh battery sounds positively wimpy on paper but we still managed to scrape through just under 8 hours of light use with Wi-Fi on and the screen set to 50 per cent brightness. A replaceable battery would be nice to keep you going all day, as would expandable storage on top of the 8GB available.
Panasonic Eluga review – Android Gingerbread
Gingerbread has been lightly skinned with an inoffensive app drawer and a rather nice arc-patterned lockscreen, which even the purest of Android loyalists will find hard to dislike. The OS does, however, look clunky when compared to Ice Cream Sandwich, but Panasonic has promised a future update to avoid long-term woes.
Panasonic's also included a custom gallery app with quick photo sharing abilities, as well as an eco-mode to automatically save battery. If you own a Panasonic TV, you'll also have the option to turn the Eluga into a touchscreen remote via the Viera remote app.
Panasonic Eluga – verdict 
We love the Eluga's unique, thin design and top build quality, but we just can't forgive the shoddy placement of the power and volume keys and currently the Eluga has a few stability issues. Sure, the phone can take a dunking (more than can be said for 99 per cent of smartphones), but give us the choice and we'd much rather have expandable storage and a removable battery, as they'd be far more useful in every day life than the ability to survive a rare dip in a toilet bowl.