Nokia 6110 Navigator review
GPS-enabled mobile phones are growing in number but the latest Nokia 6110 Navigator looks to be the slickest and smartest to hit the highway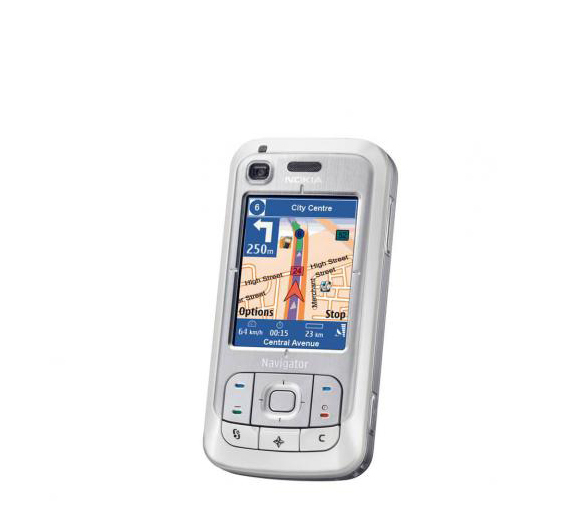 When the Nokia N95 multimedia mother ship landed earlier this year, its built-in GPS receiver was one of many stellar features to set the mouth salivating. Unfortunately, its sat-nav performance was far from convincing, with a temperamental GPS satellite fix and disjointed software.
Nokia's second handset with integrated sat-nav shenanigans, the 6110 Navigator, is, as the moniker implies, dedicated solely to getting you from A to B. It has scrapped the over-the-air route downloads of the N95 for the more reliable Route 66 Navigator, with the software and street-level UK & Ireland maps pre-installed on a 512MB microSD card.
Getting a fix
Let's not forget the 6110 is also very skilled Symbian Series 60 smartphone with 3.6Mbps flavoured HSDPA download speeds and a 2MP snapper. Its vital stats are similar to the N95, so the handset is pretty chunky and encased in an overly glossy but robust plastic shell that's solid enough to handle those hairy road trips. The slider action also has a springy glide, while the keypad is spacious with bold buttons.
But the sat-nav is the main draw here and you can stoke the system via the dedicated front GPS button. It starts with a Google Earth-style globe view then zooms into your current location, hunting for a satellite fix that from a cold start takes a good five or six minutes.
However, the 6110 is now boosted with the internet based AGPS (Assisted GPS) that retrieves forecasted sputnik positions to speed up the search, so once its warmed through, the fix times take around a minute or two.
Routes manoeuvre
The Route 66 software is incredibly reliable, user-friendly and accurate in its navigation. Its Free Text search is a revelation and you just enter part address, postcode, business name, POI like an airport or restaurant name and it will retrieve the address or possible suggestions in seconds from its database.
3D maps are concisely interpreted on the 2.2-inch QVGA-quality, 16-million colour-display but one gripe is the screen is a tad too small for clearly showing maps details when glancing from behind the wheel.
Road warrior
The software has all the other sat-nav trimmings like route planning with waypoints, re-routing, POI database, on-foot navigation mode plus you can MMS a map of your current position. The 6110 is also fitted with powerful speakers so hearing clearly the turn-by-turn voice instructions over the motorway clamour isn't an issue.
The 6110 Navigator easily ranks alongside the best current crop of GPS packing devices like the O2 Xda Orbit and T-Mobile MDA Compact III (both with the excellent CoPilot Live Software). So if you're a seasoned road warrior where the highway is your only friend then the 6110 Navigator is a worthy and handy convergence companion to take on tour.